Like Shakespeare, interview series can too come with surprises! In an unpredicted fourth installment of the three-part series "No Darkness But Ignorance: Shedding Light on Trans* Twelfth Night" the show's two remaining actors (who had not yet previously been featured) sit down to discuss the opportunity to work on the project with TheatreBloom. Alice Stanley, the Co-Founder and Co-Producing Artistic Director of Cohesion Theatre Company, sits with actor Melanie Glickman to discuss working inside of Twelfth Night in the Trans* Voices Workshop Series production co-produced by Cohesion Theatre Company and Iron Crow Theatre.
If you could give us a quick introduction to yourselves, your characters, and what you've done in the area previously, we'll get started.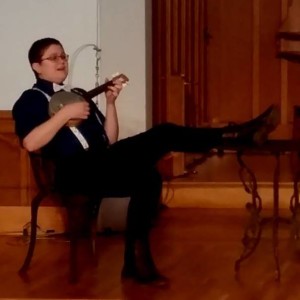 Alice Stanley: I'm Alice Stanley and one of the Founding Artistic Producers at Cohesion, and I'm playing Feste as well as being one of the Co-Music Directors. I'm also the production manager which just means that I'm the Cohesion Admin specifically assigned to be the point person on this project. Most recently I directed A Little Bit Not Normal at Cohesion, that was the first show in the Trans* Voices Workshop Series, which actually ended up going to a mainstage slot instead of just a weekend slot. Before that I was in Henry IV at Baltimore Shakespeare Factory.
Melanie Glickman: I'm Melanie, I'm playing Malvolio in the show. What might you have seen me in? I've been working with Cohesion Theatre Company since this past summer. I directed and worked on a couple of their works for parity fest. I was in A Little Bit Not Normal, I played God. Before all of that I was in Dog Sees God over at Spotlighters Theatre. And you can come see me next week in The Complete Deaths of William Shakespeare up at St. Mary's with Baltimore Shakespeare Factory. That's a whole different Shakespeare experience.
Alice: Great plug. I am also doing Complete Deaths…
How did you two wind up being a part of this particular production?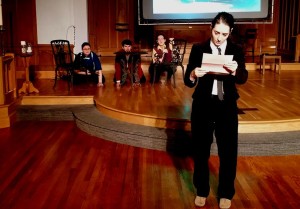 Melanie: Phil (Director Phil Vannoorbeeck) asked me if I wanted to play Malvolio. Before that I was very interested in what Cohesion was doing with works written by Trans* people, about Trans* people, etc. etc. Also, I never thought I would be asked to play a character like Malvolio. That's very much against my type. I was excited and a little bit terrified but mostly excited.
Alice: Well, I run Cohesion, so I'm generally involved in the stuff we do. But I love any chance I have to do music. Brad (Co-Founder Brad Norris) both auditioned for season auditions and we didn't cast ourselves in anything. When Phil offered me Feste I was very excited because Feste has lots of singing to do. I'm a Trans* person so I like to be all up in a Trans* person's production. Everywhere I can be, I shove myself.
What is it like being a Trans* person and getting to participate in this Trans* Voices Workshop Series, Alice?
Alice: It's weird for me to answer from a participation standpoint because this has been my project in the making for so very long. It came about because Lillie (playwright Lillie Franks) the author of A Little Bit Not Normal, we'd been corresponding about her work and what she'd written. When she sent it to me, I thought it was great but it wasn't quite ready for mainstage, and then Phil had pitched this Twelfth Night idea, and then it dawned on me. What if we did a whole season-long series and applied to the city for money to sponsor it? What if we won the Individual Artists award, which is $5,000, which we did, which is covering the entirety of these workshop performances. Like I said, A Little Bit Not Normal ended up getting bumped up to mainstage, so this is our first "workshop" showing where it's only four rehearsals and three performances. It's super intense.
Melanie: What a show to be doing this for!
Alice: It's been awesome to have Cohesion, and have Brad be so open when I get these ideas. I know that I can come here, pitch it, they're cool with it, really supportive, and here we are doing it. And here people are wanting to be a part of it. Other Trans* people want to be a part of it. That's really humbling and honoring for me. It's kind of the opposite of participating. But it's great.
Melanie, what has it been like for you being a part of a show that is promoting Trans* positive work?
Melanie: It's so fantastic. The weird thing about this show— weird in a good way— is that it's promoting Trans* positivity but in the subtlest way possible. This isn't about self-discovery of being a Trans* person or leaping into the Trans* community. It's just about people who may or may not be Trans*— and again, very thankful that there are a fair amount of Trans* people involved with this production putting their two cents in—having a human experience. This is about showing the audience and the community at large that the human experience involves Trans* people. Period.
What is it that you hope people will take away from this experience?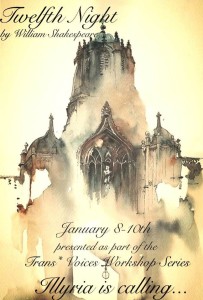 Alice: I think with both this and A Little Bit Normal, it's been about normalizing the Trans* experience. It's showing how this is just a specific filter of what everyone goes through. This is just a specific combination of those things, none of it is so wholly unique that other people can't understand it. I love reapproaching Shakespeare. And now I'm really just quoting my producer's note from the program at this point, but on the one hand we're promoting the development of new works by Trans* artists and that's incredibly important because it's capturing a new narrative, but there's another thing that we have that's re-interpreting our old beloved stories. Now they include more identities and more marginalized identities. These things go hand in hand.
It's been a lot about normalizing. We aren't using Trans* people in this show to be like "WHOA! Political statement!" And some people do and that's great and it's important to make political statements, but a lot of times, we just want to show that this is really just people trying to live their lives authentically. That's a pretty common thing, I think everybody just wants to live their life authentically. Most of the time that's all Trans* people are trying to do.
Melanie: Another one of the things I really like about this show and it was something that I really liked about A Little Bit Not Normal, is that there are so few Trans* comedies, and especially comedies with Trans* people that aren't using the Trans* people at their expense or making fun of gender non-conformity. Like with A Little Bit Not Normal it was a story about a Trans* person but the comedic elements came in the form of her relationship with her talking cat, and then the talking cat who was in a dating relationship with gender-queer God. This is like that because it's a funny story of people falling in love and being betrayed and no one is finding the humor by making fun of gender non-conformity.
What has this experience taught you about yourself?
Melanie: Being a part of this lightning round production has given me more of an opportunity and more permission to understand different parts of myself. Like what I said before, Malvolio isn't necessarily someone I would ever consider being cast as.
I still find it strange that you say that, Melanie. Though I've only seen two of your performances in previous productions, given the level of charismatic presence you brought to those vastly different characters, and your ability to command attention and your presence of mind on stage, when I was informed you were playing the role, it seemed to be an obvious fit.
Melanie: I'm glad you disagree with me.
Alice: Good job, Mel.
Melanie: Thanks! I guess in short, working with Phil in this production it has given me an opportunity to explore more facets of myself and be more accepting of those facets of myself.
Alice: I've been having a great time playing a comic role that is over-the-top. That's something that is nerve-racking for me. I'm not a very experienced actor. I have a lot more directing experience. Oh, I guess don't' tell anyone that. But with the four-day rehearsal process, I don't have time to be self-conscious. If I'm doing this? I'm doing it right now and all the way. Phil has been very helpful in seeing me through this adventure in that regard.
Anything else you'd like to say about the experience, about the message that people will take away from this? About what it's like to do a show in four days?
Alice: I'm just so happy we're doing this. The cast has been so much fun. The themes have been so much fun. I wish I was diving into this right now. I mean, I am diving into this but it's a shallow dive. It's over on Sunday and then I go right into Hamlet.
Melanie: And you know, Complete Deaths.
Alice: Oh yeah! That's next weekend. Forgot about that. Then Hamlet. Mel and I both like "Yay! Twelfth Night!" And I keep thinking "this is my next six weeks, this is going to be a blast!" And not that I'm not looking forward to Complete Deaths, and Hamlet, they're both going to be great, but this is a blink, a breath. And I want to live in it more! We're in Illyria for this hot second right now—
Melanie: Then we go to every other setting in Shakespeare ever in a weekend—
Alice: And then— boom. Hamlet. I'm very excited about Hamlet, I've been thinking about Hamlet forever, and I'm super stoked to see all those concepts come together, but I could stay here longer and keep having fun.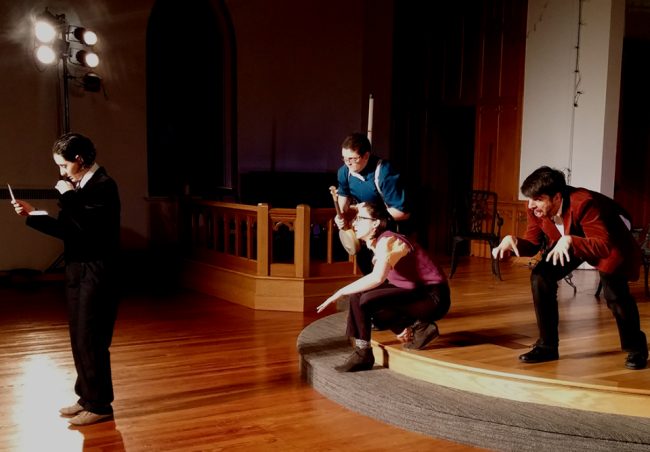 Melanie: I hope that the people who come see this show are more than just the liberal Baltimore theatre crowd that we so know and love. For A Little Bit Not Normal we had various family members and friends of the cast, and they were not necessarily Cohesion's demographic. They came in, had a few laughs, and left hopefully asking each other questions. "What the fuck did I just see? Oh my God, what I just saw on stage, that's the world." I hope people do the same here, show up, have a couple laughs, and talk about it to each other. I hope they talk about it to the world.
If you had to sum up the experience of this show in one word?
Melanie: Liberating.
Alice: That was a good one! Damn. I was just going to say fun. You know what, I'll stick with fun. Even though hers was better.
Twelfth Night runs as a co-production with Cohesion Theatre Company and Iron Crow Theatre in the Trans* Voices Workshop Series currently playing at Church on the Square in Canton— 1025 S. Potomac Street in Baltimore, MD. Tickets can be purchased at the door or in advance online.
To read the first Interview in the No Darkness But Ignorance Series, click here.
To read the second Interview in the No Darkness But Ignorance Series, click here.
To read the second Interview in the No Darkness But Ignorance Series, click here.