Following up the successful interview with Director Phil Vannoorbeeck and Assistant Director Sarah Maher, TheatreBloom sits down with four of the ten actors involved with the Trans* Voices Workshop Series production of Twelfth Night to have them shed further light on the experience.
If you could give us a brief introduction to who you are, who you are in the show, and what work you've done in the area, we'll get started.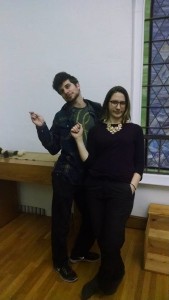 Caitlin Carbone: My name is Caitlin Carbone and in the show Twelfth Night I'm playing Sir Andrew Aguecheek and beyond that I'm the Director of Artistic and Community Engagement with Cohesion Theatre Company. What that means for this show is that I helped coordinate the Trans* Voices Gallery that accompanies the production. Most recently I've acted with Baltimore Shakespeare Factory in Henry IV Part I as Hotspur.
Matthew Payne: Hi, my name is Matthew Payne and I'm playing Sir Toby Belch in this production. Things I've done in the last year…I was Marcelle Se La Vie in 13 Dead Husbands with Cohesion. I was Franz Kafka in The Trap down in DC at Ambassador Theatre and I more recently played V in The Mesmeric Revelations of Edgar Allen Poe opposite of Tanner Medding. I'm the other V.
Caitlin: I just remembered! I was also in Titus Andronicus at Chesapeake Shakespeare, which I was very excited about.
Matthew: So excited you forgot about it.
Caitlin: I know! But I was really excited! It was great. Just wanted to put that in there. Okay, I'm done.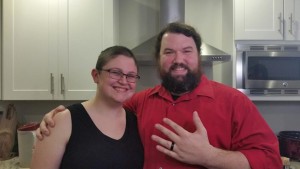 Nick Delaney: Hi, I'm Nick Delaney and I'm playing Mariah in the production as well as being the show's Co-Music Director and pre-show musician. I also played Jack Russel in 13 Dead Husbands as well as being the Music Director for that and I've appeared in several of the parity fest shows. I'm a resident musician at Chesapeake Shakespeare Company and have played most of the shows they've done since the new building opened.
Matt: Parity Festival. I was in a bunch of shows—
Caitlin: Oh! I was the performance manager for Parity Fest.
Matt: I thought you were done.
Caitlin: I forgot again!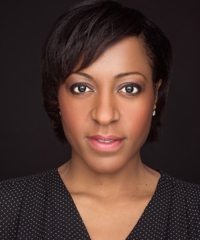 Lilian Oben: My name is Lilian Oben and I play Olivia in this show. What you may have seen me in over the last year? Well, I'm currently understudying at Folger Theatre for Midsummer Night's Dream, which is really fun. I'm actually not from the Baltimore area. Most recently I was in an Irish play for the Women's Voices Theater Festival. It was called Duir-wyyd: The Dreamer's Doorway and it was produced by Spooky Action Theater. I've also done some stuff with Factory449, I did their The Weight of Water for the Kennedy Center Page-to-Stage Festival. I've worked with Pinky Swear Productions, Tiny House Plays, and this area might know me for my work with Colonial Players. I was Ruella in their Communicating Doors a season or two ago.
What was the interest in wanting to be involved with the Trans* Voices Workshop Series production of Twelfth Night?
Nick: Other than being engaged to the producer? For me, like I said I'm a musician primarily, so I've only had one actual acting experience— I mean I've had a line here or there before— but just the one main acting experience with 13 Dead Husbands. I got that opportunity because I was the Music Director, and they knew I was going to be around so they decided to throw me in. I showed up to auditions for Season2 at Cohesion knowing that this was the only play that I could actually do. I actually came in thinking, "I don't know Shakespeare, I'm not sure I can do this." But I memorized the monologue, kind of, and showed up. I actually thought I did terrible, but they disagreed and here I am.
Matt: I was already in the roster, they'd approached me about it but I'd originally said I wouldn't be available during this time because at the time I didn't think I would be available. But I'm in Cohesion's production of Neverwhere which is coming up in a few months, so Phil (Director Phil Vannoorbeeck) reached out to me and said, "Hey, our Toby's not here, we need somebody." And I got excited, and said "Yeah! I'm totally down with that." I knew it was going to be fun. I want to do for the cause, help where I can.
Lilian: I really like the Trans* element of it. I think it's so rare to be involved with something that really personally resonates with me, so I was on it like white on rice. I also like the play Twelfth Night, it's one of my favorite ones. I think it's brave and bold and new, and I just wanted to be a part of it.
Caitlin: I am involved with the company, but I also like to have my hands on anything and everything Shakespeare related so I knew I wanted to be involved with this and perform in it if possible. Twelfth Night is a great show, and the Trans* series is a really cool thing. Nobody else out there is doing a season long— not tribute…showcase. Nobody else out there is doing a season long showcase of Trans* works.
Matt: After seeing how well they handled A Little Bit Not Normal, I was like "okay, they can do this, and it's totally awesome and I'm totally on board!"
Caitlin: It's a great opportunity to be a part of this unique celebration. My favorite thing about A Little Bit Not Normal, which was the first show in this series, it's not just the show itself but it's everything else that was involved with it. The work that myself and Casey (Director of PR and Communications Cassandra Dutt) and everyone else did for the gallery was awesome. We had queer and Trans* artists from the community submitting art and we would display it throughout the run of the show. There was the whole "what color is your gender" thing that happened for that too. It's more than just a show, it's a big package, an experience that really reaches out into the community for awareness.
What has it been like being a part of this show, which has its own classic iconicism because it is one of the better received Shakespearean comedies, and aligning that with the vision of the Trans* Voices Workshop Series?
Caitlin: It lends itself to it pretty easily because there are so many queer elements already in the show. Lots of people speculate that Shakespeare was bisexual. Based on some of his sonnets, he's clearly attracted to both men and women. It just lends itself to an exploration of queer themes.
Lilian: And it does it without coming off as gimmick-y. I've seen a lot of productions of Shakespeare where they'll put some angle on it and it becomes a gimmick. Twelfth Night, as Caitlin said, just has so much fluidity in it. There's nothing definite or defined. It's just naturally a Trans* play. It was never billed as such when it was written, I'm sure, but to me it's the epitome of a Trans* positive play.
Caitlin: So Nick plays a female character—
Nick: Yeah, I was specifically told by Phil to not play her "feminine." That runs the risk of becoming a stereotype, or runs the risk of turning into— "Trans*face" if you will. So I'm using my normal voice, and I'm using slightly feminine mannerisms, but it's kind of hard because I'm one of the largest people in the play. And I'm not shaving my big beard.
Caitlin: And Nick, you're a masculine dude.
Nick: Why thank you.
Caitlin: That's why I think it's cool that you were cast in this role because this isn't "ha-ha that's a boy in a girl's dress" it's—
Nick: Sometimes people look like me and wear dresses.
What is the specific approach the production is taking to addressing gender and its roles for this play?
Caitlin: I think Phil really tried to stay non-binary with the costuming and with the characters. There are a few characters that are Cys— or who are portrayed as more specifically masculine and feminine. But for everyone else who the character's gender is not important? Phil's been pretty fluid and non-binary. We didn't really discuss gender in depth and the costumes really convey that in-between area.
Nick: I think my character and Jane's (actor Jane Jongeward, Duke Orsino) are the two really good examples of this, but if someone just tells you one day "Hey, I'm a man. Hey I'm a woman. Hey I'm a gender," that you just say "Okay." And that's that. Jane doesn't look particularly non-feminine in her role as Orsino but you say "he" because Duke Orsino identifies as a man. And for my character, Mariah identifies as a woman so we call her "she." You don't question it. That's who that person is, and you respect that.
Matt: It's interesting in circling back to what was said about how Twelfth Night lends itself to this. When you get to the end and characters, genders, and identities are revealed, nobody says "Nope! You're not that." I think that lends itself to our production.
Lilian: There's no negating of anything. There's a lot of "Yes. And…"
Matt: Yes. And…
Caitlin: Yes! And?
What do you hope the message is that people will take away from seeing this production?
Lilian: I personally hope that people will come away realizing how Trans* positive the world is. I think they'll think about it for the first couple of seconds, but as the play progresses they will realize that it is such a "non-issue." Hopefully it will make them think about "why is this a big deal?" We live in a very Trans*-parent and Trans*positive world. It exists everywhere. I think they'll be very surprised how this is not an issue.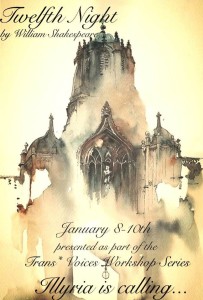 Matt: For me, it goes along with what happened in A Little Bit Not Normal. How do I put this? There are a lot of strange things that happened in that play. Being Trans* is not one of them. In our production, hopefully the message that you take away or what audience members will get from seeing this version of Twelfth Night is that there's a lot of strange and weird and crazy things happening, but being Trans* isn't one of them. We're not saying "You're Trans* and you have to be put into this special box as a character, actor, whatever." We're saying, "Welcome to the team."
Lilian: It's the thing that you're not talking about.
Nick: That's what I said, or was going to say.
Caitlin: Absolutely! It's more about what we're not saying. We don't want to work an agenda or shove anything down anyone's throat.
Lilian: You know how some shows make you feel like you've just sat through an after school special?
Matt: This isn't that.
Caitlin: Above all that, I just want people to have fun. We did this in a week.
Matt: Yeah we did.
Caitlin: We're just playing. We're having fun with it. We hope you will too.
Anything else you'd like to say about the experience and what it's taught you?
Nick: Something that I've been around for several years now at Chesapeake Shakespeare is people having these conversations of "You said 'thou' here and 'you' there" and I've always sort of been confused about why that mattered. But now having listened to it and I'm actually in it? I totally get what it means. I've had a lot of great conversations with Matt and Caitlin about the relationships between our characters. These are all things that I've only seen people talk about that I am now getting to be an actual part of. It's been nice. It's neat being on this side of it.
Lilian: I think coming from DC I've discovered I like the Baltimore Theatre scene. The vibe feels really bold and pioneering and that's refreshing. It's a lot of understated talent.
Matt: I just like how normal this is. That might sound— I don't know, weird. But we're doing this series of shows that are focused on the experiences and lives of Trans* people. And look at how not-bizarre it is. No one has freaked out, no one has said we can't do it. It's been so nice. I know I keep going back to A Little Bit Not Normal, but I loved how normal that experience could be. This is a little bit separate but related. I grew up in a household where my brother came out at a certain point and this was not okay with my family. Over time it has become okay, but it's been really nice to be in an environment where you don't have to worry about whether or not it's okay.
Caitlin? Anything you'd like to add?
Caitlin: Oh, shit, now you want me to talk? After they've all said all the great things? That's tough. Seriously, though the experience has been a great one. It feels good to be a part of something that I believe in and is also amazing. It's a bold cause and it should be happening.
If you had to sum up the experience in one word…
Matt: Quick. We've had four rehearsals and we'll have three shows. Quick.
Lilian: Playful.
Nick: Aaaaggggh.
Caitlin: That's not a word.
Matt: How do you spell that?
Nick: New.
Caitlin: Zesty.
Twelfth Night runs as a co-production with Cohesion Theatre Company and Iron Crow Theatre in the Trans* Voices Workshop Series currently playing at Church on the Square in Canton— 1025 S. Potomac Street in Baltimore, MD. Tickets can be purchased at the door or in advance online.
To read the first Interview in the No Darkness But Ignorance Series, click here.