Nothing can hurt you when you're a rooster. Except another rooster. A blood-thirsty, hormone-pumped, cock-fighting rooster who has defeated the sun. Fight night is tonight, sun! You bring your little chickadee on down to Single Carrot Theatre to see their regional premiere of Year of the Rooster, written by Eric Dufault. Directed by Dustin C. T. Morris, this provocative drama may be the most straight-forward piece of theatre to be mounted upon STC's stage in years. Bringing to the stage a sense of curious absurdism with magical realism, Dufault's work under Morris' direction is a bizarre though poignant examination of the way life can present and destroy opportunities in the blink of an eye.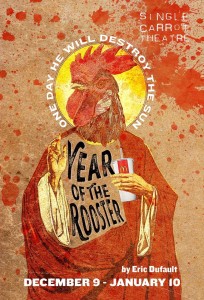 The set is simple: one platform and one rooster pit. Scenic Designer Jason Randolph crafts this simplicity with purposeful intent allowing the audience to focus on the critically structured characters, their relationship dynamic, and overall personal story arcs— some of which stagnate intentionally while others flourish— rather than being bogged down in the complexities of an overly elaborate set. Lighting Designer Adam Mendelson and Sound Designer David Crandall enhance the show's overall aesthetic to bridge the gaps between Dufault's storyline and Randolph's basic set constructs. Flashy bursts of light during the fight scenes at the cock-arena underscored by roars of the crowd take a platform and pit and transform it into an authentic atmosphere of sorts. Mendelson also does an exceptional job of capturing the rising sun in simple tones, especially when it is meant to shine solely on Odysseus.
Maintaining the simplistic design elements motif, Costume Designer Jess Rasp goes for authenticity in favor flare. This serves both the overall vibe of the show and the nature of the way these characters are constructed. Rasp's most impressive design work is the approach taken with Odysseus' costume. Simple strokes of feathers are attached to the shoulders, hood and lapel of his red rooster hoodie, he's given yellow sneakers and a yellow "Carpe Diem" shirt to further outline the color scheme and intention of a fighting bird. The lumpy padded suit for the McDonald's farm chicken character of Lucky Lady, is also a praiseworthy example of Rasp's work.
While there is a great deal of simplicity in the design elements of the production, which is almost necessary given how basic the play is written in its trajectory and dramatic build, Specialty Designer Mile Pekala deserves a wild and zooming nod for his hybrid invention and creation of the rolling Roomba-Lazyboy. A fully functioning relaxing reclining chair, now situated atop a roaming-floor robot, Pekala engineers this mobile set-furnishing/prop and Director Dustin C.T. Morris utilizes it to frame the scene work, hauling Lou in and out with signs that read "Round 1" and "Round 2." Ultimately a gimmicky device, but a technologically fabulous one as it furthers to exacerbate Lou's miserable existence, Pekala deserves kudos and credit for making such a masterpiece fully functional.
Morris' casting choice of Virginia House in the role of Lou, Gil's mother is questionable. Though the character is written with a certain inherent stasis and questionable banality, House doesn't seem to fit the role or gel well in scenes with the other performers. Morris' choice not to age the character, who looks far too young and well-kempt to be the unruly, un-showered decrepit septuagenarian that never leaves her chair, is a poor one. Looking cleanly and youthful does nothing for the lines that she delivers about her age, nor for the lines that are delivered about her disgusting state of existence. House's performance is somewhat lacking, leaving the already static character a bit flat.
Brightening up show with punches of pizazz, Fight Choreographer Julia Bradenbarry ensures that the show-down scenes between Odysseus and Bat-Dolphin are extremely realistic. There are also moments of human-to-human fighting which Bradenbarry takes to with gusto, ensuring that the kicks are intense, the dodges are solid, and that these moves in a curious and haunting fashion, echo those showcased in the cock-fighting ring between the two prize birds.
Philipa (Madeline Burrows) possesses a frighteningly intense energy that simmers on the edge of instability whenever she zips into a scene. Burrows, delivering the role with staggering and spastic energy, is a live sparking wire when she engages with Gil Pepper (Matthew Casella.) Mania all but vibrates through her vocal delivery and keeps her character existing on the edge of the absurd in this backwoods hillbilly redneck hell hole of Oklahoma. Showcasing impressive versatility, Burrows exemplifies just how sharp a contrast she can create between this frenetically high-strung character and that of the almost immobile chicken Lucky Lady. With a painstakingly slow approach to the chicken, the juxtaposition of these two polar opposites is remarkable.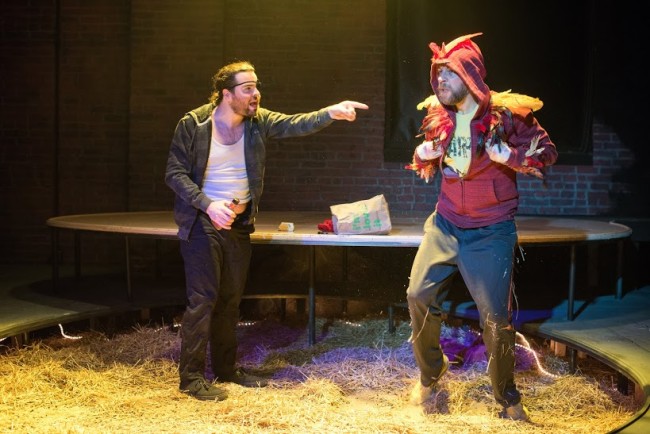 Casella, whose character shoulders the burden of the show's plot, brings forth an earnest portrayal of attempting to seize life's opportunities by the feathers. His drunken shenanigans appearing at the top of Act II are dimwitted but fully engaged with the attitude he's created for the character. Delivering a well-rounded dichotomy of Gil's many facets, he speaks softly when addressing Odysseus but with more gusto and guts when dealing with the ruthless and vile Dickie (Elliot Rauh.)
With his shiny silver rooster belt buckle, Rauh takes to the character of Dickie with unforgiving sleaze. An utter greaseball through and through with a revolting cowboy aura layered overtop of his portrayal, Rauh is easily a vicious antagonist that bristles your skin every time he engages in an altercation with Gil. In addition to accurately portrayal an unctuous snake, Rauh blasts his confidence while he struts like the cock of the walk in and out of the McDonalds scenes. Serving as the epitome of a ball-busting jerk, Rauh makes it easy for the audience to dislike his character, seeing him as the ever-present-but-necessary evil to guide the hand of change in life.
It all comes down to a fowl— just one bird— Odysseus (Paul Diem.) In a stellar role, Diem strikes hard as the spastically bombastic killer rooster. Engaged, present, and fully invested in the rooster's physicality, Diem twitches and shakes about the pit in a disturbing fashion. There is a raw honest in Diem's delivery, both in the rage he channels when calling down the sun, and in the strange moments of confusion when his character is simply trying to understand the world around him. Dufault's ability to capture the internalized notions of a rooster's working monologue is intriguing; Diem's delivery making it worth watching. Displaying exceptional control over his volume and emotional expressivity, Diem augments the more dramatic moments with fully charged outbursts, creating a nice contrast to his more docile moments, especially those spent with Lucky Lady.
Edgy work that's worth investigating for the season, it delivers on the promise of "…more chickens on stage…" in addition to living up to the many mission statements set forth by Single Carrot Theatre.
Running Time: Approximately 90 minutes with one intermission
Year of the Rooster plays through January 10, 2016 at Single Carrot Theatre— 2600 N. Howard Street in Baltimore, MD. For tickets call the box office at (443) 844-9253 or purchase them online.