Te adoro, Signature Theatre, te adoro. Blowing the minds of every theatergoer that snaps their way into the Max Theater at Signature Theatre in Shirlington, Virginia this holiday season, West Side Story is a smash-hit that steals the heart, captures the soul, and brings the audience to a standing ovation. A stunning tale of star-crossed lovers set to inspiring Music by Leonard Bernstein, with Lyrics by Stephen Sondheim and Book by Arthur Laurents, Signature's production of West Side Story is nothing short of sensational. Directed by Matthew Gardiner, with Musial Direction by Jon Kalbfleisch, the show is the most astonishing production to sweep its way across the Signature stage yet this season.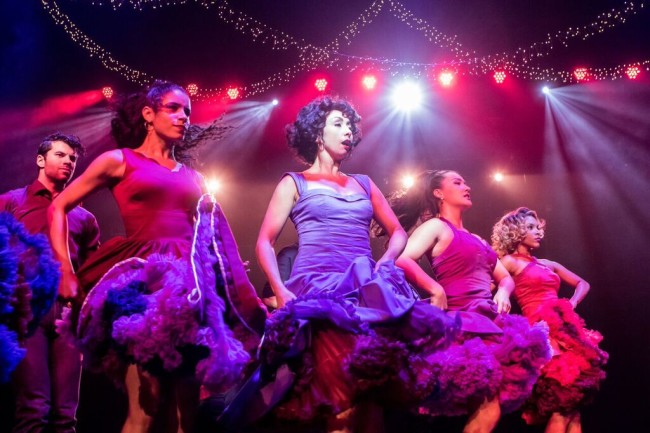 Scenic Designer Misha Kachman has reconceptualized the playing space inside the Max Theatre in a fashion that intimately immerses the audience in the story. Crafting a two-tiered configuration of a wide three-sided thrust stage with an exposed live orchestra nestled amid the catwalk-fire escape level of the fourth side, Kachman's configuration of the scenic design not only generates an intimate space in which the details of this masterpiece unfolds, but fabricates an inclusive atmosphere that invites the audience to the streets of 1957 New York City amid the bloodthirsty brawls of the Jets and the Sharks. Kachman's inclusion of the elevated catwalk and fire-escape drop-down ladders, circling the stage like a caging fence, amplifies the notion of being trapped in the lousy world in which these characters find themselves. The starkness of the bare stage is both striking and imaginative, allowing for swift scenic shifts with rolling furnishings that sneak so quickly into place between dance routines that the show's fluidity possesses a Broadway-like quality to it.
Lighting Designer Jason Lyons develops a series of illuminating moments that are perfectly tuned to the emotional heartbeat of the show, as well as synchronized to perfection with the pulse of the music. Pure white spotlights only ever land their beams on Maria and Tony, the symbolic representation of how love in its purest form is free of prejudice and radiates with hope for a brighter future. The swooping loops of glittery lights featured at the dance are Lyons' signature flare in this production, and his blinking pops of light burst that occur during that dance routine are a resplendent bonus. Leveling dramatic lighting into a smooth blend of visual pleasure, Lyons understands how to craft a scene, lighting it perfectly for maximum emotional impact.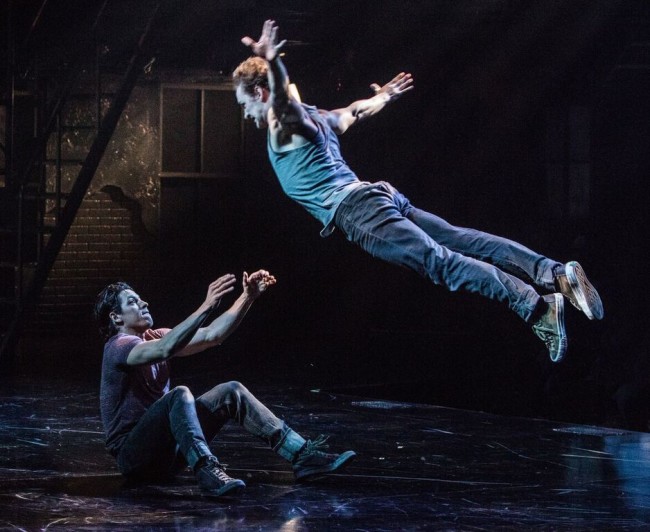 There is something to be said for a live exposed orchestra that is visually included in the production yet exists outside of the walls of the show's reality. In this production that something is praise to Musical Director Jon Kalbfleisch. Delivering the epitome of balance in the volume levels of the orchestra, Kalbfleisch creates the big band sound necessary for louder and more exciting numbers like "Dance at the Gym" but allows the pit musicians to ease into the background for "One Hand, One Heart," and other more subdued numbers. Driving the heart of the show with this lively and exceptionally talented orchestra, Kalbfleisch conducts a brilliant show.
Director Matthew Gardiner showcases his keen understanding of how to block a show in the round as well as keep the heightened and frantic excitement of such a musical on its toes and moving at lightning speed. There is a sharp sense of urgency which Gardiner imbues into the performers, charging through scenes with crackling energy that pulls the audience to the edge of their seats, engaging them in the drama, the heartache, the humor, and the love of West Side Story. Making full use of the rounded scenic outlay, Gardiner works the space to the show's advantage, the result of which is an amazing production that defies even the most awesome of descriptions.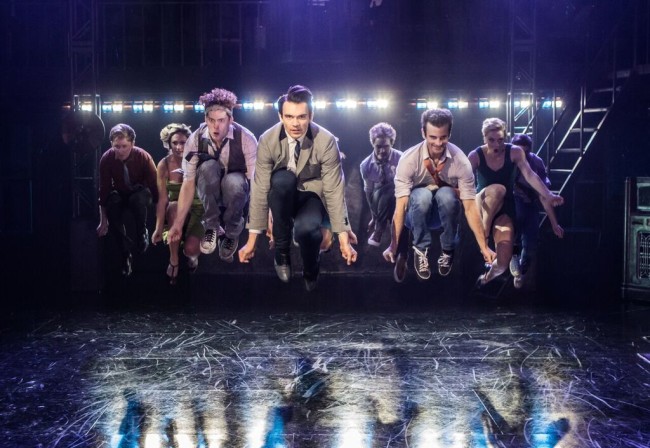 Reimagining the show's original Choreography— as conceived by Jerome Robbins— Choreographer Parker Esse fits these magnificent routines to the cast and staging of Signature's production as if they were invented specifically for this rendition of the show. Esse's Choreography is, in a word, perfection. Landing crisp routines with flawless execution among the ensemble, Esse showcases versatility, range, energy, and enthusiasm consistently throughout the show. Acrobatic and ballet intensive, the routine for the opening number alone sets an astronomically high bar standard for the rest of the show, which Esse ensures the company follows and achieves every step of the way. Loaded with style, class, and precision execution, every number from "Jet Song" to "Cool" and even the shenanigans of "Gee, Officer Krupke" are flawless in their delivery. Esse incorporates a great deal of leaping and flying action into the dance choreography of the show, which blends seamlessly into the fight choreography of the rumble scenes. Remarkable and captivating, Esse is explore award-worthy dance routines in this dance-intended musical show.
The ensemble is packed with raw talent who not only dance with exquisite divinity but they provide strong vocal sounds, humorous character bits, and sincere emotional investments to the show as a whole. Everyone—  from minor players like Anbodys (Maria Rizzo) who is loaded with pep and spunk, to the bumbling Officer Krupke (Russell Sunday) who manages a perfect mockup of a New York City beat-cop accent, to the more featured cameos like the ruthlessly corrupt Lieutenant Schrank (John Leslie Wolfe), who delivers brutal prejudice with a calloused rumble of a voice every time he grumbles into a scene, as well as Bobby Smith as the stoic and crestfallen Doc (whose delivery of crucial moments is heartbreaking)— is a delectable match for the roles that they play in this production. 
Anita (Natascia Diaz) is a whirling dervish of saucy hellcat splayed over a series of furious stomp-loaded dance routines. Holding her own as the leader of the pack in "America", Diaz delivers a ferocity that is enticing and edgy. With a full sound that is crass and blasts with bite, this number plays to her strengths as she leads the girls in the teasing verses and allows them to fulfill the chorus with the higher ranged notes. It's her rendition of "A Boy Like That", which deeply expresses the fury of a woman scorned by lost love, that defines her performance in this production. Diaz' raging fiery growl in this duet seizes the number with frightening gusto and refuses to let go.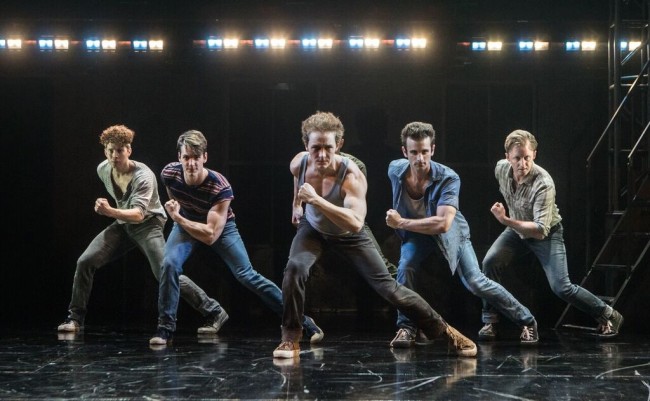 A bombastic loose cannon, Action (Ryan Fitzgerald) is constantly blasting off at the mouth whenever situations start to get out of hand. Fitzgerald takes his character's whacky side for a test run in "Gee, Officer Krupke," showcasing his versatility and simultaneously giving the street-urchin fireball of a character a few more layers to work with. Playing well with the other Jets, in both his impressive bodily leaps and blended vocal harmonies, Fitzgerald deserves a nod of approval for his work in the show.
Though Bernardo (Sean Ewing) and Chino (DJ Petrosino) don't deliver any featured solo numbers, they add strong sounds to the harmonies found among the Sharks when they take to singing in big ensemble numbers like "Tonight." Ewing possesses a sophisticated natural swagger that permeates his character's every step, but especially those when he's dancing and fighting. The fight choreography between Ewing and Riff (Max Clayton) during the rumble is explosively exciting, filled with startling moves that make the heart jump.
Clayton, as the ever-cool Riff, is a real slick cat. Controlling the Jets with a snap of his finger, that radiates through his entire body from toe to tongue, Clayton is at home with these fellas and a master of their destinies. Possessing an oily jazz sound that rolls him into "Cool," Clayton exudes class and calmed composure for this number, really turning on the juice of his charms. This creates a beautiful contrast to his energetic and enthusiastic rendition of "Jet Song" earlier in the production.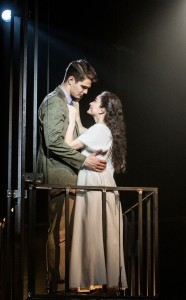 Never were such a pair of star-crossed lovers so well matched as Austin Colby, playing Tony, and MaryJoanna Grisso, playing Maria in this production of West Side Story. From their first meeting, to the balcony scene and every moment they share thereafter, Colby and Grisso are emotionally inseparable, twined by the palpable notion of love at first sight. Filled with radiant beams of hopeful light, when Colby and Grisso's voices blend together for "One Hand, One Heart" and their respective duets in "Tonight" and "Somewhere," it is pure magic that floats their hearts high above prejudice, hatred, and intolerance.
Grisso plays a sprightly yet fiery and passionate presence of mind when it comes to the naiveté of Maria. Giddy and gay, Grisso flits about leading into "I Feel Pretty" but does not allow that childish giggling and squealing to compromise her vocal integrity once the song actually begins. With a dulcet voice that hypnotizes, Grisso is a songbird in the role, but is not without versatility and an impressive emotional understanding as readily displayed in "I Have a Love" and again more drastically in "The Finale."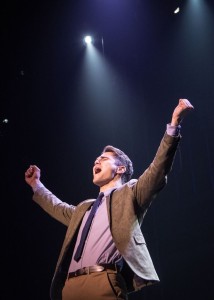 Colby is phenomenal as Tony. Haunted and unfathomably lost in his heart's own astonishment when he takes to singing "Maria," there is an undeniable spark of love at first sight that never leaves his face or his voice from the moment he first sees her. Possessed of an awe-inspiring glimmer in his eyes that twinkles down into his sensational voice, "Something's Coming" is delivered with illuminating optimism as he chases the lyrics of this number into a warmed spot of his soul. Masterfully expressing his command over crescendos and decrescendos in numbers like this and "One Hand, One Heart," Colby expresses his vastly talented vocal ability with surefire consistency throughout. An honest show-stealer for every moment he's on stage is captivating, his opening lines of "Somewhere" are soul-searing.
Tonight! Tonight! There's perfection on the stage tonight! At Signature Theatre, for seven weeks only, crossing through the busy holiday season and into the new year— West Side Story is the show of their season and is not to be missed!  
Running Time: 2 hours and 35 minutes with one intermission
West Side Story plays through January 24, 2016 in the Max Theatre at Signature Theatre— 4200 Campbell Avenue in Arlington, VA. For tickets call the box office at (703) 820-9771 or purchase them online.