You can't live against life and avoid harm by avoiding good. And nothing will remind you of that profound philosophy while simultaneously tickling your funny bone as well as Everyman Theatre's current production of John Patrick Shanley's Outside Mullingar. Directed by Donald Hicken, this shadowy Irish comedy is the epitome of balance when it comes to hilariously heartwarming and deeply moving. A touching and tender tale of dying folks living, dying, and loving in the countryside where all that stands between two farms are two stubborn souls, a patch of land leading to the road and a lot of earnest comedic moments that tickle the heart and soul in the meantime. Remarkably good-natured with moments of poignant universal clarity, this production is the perfect remedy for all that ales you this holiday season.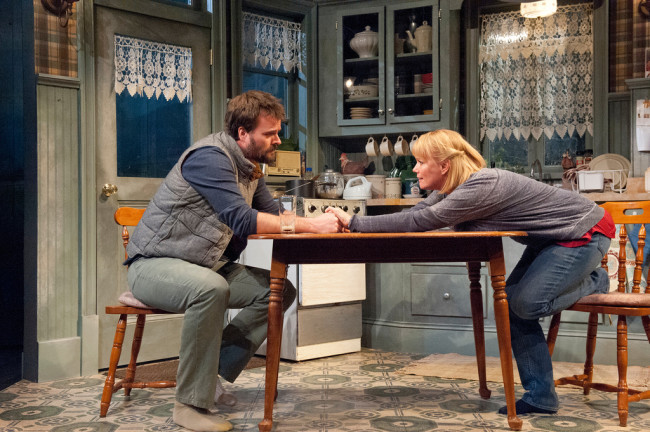 Crafting a set that was intended for Broadway's spectacle, Set Designer Daniel Ettinger captures the essence of the verdant and simultaneously dreary Irish farmlands of Killucan.  It's not the picturesque backdrop that makes Ettinger's work worth praising, but the massive rolling scenic entities that glide in and out of place with fluidity and grace, transitioning from the inside of Anthony's kitchen to the outside of the farm, to the inside of Tony's bedroom, and to the inside of Rosemary's kitchen. Ettinger's attention to the detail of these interior furnishings, assisted by Properties Master Jillian Matthews, is astonishing and completes a thoroughly authentic lived in appearance of these two farmsteads.
Lighting Designer Jesse Belsky, working with Sound and Music Designer Phillip Owen augments the atmosphere of dreary Ireland where the rain never seems to abate, even on the clear days. Owen's subtle underscoring of rain juxtaposed with a gentle hand against Belsky's projections of ever-falling raindrops keeps a somber gloom lingering in the ether without overtaking the scenes as they unfold. Belsky has a firm grasp on darkened lighting, using subtle blues that allow just the faintest hints of visibilities for scenes inside the darkened bedroom or outside at night in the rain. This effect is rather striking by comparison to the warmed orange kitchen lights or the momentary clear day effect created in later scenes.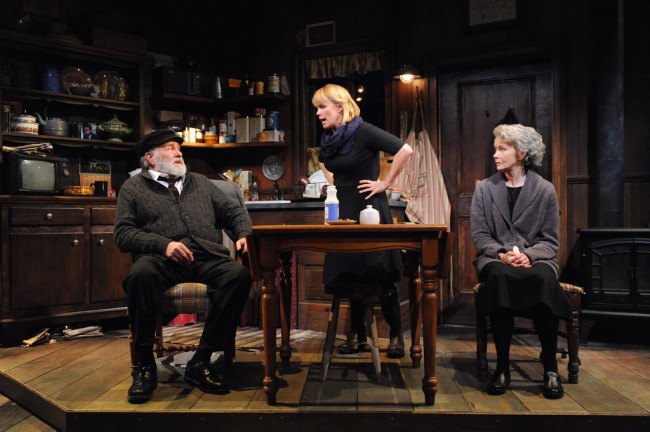 Director Donald Hicken masterfully moves the show along, as playwright John Patrick Shanley's work takes quite a while to gather its momentum. Shanley's script almost stagnates in the mire of death and uncertainty, burbling with minor quips of black humor early on; it's not until the final two scenes that the engaging hilarity and dramatic happenings really burst to life. Hicken coaxes such exceptional performances out of the actors that these final two scenes are delivered with such vibrancy and charge that it makes up for Shanley's delay in the rising action of the show. The production's one downfall is tragically the approach to the Irish accents. Dialect Coach Gary Logan manages to imbue them each with a strangely uncommon Irish sound, despite all of the characters being locals of the same village, and these sounds waver— particularly in Beth Hylton's portrayal of Rosemary— whenever something exciting like shouting or back-peddling begins to happen.
The dynamic relationships crafted by the four players is remarkable, particularly as Tony (Wil Love) and Aoife (Helen Hedman) disappear from the scenic work shortly after their introductions. All four of the characters are possessed of a stubborn streak a mile wide with each of the actors taking a different approach to delivering this obstinate quality in their portrayals. Love and Hedman have a curiously relatable understanding of grief, taking solace in the darker humors of death. Gassing on with fond reminiscence as one might expect of an old codger nearing the end of his days, Love imbues the character of Tony with a sense of reverence that only a man in the sunset of his life could possess. It's Love's interactions with Hedman, those quaint comic exchanges, as well as with his character's son Anthony (Tim Getman) and the bombastic Rosemary (Beth Hylton) that nudge the show along in the first initial scenes. Hedman's performance is decent, though the character itself lacks depth and dimension; her approach to finding little moments of lively intent is one worth commending.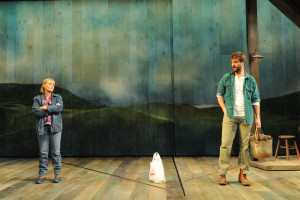 Getman and Hylton become the sole focus of the show, if not immediately from their initial encounter, once the later scenes arrive. As spiky and thorny as her character's namesake, Hylton bristles indignantly with a biting temper, particularly when dogging down the male characters in the show alongside her. Fully versatile and wildly entertaining, Hylton drives the show from the midway point on forward with her unrelenting barrage of questions aimed at Getman's character. Getman, whose character is subdued and almost reticent by comparison to the way Rosemary carries on, holds his own in conversation and scenic interaction right until the massive explosion in the final scene that occurs between them.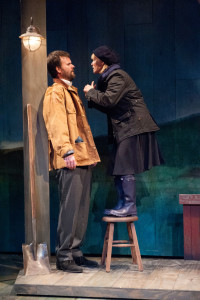 A vibrant working chemistry sizzles between both Getman and Hylton throughout the show. The perpetual churning platform of their relationship is at best described as intriguingly tumultuous. With Getman's absurd facial expressions and frightened-to-fleeing physical responses to the situation in which he finds himself with Hylton's character, the comedy between the pair is delivered in unabashed and unapologetic broad strokes that smack the audience with utter hilarity at every available moment. Both performers express with sincerity the more emotionally raw visages of their character's hearts and souls in appropriate moments, and their interactions with the other two actors in the show occur with natural ease.
A delectable feel-good comedy that truly speaks to the heart in the tongue of uproarious laughter, Outside Mullingar is a must-see this holiday season.
Running Time: Approximately 100 minutes with no intermission
Outside Mullingar plays through January 10, 2016 at Everyman Theatre— 315 W. Fayette Street in the West End Entertainment District of Baltimore, MD. For tickets call the box office at (410) 752-2208 or purchase them online.