Just because life isn't fair it doesn't mean that you just have to grin and bear it, and nobody but you is going to change your story. Make sure you be a little bit naughty this holiday season and get yourself a ticket, no matter how you do it, to Matilda as it appears itself on the Opera House Stage of The John F. Kennedy Center for Performing Arts. Directed by Matthew Warchus with Musical Direction by Matthew Smedal, this brilliantly dark but inspiring tale of childhood at its finest (with Book by Dennis Kelly and Music and Lyrics by Tim Minchin) will have your inner child revolting at the injustices happening in Chrunchem Hall. Based on the novel by Roald Dahl, this terrifically twisted tale lights up the imagination of children and children at heart just in time for the holidays.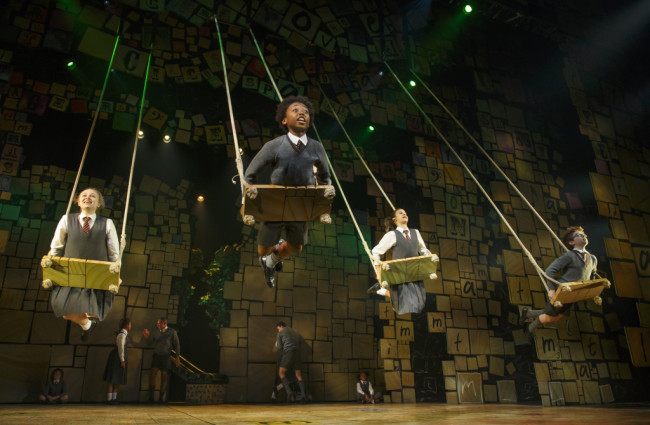 Teaming with wonder and whimsy, Set and Costume Designer Rob Howell capture the magical elements that captivated audiences who were fortunate enough to experience the production on Broadway and scale them appropriately for the touring production. Alphabet letters, which cleverly conceal hidden words, are strewn across the sets more decorative backdrops, particularly those of the library, and the colors always look as if they are popping straight from the pages of a book. In addition to Howell's imaginative illustrations, Illusionist Paul Kieve assists with some of the more impressive tricks featured throughout the performance— including swinging students by their pigtails and chalk that writes on the chalkboard all by itself!
Lighting Designer Hugh Vanstone and Sound Designer Simon Baker have one job in this production of Matilda and they would earn even the Trunchbull's stamp of approval for making Chokey appear as brutal and gruesome as possible. Vanstone and Baker have consistently impressive effects throughout— especially when it comes to highlighting the atmospheric intonations of dance numbers like "School Song" and "Loud" but it's their work in the second act when the Trunchbull bares down upon Miss Honey's class that really takes the cake. Watch specifically for Vanstone's use of shadow-play and silhouette when the stories of The Acrobat and The Escape Artist come to life as it is most magnificent.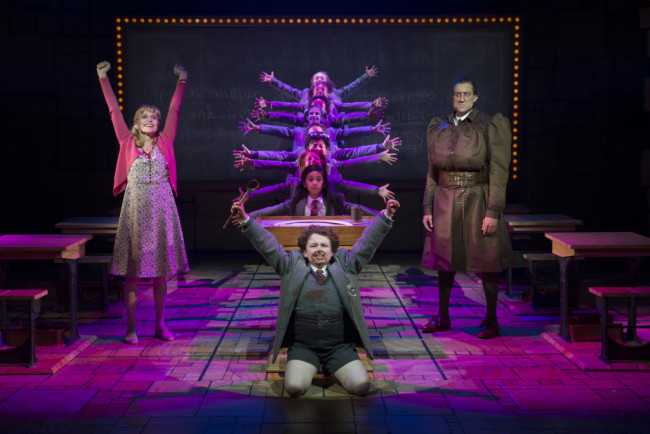 Choreographer Peter Darling infuses each routine with a youthful resplendence that even catches contagiously among the adult characters for numbers like "Loud." Though it's impossible to hear the words articulated by Mrs. Wormwood (Cassie Silva) in this number, her dance routine with Rudolpho (Jaquez Andre Sims) is a flashy showcase of highly stylized spins, twirls, and Latin-inspired moves that are synchronized perfectly with an equally flashy light show. Darling drives numbers like "School Song" with erratic movements, and does the same for "Revolting Children" while showcasing his versatility through militaristic execution of the opening number "Miracle." All in all some impressive movement across the board, Darling captures the essence of a musical filled with the energy of children.
Standout performances across the board can be found in the ensemble of younger and older children alike. Their ability to provide huge sound that still intones with perfect pitch during "Chokey Chant" and other group numbers like "When I Grow Up" warms the heart amid the delectable darkness that the musical has to offer. In particular, the roles of Bruce, Lavender, Nigel, and Amanda (at this performance Evan Gray, Charlie Kersh, Cal Alexander, and Kayla Vinueza-Amistad respectively) are worth mentioning for their precocious and excitable outlook and extremely humorous one-liners, particularly Kersh's lines about the newt and Gray's entire scene that leads into the song "Bruce."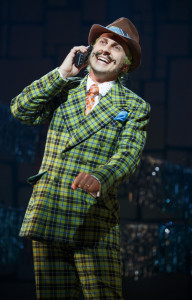 Mr. Wormwood (Quinn Mattfeld) is quite the irksome irritant, providing a perfect foil to Matilda's determined personality. Mattfeld, who keeps an echoing parrot in son Michael (Danny Tieger) has a way with improvisation when the top of the second act gets underway and he works the audience over with humorous success leading into "Telly", a genius comic number reminding the audience of the importance of television. Mattfeld masters the ridiculous character with an urgent vigor that makes his comic dealings with Mrs. Wormwood, and later Sergei (Ian Michael Stuart) an uproarious revolt all their own.
Though only The Escape Artist (Justin Packard) takes to singing in duet with Matilda during "I'm Here" his rich and robust voice is soothing and calming, much like a reassuring lullaby. Playing opposite Ashley Elizabeth Hale, his Acrobat Wife, their scenes— featured mostly in shadow and silhouette— are tender and simultaneously fantastical, as they are a part of Matilda's great story. The only thing that makes their storybook scenes more impressive are the melodramatically entertaining responses from Mrs. Phelps (Ora Jones.) While Jones' accent wanders initially it's her insanely excitable enthusiasm over hearing the conclusion of Matilda's cliffhanger tales that keeps the audience interested in the way she fits into the bigger picture.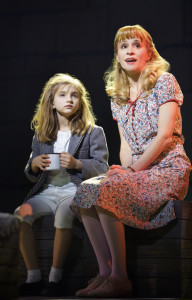 Gentle, sweet, and syrupy like her namesake, Miss Honey (Jennifer Blood) brings a delicate balance to the atrocious family dynamic Matilda experiences at home while combating her own familial struggles in the show. Blood has a tender voice that does a wonderful justice to the mild and meager character, particularly when singing "This Little Girl." Her upper range is graceful and strong and her ability to sustain notes in perfect pitch is impressive as is her ability to go from something slow and ballad-like for the chorus of "Pathetic" and switch into the marching patter of the song's verses without skipping a breath. "My House," is another example of her pristine vocals that match the sentiment of her character's emotional convictions.
But for every good and truly worthy character like Miss Honey, the story must have a vile, revolting, and disgusting villain. Miss Trunchbull (Bryce Ryness) is the epitome of evil, the picture of putrescence, the harbinger of horrid, and the urchin of unctuousness. Ryness delivers a magnificent performance as the iconic villain in Dahl's tale, sniping with impeccably timed one-lined zingers, and an intimidating posture that terrifies even the boldest of students. Providing comedic brilliance in the dead-pan delivery of harsh exchanges with Miss Honey, Ryness finds an exciting depth in the distorted dungeon mistress. "The Smell of Rebellion" all but steals the show as Ryness rolls through the number with proud pizzazz and a snappy jazz-inspired cadence driving his physicality here. Ultimately the exacting portrayal of what a bludgeoning force that the Trunchbull is expected to be, Ryness shakes the stage with the thunder of villainy in the role.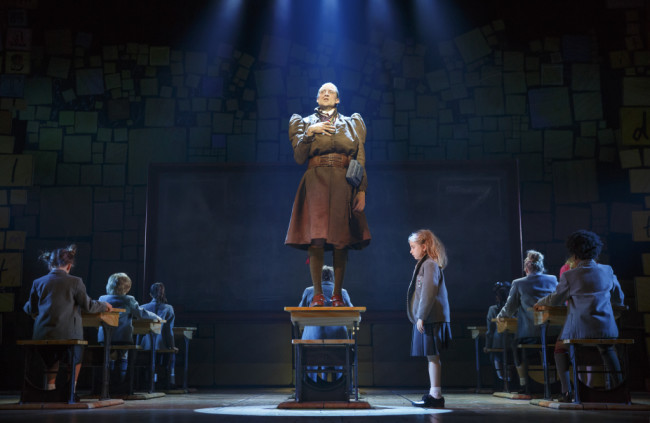 And as for the title character (at this performance Mabel Tyler) she doesn't let a little thing like little stop her. Precocious, spunky, and bursting with gumption, Tyler packs a powerful punch despite her youth and slight size. Whether she's shouting "But I'm a girl!" defying her father's redundant misuse of pronouns regarding her gender, or flawlessly and preciously executing her mischievous plots of revenge, Tyler embodies the daringly brave little girl that anyone who has ever encountered Matilda in any format expects her to be. "Quiet" is a solo that allows Tyler to show-off her singing versatility, going from the more fun numbers like "Naughty" into a subdued and delicate moment of storytelling. Tyler's ability to narrate the tale of the Acrobat & Escape Artist, is also captivating and truly gripping— not only to Mrs. Phelps— but to everyone in the audience.  
Time is the one thing that no one is master of, and knowing this don't wait another minute to procure your tickets to the touring production of Matilda as it makes a brief stop this holiday season at The John F. Kennedy Center for Performing Arts. If you don't, you might just find yourself being sent to chokey.
Running Time:  Approximately 2 hours and 35 minutes with one intermission
Matilda plays through January 10, 2016 2015 on the Opera House Stage of The John F. Kennedy Center for Performing Arts— 2700 F Street NW in Washington, DC. For tickets call the box office at (202) 467-4600 or purchase them online.