Teacher says every time a bell rings an angel gets its wings! Holiday bells are ringing at Toby's Dinner Theatre of Columbia as they welcome the holiday season with their very own original musical production of It's a Wonderful Life. With Music and Lyrics by David Nehls with Book and Adaptation by Michael Tilford, this feel-good holiday classic is carefully crafted with love specifically for the intimate in-the-round staging at Toby's Dinner Theatre and fits like a favorite holiday sweater. Directed by Toby Orenstein and Tina Marie DeSimone with Musical Direction by Ross Scott Rawlings, it's truly a heartwarming family classic that is perfect for the holidays; the production is pure storytelling at its finest when it comes to the miracles of Christmas.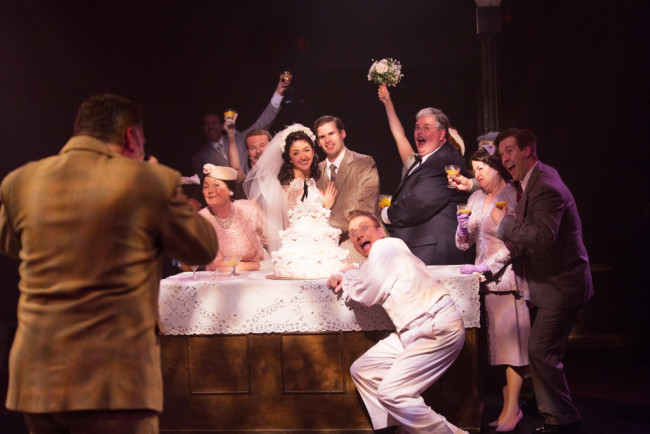 Christmas time brings an air of magic to the stage all across the lands, but none quite so wonderful as what Resident Scenic Designer David A. Hopkins and Lighting Designer Coleen M. Foley are concocting with their set and light design respectively. Hopkins' masterful working knowledge of how to create fluid scenic changes in crossfaded darkness is showcased exceptionally in this production. His use of simple roll-out furnishings keeps the show moving and delivers a little bit of theatrical enchantment along the way. With bar-top tables that flip into tombstones for a surprisingly quick transition in act two, as well as the Bailey household dinner table that spins around into little Zuzu's bed are just a few of the wondrous effects crafted by Hopkins to bring a little Christmas enchantment to the show.
Foley's lighting design accents Hopkins' work with earnest emotions and a sharp understanding of how to make the most out of the staging in the round. Foley's work is most keenly appreciated during the Pottersville sequences where floods of red and harsh blues amplify the shift into a gloomy and doomed world without George Bailey. Foley casts watery reflective blues on the enormous steel-trussed bridge, which Hopkins as crafted up onto one of Toby's signature riser platforms, creating the notion of existing above the frigid waters. Together their work highlights the show in all the right places without detracting from the truly promising moments of the story being told.
Costume Designer Samn Huffer works a few miracles all his own in the wardrobe department. Capturing the essence of the 1920's to 1940's era of style in the various dresses and suits. Huffer's attention to detail is impeccable, from the pristine white outfits of the Clarence and Joseph— the angels— to the way Bert the cop's coat shifts from short and friendly to long and foreboding between reality and the Pottersville reality. There are vibrant holiday colors laced throughout the show, particularly in the holiday evening attire saved for the children.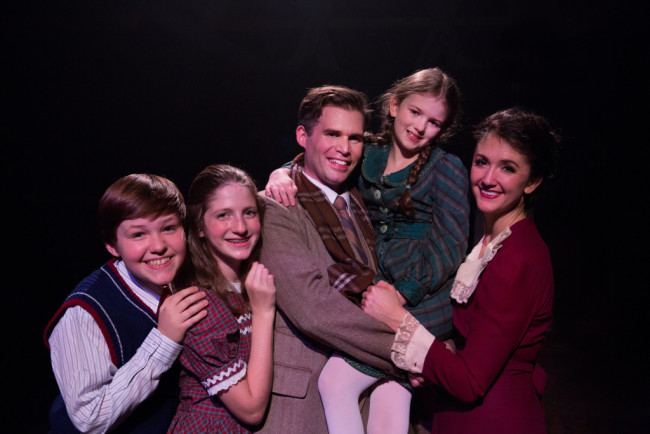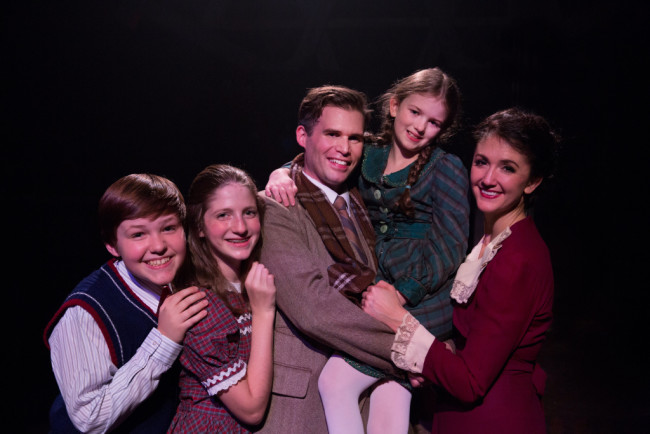 There is nothing quite so joyous than a well-tuned chorus that creates great swells of glee when they sing united as one voice in a holiday show. These great sounds found in It's a Wonderful Life: The Musical are found in the skillful hands of Musical Director of Ross Scott Rawlings. Working with the ingenious compositions by David Nehls, Rawlings brings forth the sound of holiday appreciation in the chorus throughout the performance. Nehls' score and lyrics radiate with brilliance, draping the songs in the heartwarming sentiment of the movie while staying true to the pillars upon which Toby's performances are built: earnest storytelling. Rawlings steps in to make musical numbers like "Back from the War" and "This Round is On Me" sparkle with resplendence as wave after wave of holiday happiness roll through the ensemble. Rawlings also understands how to turn that happiness into haunting and harrowing sorrow during "Requiem for the Common Man" when the world has gone bleak without George Bailey.
At the heart of all good theatrical productions is the telling of the story. Directors Toby Orenstein and Tina Marie DeSimone, put Orenstein's hallmark of 'a good story told' onto the show consistently throughout the performance. Focusing on the characters, their raw and heartfelt emotions, and their relationships, Orenstein delivers the story of It's a Wonderful Life in all its glorious splendor this holiday season upon her stage. Never was there a truer representation of the meaning of Christmas than in this production. 
True cinephiles recollect well the big school dance that bring Mary and George together for the very first time, and while the scene is somewhat different in the stage adaptation, Choreographer Tina Marie DeSimone ensures that the fun-loving attitude of that big number is imbued fully into the stage version "Syncopation Rag." The jazzy and snazzy footwork in this routine speaks to the era of dance which inspires it as well as the fanciful enjoyment of the dancers performing the number. DeSimone works diligently with the ensemble to extract the most from their dancing abilities and add a flagon of fun to this charming musical.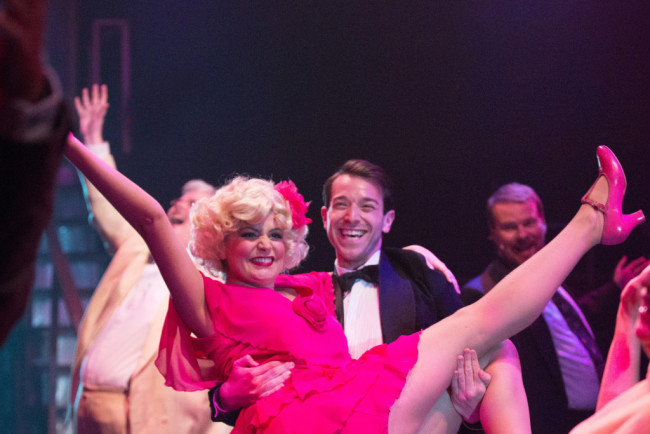 Populated with Toby's veterans the ensemble features merry performances from a great number of household names. MaryKate Brouillet as the sassy Violet Bick gets to showcase her fancy footwork in "Syncopation Rag" kicking up her heels to a swinging beat and boasting a big blast of her vocal ability as well. Quirky portrayals of iconic characters like Sam Wainwright and Ma Hatch are taken under wing by Jeremy Scott Blaustein and Susan Thornton, both giving delicately nuanced performances that make these characters pop with humor.
Other humorous and family-filled portrayals come from silly Uncle Billy (Andrew Horn) and pestiferous Aunt Tilly (Tina Marie DeSimone.) Horn and DeSimone have a good working chemistry between one another, with DeSimone nagging the absent-minded and foolish Uncle Billy character with an unforgivingly shrill squeal, which serves to make their scenes together quite amusing. Handling the Mr. Clark, the Bank Examiner (at this performance AJ Whittenberger) with a rigorous gusto, DeSimone makes Whittenberger's reedy and nasally character hop through hoops in his brief scenes near the end of the show.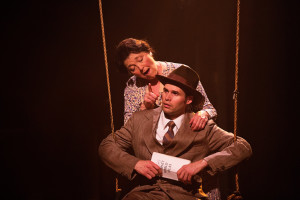 The heart and soul of the Bailey family lives in Ma (Lynne Sigler) and Peter 'Pa' (at this performance Darren McDonnell) Bailey. McDonnell delivers a stellar sound when singing "The Greatest Gift," filled to the brim with patriarchal wisdom and firm fatherly love. Truly making a profound emotional impact with the lyrics "take every second, make it last, the future becomes the past," McDonnell leaves a touching handprint on the hearts of the audience. The same is true of Sigler's performance as Ma Bailey. Her heart-wrenching and agonizing moments of her solo in "Requiem for the Common Man" brings tears to the eyes and is juxtaposed splendidly with her nurturing and otherwise cheery disposition featured in the first half of the show. Sigler has a precious and humorous segment of duet with Susan Thornton during "A Very Special Occasion" that is memorable as well.
Harry Bailey (Justin Calhoun) hometown hero and the apple of Bedford Falls' eye is spunky and lively and filled with frenetic energy that simply won't quit. Though Calhoun's stage time as the younger brother of George is limited he makes his presence known in the opening sequence. His physical intensity with the character, running around and paling with George or stealing the pie from Aunt Tilly makes gives his performance a lasting echo that resonates with heartwarming familiarity to anyone who has ever had a kid brother. With a featured solo line that kicks off the finale, Calhoun's decadently deep voice is a perfect way to welcome a happy ending to the show.
Watching George Bailey grow from his young self (at this performance Jace Franco) is quite an amazement. Franco is precocious and excitable, following a path of undeniable enthusiasm right through "That's How It's Going to Be." Interacting fully with the despondent and bereaved Mr. Gower (Shawn Kettering), Franco shows his sentimental side in perfect harmony against his eager side. Taking on the role of Pete once George Bailey has children, Franco along with Janey (at this performance Caroline Otchet) and Zuzu (at this performance Lilianna Robinson) make for a precious little family, especially when singing with Mary and George once the world is righted in the end.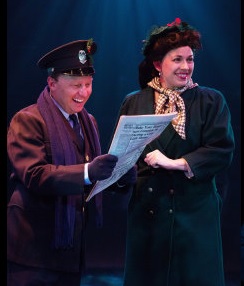 It can be said that no man is truly a failure who has friends and George Bailey has two of the chummiest and most jovial fellas in the bunch playing his buddies. Bert the Cop (Jeffrey Shankle) and Ernie (Lawrence B. Munsey) are two perfect peas in a pod when it comes to palling around with each other and with George. Munsey delivers radiant resplendence with his bold and satisfying voice during "This Round is On Me," showcasing how spry and happy his character is after George has touched his life. Munsey and Shankle have pitch-perfect harmonies, with Shankle taking the higher end of them, in "I'm On My Way." The pair deliver shocking anger and distortion in the Pottersville sequence with "The Honky Tonk" giving Munsey a chance to spew frustrated vitriol in the faces of George and Clarence. Keep an eye on Shankle during George's redemption, his facial reactions are a swift kick to the funny bone.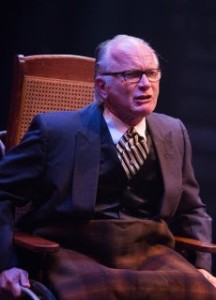 For every happy Christmas moment there is always a warped and frustrated old man to muck it up and for George Bailey's story it's Mr. Potter (Robert John Biedermann 125) Twisted by an unctuous darkness that rots his soul, Biedermann embodies the ruthless tycoon character with an unsavory ease. Scurvy like a spider his interactions with George are heinous at best, making him the epitome of the antagonist to the narrative of George Bailey. "It's Time to Get Back Down to Business" is a brutal number which Biedermann leads the male ensemble through, driving home the nails in the coffins of reality with a sinister sound.
Watching over it all, the angels we have heard on high— Joseph (David Bosley-Reynolds) and Clarence (David James) serve as heavenly tour guides to the story of George Bailey. Bosley-Reynolds takes a subtle approach to the character of Joseph, convivial and delicately blunt, particularly when it comes to addressing the simplistic Clarence. Always watching from his office in heaven, Bosley-Reynolds has a tender and inspiring moment near the show's very end as he observes Clarence's work with George Bailey.
James, as the high-energy, exuberant angel-second-class, delivers the character of Clarence with great faith and a tender heart. Present and mindful while watching the narrative unfold below him and all around him, its James' silent engagement and responses facially and physically that make him an astonishing performer. Versatile to the last, James runs the gamut of emotional expressions— using his full body as an extension to these sentiments— throughout the performance. There are several moments where watching his responses to George and what's happening that bring a mist of emotion to the eye. In addition to these touching moments, James finds the humor of the character in his caricaturization and physical shtick routine. With hilariously silly little moments— like tucking in to eat dinner in Ma Bailey's kitchen before being sat on— and his patented finger-swivel-nose-boop routine, James carves a comic niche for Clarence that fits him like a glove.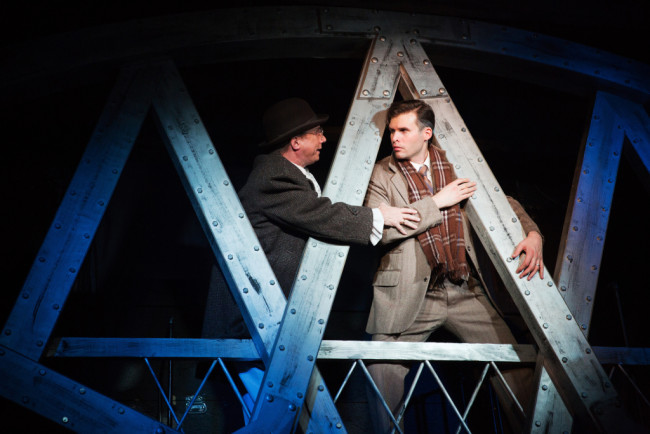 Really taking to the spotlight with his big indefatigable number "Ya Gotta Have Wings", James shuffles, flaps, slides, falls, and spills himself all over the stage in an uproarious yet honest routine that showcases the vaudevillian angel of his soul. Delivering a truly haunting and emotionally striking song, "If Only I Could Reach Him," James possesses the finesse and mastery of a well-trained actor to find the sentimental gravity of this number, a duet shared with Mary Hatch (Katie Keyser.) Though Keyser never sees Clarence, the moment they share where their hands nearly touch is truly stirring.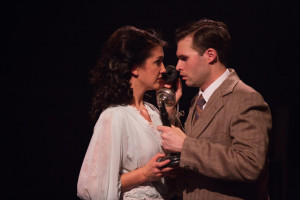 Keyser is a congenial and winsome Mary that has just a hint of cheek when it comes to the infamous interactions she and George Bailey (Matthew Schleigh) share throughout the performance. Possessed of a gloriously dulcet voice, numbers like "My Wish is You" and "I'm at Home," become wondrously mellifluous and settle into the air like a sweet holiday treat. Her emotional depth and precision in executing it for the somewhat simplistic character of Mary is remarkable and her ability to create a dynamic difference between Mary's eager love for George and her desperately frightened need to save him— as best represented in "If Only I Could Reach Him," is impressive.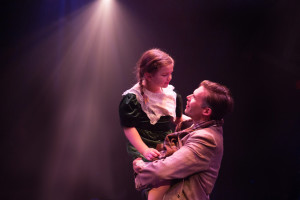 Schleigh is the epitome of what a George Bailey ought to be. With a nod of homage to Jimmy Stewart while carefully crafting his own unique approach to the iconic character, Schleigh is brilliant in the role. Carrying the precocious excitement and energy of young George right through numbers like "I'm On My Way" it's easy to identify with his enthusiasm on the whole. "George's Decision— Parts 1, 2, and 3" are the meaty moments of the show wherein Schleigh delves into the emotional depth of the character and fleshes him out into a dynamic and awe-inspiring man. With a phenomenal voice, Schleigh takes to "Lullaby" which is a heart-rending moment that encapsulates his character's humanity. Versatile in every sense of the word and filled with a great sense of familial loyalty and earnest "good-guy" nature, Schleigh delivers George Bailey with touching honesty and sincerity.
It's truly a wonderful life at Toby's Dinner Theatre this Christmas season and the only word I can think of two describe it is— perfect. Filled with heart, spirit, soul, and holiday love, It's a Wonderful Life: The Musical will leave a lasting impression on your heart all year long.
Running Time: 2 hours and 45 minutes with one intermission
It's a Wonderful Life: The Musical plays through January 10, 2016 at Toby's the Dinner Theatre of Columbia— 5900 Symphony Woods Road in Columbia, MD. For tickets please call (301) 596-6161 or purchase them online.
For some fun and fancy holiday reading, click here for It's a Wonderful Interview: Getting Wings with David James.