This time of year there is one story that always puts me in the holiday spirit and that's It's a Wonderful Life. The story of George Bailey giving everything for the people of Bedford Falls only to have everything he has done come crashing around him when Uncle Billy loses the business's $8,000 while heading to deposit it in the bank— and on Christmas Eve none-the-less! It is because of this moment that George intends to end his life but when Clarence the angel is assigned to help him; George wishes he's never been born. Clarence makes that happen. Clarence shows George what it would be like in Bedford Falls without him and in the end George wishes to return to his fate. When the people of Bedford Falls find out what has happened to George they rally behind him to help him like he has done to so many of them before. In the end it is a wonderful life and Clarence gets his wings for what he has done helping George. This classic, which I have watched many times, is being presented as a live radio play this Christmas season by Annapolis Shakespeare Company, Directed by Jay Brock and starring Kevin Alan, Sally Boyett, Nick DePinto, Roby McQuay, and Teresa Spencer. It's a Wonderful Life: A Live Radio Play adapted by Joe Landry is a special way to get into the holiday spirit.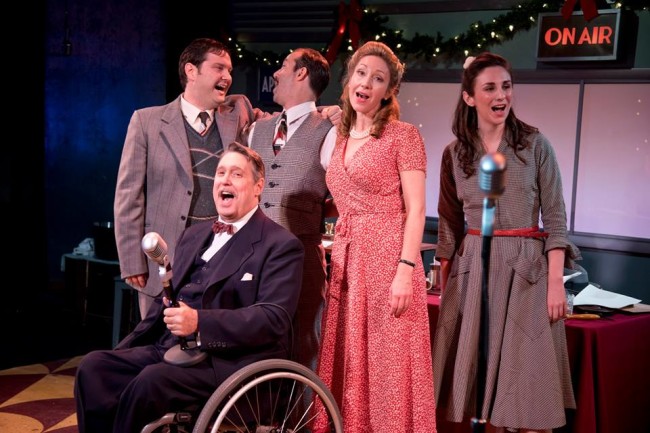 The performance space at Annapolis Shakespeare Company has been transformed into a 1940's radio station by the magic of JD Madsen. Madsen's design includes an amazingly painted floor, a back wall that is silver with frosted glass windows, limited furnishings – chairs and a table, stand microphones and props that are period appropriate. The rest of the space is decorated for the Christmas season with a tree in the corner and garland around the room. The scenic design immediately places the audience in a radio studio at Christmastime.
The show begins with each of the members of the Radio station entering to prepare for the show, during which time they interact with the audience. This interaction, which seemed to be improvised, felt extremely awkward and disjointed. The show is set in a New York radio station but when the actors interact with the audience some of the actor's responses are twisted to fit that location. For example, one interaction I witnessed was when one of the actors asked an audience member where they were from and the woman in the audience said "Crownsville" the actor responded with "Oh Schenectady, I've never been there" – either she was not listening to her audience member or she was not improving but rather had a stated script of words to use. In either case it didn't sync and the opening improvisational bits needed to be worked on to suit the local audience or cut. Although it's a good idea as "bit", it only remains so when it works properly.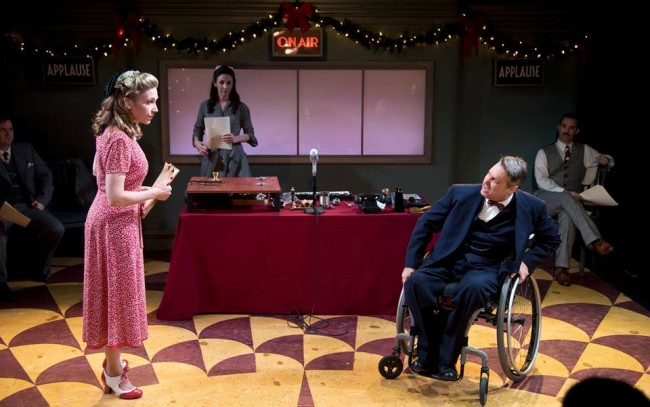 The audience is prepped with instructions on making noise, applauding and reminded of what a treat that it is to be part of a live audience for a radio play. Then the "show" beings. "Scripts" are handed out to the radio cast, which I should note were just blank pieces of paper that in an intimate space such as the Annapolis Shakespeare Company has was a bit jarring. As the actors read from the pieces of paper, the audience could plainly see there was nothing written on them. While this works for a larger venue with a proscenium stage, little details like this detract from the show in such an intimate space. Each of the radio cast did their warm ups, got drinks, checked their sound effect pieces, and prepared for the show.
When the head radio personality – Freddie Filmore (played by Rob McQuay)— gets the signal that they are going live the cast settles in to perform the radio play. Cast members Sally Boyett, Nick DePinto and McQuay begin the radio intro with a jingle which brings the audience right back to the fact that it is a radio show. The play within the play begins in earnest as the actors begin to retell the story It's a Wonderful Life live on the air. Staying true to the concept of a radio show, the actors begin by working around the microphones stationed around the stage and moving in and out of the "scenes" and over to the sound prop table smoothly. However, as the show progresses the cast members begin to move further and further away from the microphones to the point where there is action happening in the center of the stage (in specific— a kiss) where no microphone is located and no sound effect is made. I could not tell if this was a directorial choice or a writer's choice but it in fact left me wondering whether I was watching a "radio play" or a "play" set in a radio studio.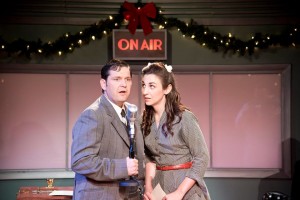 Even with these issues, the actors of Annapolis Shakespeare Company's It's A Wonderful Life: A Live Radio Play should be commended for their performances. Teresa Spencer portraying Sally Applewhite, who then plays Mary Hatch, does a nice job with a character that tends to be one-noted, giving just the right spark and twinkle in her eye to make Mary lovable. Kevin Alan who portrays Jake Laurents, and then George Bailey, makes you want to help George at every moment in the production, enabling audience members to sympathize with and hope for George throughout the performance.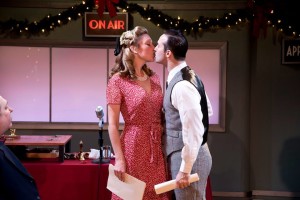 Sally Boyett, who plays the role of Lana Sherwood— playing multiple roles including Violet, Rose Bailey, Matilda, Ruth, Mrs. Hatch, Mrs. Thompson, Schultz, Zuzu, Janie, and Sadie Vance— does a nice job both vocally and with her physicality to portray each one of these characters. Boyett gives perfect timing to quite a number of the cute and funny moments in the show. Nick DePinto, who again plays a number of roles – Harry "Jezzbo" Heywood in the studio and then Harry Bailey, Bert, Clarence, Sam Wainwright, Martini, Dr. Campbell, Charlie, Horace, Mr. Welch, Tommy, and the Sherriff in the plays—does an amazing job of transforming into each of the roles seamlessly making it easy for the audience to follow. DePinto shows a wide versatility and talent as he makes you forget that it is one person playing all of those roles.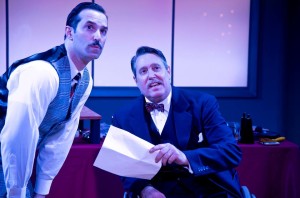 The standout performance in this production is given by Rob McQuay. McQuay performs as Freddie Filmore, who is the show's announcer and inside the play performs as Mister Gower, Mr. Potter, Uncle Billy, Joseph, Peter Bailey, Ernie, Old Man Collins, Ed, Pete, Nick, the Bridge Keeper, Binky, and a cop. He does a wonderful job with each and every one of these roles. McQuay contorts his face and voice to create unique character portrayals that are easily identifiable and with true perfection he makes the transitions instantly without missing a moment in the show. Impressive does not do McQuay justice as I could watch a one-man production where he creates a multitude of characters just based on what I've seen here and thoroughly enjoy it. If you are looking for a reason to go see this show, go see McQuay, as that is talent you rarely see on stage.
Director Jay Brock does a good job with the cast, especially developing the unique character interpretations needed for a radio play. With the help of Nancy Krebs, the company's Resident Voice/Dialect Coach, the two of them are able to make each of the characters distinct. The Lighting Design by Adam Mendelson was simple with a few nice moments; the blues and pinks used for special moments were well done. One of my favorite moments was when the cast enacts the "radio advertisements and jingles" and Mendelson's lighting design goes right along with the cast singing, going so far as to change the lights behind the frosted windows. The Sound Design by Gregory Thomas Martin was well done and well executed keeping properly in the world of a 1940s radio play.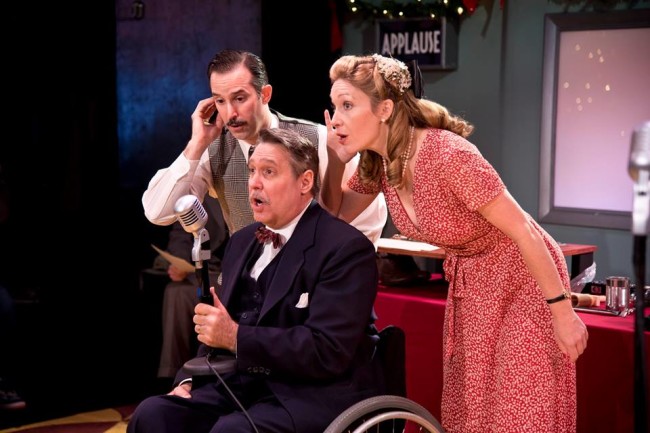 Overall, It's A Wonderful Life: A Live Radio Play will truly get you in the Christmas spirit. Recreating this classic on stage is great, doing it as a radio play made it enjoyable in a unique way. The cast should be commended for what they do on that stage each and every night.
Running Time: 1 hour and 50 minutes with one intermission
It's a Wonderful Life: A Live Radio Play plays through January 03, 2016 at 2015 at Annapolis Shakespeare Company at ASC's Studio— 111 Chinquapin Round Road, Suite 114 in Annapolis, MD. For tickets call the box office at (410) 415-3513 or purchase them online.