It's 9:00pm, Baltimore. Are you sitting up eagerly by your radio cabinet anxiously awaiting the master of the macabre to make his way into your living room? The navigator of the netherworld is nearing his time to kick off the monthly broadcast of Horatio Dark's Between the Lines, recording live from inside the walls of The Yellow Sign Theatre. The antiquarian of the insane takes the audience for a riveting ride through four new installments of radio episodes designed to harken back to a time of thrilling radio plays and radio mysteries. Two recurring serials and two new stand-alone features all come together under the brain child of Horatio Dark (as written by Aaron Travis and performed by Jon Freedlander) for one mesmerizing evening of entertainment the likes of which you won't get anywhere else in Baltimore.
Featuring four local writers who turn out new scripts for the broadcast every month, Horatio Dark's Between the Lines November broadcast features the return of two regular series— The Bennington Marcus Mysteries written by John Higgins and Rex Pylon & Dot: Planet Tripper Adventures written by Aaron Travis— as well as two new pieces, Oh, Margie, Where Art Thou? written by Alix Tobey Southwick and Chap Sweat written by Chaz Kedesla. Each of the new episodes are framed by the show's live-action host, Horatio Dark (as voice-read by Jon Freedlander) with scripted introductions, again written by Travis, and commercial announcer breaks as read by Anthony C. Hayes. Travis' command of these two characters is exceptionally well crafted and their tonal development is enhanced tenfold by the comically styled delivery of Freedlander and Hayes.
The magic of a live radio play comes through not only in the reading of the script but in the sound effects created in the moment during the broadcast. Sound scientist Dave Marcoot operates his Foley booth with precision, crafting authentic sound effects for each of the scripts in addition to the cutaway segments leading in and out of the episodes— including the well-recognized burble of a mad scientist's laboratory every time the character of Horatio Dark is introduced. Marcoot used authentic props that would have been used in the era of radio broadcast and radio mystery serials (there's even a large thunder sheet for dramatic effect), which really draws the audience into the authenticity of this low-brow art form that Yellow Sign Theatre has captured a mastery of in their execution of this monthly endeavor.
The impressive unifying factor of the scripts being showcased is their writers' ability to live fully in the era in which these serials and episodes are based. Even though the styles are varied— everything from realistic science-fiction adventures to shady noir-esque mysteries— the characterizations and plot developments of these unique stories all fit within the world of "old-fashioned live radio programs." The November broadcast was performed with one intermission between the first two non-serial episodes and the two returning regular serials.
Chap Sweat: Harvest Home written by Chaz Kedesla
Dodge City's own US Marshall Max Zimmerman is on the trail of stereotypes and hijinks trying to lay down the law when things go south. Author Chaz Kedesla has written the character of Max Zimmerman with a heavy hand of 'beat-cop' blended with cowboy. Having it read by YST member Mike Jancz furthers that archetype of the rough-collared law enforcement man. Showing up as his witless country yokel sidekick, Curly (as read by Aaron Travis) delivers the laughs with his simplistic viewpoint of the Chap Sweat world. Travis' affected accent assists the delivery into something truly humorous. As does Vii Lee's tawdry western charm in her reading is Miss Pretty, the local saloon lady with a passing fancy for Zimmerman.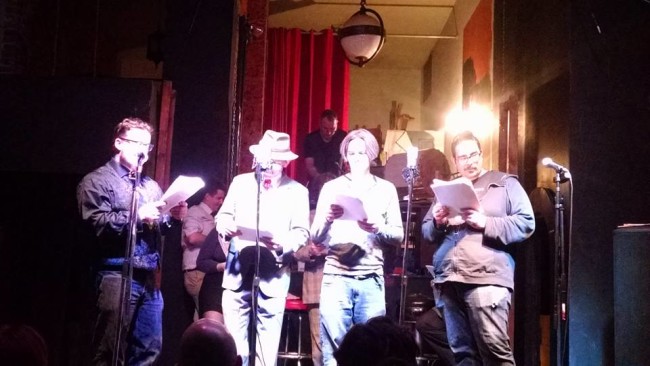 Kedesla writes an almost satirical approach to the lone-ranger cowboy types— Huss Bogg (read by Doug Johnson with a marvelous John Wayne homage in his accent and delivery) and his wayward and wildly unpredictable sidekick Roscoe (voiced with equal parts cowboy and hilarity by Kedesla himself). With the trope of taking the law into their own hands, these characters and conveniently added plot twists give Foley-man Dave Marcoot plenty of "wild-west" bullet tings to work with adding to the amusement of the on-looking/listening audience. A special nod to Todd Gardner who reads the part of Chief Running Wolf Echo Hawk, as his page-turning mishap (a real-life occurrence when it comes to live— anything be it theatre, radio plays, or some amalgamation thereof) results in a great deal of hilarity for the live audience.
Oh, Margie, Where Art Thou? written by Alix Tobey Southwick
Taking an ordinary 1950's honey-do housewife and putting her in extraordinary circumstances as she traverses the globe on wild adventures is exactly what writer Alix Tobey Southwick achieves in her script Oh, Margie, Where Art Thou? With YST resident Costume Designer Lori Travis reading for the character of Margie, the sweet and simple housewife, all of the eager excitability of the character come radiating through the lines. Though Southwick's episode is somewhat preachy and a bit on a soapbox in regards to environmental sustainability for a better planet, it kitschy nature smooths these bumps over in her stylized writing. Gardiner, with no page-turner mishaps this go-round, appears briefly at the top and bottom of the sketch as the doting house husband who has issues coping with the fact that Margie has left him with a freezer full of frozen TV dinners.
Southwick's major successes come from her humorous albeit poignant construction of animals as characters. The parrot (as read by Lisa Hartsock) is particularly amusing until it meets its untimely demise. Aluna (Mattie Rogers) is mother nature/mother earth incarnate and speaking— doing most of the preaching about sustainability— in this production and while she only has interactions with the Margie character, her dialogue is written clearly. A nod of accented-perfection goes to YST's Artistic Director Craig Coletta for reading as Geraldo. Southwick has written a hilarious bit-character loaded with double entendre in this cameo of Geraldo and Coletta measures up with his seedy delivery.
Tea & Chrome: A Bennington Marcus Mystery written by John Higgins
A recurring serial that follows the life of beat-detective Bennington Marcus (read by Craig Coletta) and his Chrome partner Theodore16 (read by Jeffrey L. Gangwisch), it is the most deliciously dark and enigmatically engaging of the series performed at the November broadcast. Murder, mystery, and the macabre, Higgins captures them all in his scintillating radio mystery which has verve and edge as well as humor. The inner monologue of Marcus is penned with a pristine poetry to its flow, reading exactly like a noir film to the point where you can hear the smoke curling around the character's head when he speaks. Between Higgins' delectable construction of Marcus and Coletta's unsavory and darkened delivery of the dialogue, the audience is easily swept-up in the story. Higgins' command of the chrome sidekick is equally impressive as his lines are written to sound exactly like war-era artificial intelligence. Gangwisch has the perfect balance of humor and sincerity, gravity and levity in his patois making the character the perfect complement to Coletta's Bennington Marcus.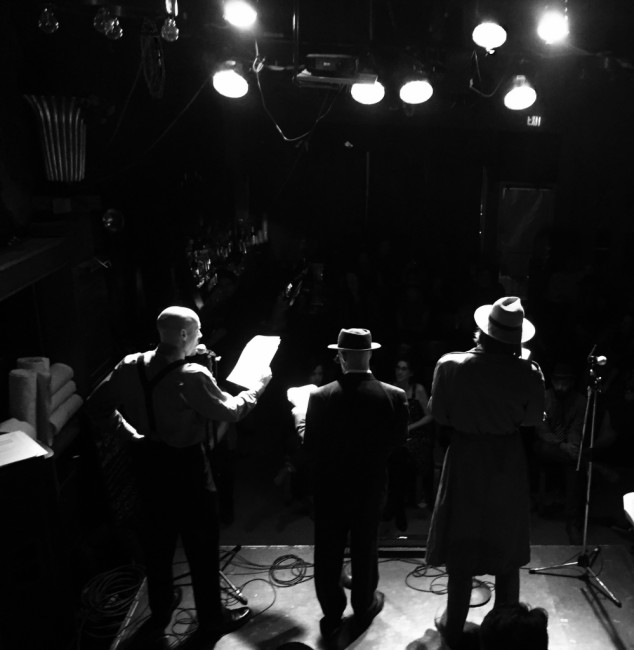 This particular installment of the serial is unique because it introduces the character of Bennington Marcus' father, Sir Walter (as read by Higgins himself) a limey from the other side of the pond. Echoing the traumas of war time in the character of Marcus, Higgins adds an exciting layered dynamic by introducing the father character, with whom Marcus has a working albeit strange relationship. The plot exploration is dynamic and dramatic as well as infused with that smoky air of noir-thrillers that mystify the listeners. Higgins writing entices the mind to something stimulating. A special nod goes out to John Bennett, playing the briefly-encountered and recurring Chief to whom Marcus and Theodore16 report. Bennett's crazy facial expressions and wildly affected voice are good for a cheap laugh, the perfect head-and-tail wrap for such a meaty and delicious serial.
The Adventures of Rex Pylon and Dot: Rasum, The Planet of the Shared Mind (A Planet Tripper Adventure) written by Aaron Travis
Rex Pylon (Derek Vaughn Brown) and Dot (Vii Lee) did not anticipate this level of chaos! But do they ever? In Travis' on-going serial that follows this adventurous space-cowboy archetype and his dippy country-bumpkin sidekick, the characters of Rex Pylon and Dot are hyper animated both facially and vocally by Vaughn Brown and Lee respectively. Vaughn Brown relies more on silent facial expressions even though Travis has written intensely animated dialogue for his character whereas Lee master both physical and vocal intensity with her character, ultimately making her the star of the show. (who doesn't love a stellar sidekick?)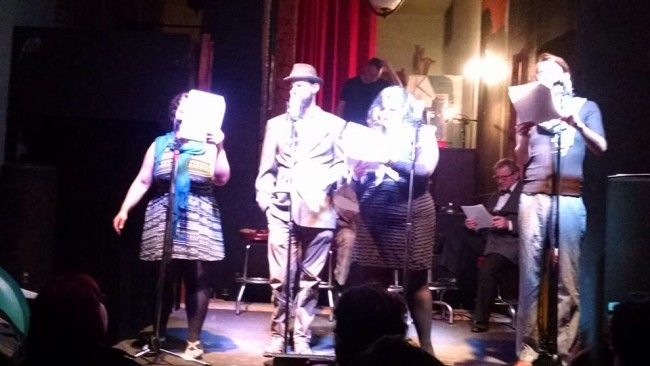 In this particular episode, Travis takes the character-duo to the planet of Rasum—a planet where individual personalities have been erased and all minds have been melded into one collective hive-mind. With a much more utopian verve to this plot outline, the episode appears as an homage to Futurama's "The Beast with a Billion Backs" character of Yivo, a hive-minded beats that overtakes the conscious collective of humanity. Travis' character, named Seeva— appears represented in two entities, named simply Seeva One (read by Jess Rivera) and Seeva Two (bringing Jeffrey L. Gangwisch back to the stage.) The double-talk unison speak between Rivera and Gangwisch is striking in its delivery and really drives home the notion of the non-descript collective. The nod in this episode goes to Vaughn Brown for his hilarious feminine take on channeling the voice of Dot (when Dot and Rex's bodies and minds are switched in an attempt to assimilate their personalities into Seeva.)
In Conclusion
There are a great many interesting things happening with Horatio Dark's Between the Lines at Yellow Sign Theatre Company. It is the only live radio serial broadcast happening with exciting new material once a month, in addition to being the only live radio play with active writers occurring in the Baltimore and Washington theatre scenes. Definitely worth investigating— as it is a recurring event on the last Monday of every month, and the event is free! Be sure not to miss the next installment of Horatio Dark starting at 7:30pm on Monday December 28, 2015.  
Horatio Dark's Between the Lines is broadcast live on the last Monday of every month starting at 7:30pm at The Yellow Sign Theatre— 1726 N. Charles Street in the Station North Arts District of Baltimore, MD. Horatio Dark is a free event, and fills quickly so arrive early.
Missed a broadcast? No problem! You can hear Horatio Dark's Between the Lines online as an uploaded podcast. Just click here.