Well the Parlor Room Theater is at it again, they are, they are. They're here for the holidays and putting on a production of A Tuna Christmas. It's time to travel back to your Podunk backwoods town of Tuna, Texas for a holiday celebration that'll light a firecracker under your funny bone in this festive season. A true family production Directed by Frank DiSalvo Jr. staring Dillon and Thomas DiSalvo in over 20 different character roles, this Christmas play is quickly becoming a comic Christmas classic for the stage.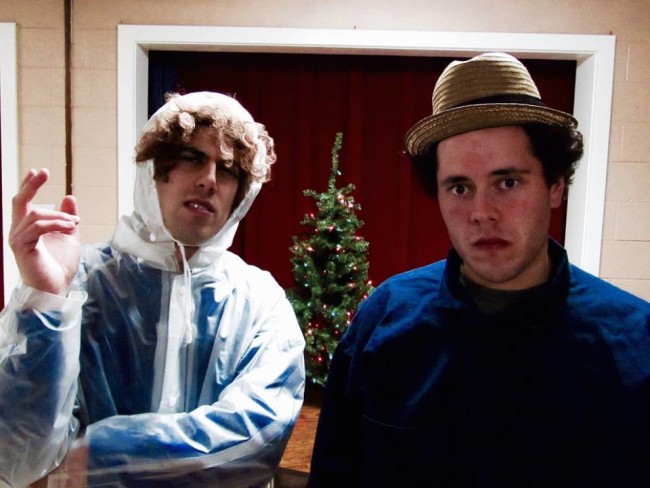 Keeping the scenic design simple, with a few carefully crafted sight-line-blocking counters to allow the quick-change character gags written into the script by authors Ed Howard, Joe Sears, and Jason Williams to function, Set Designers Ember DiSalvo and Director Frank DiSalvo Jr. allow the character to work to speak for itself in this silly story of hillbilly Texas. With the exception of some slick rolling Christmas trees (as wrangled by Evergreen Enthusiast Emberlein DiSalvo), the set remains unmentionable and serves the show's comic vein accordingly because of its simplicity.
DiSalvo Jr. ups the bar for the design elements of the show in his Sound craft. Though they are few and far between, the sound bits that echo throughout certain scenes are hyper-realistic and perfectly timed— particularly those used during backyard-blue jay-bopping at Aunt Pearl's and the hysterically unnerving UFO sounds in the woods scene with R.R. Snavely. DiSalvo Jr. motivates the pacing of the show so that it quips along quickly, a crucial element to this production's success as the stage is dominated by two actors playing nearly two dozen characters.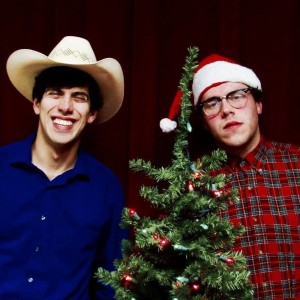 Doubling up as the show's Costume Designer, Ember DiSalvo along with Thomas DiSalvo, crafts some exceptionally cleaver couture for the performance. As the character shifts rely heavily on the innumerable costume changes from one to the next (handled exceptionally well with impeccable timing thanks to Quick-Change Artists Kathryn Barrett-Gaines and Kevin Glotfelty), it is important that these designers receive their due praise. Team DiSalvo— Costume Department— makes each woman unique and distinct from every other woman in the show, from the army camo brown and clear rain slicker on Didi Snavely to the posh and haughty pink robe and cat glasses used for Vera. Team DiSalvo— Costume Department— also succeeds in clearly distinguishing one man from another and the little details that make each character their own individual are indeed praiseworthy.
Thomas DiSalvo and Dillon DiSalvo have a true mastery of that Texan accent that really brings each of the characters of A Tuna Christmas to life. Rather than playing heightened caricatures of these characters, the DiSalvo brothers go after a more genuine and earnest approach, which makes the tale more touching in a great many ways. Though from time to time there is a little character bleed-through— Thomas' Inita Goodwin and his R.R. Snavely sharing the same vacant expressions, or Dillon's delivery of certain words sounding the same no matter which character he delivers them as— this actually reads into the humor of the show giving the characters a sense of community, heightening the notion that all backwoods Texas types are the same.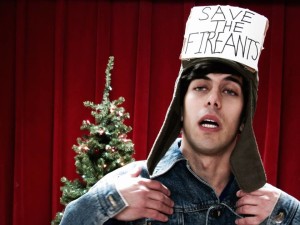 Thomas DiSalvo delivers a tragically beautiful and heart-stirring Bertha Bumiller, really finding the vulnerability of her character, though it is not without its comic charms peppered throughout. DiSalvo, like his brother, has exceptional comic timing and plays particularly well with his brother when Bertha finally gets to interacting with Arles (as played by Dillon.) Thomas also delivers a wily Aunt Pearl Burras, and a hilariously flamboyant Joe Bob Lipsey. One of the funniest moments in the show is the slap-happy fall-down fight at the Tastee Kreme between Joe Bob and Inita (off-stage of course.)
Dillon DiSalvo is excellent with pantomime in this production, particularly with the character of Petey Fisk. Getting dragged around by Fresno, the half-coyote, is an honest scream to watch. But it's his Didi Snavely, with the purposeful pauses between cussing and fussing and the bombastic blasting attitude that happens every time the character has to tell someone off. Mellowing out that spastic performance with milder ones like Stanley Bumiller, Dillon showcases his versatility as a performer. But there's nothing quite so uproarious as his portrayal of Vera Carp and the way she rages at Virgil over those sheep!
A true rootin' tootin' feel good Christmas comedy, Parlor Room Theatre is walking away from this holiday season with a real winner on their hands, they are, they are! If they can just hold out and keep away from that pesky Christmas phantom!
Running Time: 2 hours and 15 minutes with one intermission
A Tuna Christmas with Parlor Room Theater at the Fine Arts Theater of Bishop McNamara High School— 6800 Marlboro Pike in Forestville, MD. Tickets are available for purchase at the door or in advance online.