This time of year, it seems as though every theatre company is trying to take advantage of the holiday season by producing kitschy holiday shows full of traditional Christmas songs, gaudily decorated artificial Christmas trees, and folks dressed up like Eskimos. And you know what I say to that? BRING IT ON! This is one of my favorite times of year and I adore the kitsch! I had the honor and pleasure of attending Dundalk Community Theatre's holiday offering, a revival of A Taffeta Christmas, that was originally produced in 2009 and brought back for one weekend only. Making this production a little extra special is the fact that it is dedicated to the memory of Sally Tarr, the original Music Director of the 2009 production. Directed by the multi-talented and very experienced John Desmone, along with Music Director Michael Tan, A Taffeta Christmas is everything a holiday should be – family friendly, colorful, and full of Christmas songs!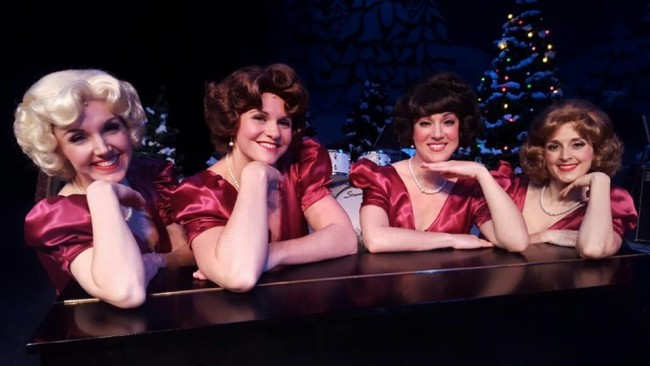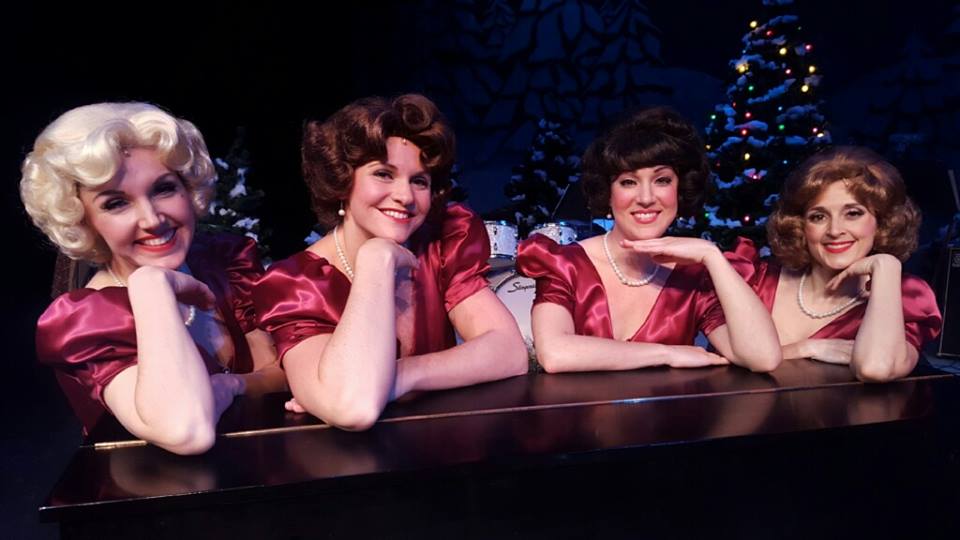 When I walked into the theatre, I was greeted by a fantastic set design by Marc W. Smith, including the aforementioned decorated artificial Christmas trees and fake snow, and I was transported to a Moose Hall in Muncie, Indiana in the late 1950's where the Dumont Television Network is presenting its weekly show "Hometown Hoedown" featuring the lovely Taffetas. I was in heaven!
The Taffetas, a 1950's singing sisters group, are portrayed by four very talented and charming actresses, reprising their roles from the 2009 production. The Taffetas are Allie Dreskin as the flirty but innocent Donna, Stephanie Mahoney as the brassy but agreeable Peggy, Brenda Tackett as the boy-crazy Cheryl, and Becca Vourvoulas as the blonde, eldest sister Kaye. The actresses' portrayals of "America's Sweethearts" are also perfectly performed as if they all stepped right out of an episode of Leave it to Beaver and not one over-powers the others. They all four blend into one beautiful and perfect unit.
While production team members are sometimes forgotten and only remembered as line of credit in the program, A Taffeta Christmas gives credit where credit is due, at least to one of the members of the production team – the Music Director, Michael Tan. With the three-piece band sharing the stage, they cleverly work Tan into the show as the character of Cousin Michael, who helped The Taffetas become the stars they are by arranging their music, designing their costumes, and even singing with the group early in their careers! It's always nice to see a member of the production team get a nod during the performance.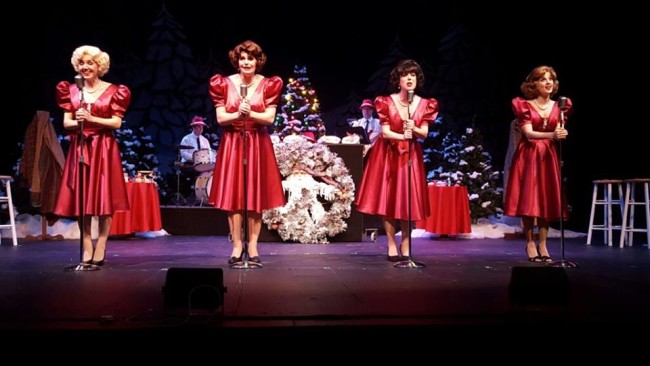 The nostalgia warms the heart as The Taffetas talk and banter back and forth in a section of the show called "Taffetas Chatter" where they answer letters from fans and talk about things like hula hoops, Sal Mineo, and teen magazines. They also dish out a collection of holiday favorites as well as some oldies but goodies with harmony that is on point, especially "Mockingbird Hill" and "Sincerely," both which made me put down my pen and pad just to listen. They also include some lesser known, but very popular holiday hidden gems such as "Mele Kalikimaka" and "Christmas in Killarney".
If you're a sucker for nostalgia and the holidays, you simply must see this show! Even if you're not, you would be doing yourself a favor to take an hour or two to check out A Taffeta Christmas. As the tag line suggests it's "The Holidays the way they used to be!"
Running Time: 90 minutes with one intermission
A Taffeta Christmas runs one weekend only, until Sunday, December 13, 2015 at Dundalk Community Theatre in The John E. Ravekes Theatre at The Community College of Baltimore County, Dundalk Campus— 7200 Sollers Point Road in Dundalk, MD. For tickets, call the box office at (443)-840-ARTS or order tickets online.