A Christmas Carol by Charles Dickens is a staple during the holiday season and many theatre companies all over the world are cashing in on it with traditional productions as well as new adaptations. Directed and Adapted by William Leary with Music Direction by Lauren Giglio, this new adaptation produced by the Wolfpack Theatre Company out of St. John's Evangelical Lutheran Church in Prince George's County is set in present day at a homeless shelter operating in a church. The adaptation keeps the traditional lessons taught to Ebenezer Scrooge such as compassion, empathy, and love but also touches on current issues such as homelessness and affordable health care. This new very faith-based twist on this timeless story was not just interesting but compelling.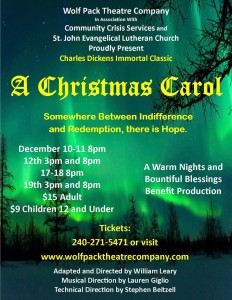 Walking into St. John's Evangelical Lutheran Church, I knew I was walking into a theatre that was the epitome of community theatre with an emphasis on the word community. Wolfpack Theatre is so dedicated to the community, each production benefits a local charity and A Christmas Carol will benefit Community Crisis Services and The Warm Nights Shelter Program, which is also incorporated and mentioned repeatedly in the script. As for the folks volunteering their time for The Wolfpack Theatre Company, there was a certain pride on the faces of those involved and they were genuinely happy to be there, not because they wanted to be noticed or be acclaimed for their actions, but because they just wanted to be involved and help their community.
The entire cast was impressive from the opening song, "Sing We Now of Christmas," with strong voices and harmonies that could rival any larger theatre company and, what's more, most of the numbers were performed a cappella which makes it a bit more impressive. Speaking of a cappella, I was a bit surprised by the brave choice of having most songs performed with no accompaniment but there was only one keyboard, and the keyboardist, Caitlin Chamberlain, was pulling double duty, accompanying an occasional song while taking on the role of Holly— a part which she stepped into only a couple of days before (causing her to carry her phone to read the script but, phone carrying aside,) she gave a commendable performance. As this production was being performed in the sanctuary of a church, the sets were minimal but appropriate and enough for the audience to follow along and know where each scene was taking place.
In this modern, faith-driven adaption, Leary has created the role of Pastor Charlotte, played masterfully by Vashti Gray Sadjedy, and she is the moral compass for the characters of the story, explaining to them the importance of love and compassion– qualities that have faded from poor Ebenezer Scrooge. However, through most of the first act, Scrooge is trying to figure out why he has visited the church only to explain he was "compelled" to be there. Tim Jensen takes on the role of Ebenezer Scrooge and performs it with ease and a confidence that is a must have for any actor taking on such an iconic character, delivering his lines with just enough contempt in his voice to make the audience dislike him up until his change of heart, which he also pulls off nicely.
Joshua Boulden and Joanne Matthews tackle the roles of the hapless and recently homeless Bob and Rachel Cratchitt, along with the Cratchitt children, Joy, Hope, and Tiny Tim, played by Samantha Roberts, Emilee Schmidt, and Fela Osimokun, respectively. Young Osimokun, as Tiny Tim, is a standout in this production, having memorized a good number of lines and delivering them as if they were not scripted but sounding as if he were simply having a conversation with whomever he shared a scene – the mark of a fantastic actor.
Of course, A Christmas Carol wouldn't be A Christmas Carol without the creepy, but wise ghosts that visit Scrooge to help him see the light and the err of his ways! The first spirit Scrooge encounters, Jacob Marley, was played strongly by Kevin Buter, and even with a slight costume malfunction of a broken chain, he didn't let it phase him and admirably kept it going through this small kink (see what I did there?).
In this adaption, Leary made the interesting choice of putting a familial twist on the ghosts of Christmas Past and Christmas Present, portrayed by Lauren Giglio and David K. North, respectively. Turns out, The Ghost of Christmas Past is actually Martha Scrooge, Ebenezer's mother and The Ghost of Christmas Present is Andrew Scrooge, his father. Both Giglio and North are vocal standouts in this performance with strong, clear voices that filled the sanctuary with their a cappella versions of "I Heard the Bells on Christmas Day" (Ghost of Christmas Past), "Oh Holy Night" (Ghost of Christmas Present), and "Watchmen Tell us of the Night" (duet with both the Ghost of Christmas Past and Present). Kevin Buter also takes on the silent, but eerie role of the Ghost of Christmas Future, with a simple but brilliantly creepy costume to scare Ebenezer to make some changes in his life.
As the story goes, the visiting spirits take Ebenezer on a journey through his past, present, and future and in his past we meet a Young Ebenezer, played by Dwayne Allen and his love interest, Young Belle, played by Brigid Lally. Both play their parts admirably and in an especially intense scene between Young Ebenezer and his father, Andrew, where they are discussing the future of the firm, Scrooge Enterprises, Allen plays the part a bit over the top, but believably so as we see Ebenezer begin to value business and money over being a compassionate human being. Lally plays Young Belle with the compassion that is lacking in Young Ebenezer, though her song "After You've Gone" was a curious choice.
Moving into Ebenezer's present day, the Ghost of Christmas Present takes him to visit his nephew, Edward, the son of his dead, beloved sister, played by Thomas Ogar, and Edward's wife, Holly (played by the aforementioned last minute fill-in, Caitlin Chamberlain). Ogar and Chamberlain both play their parts with ease and a genuine quality that makes them likeable from the start. The cast is rounded out by local vocalist and artist, Susan Smithers, playing present day Belle. Quite the opposite of Ebenezer Scrooge, Smithers is charming as she works to help those less fortunate at the homeless shelter. Her song "It Came Upon a Midnight Clear" was performed skillfully and, though the accompaniment started off a little unsurely, the sentiment shone through.
The production was made complete by the talented and versatile ensemble including Wesley Schmidt, Rachel Henry, Rebekah Rowe, and Mya Williams. A Christmas Carol was a delight to see with its modern setting and diverse casting and since this thought provoking production is donating a portion of profits to Community Crisis Service, St. John Evangelical Lutheran Church and their programming, including Warm Nights Hypothermia Shelter Program, a hypothermia shelter program, and Bountiful Blessings Program, geared toward senior citizens and the working poor.
Running Time: 2 hours and 30 minutes with one intermission
A Christmas Carol plays through December 19, 2015 at Wolfpack Theatre Company at the St. John's Evangelical Lutheran Church— 5820 Riverdale Road in Riverdale, MD. For tickets, call (240)-271-5471 or purchase them online.