He's making a list and he's checking it twice! He's going to find out who's been naughty— and who's been extra naughty this time of year! You might be thinking that's the jolly old fat man himself, Mr. Kris Kringle, Mr. Santa Claus, but you'd be dead wrong, fellow theatergoers. This time of year the naughty and nice list has fallen into the hands of Twisted Knickers Burlesque troupe Emcee Hot Todd Lincoln! And he's checking off the girls one by one as they present their holiday offering: Calendar Girls for a one night showing at Yellow Sign Theatre. With producer Tapitha Kix running the show and wrangling eight lovely ladies (and the number's just right as the show falls right during Hanukkah), there's some holiday fun for everyone in the supportive Neo-Burlesque show that is taking the Baltimore burly scene by storm.
Promoting body-positive, consent-is-sexy, everyone-can-burlesque thematic elements throughout the show, Twisted Knickers Burlesque Troupe stands as an institution for the Baltimore burly scene. Keeping their eyes on the prize, the girls— from various walks of life, differing background experiences and areas of performance expertise— provide fantastically enticing entertainment for an evening of a low-brow performance art. Troupe Producer and Ring Leader Tapitha Kix encourages nods to the origins of Burlesque performance in her own routines as well as those of the other girls. The result for Calendar Girls is a wild and crazy night that gives great exposure to an art form which the nation should reclaim as a proud national past time.
Emcee Hot Todd Lincoln serves as the harbinger of festivities, announcing each of the girls and their corresponding calendar month or holiday. There is no order whatsoever to the order in which the months occur, though a heavy bit of December holiday hits toward the end of the show. Lincoln is an intriguing fellow when it comes to engaging with the audience. The only thing worse than his puns might be his hideous Christmas sweater— printed with Hanukkah dreidels. Though the puns are terrible— I'm told that's the mark of a pun-king— his support and enthusiasm for each of the girls is undeniably what you'd hope for in a good Emcee.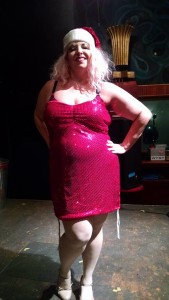 Kicking off the show in March, Tapitha Kix brings a hilarious character routine to the stage as a girl just trying to make her big break in show business by taking on an audition for Riverdance to celebrate St. Paddy's day. While the routine is clearly crafted as a gimmick to strip out of the heat-retaining green velvet costume, Kix is no stranger to intense tapper footwork and just a fraction of the impressive talent she possesses in choreography is showcased herein. Returning in the second act, Kix shows off her insanely creative wardrobe with a UV-glow piñata striped outfit for May's feature of the Cinco De Mayo holiday. Kix plays with her candy necklace and audience members alike during this sweet and fun routine all about busting out the goodness that's inside of her for the festive Mexican holiday.
March jumps into the autumnal season of September where leaves are a plenty and Miss Kitty Bermuda appeals to her fans with her triumphant return to Twisted Knickers. Using enormous prop fans, Bermuda works a sensual and seductive routine, which is a nice pop comparison to the fast-paced routine previously performed by Kix. Bermuda's fluidity when it comes to creating a peek-a-boo style show with her fans is alluring to say the least. Featured as the opening performance of the second act, Bermuda takes to letting her wild side show with a Cheetah print ensemble that really shakes up certain spots of her routine. Whether her second routine is meant to be the hot and sexy jungle cats of August or a fool's errand of April, given the Rick-Roll music, it's difficult to say. The important note to take away from her second performance is the versatility of her burlesque style.
Wedding season means June, because who doesn't love a bashful bouquet on a blushing bride in late spring and early summer? Tempette LaCoeur is anything but blushing when it comes to her bawdy bridal routine. Slow and sensual she'll pluck every last ounce of restraint in the audience as she slips out of her innocent bridal whites and into the satanic seductive scarlet garments beneath. Giving a dance Lucifer would clap for, LaCoeur stamps her brand on the house in this dance with the devil.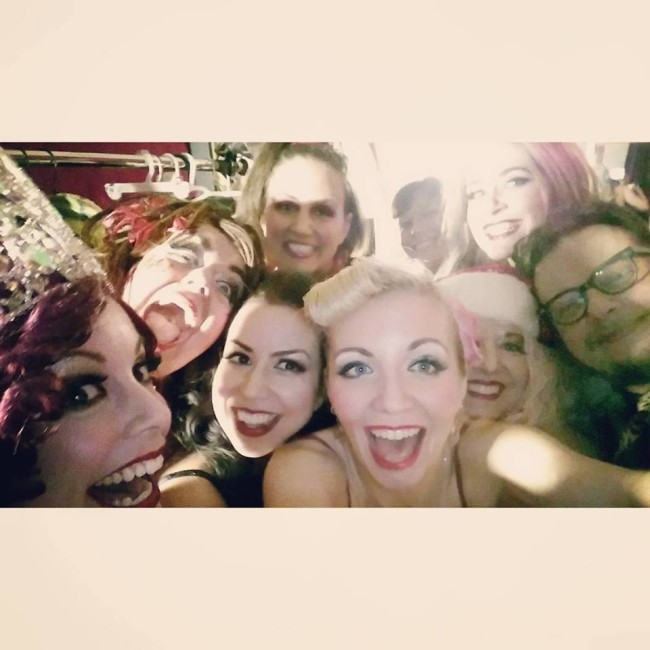 Hot Todd Lincoln must have the Doctor's sense of time travel as he skips forward from June to October and introduces Anna Steasya and her haunting Halloween routine. Reminiscent of the Brassieres of Terror performance from October, Steasya rises from the dead in a most enticing fashion, posed as a Victorian era dead girl. Her overall concept is creepy but creative, and the strip routine earns a great deal of cat calls from the house. Though the November routine doesn't happen until the middle of the second act, in Steasya's trips to the stage, she follows calendar linearity and goes hog wild with some pumpkin pie pilgrim style in her sinfully seductive tribute to the gluttonous holiday of Thanksgiving.
Whether Miranda Lookinglass ravages the eyes of the audience in her too-sexy-to-howl wolf routine as another trip back to October and Halloween— or perhaps more aptly to murdering and slaying love in February— it's worthy of a wolf whistle. Including a rarely featured strip-and-redress tactic, Lookinglass unleashes her inner animal in this routine and really shows the audience how she can prowl about the stage. Taking her second turn to the stage in the middle of the second act, Lookinglass mounts a snowboard for January and hits the slopes with seduction in mind. Her ability to create the "too-hot-for-clothes" character while leaping about affixed to the foot straps of a snowboard is well worthy of praise.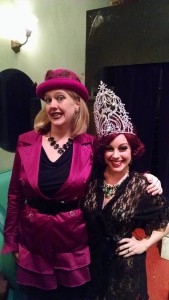 A master of character and costume, Ruby Rockafella gives a panty-dropping penultimate performance to the first act with her Clockwork Orange inspired character. The eyeball-milk sparkle bra has to be the most ingenious costume featured in the evening, but it's Rockafella's deranged facial expressions that really make the routine worth loving. Seductive, scary, and downright insane, the umbrella prop is flawlessly worked into the number, keeping audiences screaming and crying for more. Rockafella is given the pleasure of closing the show at the end of the second act with her breathtaking and quite stunning rendition of "Have Yourself a Merry Little Christmas" the perfect blend of burlesque and holiday innocence that is delightful and artful in a most festive fashion.
Cherie Nuit closes out the show's first act with her bodacious goddess of the seas routine, which may be perfectly suited for beach season. Nuit's incorporation of her enormous flowing costume adds a secondary character element to the routine. Pushing the audience beyond their comfort level with some of the risqué moves and gestures at the end of the routine, Nuit really leaves the audience gasping— almost like a fish out of water. Nuit's performance in the second act involves glitterotica and messy red deliciousness. No idea what holiday or month it's meant to represent, but it's fantastically elicit in the way she ends up smeared and covered in glorious glitter and screaming red body paint.
Making only one appearance late in the second act of the show, Dolly Longlegs reminds the audience of how patriotic we ought to be on the fourth of July. Representing everything America stands for in her lone routine— boobs, blondes, and guns— Longlegs presents exceptionally impressive ROTC rifle-twirl work, which streamlines flawlessly into her striping routine. Set to Dolly Parton's cover of "Proud to be an American" the double-revel as Longlegs gets to stripping is perfectly patriotic with her shimmery stars and sequined red white and blues.
Calendar Girls played a one-night engagement on Saturday December 12, 2015 at the Yellow Sign Theatre— 1726 N. Charles Street in the Station North Arts District of Baltimore, MD.
For more information on upcoming Twisted Knickers shows— like and follow them on Facebook!
Follow Ruby Rockafella here!
Follow Cherie Nuit here!
Follow Tapitha Kix here!
Follow Kitty Bermuda!
Follow Tempette LaCoeur!
Follow Anna Steasya!
Follow Miranda Lookinglass!
Follow Dolly Longlegs!
To see what's happening up next at The Yellow Sign Theatre, check out their page!