In a world where everyone struggles, bullying is rising to the surface as an alarmingly high cause for youth suicide. Taking to the helm of a new project to help generate awareness about bullying in schools, particularly in the LGBT+ community, Baltimore-based actor and performer Ed Higgins has taken a stand against bullying by using the art form that he knows best. Creating the ongoing project of 'Erase Hate Through Art' Higgins and Co-Founder Grant Myers have launched the theatrical branch of their project, entitling it How Do You Like Me Now? Productions. In a TheatreBloom exclusive interview with Ed Higgins, we sit down and learn more about the project and what mission they intend to serve in the community.
If you could give us a brief introduction of yourself and what people might recognize of your work, we'll get started.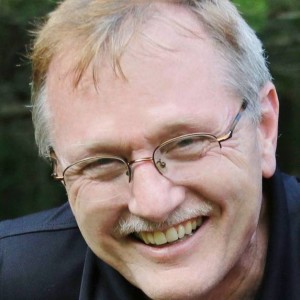 Ed Higgins: I'm Ed Higgins. I have to think about what I've done. But while I think about that, the company I've started is called How Do You Like Me Know? And I do that with Grant Myers. How Do You Like Me Now? is a production company that we've started to help work with the LGBT+ community. The company's primary purpose is to bring forward issues that are faced in the LGBT+ community so that they can be discussed, where the primary medium of discussion is art and theatre. The program started two years back when Grant was throwing a birthday party for his daughter. There were about 11 girls in attendance at this party and they learned that one of their schoolmates had committed suicide because he was being bullied. Grant had to console 11 young teenage girls when this news broke and that really sparked the idea of bringing this company into existence. We took on this venture, we started with The Laramie Project last year in 2014. We've been up and running for a full year now, Stop Kiss, which we're going to talk about, will be our second.
How did you start up with The Laramie Project?
Ed: Actually, we'd been trying to do it for a few years prior to that, but the issue with The Laramie Project was that it was already being done elsewhere and we could not secure the rights. We were contending with Ford's Theatre who would not release the rights to us while they were doing their production during the 15th Anniversary. Unfortunately, Ford's Theatre was not interested in sharing the rights at the time, but fortunately for us that gave us two years to really put things together. With that time frame we also started Erase Hate Through Art.
What is Erase Hate Through Art?
Ed: That's actually the name of the website where you can find information about How Do You Like Me Now and everything that we do. It's a multi-faceted artistic project that we started to address these bullying issues in the LGBT+ community. It's really important to know that while we started specifically to address the issue of bullying in the LGBT+ community, we are open to addressing any and all forms of bullying. Last year our program featured ten artists with 40 pieces of art displayed in the back room of the Columbia Arts Center. This year we ran our second event with Erase Hate Through Art and we had 45 artists and over 100 pieces of art. We filled the main lobby, the studio to the left of the lobby and the space we'd had the previous year. 12 of the artists we featured this year have actually been asked to have their work featured in other art shows, so we're very excited about that and the way this is generating awareness. The word is spreading.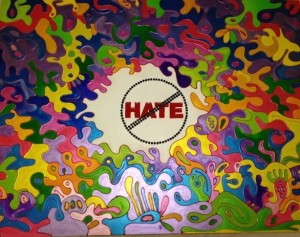 The gala event actually featured live performers, poets, and a drag queen as the emcee both last year and this year. This year we sold about $1600 worth of the art. We do a 50/50 split where half of the proceeds go to the artists and the rest go to The Laramie Foundation. All the proceeds we make from these events and from our theatre shows actually goes directly back into The Laramie Foundation.
How did you settle on The Laramie Foundation as your charity of choice?
Ed: When we did The Laramie Project last year, after The Matthew Shepard and James Byrd Jr. Hate Crimes Prevention Act came into existence, and we were working with the foundation to produce the show, we knew all the money had to go back into what they do because they do such good work for the cause. We are a 501-3c.
Why did you choose theatre as your platform on which to make this stand?
Ed: Because I love theatre. I feel like it is the best way to get the word out. I feel like theatre is the best medium that creates something where people can come, absorb what they are experiencing and then take something away from what they've experienced and talk about it. This year we're producing Stop Kiss. The shows that we do will have some type of message to discuss.
Are you doing only one show a year?
Ed: We did start off a little slow, last year we only did The Laramie Project. This year we are doing two, Stop Kiss which we are doing right now, and in February we'll be doing I'm Just Saying, and we're currently discussing whether or not we'll do a third show, which would most likely be a production of Take Me Out, in May. That show in particular is very intense and we've had some heavy discussions about whether or not it fits within the overall theme of our approach to the conversation on bullying.
You mentioned the second show this season is a work called I'm Just Saying. That is not a work I'm familiar with, what is it?
Ed: That is a new work by a local playwright, Jeffrey Higgins. He's my nephew. The play has a message. It's the story of two roommates who started out as college roommates and continued to be roommates after college. One is straight and one is gay. The straight gentleman gets a girlfriend, and as the relationship between the straight roommate and his girlfriend tighten up, it examines the relationship of the three of them overall and how they interact with each other. It is a comedy. But there are some messages and there are some issues that need to be resolved throughout the script.
We're really looking at scripts that address how horrendous bullying can be. Grant's daughter and her friends had a horrible awakening to the reality of bullying because of their friend, who took his own life because he was being bullied so much. Why does that happen? Because he's different. And that shouldn't happen. And we want to bring awareness to that with the scripts we choose.
Who do you believe is your target audience with this type of work, or rather, who would you like these sorts of shows to draw into your audience base?
Ed: That's a good question. What we're trying to do with this program is to open up dialogue for anyone who needs to hear. So parents of students and high school kids, the high school kids themselves so that they can hear that it's okay to be different and it doesn't have to end in suicide. Going through life can be extremely difficult if you're going through life hiding. If you're forced to be to be someone you're not just because you're afraid being different will result in bullying, that's no quality of life that anyone should have to live. That is the big thing we are trying to fight. We need to open up that conversation.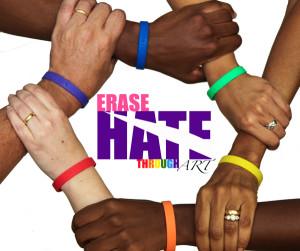 Like I said, this year we're branching out beyond the LGBT+ community. The art gala featured Holocaust victims, Black Lives Matter, and any number of other types of bullying in addition to those that happen within the LGBT+ community. Now I will say that we will probably always concentrate pretty heavily on the LGBT+ community outlook, but by no means are we limited to bullying that happens under that heading.
Where are you based officially?
Ed: Well we perform our plays at the Howard County Center for the Performing Arts. We will be doing some performances at MITAG (Maritime Institute of Technology and Graduate Studies), actually our February production of I'm Just Saying, will be here. The third annual Erase Hate Through Art gala will be at the Columbia Arts Center next October.
What else are you looking to do to expand the company for community outreach?
Ed: We're really looking to get into the public school and educational system. I believe that's where this type of work will have the biggest impact. We actually did do a play over the summer with the Columbia Arts Center where they have their week-long art camp and we did a play on bullying for them. The first group was 10-12 year-olds, and there were two other younger age groups who attended as well. We're trying to get as many people aware of this as possible and you have to start early. Once those seeds are planted it's so much harder to change the mindset of a child who is taught or who learns that bullying is acceptable.
It was an involved experience because the kids built the scenery for us. We had the dark woods, we had the chemistry lab, and we had Quidditch. They did the paintings and it was fabulous. The parents were so pleased. The kids acted in the show, and one of the students from the camp with special needs she was the first person to volunteer to play the child who gets bullied in the play. She was the loudest and the most vocal and it was amazing having her involved because she was able to share her experience with everyone and really make it personal and real.
Have you reached out to the local organizations like P-Flag?
Ed: We have contacted the local chapter of P-Flag and what we did last year and will be doing again this year is after the final performance we'll be having a talkback. We've asked all sorts of local organizations, including P-Flag, to come and join the panel for the talkback so that we can get this discussion really going, and really formulate ideas how to raise awareness specific to the community we are in. We've also asked the local crisis center and members of local clergy to join us as well. All these organizations had pamphlets out at our gala and they will be out during the production. We want to provide resources for these kids, for their parents, for people so that if they are in crisis they can get the help, they can know what options for help are out there, they can know that there are other alternatives instead of feeling that turning to suicide is their only choice. When they see that they are not alone, we need to help them figure out what to do next, how to take that next step.
How do you go about finding actors for your productions?
Ed: We do have a board of directors. There are six of us, we're operating like a normal theatre company. It's me, Grant, Robert Neal Marshall, Asia Kenney, Kay Switzer, and Chris Reilly. Last year we put out a public call for submissions for the artwork we featured in the gala, and we did do normal auditions for The Laramie Project. Because the cast of Stop Kiss is only four people, with two main performers and two minor cameo roles, we used people from inside the company. Kandice C. Wilson, who is not on the board but working directly with the board is one lead and Asia Kenney is the other. I actually, and Kandice doesn't know this but I guess she'll find out when she reads it, I had her in mind for this play two years ago when we were considering it and I've wanted to have her in it ever since.
And you are directing Stop Kiss?
Ed: I am. I'm also playing the detective, but that's only because we didn't have an older gentleman readily available to us at this time.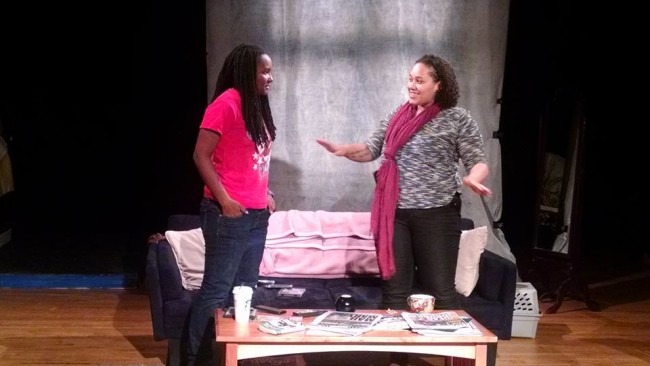 This runs for one weekend?
Ed: It actually runs for two full weekends, this upcoming weekend of Halloween and then the following weekend.
What is it you are hoping people will take away from coming to this production of Stop Kiss?
Ed: That the relationships that are formed are just that. They're relationships. They are no different from any other relationship. There are ups and downs, and ins and outs like any other relationship and there's nothing wrong with that. It should be accepted. When you see where this relationship started— Callie and Sarah meeting as strangers because one of them needed a cat-sitter. Their agenda when they met was not the relationship that results from what happens throughout the course of the play and you get to see that, see how they develop and change toward one another. This play makes you realize that this relationship is just as natural as any other relationship in the world so why do people think it's so wrong? Just because it's different? They have this heinous act of violence brutally thrust upon them. Why? Because they're different? That's not acceptable.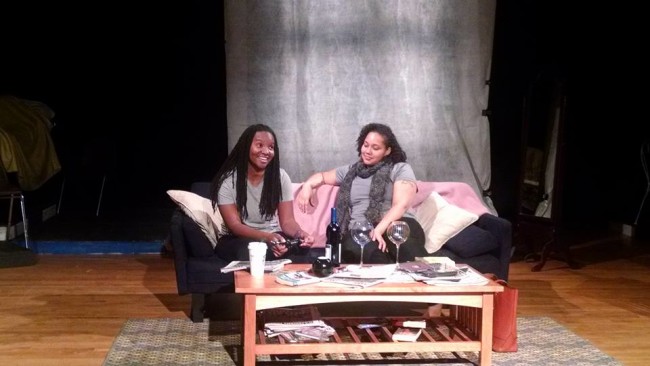 This play is going to force people to look at what happens to these people— that they are bullied because they are different. And there will be people who see this and take the mentality of "well they deserved it" or "what did you expect?" That's the "blame-the-victim" mentality and that is exactly what we are trying to address and change with our company. We need to educate people so that they don't take that viewpoint because that viewpoint is absolutely wrong. That was the thing that drew me to this play in particular. It was a normal and natural relationship. It's sweet and beautiful and loving and you feel for them, watching the awkwardness of discovery and making it work, and when they finally reach that joy of having figured it out— it's destroyed because of bullying.
How did you come up with the name for your company? It does tend to have certain connotations that come along with it.
Ed: Oh yes it does, believe me, we know. So, when we first started this endeavor, we were actually with another theatre company. We were set to do The Laramie Project. We held auditions, we cast the show and offered parts. We had everything set up and started rehearsals. We were then told by the theatre company that they had not actually procured the rights for us. We had to stop everything. There were other issues that revolved around that, without getting into the very unfortunate situation, we were told by the theatre that not only had they not gotten the rights, but that they were not going to get the rights or even try and that we shouldn't try because we wouldn't be able to get them either. We were basically being bullied, on a much less severe scale, by this theatre company.
So the name, How Do You Like Me Know? That was our "we'll show you" attempt to really stand up to our theatrical bully. We did get the rights. We did fight for it, and went through all that rigmarole with Ford's Theatre, and we succeeded. We stuck to our guns and our beliefs of wanting to open the conversation about bullying to raise awareness and we have succeeded. What better way to show that we're surviving and that we're facing down the bullies than with a name like the one we've settled on? Yes we can. Yes we did. We're expanding, we're getting bigger, and we're putting our message out there and it's a message for good.
What has it meant to you personally to be spearheading this type of project?
Ed: I think it's really important. Growing up I was a skinny, short, very small kid. When they told us in school to get in order by height? I didn't bother to check I just went to the head of the line. I looked like I was 12 until I was 30. One of the poems I read at the gala last year was called Locker Room Invisibility. All through middle school I survived because I hid. I didn't want people to notice me, even though I wanted people to notice me which sounds really crazy. But as a small scrawny kid you got bullied, so I didn't want to be noticed by them while still desperately wanting to be noticed by the cool kids. I ended up hiding against the lockers so that nobody would see me. If I can prevent somebody else from having to that? Then this is worth it. That's why we do the plays, the art shows, everything that we do, so that people don't have to live through that and have to feel bad simply just because they exist.
When we did the play over the summer, I had a kid say to me afterwards, "If you're doing this again next year? We're going to be here because we really like it and it was great." That's the best response you can hope for. We actually learned stuff from those kids. They taught us MOO. Say it mean. Say it over and over. Say it on purpose. M-O-O. If those three things happen? Then it's bullying. They taught us that, these middle school kids. If what is happening to you fits those three criteria, tell somebody so they can put a stop to it. I love sharing and learning with these kids. We've created a safe environment for people to share their experiences. That's what we're trying to do here. People don't need to live in fear.
Sometimes people will bully because they don't understand or don't know or because they're being bullied at home. You know, when you asked earlier who I wanted to come see it? As much as it scares me to say this, because you wouldn't think you'd want to invite bullies to a show like this? I want those bullies to come see it. Maybe this will be the thing that wakes them up and changes their mindset. This could be the thing that keeps them from bullying someone, this could be the experience that saves a life.
Stop Kiss plays through November 1, 2015 at How Do You Like Me Now Productions performing at the Howard County Center for the Arts— 8510 High Ridge Road in Ellicott City, MD. Tickets are available for purchase at the door.