Lords and ladies, sinners and saints, draw close your ear and may to it the Folger Theatre bring pleasure with their presentation of The Oregon Shakespeare Festival Production of Pericles. Neither comedy nor tragedy nor history but well containing aspects of all, this exceptional production is a delightful incarnation of the way Shakespeare intended his work to be experienced. Seen, heard, felt, and absorbed, this mythical tale, as Directed by Joseph Haj, takes purchase on the mind and explores a wondrous story that is both happy and sad, reality and fantasy, a remarkable myth crafted on the pillars of dreams.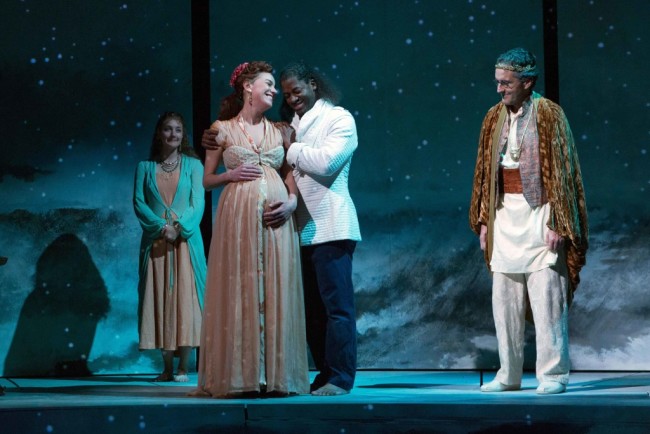 Simplicity is utilized to the fullest and finest intent in this production's design elements. Scenic Designer Jan Chambers fabricates a basic curved structure with painted waves in muted tones upon its surface. This formation serves as a projection screen for Video Designer Francesca Talenti's work which truly enhances the experiential absorption of the show's action. The flooding storms and sweeping waves of a brutal ocean wash over this simple set, creating the effect that at any moment the sea could flood the theatre itself and swallow the audience directly into the show. Chambers further extends the world of the performance into her whimsically constructed clouds. Enormous gatherings of silver-gray lace loom high above the stage and in segments where the seats meet the stage reflecting a symbolic reckoning of the notion that clouds are always present and often part of the great journey of life.
Working in tandem with Chambers and Talenti, Lighting Designer Rui Rita and Sound Designer Amadon Jaeger create the perfect elements of storm that titillate, thrill, and excite the audience on both their aural and visual planes. The overall aesthetic crafted with the shifting stars, moving waves, and shivering flames that make their way across the backdrop showcases the combined artistic genius of three visual designers and Jaeger's whimsical underscoring takes the experience to the next level, particularly in moments at sea. Adding to this folklore experience, Composer Jack Herrick has written original music and lyrics for the production that engage the time-honored tradition of lively song in the Bard's retelling.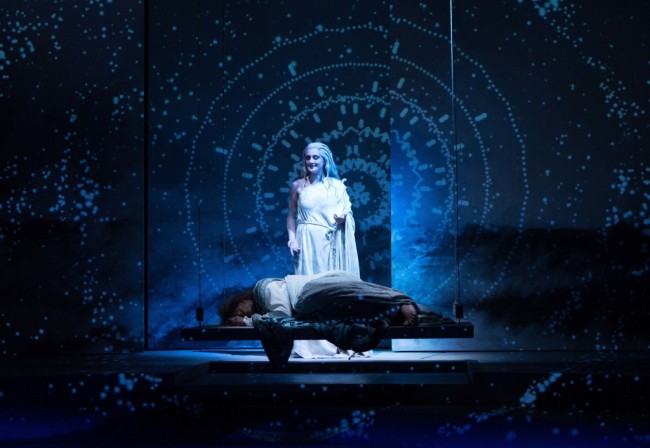 Herrick's music is ripe with Middle Eastern influence, the music (as performed and sung by Darcy Danielson and other members of the cast) becomes a driving character in the show, songs serving as motivational moments of movement that connect characters and plotlines. With a cast whose voices are well suited for Herrick's compositions, the songs become an integral part of the production, feeling as if they were always intended to be a part of Shakespeare's work. This infusion of melody to the tale enchants it with wonder and provides a level of accessibility to anyone who is fond of music.
Director Joseph Haj's approach to the work is truly inspirational. His hand-selection of double-cast roles is an ingenius display of the magnitude of talent laced into the production. With several of the main cast taking on multiple roles, and in such vastly different portrayals, Haj lands a successful execution of this theatrical device. Trimming the tale to its essence without excluding the emotional pulse of the story's narrative, Haj utilizes the gift of the character of Gower to its fullest potential, allowing Gower to navigate the narrative edges of the story and invite the audience into the tale without weighing them down in heavy passages of text.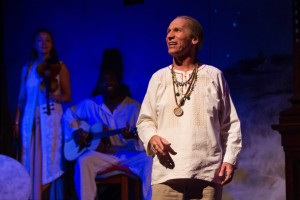 Armando Durán, who fully embodies the narrative role of Gower, brings an enigmatic presence of mine to his portrayal. With a weathered voice that fits perfectly over the lyrics and music composed by Herrick, Durán presents a lively and spirited rendition of each of his narrative moments performed in song. There is a curious element to the way he addresses the audience, directly inviting eye contact and vocal immersion in addition to seeing a larger audience beyond those physically present, giving the tale somewhat of a universal quality. Remarkably engaged with the story he tells, Durán rides the waves of the legend of Pericles with great ease.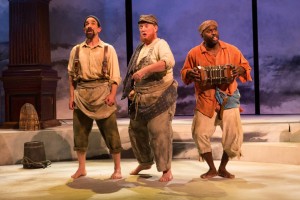 Though not a comedy there is plenty cause for comedic enjoyment throughout the performance. Michael J. Hume as well as U. Jonathan Toppo are two excellent examples of these humorous humors that flit their way merrily throughout the tale. Toppo and Hume even sing a sprightly sea-shanty which wavers into a jig with lively movement, earning a great deal of laughter from the house when they play fishermen early on in the first act. Toppo, who later plays Boult, delivers striking versatility in this role as both an amusing simpleton and a roguish brute, his quick vacillation between the character's two-toned dynamic an impressive tell of his acting ability. Hume takes the cake as Bawd late in the second act, appearing in gaudy drag and living that particularly unsavory character up to the nines in both affectation and physical delivery.
Other dynamic performance of note include Scott Ripley who delivers a quirky and zany rendition of Simonides against a cold and brutal Antiochus. Barzin Akhavan presents similar differences in his dual portrayals of Cleon and Cerimon, though not to such extremes. Adding a third to the list of notables in this vein, Brooke Parks finds clear distinguishing moments between the cold and calculating Dionyza and the sweet and loving Thaisa. All three of these performers, as well as the rest of the cast that takes on multiple roles deliver an exceptional quality of performance that makes the show thoroughly worth enjoying.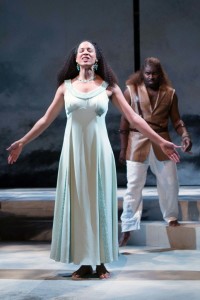 Marina (Jennie Greenberry) is the child of the sea. Dulcet and delicate, Greenberry explores a rich inner depth in the potentially static character of Marina, uncovering a rich emotional well of experiences and feelings which she articulates, often through song. Her voice is strong and radiates a true resplendence, adding layers of fascinating complexity to her character. When singing "When I Was Born," there is a determinedly hopeful naiveté reminiscent of a tragic Disney princess trapped in the beginning of her untold tale present in both her voice and physical expression of the number.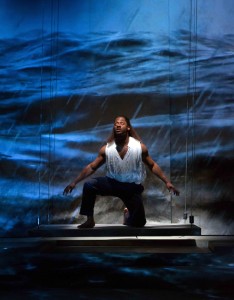 As for the title character, Wayne T. Carr is endearing to the audience in his methodic approach to the growth and experiences of Pericles. Not without compassion or moments of earnest exposed nerve, Carr takes the complicated cadence of the well-penned iambic pentameter and embraces it with a modern tongue, serving it best with gentle pause so as to augment it rather than destroy it. Adding in Carr's ability to sing through Herrick's music exponentially increases the way in which his tale becomes relatable to the audience.
A wondrous experience, a marvelous tale, the show is well-received and filled with opportunities of discovery and delight, a welcomed alternative to all other sorts of holiday entertainment made readily available at this festive time of year.
Running Time: 2 hours and 20 minutes with one intermission
Pericles plays through December 20, 2015 at the Folger Theatre in the Folger Shakespeare Library— 201 E. Capitol Street SE in Washington DC. For tickets call the box office at (202) 544-7077 or purchase them online.