Come errant knights and ladies! For it is time to sally forth toward the windmill—er, castle—and into the grand and touching tale of Don Quixote de La Mancha! Man of La Mancha, Directed by Heidi Toll, with a Book by Dale Wasserman and Music and Lyrics by Mitch Leigh and Joe Darion respectively, is now playing at Saint Gabriel Miracle Players and boy is it a fun time! Performed as a "play within a play" this slightly pared-down version of the musical flourishes in its simple staging and still packs a wallop for theatre-goers of all ages.
You can tell just by listening that La Mancha's score, while gorgeous and riveting, is not exactly a piece of cake to play. The orchestra, conducted with gusto by Lynn Graham, is luckily well-equipped and ready to handle every number in the show from upbeat ditties to slow and stirring ballads, and wows from the very first moments of the Overture. A 15 piece orchestra is itself a feat for a community production, but one that sounds this good is simply a miracle! Saint Gabriel be praised! With the exception of a couple minor musician-conductor coordination issues and sound balance mishaps (brought on mostly by ill-set microphone levels), the music for this show is gorgeous and comparable to that of many "professional" theatre pits in this area. The skillfully executed score lays a solid foundation upon which this show is able to thrive with passion and flair.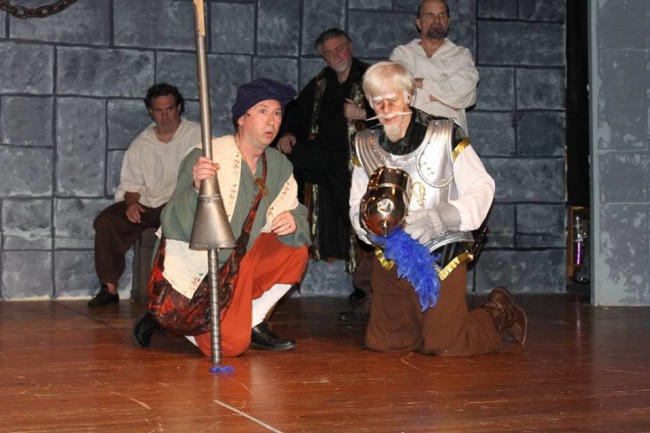 Director Heidi Toll focuses, much to the benefit of her production, on a more simplistic approach to staging this classic show. The set is sparse, but caters perfectly to the illusion that much of our hero's tale is told out of a small basket of props and costumes. This idea is particularly well-employed during Cervantes' onstage transformation into Don Quixote, one of many magical moments the show has to offer. Toll's pacing for this production is all-in-all appropriate, though a couple transitions are in need of some fine-tuning. The ones that occur with lights up feel as seamless as the graceful turn of a novella page, while the scene changes in blackouts are a bit clunkier. I would expect that with time these transitions will tighten up and won't be an issue.  Another great accomplishment of Toll's direction is her ability to take the violence and overt sexual situations in the show and still make it family appropriate. The scene of Aldonza's capture and suggested rape was well-handled and, while no sexual violence was present onstage, still made for a remarkably tense and creepy ending to Act One. A success indeed. 
Technically speaking, many elements of this ambitious production seem to fall neatly into place, from the period-appropriate costumes (collected by Heidi Toll, Sally Kahn, and Linda Swann) to the set decoration. However, the lighting design for this show, while functional, at times feels unfinished. When your set is simple, relying on one backdrop and only a few small set-pieces and props, and the main method of sharing your dramatic arc is good old-fashioned, barebones storytelling, a stellar lighting design is imperative to aide in setting scenes and helping the story move forward and, in this particular case, between two different worlds. In this respect, the design by Bob Frank almost does what it needs to, but lacks the excitement and vibrancy necessary for such a tall-tale as this. A couple cues leave ensemble members in dim light (read: darkness), and in a curious and somewhat confusing turn, a disco ball is employed during a fight scene between Don Quixote and the "Knight of the Mirrors." Whether this was a decision of the lighting designer or the director, I am unclear; but the outcome doesn't quite dazzle as most likely desired and, in fact, does more to distract (the mirror-ball hung a bit too low during the entirety of Act One, occasionally drawing my eye up and away from the action). All this said, I do appreciate the more whimsical lighting effects employed throughout the show, especially the windmill. It's a nice touch, appearing almost in mid-air then disappearing like it never was there…the main character projecting (quite literally) his dreams amidst the cynicism and doubt of his fellow men and women.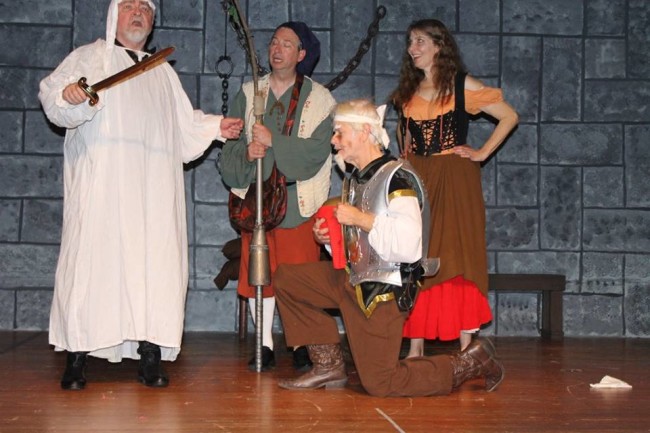 Moving now to the subject of actors, standout ensemble performances are plentiful in this production and beautifully add to the story being told. John Day, performing in the role of Padre, sings his heart out and really embraces his characters from start to finish. His rich baritone is enchanting and he has a couple great opportunities to show off his vocal prowess. The trio song that Day performs with Kim Hart (in the role of Antonia) and Kacy Conley (as the Housekeeper) is operatic and brings forth a stunning combination of voices. Fred Grant in the role of Pedro provides lively facial expressions and well-defined character choices as Aldonza's number one client and takes Pedro in an effectively sinister direction come the end of Act One. His reprise of "Little Bird" is chilling and makes for a great dramatic moment in the show.
A big shout-out must also go to Ann Baden as the Innkeeper's wife Maria, a character who does not have time for Don Quixote's radical delusions. She brings an honesty to her role that makes her moments all the more humorous. And by far one of the best actors onstage and someone who stands out from beginning to end is Rodney Bonds as The Governor and The Innkeeper. His character acting is impeccable and a marvel to watch. Both of his characters are distinctly defined and his rendition of "Knight of the Woeful Countenance" is a delight. This is the first production I've seen him in and I hope not the last.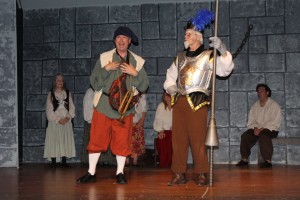 Paul Ballard as Sancho Panza is an interesting choice to play the bumbling yet lovable sidekick. Physically, he is roughly the same size and build as Michael Hulett (Don Quixote); hardly the short, plump Sancho we've otherwise come to know and love. While I crave a bit more comedic physicality from Ballard—in the first act especially—his approach to the character is still sweet and simple, reminiscent of the dewy-eyed Dopey from Disney's Snow White and the Seven Dwarfs. A technically gifted singer as well, Ballard's tenor voice is pleasant and clear, adding to the pureness and naiveté of his character. Interestingly enough, his best work comes towards the end of the second act, in the more dramatic final scene, showcasing this actor's ability to play dramatic material honestly and effectively. Overall a good performance, believable and sincere.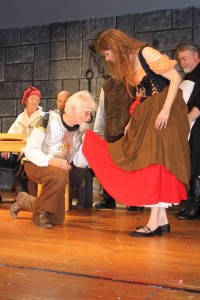 Ruth Hulett as Aldonza is, simply put, a perfect fit. From the moment she steps onto the stage as the hardened prostitute, she brings the character to life with all the vim and verve she can muster, committing entirely to the world of this unfortunate individual. She has a lovely soprano voice and knows how to use it; her rendition of "Aldonza" is powerful, even operatic, while her reprise of "Dulcinea" is as smooth and sweet as the name itself might suggest. Hulett also has one of the most well-defined character arcs in the show and takes the audience on the journey of her tortured soul: from confusion and anger to curiosity to the ultimate acceptance of her role as Quixote's true love Dulcinea. Her final moments with Quixote provide the ending a warm and heartfelt meaning, tying the whole story up and sealing it with a kiss. Leading the final "Impossible Dream" reprise, Ms. Hulett takes a firm stance center stage, indelibly marking her spot as Aldonza… and, finally, as Dulcinea.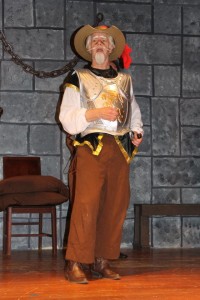 And the dream doesn't seem quite so impossible with Michael Hulett at the helm of this wonderful production. Starring as both Miguel de Cervantes (creator of Don Quixote) and Don Quixote (the Man of La Mancha himself) Hulett is very well-suited for these roles, in both stature and demeanor, and does quite a respectable job with such iconic material. He switches between his two characters with skill and falters not for a second in his portrayal of the seemingly delusional Don Quixote. His brightest moments as actor and storyteller come in the form of idealistic musings sprinkled throughout the production. These magical, poetic moments draw you in and make you see and believe Quixote's dreams as a real and viable hope rather than delusion. Even his singing voice rings out with wisdom and depth, beckoning you to join him in the quest.  With the help of the (once again) brilliant orchestra, his "Impossible Dream" leaves one with chills, and dreams, and ultimately hope—the sentiment that ties this unique and heartfelt production together.
Make sure to check out this production while you can, as it won't be around for long!
Running Time: Approximately 2 hours with one intermission
Man of La Mancha plays through November 15, 2015 at The Saint Gabriel Miracle Players— 6946 Dogwood Road in Baltimore, MD. Tickets can be purchased at the door or with an advanced reservation request by calling (410) 747-5626 or emailing an advanced request to MiraclePlayers@yahoo.com