Sex and death, love and hate, passion, these are all things that consume our lives, that become our lives should we choose to embrace them. Annex Theatre is indeed embracing all that comes with the appropriately titled Impassioned Embraces, a play by John Pielmeier this winter season. Taking a jaunt down a different path— in a vein almost more suitable for Valentine's day than the forthcoming Christmas celebration— this evocative and simultaneously hilarious piece of theatrical brilliance will engage audiences from all walks of life and provide nearly three hours of uproarious entertainment that both exposes the mind to humor and danger while tugging the heartstrings in a plethora of new directions. Suited for any audience that wants an evening of emotionally stirring, gut-tickling entertainment, but especially so for any member of the theatre and arts community, Impassioned Embraces— Directed by Lucia A. Treasure— is a rare discovery this time of year and should be embraced accordingly.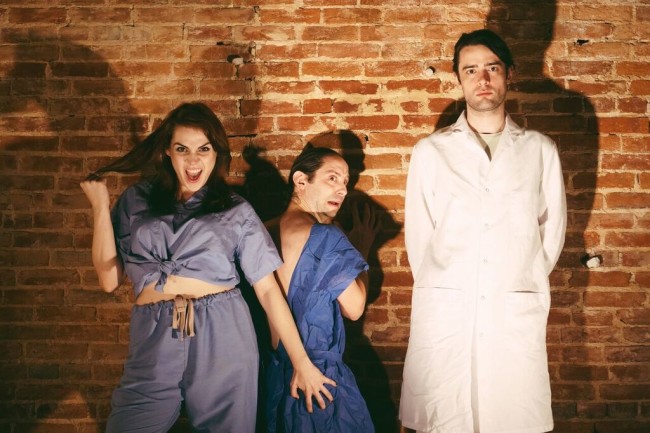 From the moment you enter the play space it is apparent that the evening will provide a bent access to entertainment; the jutting angular structure of the set alone sets the tone for show's curiously connected vignettes with its outward thrust of the back wall. Set Designer Doug Johnson has created something riveting in his scenic design with the 80's rainbow smattering of seemingly random colored blocks upon the wall. Almost pastel-like in hue though still quite vibrant these colored boxes are transformed into Rorschach style inkblot projection scrims once Lighting Designer Mason Ross projects shadow-inducing light from behind onto them. Blinking in and out of existence during the scenic transitions, as well as being lit during live play scenes, these inkblots have distinguished shapes— some more finely honed than others— and make for a fascinating layering of concepts and themes into each individual scene. Johnson's set is breathtaking to behold once actuated in full motion, and the pop-out segments are equal parts functional and clever.
Though the scenes themselves rely mainly on dialogue exchanges between characters or monologue deliveries addressed at the audience, Sound Designer David Crandall uses original music Composed by Rjyan Kidwell to infuse a lively sense of movement between the scenic shifts. There is something pop-modern to the ring of Kidwell's music that creates an artsy verve between scenes, which allows for a fuller moment of digestion for the audience as one scene moves swiftly to the next without any obvious grounding connections. This aural presentation, layered overtop of Ross' blinking lights on Johnson's vibrant backdrop creates a unique aesthetic that is beyond fitting for the show's overall experience, which at times borders on sensory overload in the most exciting way possible.
Director Lucia A. Treasure does an exceptional job of tying the major overarching motifs and themes of the show together, carefully selecting the members of her performing ensemble for each vignette. Playing to her performers' strengths, Treasure ensures that each of the segments of the larger story is delivered with profundity or hilarity and sometimes both. Moving each of the vignettes along like its own individual one-act play, Treasure rides the pacing of the performance with vigor, keeping the audience engaged with each moment as it unfolds. Crafting careful pauses between them to allow for the audience to fully process what they've just witnessed (as the simplicity and beauty of Johnson's set as well as the carefully constructed casting placement would allow for these scenes to pop one right into the next), Treasure ensures that this becomes an infusion of art and theatre rather than just a play to be watched.
Sado-Monologue
Every acting student has been there; the sadistic director who pushes and pushes until you bend and break in half with unclear word choice and a belittlement of the soul. That is exactly the undertaking explored in the opening vignette featuring Scott Burke in the performer role and Jacob Budenz hidden away in the audience as the faceless director. The emotional rigor with which Burke attends to his repetitive delivery is ferociously intense, building into an eruption of raw, albeit scattered emotions, as Budenz berates him with equally charged malice unseen from the shadows of the house. The dynamic between them is brutal, but accurate; this scene on the whole serving as a grim reminder that acting isn't all fun and games all the time.
Chapter 13: The Frog
Getting a chance to immediately showcase his versatility as a performer, Budenz flips around from vicious director to vapidly obsessed school-kid, whose relationship with his unseen boyfriend is rocky. Paired with Jonathan Jacobs in this two-person encounter, the scene rolls through a great deal of one-sided conversation allowing Budenz to flex his delivery muscles extensively. Gifted with the ability to maintain a high level of energy for the saccharine poptart stereotype of the character, Budenz encourages the audience to be severely annoyed with him before the scene is out, a completely different type of distaste than established in his opening vignette.
Emotional Recall
Performer V Lee takes the first solo vignette under her wing and gives it a burst of radiant life with her larger-than-life personality seeping into the overall absurd situation of her monologue. The hyper-theatricalized histrionics which come pouring through the initial bout of text that comes spewing out of Lee's mouth is initially phony and off-putting to the point of being hilarious, but this serves the purpose of the text well in serving as a mockery and parody of memory recall in method acting. As the monologue progresses, Lee softens into something quiet, both raw and utterly humane, which creates a surprising contrast compared to the vainglorious waterworks that start off the piece. This piece, given its ultimate subject matter, also creates mental and intellectual shivers, a beautiful hallmark of Pielmeier's writing.


Cheek to Cheek
While the entire ensemble is present upon the dance floor, or in this case the reception of a wedding, it's Scott Burke back in the focus, this time with Emily Classen playing his scene partner. Depicting just how uncivilized people can become in the faces of love and jealousy, both Classen and Burke engage in a verbal evisceration that sends sparks of hilarity flying out over the audience. The fact that they're physically pressed together in a waltz while trading verbal daggers only serves to make the piece that much more uproarious.
The Pick Up Artist
Defying, Defining, and Defacing gender stereotypes, Jonathan Jacobs returns to this scene playing opposite Mackenzie Smith as the pair work through a hysterically convoluted conversation about what men and women expect from one another while out casually attempting to pick up members of the opposite sex in a bar. Jacobs bares down into the landmarks of a typical narcissistic jock-type athlete, serving up a heavy dose of jerk-like responses overtop of what he believes to be smooth moves. Smith banters and counters every advance with pristine articulation, sturdy in her feminine-focused convictions. But once the tables turn and the roles reach a bizarre reversal, both Jacobs and Smith kick the scene into overdrive, embodying to perfection the normative stereotypes associated with male and female behavior, gestures, speech patterns, and overall interactions with each other.
My Life In Art
A profound ending for the first act of the show, Emily Classen takes the second solo vignette of the performance and owns it with an unapologetic and earnest verve that resonates off of her in waves. Her exuberant energy that fluctuates from internally controlled to externally explosive in this piece is astonishing to witness as she rolls through the highs and lows of what it's like to pursue a dream in the fields of stardom. Gripping, edgy, and certainly evocative, Classen takes the monologue by force and delivers it with brutalized honesty from the elated moments of joy through the crestfallen moments of depression and hits every note in-between with glorious accuracy and emotional control. Commanding the stage in a way that is truly beyond poetic words, Classen draws us into the harsh reality of the journey from start to finish and perfectly encapsulates every bump along the road to becoming a star through a life in art.
On Forgetting
With quirky comic timing, Martin Kasey (who previously appeared as a silent bartender in "The Pick Up Artist") delivers a humorous solo monologue that washes through a meta-element of the show. His comic timing is delivered with a heightened sense of intensity and the jokes that are written into the monologue by the playwright land with sturdy intention behind them. Achieving comic success is ten times more difficult than dying and Kasey manages to do so— particularly when it comes to his spastic meltdown somewhere halfway through the piece.
An Intellectual Discussion
Kasey slips into this two-person scene with Jacob Budenz immediately following his one-man delivery but the characters are completely different (though the lump on his head remains the same.) Written into the show for superfluity's sake, this segment is just an emotional throw-down between Kasey and Budenz as they bicker, with wildly intellectual accuracy, over who is right or who has the potential to be right. A bit of witty and culturally intriguing humorous fluff, which serves to prime the audience into a sense of safety so that Budenz' one-person monologue that follows in the next scene shocks them more thoroughly.
The Backer's Audition
As mentioned, Budenz takes this solo vignette and delivers a harrowing scene that easily grounds itself into the existence of "most tragically profound occurrence of the evening." Delivering mental instability in bursts, which first appear as quirks or frustrated ticks, Budenz ultimately expresses a tragically beautiful monologue that weeps from the warped and twisted inner soul of this character. Remarkable in every sense of the word from his command over the character's expressions to the force with which he delivers the more intense moments of the monologue, Budenz brings the audience to teas while keeping them on the edge of their seats in fear and uncertainty. A stunning and dynamic portrayal by Budenz makes this the most evocative moment in the show.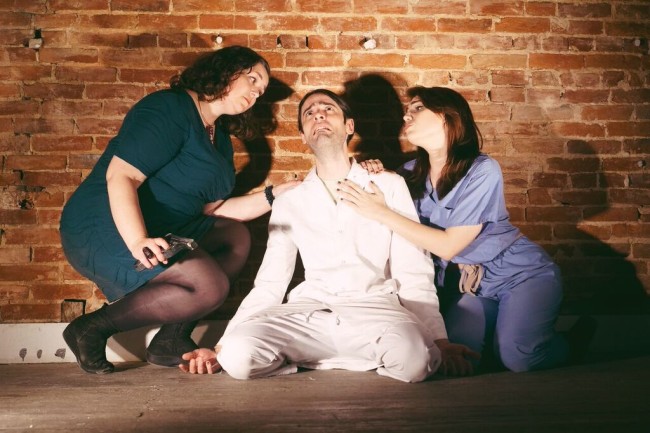 Goober's Descent
Bringing Jonathan Jacobs and V Lee back to the spotlight, this particularly scene is again focused on gender relationships and equality. With Lee playing a cheeky executive and Jacobs matching her line for comic line the pair quickly develop an amusing banter that relies on clever quips. Quickly flipping the scene into something much darker, Lee showcases her versatility once more as she drags out the ugly truth of the situation, which is that every person has a price.
Mondo Vee-Day-O
Perhaps the least sensible but still strangely enough amusing pieces in the performance, Mackenzie Smith sits in a chair flipping through television channels. Only you never see or hear the actual television, only snippets of programs as recited through Smith's voice. She also speaks the 'click' of the channel flickering. This scene grows in pacing as it grows in intensity, resulting in a rapid firing of random garbled hysterics shooting out of Smith's mouth. Serving as a social commentary on how everything on television bleeds together so easily after a while, it's highly entertaining to watch Smith almost be the television while also appearing as the binge-watching zombie with which most Americans can all too readily identify.
Vas Difference
Hysterical, engaging, and absurdly ridiculous, this four-person sketch is the only vignette to feature more than an active duo with dialogue (until the final ensemble piece) and is well worth the wait to experience. Scott Burke, Emily Classen, Martin Kasey, and V Lee take to the scene and milk it for the comic gold that's stitched so carefully into its seams. Burke's facial expression from the table perfectly capture his utter terror as the experience occurs around him while Classen's poptart New York doll accent is her finest tool in this scene. Lee literally storms the scene and adds hilarity to an already comically cracked situation and there just aren't enough manly words to describe Kasey's character's ordeal. All in all it's mindlessly engaging entertainment that primes the audience for the ultimate comic finale.
Acting Olympics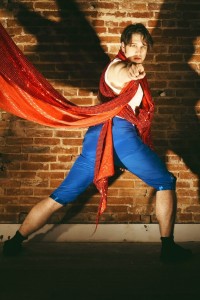 Featuring the entire ensemble, with Emily Classen and V Lee providing Olympic sports commentator style commentary from the side, the shenanigans get underway and once they do there's no stopping them. Jonathan Jacobs takes main focus here and his ludicrous notions of acting in a theatrical fashion are a hoot. It's a guaranteed laugh from the beginning of this scene through to the end of the show, and for fear of spoilers, it can simply be said that you must see it to believe it, especially when it comes to Jacobs' glazed ham death routine.
A thoroughly engaging performance that lends itself mostly to tickling the funny bone, with a handful of profound thought provoking moments mingled into the mix, Impassioned Embraces provides a welcome relief to the stages this time of year when everyone else has holly-jolly holiday hoorayness on their stages.  
Running Time: 2 hours and 40 minutes with one intermission
Impassioned Embraces plays through December 13, 2015 at Annex Theater— 219 Park Avenue in Baltimore, MD. Tickets may be purchased at the door or in advance online.