A feverish pandemic of Thrilleritis Malignus is sweeping through the Northern Virginia area as NextStop Theatre Company unloads Ira Levin's Deathtrap onto their stage just in time for the tail-end of spooky season. Directed by Evan Hoffmann with eminence and experience, this comedic thriller delights audiences with laughs and screams as the play-within-a-play-within-a-play takes a chilling twist around the bend of darkness and deceit.
A lavish yet simultaneously foreboding set takes root in the play space of NextStop Theatre Company compliments of Scenic Designer JD Madsen. The rustic wooden charm of the old barn space attached to the colonial pays tribute to the scenic descriptors of Ira Levin's work while adhering to the fashions of the 70's in its structural outlay. Madsen is detail-oriented, much like Costume Designer Kristina Martin, and matches patterns of the era to various furnishings spaced generously across the set. Martin, who keeps to the vibrant albeit garish color schema of the 70's, finds her niche in plaids— both in dinner jackets and skirts— whereas Madsen focuses more on the swirls of ostentatious paisley. Both designers keep the aesthetic on-point for such a high-tension drama, giving the players a welcoming atmosphere in which to play.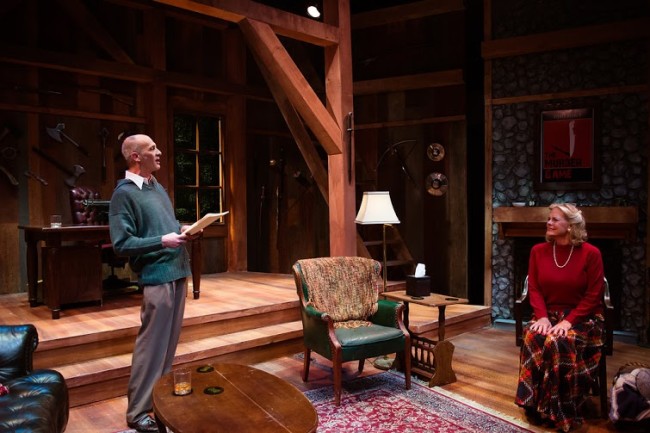 Lighting Designer AnnMarie Castrigno finds clever ways to illustrate the pending storm of Act II against Sound Designer Stan Harris' underscoring of dramatic thunder. Castrigno also rights sharply executed cues for blackouts and darkness that really emphasis the dramatic twists of Levin's play, particularly when unexpected events occur. Harris' Sound Design has questionable moments that may require the volume levels to be readdressed. Though his pulsating otherworldly horror sounds are quite eerie, the first time they are introduced during the initial suspense build between Clifford and Sidney, they hum too low and then suddenly with intensifying density. At first they sounded as if they were external noise from somewhere outside of the theatre and then overwhelmed the aural senses with their volume, though this issue seemed to be adjusted by the second and third occurrences. Harris also includes cheek hints of sound bits that hint at the ominous foreboding of situations yet to come, a hallmark of any good stage thriller.
The show moves with exceptionally tight pacing, particularly the Fight Choreography constructed by Fight Director Kristen Pilgrim. The tussles and violent exchanges, that for fear of spoiling climactic moments of plot twists shall remain vague in their description, are articulated with vigorous authenticity to the point of being believably frightening thanks to Pilgrim's work. Director Evan Hoffmann works these moments of intense action into his overall pacing with practiced ease. That said, however, Hoffmann's overall approach to the beat-structure of the show is somewhat lacking, causing unnecessary pauses that— while they do not inherently slow the overall cadence of the show— seem ill-fitting and cumbersome in places. This occurs mostly with Sidney's delivery, particularly in his exchanges early on in the first act. Hoffmann's uncertainty with the tone of Helga ten Dorp (Lorraine Magee) also feels off-putting to the piece as a whole. Caught in a limbo between understating the character and over-exaggerating her, Hoffman banishes the comedic potential of the clairvoyant into an obscure and largely inaccessible realm of existence for the majority of the performance.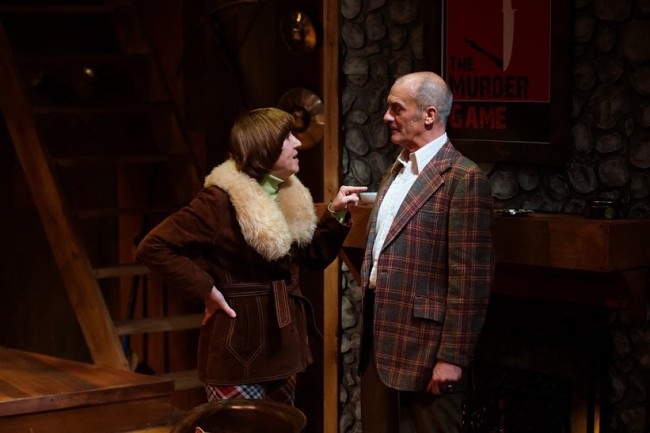 Magee's performance is somewhat unevenly delivered on top of Hoffman's milquetoast approach to articulating her direction. Her graveled voice is difficult to hear in moments when she trails off, and her accent meanders here and there, although this may be a nod to the fact that she's a character living a hoax of being a clairvoyant having to create her own background story. To Magee's credit, she does burst outright with lively action in the final scene of the show— an exchange held with the dopey Porter Milgrim (Frank Britton.) The pair add a hilarious conclusion to the otherwise titular thriller and create the perfect conclusion to an evening of mayhem and murderous intentions. Myra Bruhl (Susan d. Garvey) adds a hint of her own comic misfortunes early on in the play, Garvey isn't given much dialogue or stage time in which to be overly memorable, but is intriguing just the same.
Clifford Anderson (James Finley) and Sidney Bruhl (Peter Holdway) follow Levin's model to the letter of suspenseful and frightening characters with dynamic relationships that leave the audience shivering and questioning just what will happen next. Holding their own against one another they play exceptionally well through a plethora of differently charged scenes running the gamut of experience from friendly and convivial to dark and treacherous. Finley burbles with emphatic enthusiasm early on and transforms that externalized eager energy into something much more dark and sinister as the play progresses. His verbal eruptions late in the second act are quite shocking and truly terrifying, particularly as his previous presentation of the character seems so amiable. The drastic change between the way his character starts and finishes showcases his talents as a performer.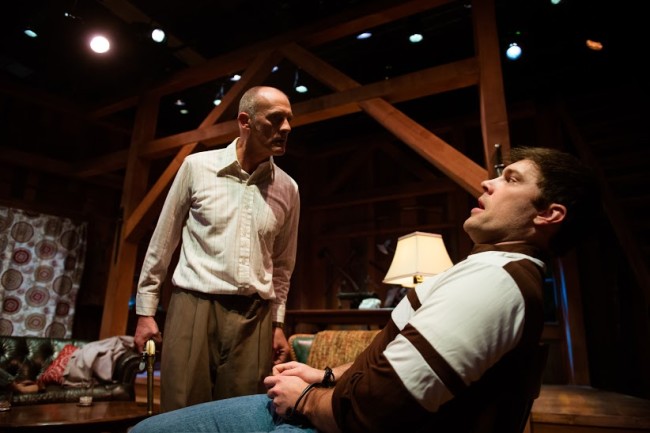 Holdway delivers Sidney Bruhl with a foppish flamboyance that readily paves the way for the large plot twist that occurs near the end of the first act. His accent tempers this somewhat but overall he makes his character's inner secrets readily available to the audience very early on. Though somewhat pause-ready in his delivery, and at times this feels strange, Holdway cleanly grasps the delivery of his dialogue exchanges particularly when it comes to Clifford. There is a lighthearted twisted sense of humor that comes out to play in the second act that juxtaposes nicely against the cracked madness that erupts from Finley when the pair come to blows toward the middle of the act's second scene. Ultimately making the performance captivating, both Holdway and Finley bury the hatchet with great gusto and make the show a striking success.
Running Time: 2 hours and 35 minutes with one intermission
Deathtrap plays through November 22, 2015 at NextStop Theatre Company— 269 Sunset Park Drive in Herndon, VA. Tickets can be purchased at the door or in advance online.