Some experiences are compatible and others aren't. In a world where normal is an everyday struggle for the average human being because the notion of normative social constructs no longer fit the individuality of our personal identities, an experience such as relating a gender identification to a family member can be somewhat of a beautiful catastrophe. Cohesion Theatre Company proudly presents the world premiere of A Little Bit Not Normal. Written by Lillie Franks and Directed by Alice Stanley, this evocative exposure of gender identity is a remarkable tool for spreading a wider awareness of the trans* community on the whole, particularly its presence in the Baltimore Theatre Scene. Life imitating art imitating life; the production envelops several powerful messages, many of which focus on the positive notions of acceptance on the broader gender scale.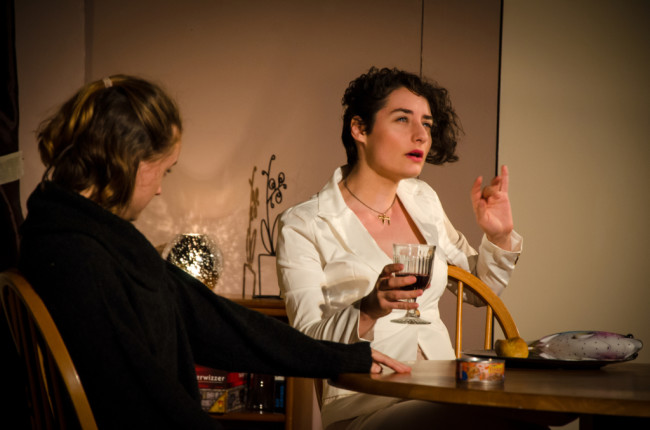 Playwright Lillie Franks covers a multitude of ground in her full-length play, though the main issues of focus fall under the umbrella of the trans* life experiences. (There is a fantastic FAQ in the program explaining the use of the word trans* and its asterisk.) Franks constructs realistic struggles of a transgendered individual and fleshes out the dynamic of the relationships that this individual experiences, including the struggles in said relationships. While Franks does an exceptional job of developing distinctive voices for most of her characters— in particular the cat— there are times when some of the dialogue between characters falls into an uneasy pattern of bullet-pointing issues for the sake of the current argument. There are other areas where Franks' dialogue exchanges falters on a scale of natural existence, but these occurrences are minor and don't detract too much from the exchange of raw emotions throughout the play.
Franks does have a sharp handle on how to craft a balance of emotional exposure into the work. Little telling moments that erupt from an earnest spring of vulnerability hit the three main human characters, and even the God character, and the result is thoroughly heartfelt confessions that radiate with raw and exposed intention. There are moments where some of the dialogue builds, mainly with Devon's character, feel repetitive and although the intention is to drive home her message, the redundancy ends up detracting from this approach. On the whole, Franks has a smart and well-composed play that speaks clearly on the ever-present struggle of acceptance— not only by others but of self— in the trans* community.
Tackling a world premiere play is no easy feat and Cohesion has employed an exceptional team of designers to aid in this accomplishment. Scenic Designer Casey Dutt working with Costume Designer Heather Johnston and Lighting Designer Lana Riggins craft a world in which Franks' play can flourish. The demarcated interior of Devon's apartment is modern and functional while still maintaining a pleasing aesthetic. In an immersive inclusive approach to the work, trans* artist Ania Milo Swann's work is featured on the walls as a part of the scenic décor. Riggins' subtle shifts in lighting are almost imperceptible as the lighting is a basic plot used for your average interior design, however, there are moments where the work radiates true beauty. The moment coming to mind is the gorgeous inclusion of shadow play in the gauzy curtained window for the arrival of God late in the second scene. There is something ephemeral and fleetingly beautiful about Riggins' use of light and shadow in this moment that captures the essence of the emotional tone of the scene.
Johnston uses her crafty couture skills to create an attitude identity for each of the characters in the show rather than focusing on a gender-specific or non-gender-specific feature of their clothing. Outrageous punk-styled clothing suits Nancy's abrasive exterior approach to the world. A similar approach is applied to Devon's wardrobe, keeping her milder personality in mind when it comes to the dressier outfits. Johnston's most ingenious idea is allowing Shadow to exist in classy but casual black clothing, no tail or ears or intense facial makeup and whiskers, though she does add an adorable nod to the furry creature with fluffy fuzzy black socks.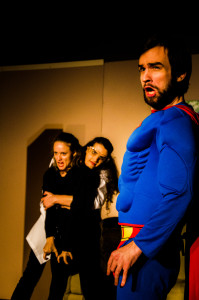 Director Alice Stanley guides the fledgling of this play's concepts through treacherous waters as a play such as this one is often easily dismissed as an "issues play" or a play with a social agenda. While there are clearly represented and intentional messages designed to spark conversation, awareness, and discussion, Stanley also focuses on the humanity of the characters, their struggles and their relationships. Navigating the show with ease, Stanley infuses curious moments of questionably amusing silent interactions between scenes to keep the show moving and to visually expose to the audience some of the things happening in the characters' lives that are only briefly mentioned. Stanley's use of the space is exceptional, especially the inclusion of the "upper deck" space when it comes to God being placed up on high.
Serving as pure comic relief and a bit of a Deus Ex Machina in a sense, Supraman (Fred Fletcher-Jackson) is a knockout character that engulfs the metaphor of closeted struggles. The dynamic between Fletcher-Jackson's character and the God (Melanie Glickman) character is an accurate representation of family drama at its finest. Fletcher-Jackson is hysterical with his physical restrictions in his scenes and his character portrayal on the whole is highly entertaining. Glickman, whose character is just one sliver of the insane amount of suspension of disbelief occurring in this show, is an impressive entity. On point with textual delivery, Glickman finds little moments of reflection and profundity in the character's dialogue and presents it accordingly.
Patrick (John Robert Wright) arrives on the scene with conflicts pre-engaged to his existence. Without too deeply exposing the nature of Wright's character's relationship with Devon (Erica Burns), Wright masterfully embodies the perplexity and consternation of a father whose mind cannot rest over the current situation. The raw exposure of the character's own self-actualization is part of what makes Wright so impressive in the role as it is delivered in believable earnest. Capturing the epitome of frustrations, anger, fear, hurt, confusion, and a plethora of other emotions for someone experiencing the transition of another individual from an outside distance, Wright portrays Patrick with remarkable relatability.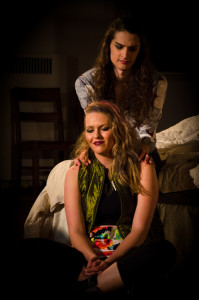 Burns, as Devon, does an exceptional job taking on the trans* character, especially when it is noted that this is Burns first major role on the stage. It's Burns' facial reactions that make the character development of Devon so fascinating to watch. Truly presenting the essence of those moments that all of us have experienced in one way or another— "what did you just say? How am I even supposed to process that let alone respond to it?"— Burns' lively face does a great deal of performing throughout the production. Showcasing versatility in the interactions shared with Nancy (Casey Dutt) Burns stands and delivers a surefire ability to portray a multifaceted character.
Dutt, whose character seems to know one level of expression which happens to be full-force, does an exceptional job in the role of Devon's girlfriend as well. While the character is not the critical component to many of the relationships explored in the play, much like Burns' its Dutt's silent reactions that draw the attention to her. When showing a shockingly softened side of Nancy, Dutt eases into a comfortable space with Burns and together the pair create beautiful moments of love and tenderness which are earmarked as missing on the whole from the production.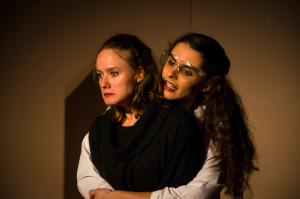 The show-stealer, however, comes down to Shadow (Martha Robichaud.) Fully embodying the feline persona constructed around the cat character, Robichaud is literally a cat-goddess. Nosing the door open with her head, lounging about in that typical lazy and yet deliciously comfortable manner that we've all witnessed our own feline— or someone else's— do, Robichaud articulates her character with exacting precision. Furthering the development beyond the exciting physical engagement, her patois is prepossessing of a haughty noble arrogance, delivered with unction and snarky sarcasm that is scintillating and biting. A truly remarkable performance, Robichaud has all of the right attitudes in place to master the role of Shadow in the performance.
A truly unique and engaging experience, A Little Bit Not Normal is relatable and compatible beyond the gender issues it raises. Everyone has a family with which to have issues, and even if you don't, perhaps this play will make you want to find one. Everyone has relationships and the dynamics in them that trouble them. Add gender into the equation and it makes for a fine and informative as well as entertaining evening in the theatre.  
Running Time: 2 hours with one intermission
A Little Bit Not Normal plays through December 6, 2015 at Cohesion Theatre Company currently playing at Church on the Square in Canton— 1025 S. Potomac Street in Baltimore, MD. Tickets can be purchased at the door or in advance online.