The deviously delicious and dark world of edgier entertainment never stops flowing from out the doors of the Yellow Sign Theatre. In fact there is so much of an overflow that it has slithered its way into Club Charles, the trendy Station North Night Club right next door. YST's Magician in Residence, L.G. Gerace, Most Marvelous— who is also the known magician in residence with the Baltimore Rock Opera Society (BROS) sets up shop every Wednesday evening in a private little alcove in the corner of the club and invites club patrons in to witness his intriguing little show, Smirk & Mirrors.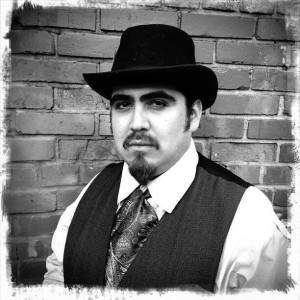 With polished finesse, Gerace is a true showman when it comes to magic. Though his tricks may seem simple— all sleight of hand— they are accomplished with skill and grace. His delivery of card tricks is presented with confidence and even a skilled eye who knows how to debunk magic will find it difficult nigh impossible to catch him coming unraveled at the seams. More importantly, Gerace has an engaging personality. Earnest and relatable and personally involving himself with each intimate audience, his show becomes a unique experience for each group that views it.
Possessing a sophisticated carnival Side-Show type flare in his delivery, Gerace engages his 'houses' in the tales of the magic tricks as they unfold. Each house includes two or three guests who watch and participate in the up-close and personal magic tricks, and runs anywhere from 10-20 minutes just depending on how you'd like the experience to go. The technique employed throughout the performance is impressive, both in the tricks and their executions as well as Gerace's friendly banter with the crowd.
Seeing a show in the area already? Have other plans on a Wednesday night? Club Charles is open 'til late and L.G. Gerace, Most Marvelous keeps Smirk & Mirrors going until the crowds have all vanished for the evening. Pop in anytime from 8:30pm onward to enjoy a unique and mystifying experience in the Station North Arts District.
Smirk & Mirrors happens every Wednesday evening starting around 8:30 and runs until closing time at Club Charles— 1726 N. Charles Street in the Station North Arts District of Baltimore, MD. Smirk & Mirrors is a free event but feel free to have a drink and enjoy the charming atmosphere of the club while you wait for your private house of magic with L. G. Gerace, Most Marvelous.