WINNER— noun. "someone or something that wins a contest, prize, etc. one that wins." Just being here at Just Off Broadway's production of The 25th Annual Putnam County Spelling Bee makes you a winner. W-I-N-N-E-R. Directed by Robin Emrick with Musical Direction by Patty DeLisle, this zany and adorable musical is family fun for everyone and shows the true pride and spirit of just what the Just Off Broadway company has to offer when it comes to their annual fall musical.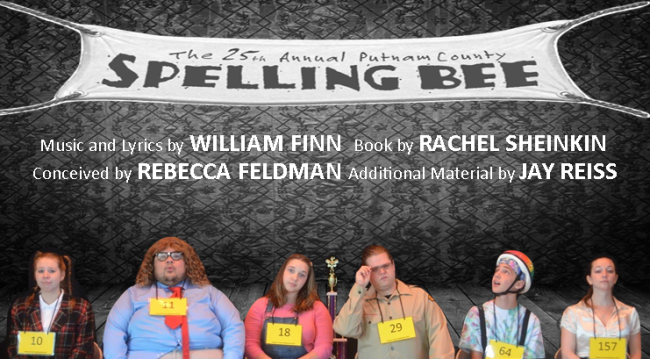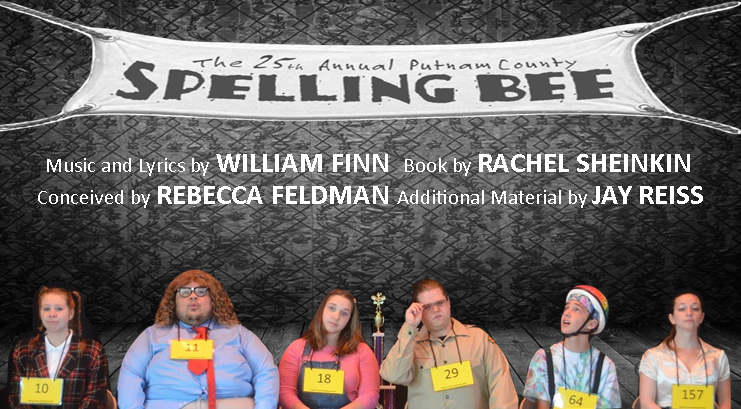 RESOURCFUL— adj. "having the ability to find quick and clever ways to overcome difficulties." Set Designer Theresa Bonvegna is thrifty and resourceful with her lovely aesthetic on the company's non-existence budget. R-E-S-O-U-R-C-E-F-U-L. Bonvegna takes advantage of the performance space's natural gymnasium and utilizes this to the show's benefit, crafting a more authentic aesthetic for the show's main setting. Working in tandem with Director Robin Emrick and the cast, Bonvegna finds outfits that highlights the childish characteristics of the spellers and the more polished adult couture of the faculty.
IMPROVISATIONAL— adj. "the act or art of improvising." Director Robin Emrick adds layers of hilarity to the already humorous performance by allowing her performers to make many of their interactions improvisational throughout the evening. I-M-P-R-O-V-I-S-A-T-I-O-N-A-L. Emrick finds moments of ripe topical humor (as scripted in by Jason Crawford Samios-Uy) that gives the characters little extra zingers to wing at the audience. Their catty and rather uproarious interactions with each other and the invited audience spellers fits the bill for ad-libbed comedic genius as well. Emrick finds a strong balance of allowing this to happen naturally without gumming up the overall pacing of the show.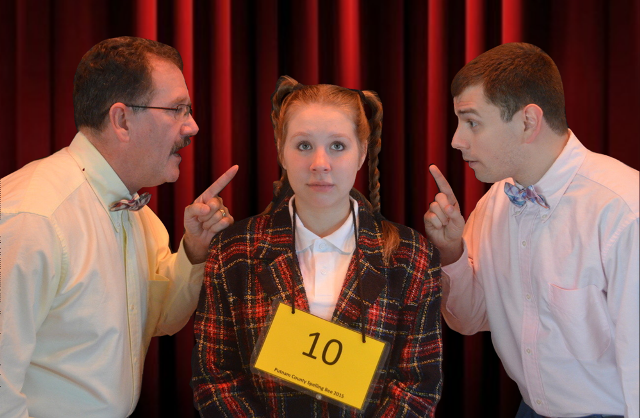 SPIRITED— adj. "full of energy, enthusiasm, and determination." Musical Director Patty DeLisle delivers an enormously spirited ensemble sound throughout the production. S-P-I-R-I-T-E-D. Despite the missed opportunities to lay on the dancing in various group numbers, DeLisle keeps the energy rolling through the rafters to raise the roof, particularly with numbers like "Pandemonium" and "Spelling Montage." With huge swells of sound, the show's momentum is racing along and keeps the audience involved from beginning to end. DeLisle also manages to create a balance between the nasally characterized sounds of the youthful characters and their more fully developed actor vocal talents when singing in these harmonious numbers.
CAMEO— noun. "a minor part played by a prominent performer in a single scene." Actor Jim Morgan makes a small cameo as Carl Dad in this show while actor John Mochovec lands three separate cameo performances of Olive's Dad, Dad-Dad, and most notably, Jesus. C-A-M-E-O. Providing strong vocal harmonies during the "I Love You Song" trio, Mochovec shines as Olive's Dad. Playing exceptionally well with tightly timed comedic tension against Morgan as Carl Dad, Mochovec makes each of his flash appearances memorable, but none quite as entertaining as his arrival as Jesus in a discussion with Marcy Park in the second act of the show.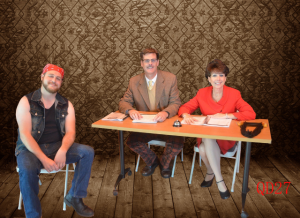 ANIMATED— adj. "full of life, excited; lively." Kristin Kraus delivers a very animated performance as Rona Lisa Peretti, especially with her vividly expressive facial features. A-N-I-M-A-T-E-D. Exuding three distinctive flavors for each of "Rona's Moments" throughout her songs in the bee, Kraus finds the layered interests of the character with her robust voice. Demonstrating true vocal prowess in each of these moments, but especially during "I Love You Song," Kraus has a stellar voice for the role. Her little asides, often addressed at Douglass Panch (Greg Dohmeier), as well as her hyper-invested facial reactions and responses to the children make for an amusing evening at the spelling bee. Be sure to watch the way she clings to the trophy at the end of the performance, a hallmark of her character's winning roots.
STENTORIAN— adj. "very loud." Patrick Jay Golden may not have much by way of a speaking voice when it comes to playing Comfort Counselor Mitch Mahoney, but delivers a gorgeous stentorian sound during his belted solo at the end of "Prayer for the Comfort Counselor." S-T-E-N-T-O-R-I-A-N. Although the life orchestra drowns out the opening bit of his song (and you can't fault either of them for the location's acoustics), Golden makes the most of his vocal opportunities and grits into the character with teeth bared. Finding a way to juxtapose his terrifying initial countenance against the role he's been assigned at the bee, Golden delivers an impressively dynamic rendition of this often caricaturized character.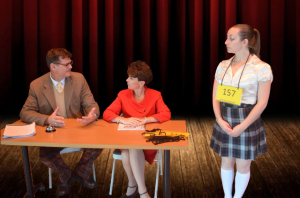 HYPERBOREAL— adj. "extremely cold." The clinical attitude with which Marcy Park (Emily Morgan) initially addresses the bee and her competition is nothing short of hyperboreal; she's a real frosty ice queen. H-Y-P-E-R-B-O-R-E-A-L. Morgan, who possesses an intense voice for her solo "I Speak Six Languages," finds a way to engage not only with the lyrics of the song but with the character's investment in her well-rounded extracurricular life. Soccer, cartwheels, and hokey all make an appearance in Morgan's performance, and really help the number measure up to the attitude attributed to Marcy. Clipped and sharp with her spoken delivery, Morgan lives fully in this embittered "all-business" character. Delving into the rich inner psyche after her encounter with Jesus, Morgan unearths a tenderness in the character that is well worth noting.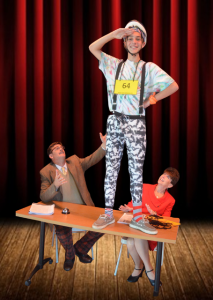 GELASTIC— adj. "amusing." Kevin Franiak's performance as Leaf Coneybear is highly gelastic, mostly because of his goofy grin and crocheted yellow cape. G-E-L-A-S-T-I-C. Franiak reverberates that special 'touched' vibe throughout his time spent on stage. Clutching his rainbow safety helmet once he topples off the risers, Franiak makes it clear that he is the oddball out in this crowd of socially ostracized smartypantsed children. Finding rhythmic ease with both "I'm Not That Smart" and its reprise, Franiak lets his character mellow and ripen among the well-crafted jokes of the lyrics.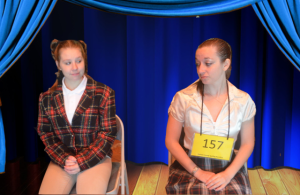 OROTUND— ad. "ostentatious." With her never-say-die smile and enthusiastic quips, Emily Wesselhoff's orotund performance is the epitome of what Logainne Schwarzandgrubenier's (and her two dads) existence ought to be. Flashy and invested in her gay pride agenda, Wesselhoff radiates energetic delight as she interacts with the audience spellers and other in-cast performers throughout the initial few scenes. Juxtaposing this bubbly personality, with a disturbingly perfected lisp, against the heavier emotional gravity of her solo "Woe is Me", Wesselhoff delivers more than just the surface of this peppy and spunky character.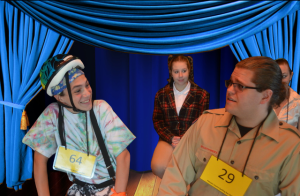 PULLULATE— verb. "teeming with, full of; to burst at the seams." Seth David pullulates with pubescent exuberance as Chip Tolentino, especially when he rises to the occasion involving a stimulating situation with the unseen Marigold Coneybear. P-U-L-L-U-L-A-T-E. Giving a rousing rendition of "Chip's Lament," David literally erupts with fervid intensity at the end of this number. His vocals are sublime for the belted sustains both here and other fuller ensemble numbers. Channeling a perpetually pissed attitude to lead into this number, David delivers the full scope of the character's embarrassing situation and basically owns the number with zest and gusto, unapologetic for his unfortunate erection.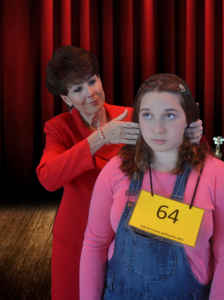 DUALISTIC— adj. "in a pair; of two natures." The dualistic portrayal of Olive Ostrovsky by Kara Bauer extrapolates the tragically beautiful girl trapped inside a chimerically disappointing life. D-U-A-L-I-S-T-I-C. With a sweet and somewhat nervous disposition, Bauer takes to the stage as the timid Olive who is just as awkward and intelligent as the rest of the bunch, but more grounded in her emotional presence. "My Friend, The Dictionary" is a dulcet solo that showcases Bauer's emotional range as well as her vocal abilities. "The I Love You Song" is a blissful trio wherein her melancholic nature echoes through her lyrical delivery and again tugs at the heartstrings of the audience. Truly a songbird, Bauer tempers her sweet voice and optimism against the character's dismal reality with a gentle touch.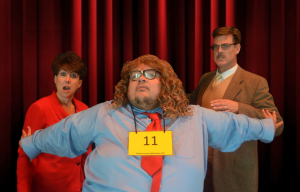 PESTIFEROUS— adj. "annoying; obnoxious." Taking a haughty, shady, and overall fantastically flaming approach to the character, Jason Crawford Samios-Uy presents William Barfèe in the most pestiferous light imaginable, putting him right on the shelf beside Patti Lupone and all her diva glory.  Usually affected with a lisp or some other characterization that makes Barfèe the "ultra-nerd", Samios-Uy takes a curiously refreshing approach and transforms the spelling-savant urchin into a fierce and melodramatic queen. The trademark line of "yes, of course" becomes a shady slap in the face and "Magic Foot" becomes a moment of diva-belted pride that shows off Samios-Uy's enormous voice. Discovering a human being beneath all the layers of flamboyant arrogance, Samios-Uy augments the tender moment with Olive late in the performance to showcase his range of performance ability.
SWELL— adj. "informal slang, first-rate; fine." The production that you'll see of The 25th Annual Putnam County Spelling Bee is really swell, a great show for everyone! S-W-E-L-L!
Running Time: Approximately 1 hour and 50 minutes with one intermission
The 25th Annual Putnam County Spelling Bee plays through October 25, 2015 at Just Off Broadway in the gymnasium of the Epiphany Lutheran Church— 4301 Raspe Avenue in Baltimore, MD. Tickets are available at the door or in advance online.