Hey, pal! Come here and shoot a president— or maybe just watch Stillpointe Theatre Initiative and Spotlight UB do it instead with their production of Assassins. With complex Music and Lyrics by Stephen Sondheim and Book by John Weidman, this edgy obscure musical is poignant and relevantly delivered for the current political climate and packs a powerful message to the audience. Co-Directed by Ryan Haase and Kimberly Lynne, the production sparkles with a twisted sense of patriotic pride amid a shimmering sea of talent.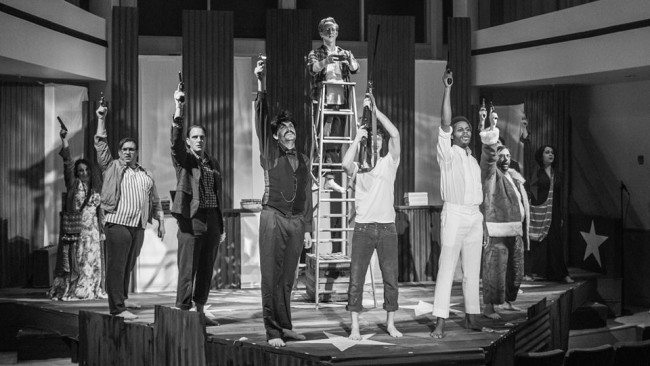 The red and white stripes of the American flag jut up into vertical spikes that create the backdrop of the show, crafted skillfully by Scenic Artist and Co-Director Ryan Haase. This warped and twisted imagery is a beautiful representation of how the patriotism of our own country has been mutilated to serve a bigger agenda through time. The striking image that this particularly stunning backdrop, highlighted to haunting perfection by Lighting Designer Janine Vreatt, creates an unsettling sensation in regards to the nationalistic pride established upon seeing the flag. Assassins feel they're doing their country a service too, and that vein of twisted reality is clearly present in Haase's exceptional scenic work.
Wearing many hats in the production, Haase serves as the Co-Costume contributor alongside Danielle Robinette to craft the eerie aesthetic of the piece. While the costumes for the assassins themselves are gathered homage of historically appropriate period pieces, the modern day couture reserved for the Balladeer and generic ensemble performers is strangely off-putting, though the politically witty t-shirt featured on the Balladeer is worth a chuckle. This is one of several places where Co-Directors' Haase and Kimberly Lynne's modern-era framework do not align with the show's overall performance.
The show itself exists with a strange book, beautiful music, and questionable concept, but is enjoyable for its curious nature. Haase and Lynne bring stellar talent and gorgeous sights and sounds to the stage though their layered concept of modern infusion falters in places. Having the Balladeer be a modern man with smartphone technology attempting to snap-chat his way through the history of these assassins is a clever thought but a poorly executed one, and when more of the ensemble takes up this vein of existence it becomes confusing. Haase and Lynne do an exceptional job, however of unearthing the truth of the raw and vulnerable emotions in these assassins and their natures throughout the performance.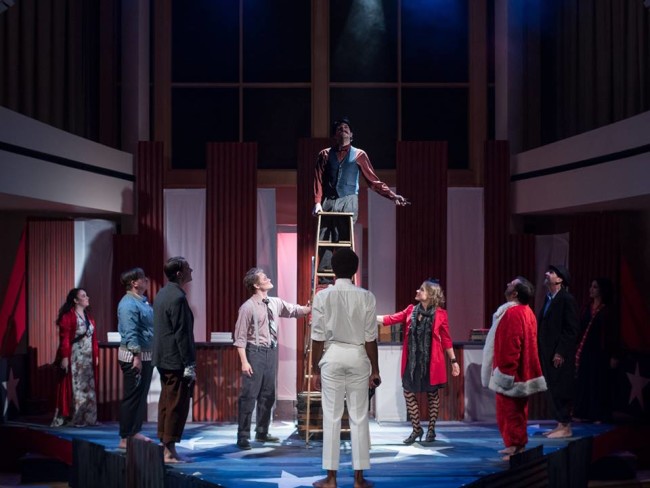 The brilliance and darkly humored entertainment of the performance is etched into the background work crafted by Haase and Lynne. The assassins watch the other assassins stories unfold as if they are part of a living portrait gallery. Silly little nods like lighters waving during slower ballads, and popcorn being passed makes these characters serve as mildly active background furniture, a tactic which is employed frugally so as not to be too distracting from the main intention and focus of the show. The framed imagery— especially moments captured with individuals like Oswald (Jon Kevin Lazarus) atop the ladder— are visually spectacular.
Musical Director Howard B. Shaver delivers the difficult task of blending Sondheim across a small cast and making it sound as if an enormous one has taken possession of the score. Shaver, though slightly imbalanced with the orchestra's overplaying of the opening number and subsequently drowning out the singers' voices, conducts and guides a sturdy performance with strong blended harmonies and riveting group numbers, which are blocked in breath-taking moments of beauty by the show's two Co-Directors. These picturesque moments fall in line with the verve of the show as a whole, a "snap-chat" if you will of history underscored by the heady sounds of Sondheim's brilliance.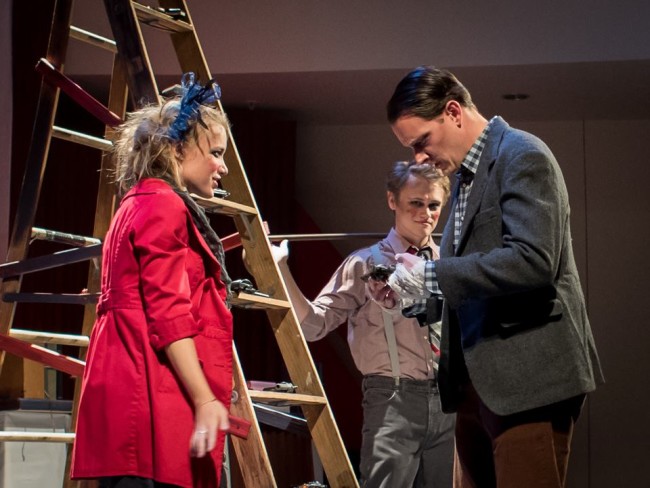 Jaimie Yates and Kevin Cook appear in the opening number as two ghoulish vamps with facial makeup (designed by Robinette) that gives them a warm feeling of moldering death. "Everybody's Got the Right" is a powerful if frightening number to open the show with and both Yates and Cook engage the audience with their carnie-esque portrayals of these two seedy vultures inviting the assassins up to the stage from their hiding holes tucked neatly away in the front two rows of the house. Donna Fox, portraying Emma Goldman, is also worth noting for her physical delivery of the character, crafting a stalwart and stiff woman of revolution, whose voice blends respectably among the others during larger ensemble numbers, just like Cook and Yates' voices do.
Delivering a rousing and obnoxious character in Sam Byck, John C. Wilson grasps hold of the assassin's personality and digs in deep. With a voice full of gravel and a gut full of bluster he lays hard and heavy into the monologues of his character guided at various celebrities over why he has to shoot Richard Nixon. Giving just as edgy of a performance, though his is featured through song, is Lawrence D. Bryant IV playing the bombastic Italian Guiseppe Zangara. Bryant's rendition of "How I Saved Roosevelt" showcases his tremendous vocal prowess and shocking physical response to the song's end.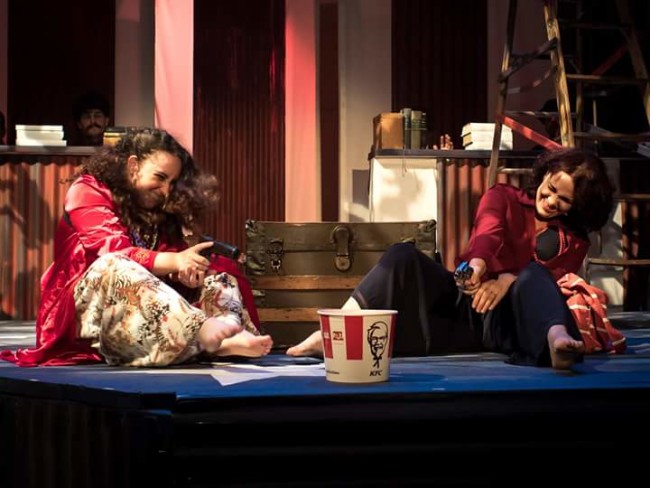 Ashleigh Haddad, as Sarah Jane Moore, and Chelsea Paradiso, as Squeaky Fromme, are two twisted peas in a pod. Featured together for the assassination attempts on Gerald Ford, both Moore and Paradiso bring a vibrant comedic life to their character portrayals. Both women pick up a delectably disgusting southern twang in their accents and deliver them consistently throughout their speaking and singing. Paradiso is given a chance to showcase her vocal prowess and blending abilities in the duet "Unworthy of Your Love", shared with John Hinckley (Jim Biernatowski.) Playing the obsessed Hinckley, Biernatowski's voice is the perfect complement to Paradiso in this number. Moore puts her lovely voice on display as a part of the quartet "The Gun Song," featuring herself, Bryant, Patrick Martyn and Brian Kraszewski.
Kraszewski takes on the role of the disgruntled and furious Czolgosz. Uncovering a rich dynamic depth in this character, Kraszewski juxtaposes his softer and tender side— seen only in the presence of Emma Goldman— against his ruthless and betrayed side, which dominates his portrayal. With bleeding passion he delivers the "bottle-hands" monologue in such a way that it both shocks and rends the heart with ferocious emotional grounding. His vocals are smooth and strong, featured in several ensemble numbers as well as the quarter, "The Gun Song."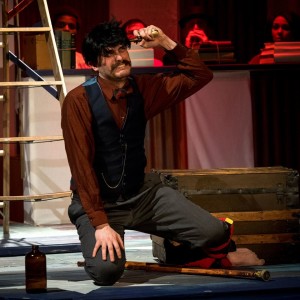 Masterfully minding the Assassins as their ring leader, Will Emory tackles the role of John Wilkes Booth with vigorous aplomb. An earnest performing sensation both in his commanding stage presence, rich impressive vocals, and overall aptitude for performance, Emory owns the role of Booth unabashedly and delivers him in such a way that almost makes him a proud hero. "The Ballad of Booth" showcases Emory's ability to climb the scales of his vocal range while maintaining composure over his emotional state, but it's his final scene— confronting Oswald— which is delivered with such conviction and believable certitude that makes him truly worthy of thunderous applause. A remarkable presence and force to be reckoned with, Emory is the perfect choice for the role.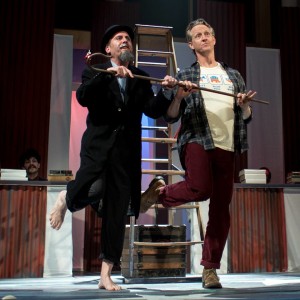 The Balladeer (John Schratwieser) serves as a narrative guide through the show's many twists and turns. Existing in a reality that is both present of and yet removed from that of the assassins, Schratwieser floats flawlessly in and out of scene, commenting through song, and observing through glance on all that he has seen and will see. Schratwieser's voice is stellar, his command of his instrument superb, particularly for numbers like "The Ballad of Booth" and "Another National Anthem." Filled with drive, the patter of one song flows as easily from his lips as the belted sustains from another. His highly entertaining dance during "The Ballad of Guiteau" featuring some fancy Vaudeville footwork and facial expressions is a remarkable duet with Guitaue (Patrick Martyn). The pair kick-up the comedy in this routine with Martyn teetering on the edge of comic gold and tragic demise with every line he sings. A brilliant moment worth the price of admission alone, both men will have you going to the Lordy in a fit of giggles before all is said and done.
Truly an exceptional piece of theatre that is all too often not produced, Stillpointe Theatre Initiative and Spotlight UB is really challenging the standard of good entertainment with a political message behind it, and succeeding with that challenge in their production of Assassins.  
Running Time: Approximately 90 minutes with no intermission
Assassins plays through November 7, 2015 as a co-production with Stillpointe Theatre Initiative and Spotlight UB in the Wright Theater at the University of Baltimore Student Center— 21 W. Mount Royal Avenue in Baltimore, MD. Tickets are available for purchase at the door or in advance online.