Attend the tale of Sweeney Todd! He served a dark and a vengeful God! What happens there— well that's the play! And he wouldn't want us to give it away…not Sweeney…not Sweeney Todd, the demon barber of Fleet Street! But in an exclusive TheatreBloom interview Director Lee Lewis gives away all the details that the Demon Barber will allow about the upcoming production at Milburn Stone Theatre, reminding us all that this isn't your mom and pop's spooky Sondheim musical.
If you could give us a little refresher course in where our readers might have seen you and your work before?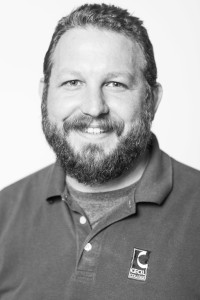 Lee Lewis: The only place you or your readers would have seen me on stage was in Les Miserables back in June. I played Jean Valjean. I direct mostly. And right after that closed, actually while we were running I was running rehearsals for Company, I directed it. And now I'm directing this.
Why did you want to direct Sweeney?
Lee: It's probably my second favorite Sondheim. My first is Sunday in the Park. We didn't squeeze that into this season but perhaps sometime in the near future I'll get a chance to direct it. But Sweeney is the kind of show I like. I like the dark, macabre shows. I like a show that really allows a director to put their fingerprint on it. Shows like Shrek and Young Frankenstein and Spamalot, as a director you can't really do too much with it. People have certain expectations with those more family friendly type musicals so you can't change them up too much to really make them your own.
I want to stick my dark and macabre signature all over. I can get why you don't see that in me, most of what you've seen me direct lately are not the sort of shows where I can really manipulate the vision of what I'm going for. People now know Sweeney Todd a little more because of the movie…of course, I don't understand how you can do Sweeney Todd and cut out the ensemble. Because the ensemble is the driving force of that show. When I first saw that movie and there was no "Ballad of Sweeney Todd" in the beginning? I did not like it. I didn't even have to watch the rest of the movie to know I was not going to like it. I mean it was probably some of the best costume design I'd ever seen in a movie, but that's beside the point.
You bring up a good point, though, by mentioning the movie. Now that it has been popularized on the screen, and a lot of theatres have put "their spin" on it, what are you doing to put the Milburn Stone and Lee Lewis spin on it?
Lee: We are— and this is totally Brandon's (Assistant Director Brandon Gorin) idea, I have to give him props for this. It's actually his idea, he gets full credit for this. He basically handed me a movie and said "watch this on silent, you're going to love it." He gave me Suspiria. It's a Dario Argento, it's an Italian Thriller— in the giallo genre. It is a terrible, terrible, terrible movie.
Brandon Gorin: It's not terrible.
Lee: Brandon likes it, which means I hate it. But it has some of the most amazing visual images I've ever seen. There's a lot of full saturated colors and really slick lines. We're copying a lot of that kind of aesthetic. So this production is not going to be your typical black, white, and red Sweeney Todd. Not the traditional Victorian gray Sweeney Todd. There are going to be a lot of bright colors going on.
When you say bright colors, what exactly do you mean?
Lee: I mean bright.
Brandon: Bright like vibrant.
Lee: Think jewel tones. It's going to be colorful. It's not the Sweeney Todd that everyone else does. I've seen Sweeney Todd probably more than any other show.
How does that happen? Nobody's really doing it anymore.
Lee: Because I drive for Sweeney Todd. I love it so I will drive far, far away for it. In having seen all these productions, I know that we're doing with the color alone, it's going to be unlike any other production.
How else will the production be different from your "run of the mill" performance?
Lee: It's not traditional casting. Some of it I'm not going to tell you because I want it to be a surprise.
Now wait a minute, the last time you refused to tell me about surprise casting, I showed up to Les Miserables and Ryan DeVoe was playing Madam Thènardier?
Lee: Well…speaking of Ryan…he's playing my Sweeney. Someone who has played Ursula in The Little Mermaid, Madam Thènardier in Les Miserables, and Gomez Addams in The Addams Family, is now going to be playing Sweeney in Sweeney Todd. Outside of Ryan, the casting approach on the whole is very different. My Lovett is sexy. She's not your typical Angela Lansbury, frumpy, old bitty. She's younger and fresher and sexier.
Now, my romantic leads— Antony and Johanna— they're traditional. But that's on purpose. They need to set the standard of traditional to compare the others against. My Antony is brilliant, Brendan Sheehan, he's done a bunch of stuff with Wilmington Drama League, he was Leo Frank in their Parade. He has a huge range. Literally, all of the women start swooning when he sings "Johanna." I think the biggest shocker here might be that— well. No. I'm not going to tell you that. There are other surprises to behold, you know, once you come see the show. This is a very sexy show. We're going to call it Sexy Todd.
Wow. That actually sounds really fascinating. So you've told us about your non-traditional casting, and you said it's not Victorian— how is that playing out for the costumes?
Lee: Brandon?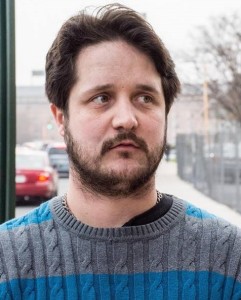 Brandon: Okay, I'm going to nail this question. You ready? Sweeney Todd is based on Grande Guignol and Grande Guignol gives way to Giallo Films, which is what Dario Argento works in. What's happening here instead of saying "This is a Grande Guignol Show" we're saying "This is a Grande Guignol show a la giallo films." Everything becomes more sexy. They are Victorian costume concepts, but through the lens of a low budget film in the 70's where they were trying to make Victorian costumes. It's period incorrect. It's not "period-no-period" it's "period-things-are-wrong-we-know-they're-wrong." It's intentionally wrong, we're intentionally getting things incorrect in that style of film and theatre.
So we're a Grande Guignol Theatre on its last leg deciding that we're going to mount a production of Sweeney Todd as a last ditch effort. The original Sweeney Todd takes place in a workshop. I think the best Sweeney Todd productions, and I think Lee will agree, have some sort of meta element to them. It' not just the show that you're watching, something else needs to be happening. Ours, and you can sort of see it, has subtle, conceptual framework. It's taking place inside a theatre but the theatre isn't the theatre that you're walking into. The theatre is a theatre that doesn't actually exist, but is a Grande Guignol Theatre in the era of giallo films, so in the 70's.
Lee: When you walk in you're going to go into this very black and white aesthetic. We're going to play one of the original black and white silent Sweeney Todd films. But as soon as you hit that first note of the show opening, you're going to be assaulted with saturation and color. It's fucked up Wizard of Oz. We rely a lot on projection at Milburn Stone, so we're actually going to set you up to think that this is where this production is going? But then that gets ripped away and you never see the projector again for this show.
What sort of set are we talking about?
Lee: It's going to be multi-story. And it's all going to move. We're basically taking the Les Miserables set and finish it. We're taking the outside moving units, and finishing them with a set on the inside.
Brandon: It's basically a nod to the original Sweeney Todd where the whole swinging set rotated, we're making everything but the swinging set rotate.
What is it that you are hoping to impart to this particular rendition of Sweeney Todd?
Lee: I've directed this before, at U-Penn. It was a student group, great talent, unfortunately no budget for tech. So this show gives me a chance to expand the tech. It also gives me a chance to really expand on the story and the characters. Sweeney Todd is the most important character in the show and while he is the titular character, I'm getting a chance to focus what I think about the show. The show isn't just about Sweeney. Most productions I've seen focus on him and the dementedness of him.
I want to explore why he's demented. I don't personally think that Sweeny Todd would be the villain in the story. I know that it's set up so that at the end, he is the villain. I think it's important to realize why Sweeney does the things he does. I don't think he comes into the show with the intention of killing people and making them into meat pies. I think he comes into the show wanting to get his life back, wanting to get his wife back, and wanting to find out what happened to his daughter. He's willing to do anything he can do, whatever it takes, to get those three things. It is Mrs. Lovett who is a sociopath that manipulates him to do all the things he ends up doing.
That's fascinating that you think that way. Shouldn't you empathize with her? She's only doing this out of love.
Lee: No. Wrong. Why would you empathize with her? She's the catalyst for all of this. She does not care for him. She manipulates him because she's obsessed with him. She's obsessed with him all the way back to when he was a freeman. I imagine her standing there pining away at his window. She's nuts.
Brandon: You can't feel bad for Lovett. What makes her a great character is that while Sweeney is driven by emotion she's driven by a complete lack of emotion. Her idea of success is to have a family and a successful business. Her idea of success is that big and if she can get into that little hole of success then she's made it. Her true character is best killed after what happens with Pirelli. There's a dialogue exchange there about why what went down went down. And her response is basically to justify it. Sweeney is never that discompassionate. Sweeney is full of passion. Lovett mimics what passion is. She thinks this is how you're supposed to take care of people so that's what she does. She's someone wearing a human skin. She's not actually making real life decisions.
What has been the biggest challenge for you in directing this production?
Lee: I would say for me it's been conflicts. I don't understand how actors nowadays have all these conflicts. I think it's because there's so much theatre happening. That's been my biggest challenge. They're all super talented. My music director scheduled in twice as many rehearsals than he actually needed, which is awesome. But yeah, just getting everyone together all at one time? Conflicts are killing me.
Anything else you'd like to tell us about this production that's going to be special?
Brandon: People can buy seats on stage.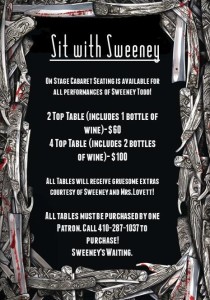 Lee: I'm getting to that! For this show, we have café tables set up on the stage. We've done that for a handful of shows, but we're doing it for this one. They are a little bit pricier and they come with a bottle of wine. And they come with other surprises. You definitely want to purchase an on-stage seat because you will be right there in the middle of this show. And it will be immersive.
What is working on this project teaching you about yourself as a director?
Lee: I think this is a show that as a director you can really go into it saying "what can I do with this show?" It's taught me to really push the boundaries of my creativity. You have this perfectly blank palette on a gorgeous story and it really doesn't have a lot of things in it that say "this is how you have to do it." It's not Shrek or Spamalot and people aren't expecting those specific things that they expect for those types of productions. That's actually the fun thing for me with this show. I can say "how far can I go with this before it just becomes uncomfortable?" And then I have Brandon over there saying "it's not uncomfortable yet, go further. Go further!"
Brandon: I don't like making people uncomfortable. I just know the history of that style of theatre and I'm not going to back off from it. We used to do theatre of cruelty, and now all we ever go to see is Shrek. And Shrek is great, but it's not something like this. Theatre has two jobs. It's either supposed to make you forget your day was or it's supposed to make you remember how cosmically small you are. Sweeney falls right on that line between the two of what it's supposed to do and that's what makes it so fun.
What is it that you are hoping people are going to walk away thinking or feeling or saying after seeing this production?
Lee: Just because people do terrible things it doesn't make them terrible people. Sweeney Todd is not the villain. He's not driven by inherent evil, he's driven by circumstantial evil that overtakes him. Why is he not the villain? See the show and then you'll know.
Why should people come to Milburn Stone and see Sweeney Todd?
Lee: Make the trip off of Exit 100 on I-95 because it's not that far away from anywhere. While we are a typical community theatre in the sense that I'm not paying anyone, our product is not that of a community theatre. I have a staff of extremely, ridiculously talented people. We're not putting a couple wagons on stage, throwing some rags on people and calling it Sweeney Todd. There is method behind all of our madness. All of my designers are brilliant geniuses. I really feel like our shows are very special. I actually recently got into an argument with somebody about the fact that we're doing 14 shows next season.
That is very ambitious.
Lee: We did 18 shows this season. Anyway, the guy said "I'm glad you enjoy quantity over quality." And I said, "No, we enjoy quality and we can do quantity." And we can. I am consistently impressed by our actors. I don't know where in the hell they come from, but they're here. Over the years the talent pool has just grown and grown. With each show they've just gotten better and better. It's worth it. And it's affordable. We are the cheapest game in town. There are very few places around us where you can get a ticket to good quality theatre for $15 or $18 bucks. You can pay $12 and see a movie or you can pay $18, get a glass of wine, sit in a comfortable theatre, and watch people bust their ass for you right in front of your eyes. That's what I love about my actors. They consistently bust their ass for you. They treat it like a job. These actors treat their work very seriously. It is not something that they do just for fun. Yes they enjoy doing it and yes they have fun while they do it, but they do take it very seriously. It is just as important to 98% of them as their day job is. And that is the main reason people should come support them.


I'm really ecstatic about the fact that 18 months ago I said to my staff, "I want to do a season of Sondheim" and they all just laughed at me. I said "No, I think we can do this." And here we are— and it's been selling. It's been wonderful. People have been very supportive. I've been really proud of my patron base. They've come out and supported us, trusted us and enjoyed what we're doing this season. And I hope everyone else will too when they come out to see this show. 
Sweeney Todd: The Demon Barber of Fleet Street plays through October 25, 2015 at The Milburn Stone Theatre— 1 Seahawk Drive in North East, MD. For tickets call the box office at 410-287-1037 or purchase them online.