To be a sensation novel author is a most fascinating thing indeed. To play a wicked baronet who isn't all that wicked is also a curious subject. To play both in one show— and not just any show but the American premier of a Gilbert before Sullivan play is a great honor and sensational experience. In an exclusive TheatreBloom Interview series, we've sat down with Baltimore area performer Jim Knost to find out just what it's like to play in and write the sensation novel in the musical performance of A Sensation Novel: A Musical Play in Three Acts, which opens the 2015/2016 season at The Audrey Herman Spotlighters Theatre this fall.
If you could give us a little bit of an introduction, tell us who you are, who you're playing in the current production, and what the readers might have seen of your work in the last little while around the area that would be a great place to start.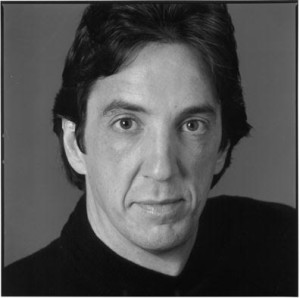 Jim Knost: I am Jim Knost and I am currently playing the author and Sir Ruthven Glenaloon, who turns back into Tom Sittybank in the Spotlighters' production of A Sensation Novel, written by Gilbert, before Sullivan. I've been on a very nice run lately. I've gone all the way from Lord Dundreary in Our American Cousin with New Old Theatre, to Margaret in Much Ado About Nothing with Baltimore Shakespeare Factory. I also recently played Captain Hook in Peter Pan with Cockpit in Court and played an accused pedophile in a play called Hamlyn at Fells Point Corner Theatre. I played a Jewish grandfather in Caroline, Or Change with Stillpointe Theatre Initiative right before Christmas. What else…I played General Robert Ross in the Dundalk production of O'er the Ramparts, the tribute to the 200th anniversary of the writing of the Star Spangled Banner and The Battle of Baltimore in 1814. It's been lots of varied things and a lot of fun things, and hopefully it keeps on going.
Why are you a performer in the Baltimore area theatre scene?
Jim: I am an architect during the day. I grew up playing music and performing. I have seven brothers and sisters, we all played music and sang and performed. As my older sisters were going through junior high school, the freshman class always did a G&S (Gilbert & Sullivan) so I can remember always going to see them in shows. I wanted to do shows. The first thing I did was a class show of Mary Poppins in the third grade. I played Mr. Banks.  I got bitten by the bug early on and it's been with me ever since.
Fortunately where I was growing up there was a lot of opportunity to do it in school. I played the piano for shows as well as being on stage. I still play, actually, and if you saw Edward II last year at Spotlighters, I played the piano for the Black & White Milk Bar.
How did you get involved with A Sensation Novel?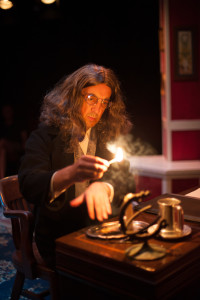 Jim: It was a direct connection with a show I did back in the spring. I played Dr. Daly in The Sorcerer, an early Gilbert and Sullivan opera, with The Salem Players in Catonsville. The director of that show, Lisa Yerkey, is friends with Michael Blum, who is the director of this show.  Michael came to see the show and asked Lisa if he could contact me after having seen me in that show, he was interested in having me come out for Sensation Novel. Once I found out what it was, I was also very interested. I like Gilbert, I like his writing a lot.
Why do you like Gilbert so much?
Jim: He's so good with words. Even though it's silly and topsy turvey and all that stuff, he's really good with words. In Sensation Novel, he's less constricted— that's not the right word— he's not beholden to Sullivan's music to try and make that work together. With these he was able to just write what he wanted to write. They do work together quite nicely, but you can tell from some of Gilbert's language and some of the situations he sets up with this that he's writing it for himself, he's not writing it as a duo.
How does this particular role as first the author and then the wicked baronet compare to or differ from roles that you've taken previously?
Jim: I tend to get cast a lot as bad guys. I'm a dark baritone and that's where most bad guys fall. So Sir Ruthven is fairly easy. He's actually not really bad, he just has to act bad. And the author is cast in double because I think that's traditionally how it was cast. The author is a little aloof and off-kilter, he's outside of it and a little bit crazed.
Architect, singer and actor, and apparently a Gilbert and Sullivan scholar and enthusiast?
Jim: I've done all of the operas but one. The only one I've missed is Patience. I did my first G&S when I was a freshman in high school, I played Sir Joseph Porter in H.M.S Pinafore. It's actually been great fun to explore Gilbert without Sullivan. They did both exist quite prominently without each other. Sullivan was a noted composer in England before he ever met Gilbert. And Gilbert was also a very well known playwright and writer before he ever met Sullivan.
How are you like Sir Ruthven or how are you different from him and how are you going about bringing yourself to his character?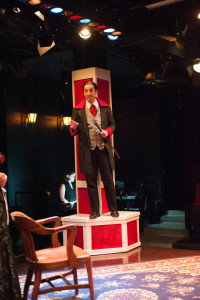 Jim: That's a hard question. I don't know. I don't try and bring what I am into what the role is. I try and let the role tell me what it wants to be and do it that way. Performing is an opportunity to be a different person. If there are some subtexts or things about your own personality that you bring into it that seems to me to happen completely by accident. For an example, and this is going to be an extreme example, but Pablo Rivas in Hamlyn, there was nothing that I was bringing personally to that character portrayal.
I saw that production, and I beg to disagree. I feel like you were bringing just a bit of yourself to him in a sense because you were attempting to humanize him when he is so readily painted by the other characters in the show as a monster.
Jim: But that I got from reading the script and studying the clues in the script and learning what the story was about as well as what the character was. That was a play that I think everybody needed to read the entire script and understand what was happening in the scenes that they weren't in. Because it informs how you form your character with the dynamic of the way that things happen with other people and characters that you don't see. But that isn't a case of me bringing myself to the character, that's me taking an informed approach to forming a character based on what I've read and understood from the entirety of the script.
In terms of bringing myself into a character, I suppose if I find someone that is really like me then I will, but that isn't happening here. With Sir Ruthven it might be happening, maybe a little bit in the fact that he does regret the things he's being forced to do. We all have that in our life. We all have choices that we make. What the characters do in the novel, as his line goes "they don't have a choice." They're being dictated and they really are being forced to play this role, even if it isn't how they would be outside of the novel. When they're outside of the novel they become the person that they really are.
What has been the biggest challenge taking on this particular show?
Jim: Probably one of the harder things I had to do was try and find two different voices. I am the author and the author is not Ruthven, not in any way, shape, or form. I know I had it in my mind what I really wanted to do to differentiate the two, and there were times in the first two performances where I got it pretty well. Sunday's opening weekend performance was the first time where I think I was really able to make the difference in my mind perfectly clear. Saturday night was good too, but it was still settling in for me at that point. It was a lot to learn. Both characters take up a lot of stage time.
What has it been like working with this cast?
Jim: I've actually worked with Connor (Herbert, the young curate played by Connor Moore) before. He was one of my pirates in Peter Pan. These are great people to work with. I'm having a really great time with it. I've really enjoyed working with the entire production team.
What is the moment that defines the show for you?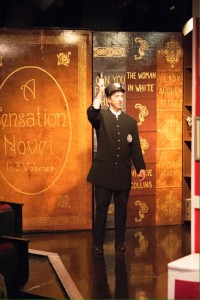 Jim: The parts I like the best are the last scene with the author where he comes on and sees his characters in the flesh for the first time. There's a long pause there where I get to look at each of them for the first time and recognize them. "Oh, you're Rockalda, you're Herbert, and you're Alice. Wow!" And after that moment I offer myself up to them, "Now, what can I do for you?" And then they attack me. The whole interplay of that scene is so much fun with the Author. I also like when Tom Sittybank comes on at the end because that's who Sir Ruthven really is. Not just his character identity but that's his true personality. The reality verses the acting, in the novel and out of the novel really rings true there.
This show does have a heavy hand of meta involved. Is that a challenge?
Jim: Not so much. We don't really act in the novel all that much. Most of our dialogue takes place after events in the different volumes of the novel. But the scenes that we do have from within the novel are great fun. The scene with Alice (Autumn Boyle) in the forest at midnight, that's fun and we have fun with it. The other scene is when I slay the pointsman and turn the train. That becomes fun because it's a moment where you think, "what do you think I did? No I didn't do that, I did this." And I'm instantly in the character who is in the novel in that moment and then I snap right back out of it. He even says "I don't know what happened next because I got hit over the head and knocked unconscious."
What do you think doing this particular show in these two roles has taught you about yourself as an actor and as a human being?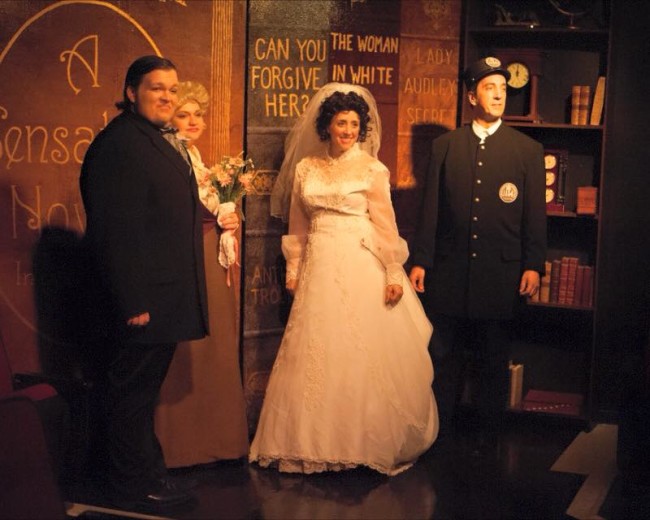 Jim: Well it's always good to stretch. I've done multiple roles in a single show before. I played six parts in Richard III. Fortunately they were all sequential in the play so I didn't have to come back and be somebody that I had already been once I moved on. But this is a little different because I start out as the author, I go into Ruthven, I go back into the author and then come back as Ruthven, transformed into Tom Sittybank. Investigating and discovering the different characters that I had to be is always a good education. This is just fun acting. It helps you let go and enjoy the fun silly stuff and enjoy who you are while doing it.
Have you ever read any sensation novels?
Jim: I have not. Having done this show, I'd like to go back and read some of the more famous ones, like The Woman in White.
If your life had to be a sensation novel, what would you title it? Go ahead and activate that left brain creativity now.
Jim: Ha! I'm trying to think of something to do with buildings and it's not coming to me. Because that's my real life.
How about, The Architectural Thespian?
Jim: That's funny! Maybe— no, that's too easy. Something like Frozen Music. Do you know that saying? Architecture is frozen music? I think it was Frank Lloyd Wright who said that. Rhythm, and proportion, and line. Melody, harmony and counterpoint; architecture is frozen music.
Maybe that should be your sensation novel title.
Jim: That'll work for me. Steal it from Frank Lloyd Wright.
There are a great many theatres all across the area who have shows open right now. Why should people come see A Sensation Novel at Spotlighters Theatre?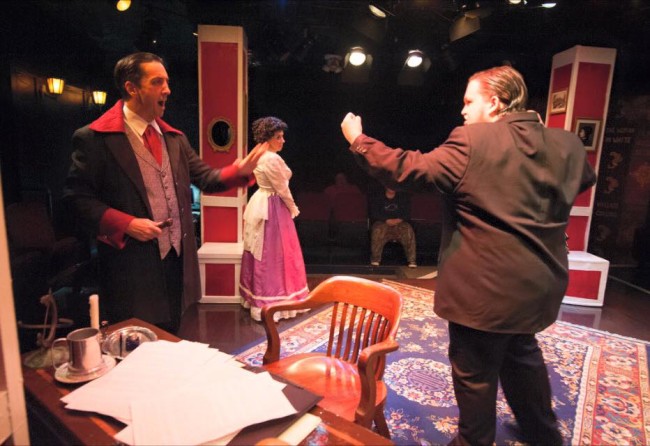 Jim: Well, we have a great cast. And it's not something that you're going to see. It's good exposure to theatre from another time. This precedes what we have now, but also anticipates what we have now. What we have now in the theatre wouldn't be what we have if it wasn't for people like Gilbert. And Gilbert and Sullivan. They're the fathers of modern musical theatre, especially the Gilbert and Sullivan operas.   
A Sensation Novel: A Musical Play in Three Acts plays through October 4, 2015 at The Audrey Herman Spotlighters Theatre— 817 St. Paul Street in the historic Mount Vernon neighborhood of Baltimore City in Maryland. For tickets call the box office at (410) 752-1225 or purchase them online.
To read the review of A Sensation Novel, click here.