Calling all super heroes! Calling all super heroes! It's time to save CityTownCity! And The Alliance of Awesome can't do it without your help! If you love super heroes, have always wanted to help save the city from crime and serve justice, then now is your chance! InterAct Story Theatre is landing in Silver Spring at The Black Theatre and giving all the area young super heroes a chance to be superfantastic! With their exciting production of The Hero of Everything, children of all ages are encouraged to learn all about teamwork and friendship through an exciting adventure with Captain Everything and the Allience of Awesome. Written and Directed by Super Woman Ali Oliver-Krueger, this fun-filled hour of awesome experiences is right up your alley if you love superheroes!
Director and Playwright Ali Oliver-Krueger incorporates modernity, an InterAct Story Theatre hallmark, into her show by focusing on technology, pop culture, and the awesomeness of Super Heroes (and good grammar) while simultaneously teaching the audience a good learning moral about teamwork. The show is invigorating and inclusively participatory so that everyone in the audience can feel as if they are a part of the entertainment. Defining words like 'alliance' while incorporating pre-show audience suggestions not only educates the young audience but makes the experience a fun one. In addition to the show, there are interactive opportunities both before and after the performance— including a Super Hero 'meet-n-greet' and craft stations.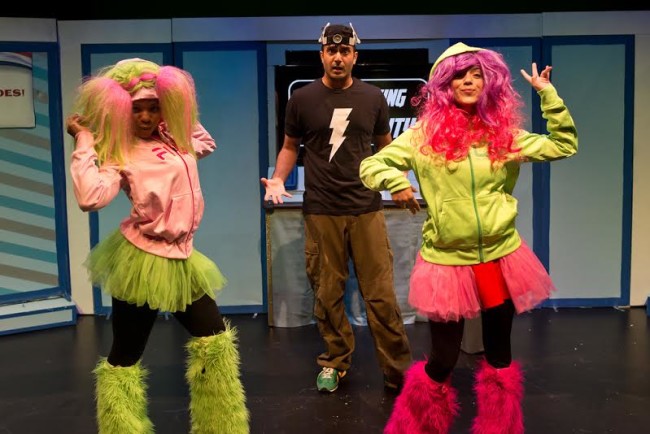 Oliver-Krueger knows her target audience and does an exceptional job with not only keeping young audiences interested in the subject matter, but disguises educational moral lessons in a relatable and entertaining format. Critical life skills like functioning as a team and respecting the members of your team are veiled in the guises of an overly confident Super Hero Leader and the consequences that occur therein are the perfect life example of why these behaviors are important to avoid. Keeping the show moving with the perfect balance of audience involvement and actual acting, Oliver-Krueger makes an engaging and exciting experience for Super Heroes of all ages.
Not alone in her quest to deliver epic children's theatre, The Design and Production Team (of awesomeness— and sorry, Grammar Girl, we know that's bad grammar) really step up their game to make this production an amazing one. Set Designer Brian Gillick makes rotating upright flats that serve as Hero Headquarters and other locations throughout CityTownCity— including one very special location that sees a lot of Super-Hero Action! Lighting Designer Mary Keegan along with Multimedia and Special Effects Designer Pete Oliver-Krueger create fantastical moments of comic-book reality, like when the alert from City Hall rings through or when the SuperPhenom PowerTwins boogie-dance their super-powers in front of The Zapper! And let's not forget the spectacular Super Hero costumes, created by Denise Young and Ali Oliver-Krueger. Filled with innovation and blasts of creativity, Stretch Hamstring, Captain Everything, Grammar Girl, Belle Plastique, Virus Iris and Pizzilla come to vibrant and vivacious life with just a little help of the imagination!
Living up to the reputation of InterAct Story's previous works, the four performers featured live on stage have a true knack for performing theatre designed to entertain and educate children. Shravan Amin who plays The Zapper is goofy and entertaining but finds distinguishing characteristics in his voice and body when his character undergoes dramatic plot-related changes. This shows the audience at an early age that not all character changes have to be achieved with costumes. Davon Harris, who has the distinguished honor of being the disastrous Pizzilla in addition to a handful of others, really finds clever ways to engage with the audience on a comical level.
Brittany Martz, who spends a great deal of time being the bubbly and perky Grammar Girl, gets one of the most important jobs in the show. Martz' character acts as the voice of reason, trying to show Captain Everything (DeAndriea Norman) why being a team player is a really important lesson to learn. Martz' character also passes along the intrinsic message that is found in all InterAct Story Theatre productions, that it is important to be yourself and it's okay to like what you like and do what you like to do as long as it isn't hurting yourself or others. Martz' inherent vivacity makes her ability to play both a Super Sidekick and Vile Villains a wonder to enjoy.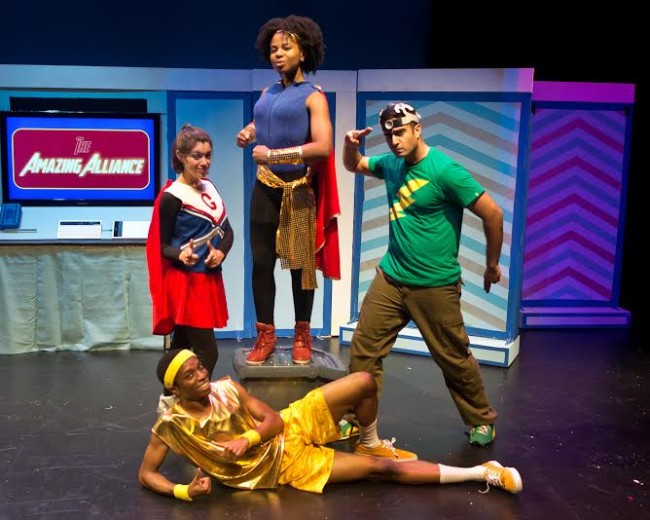 DeAndriea Norman, who starts out as the confident stereotypical Super Hero, learns the hard way why being a team player is so important. Norman has mastered that Super Hero flying pose— a really important thing for all Super Heroes to know! Working together with the rest of the cast— because Norman herself knows the importance of cooperation and teamwork— she delivers a great fun character that serves as a model learning lesson, especially when it comes to the difficult parts like apologizing and owning up to her character's mistakes.
A remarkably entertaining and educational hour of quality theatre for young audiences, InterAct Story Theatre is performing heroic deeds with this production of The Hero of Everything. A fantastic opportunity to show that learning can be fun while exposing children to the marvels of theatre, this show is hands down worth seeing this fall season.
Running Time: Approximately 55 minutes with no intermission
The Hero of Everything plays through September 27, 2015 with InterAct Story Theatre at the Silver Spring Black Box Theatre— 8641 Colesville Road in downtown Silver Spring, MD. For tickets call the box office at (301) 588-8270 or purchase them online.