Whether it is raining outside or perhaps it is sunny,
The MET's Fun Company has a show that is funny!
It's a fanciful jaunt, a chance to let your imagination run loose!
Because they're mounting a production adapted from Dr. Seuss!
Katie Mitchell, the Adaptor, of this fantastical story
Adapts The Cat in the Hat and all of its glory!
Directed by Julie Herber, a Director most true—
She brings a fun story for me and for you!
With imaginative props and delightful designs
It's a wondrous playground or so you will find!
The illustrated nature of the props and the set
Make this show entertaining, it's as good as it gets!
Direct from the book are the illustrations, images, and things
Now a live stage animation, what joy this show brings!
Sketching ink marks on costumes, Stephanie Hyder does swell
They look like pop-up book people, she's really done well!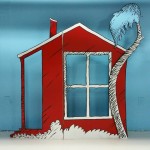 Matt Vance and Doug Grove do the same with the set
Inked lines of cartoons, it's their best set work yet!
Kattie Rattigan joins Julie Herber— and wow can they make some props!
So much like the book, their work is really the tops!
Herber keeps the show moving, like an exciting race!
The kids will be amused with her zany pace.
It's the magical sounds that the audience will hear
That gives us great cause to laugh and to cheer!
Designed by Callan Holderbaum, and he knows his stuff
The sounds are so funny, you just can't get enough!
They open up the imagination and invite us all in
To this magical journey which we take on a whim!
And the performers— oh the performers— well they're just like the rest
So awesome and exciting, why they're really the best!
There's Charlotte Cooper and Blakely Massey playing Thing One and Thing Two
They're mischievous and hilarious, you just won't know what to do!
Vanessa Strickland is animated as the grumpy, fusty fish!
Just watch her flip all over, her performance is not to be missed!
Caitlyn Joy plays Sally and Daniel Valentin-Morales plays the boy
And their rhyming abilities are really quite coy.
It trips naturally off their tongues from beginning to end
These two performers are this story's best friend!
And the star of the show— Tim Seltzer in the title role at that—
Why he make for a truly splendiferous Cat in the Hat!
Charming and silly and all around quite amazing
Why his shenanigans really make this show quite entertaining!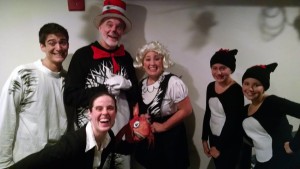 So come one and come all, be you big or small, young or young at heart
MET's Fun Company is putting on a fantastical work of art!
This show won't last long— why it's only here for four weeks!
Get your tickets now so that you too can speak—
Speak out about how much fun this children's theatre can be!
And you'll have a great time, I promise, trust me!
Running Time: Approximately 40 minutes with no intermission
Dr. Seuss' The Cat in the Hat plays through October 25, 2015 at the Maryland Ensemble Theatre's The Fun Company in their Stage2 Performance Space in the Historic FSK Hotel building— 31 W. Patrick street in downtown historic Frederick, MD. For tickets call the box office at (301) 694-4744 or purchase them online.