Country life is so exhausting. All of the never-ending balls and assemblies, the constant need to be dancing the night away into irretrievable states of fatigue; all of these tiresome chores which fall into the laps of brooding and grim single, terribly handsome young gentlemen, as they have their pick of beautiful, albeit dowerless, eligible young girls. It is truly the classic framework of one of the simplest Austenian storylines in romantic literature. Adapted to the stage by Christopher Baker, this world premier production of Jane Austen's Pride And Prejudice makes its debut at Centerstage to welcome in their 2015/2016 season. Directed by Hana S. Sharif, the classic tell is spun in its entirety upon a stage shaped with grandeur and flurries in and out of focus the way remembrances flit in and out of recollection when they transition from events that happen into memories.
Lavish decadence as a descriptor barely scratches the surface of pride with which Scenic Designer Scott Bradley has fabricated the many estates of Austen's imagination. With one base, dual-level set serving as the interior for a great many of the estates across the English countryside, Bradley crafts elegance and extravagance into the set's main framework. A shift in placed furnishings distinguishes Netherfield and Longbourn, while the more artistic infusion of Projection Designer Alex Koch delineates both of these establishments from Pemberley, the enormous estate of Mr. Darcy.
Alex Koch's projection work is, without saying, aesthetically stunning. Its use and execution, however, is unbalanced and at times disorienting. The opening of the show starts with swirls and flashes of Romantic-Era novel illustrations, some very specifically from various incarnations of Austen's novel. Other instances where Koch's projections are executed in enhancing fashions of the production's overall atmospheric value are at the close of sharply dramatic scenes where live moving images of important characters like Mr. Darcy and Elizabeth Bennet are captured in slow motion like an old memory playing out in the mind's eye. It's when these projections are used as a vessel for scenic transfer that they become unbalanced and overly complex. Rushes of horses and carriages flood the two-story structure as well as a great many other transient scenes, like the one showcased in preparation for the ball at Netherfield. In overusing these moving projections, Koch's artistic vision is spread thin and the poignancy of those moments that capture stolen glances between Darcy and Elizabeth or Mr. Bingley and Jane are diminished significantly.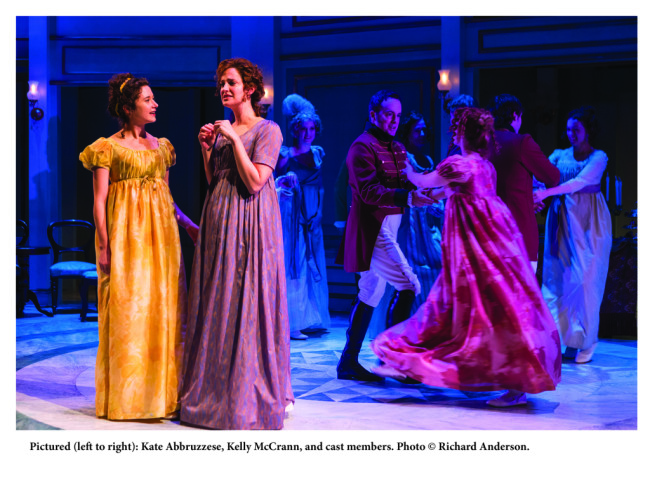 The performance is not without its faults in other regards as well. Being a beautiful story simply told, some of the tale's innate luster is tarnished by the overlay of the Original Music and Sound Design conceived by 'Broken Chord.' While the core of the music featured in the initial dances is very classical and lightly stroked with violins and rhythms which suit the era, it's the baseline that rides heavily through these numbers, echoing with the heavy hands of modern house and trance music that destabilizes these party scenes. In one breath this can be interpreted as the modern audience's lens hearing and viewing a timeless tale through their eyes, but with another one might just as easily say that it is jarring and somewhat off-putting.
Because of the curious soundscape crafted during a great many scenes of dance, Choreographer Paloma McGregor's work is somewhat muddled in its execution. While the dances appear to be somewhat traditional as far as the piece's period is concerned, they look clunky and out of step with some of the more modern beats threaded into the music. McGregor does craft a deep-seeded level of intimacy and passion into the dance that is finally shared between Mr. Darcy and Elizabeth Bennet, a series of twirling moves that do echo the notions of the surreal of which the character later speaks when recollecting the event.
Continuing the confusion of concepts and imbalance of heavy hands is the work of Costume Designer Ilona Somogyi. While many of the other design works of the production appear to need simplicity— as individual elements they stand alone in astonishing beauty but simply do not mesh well with one another for an articulate and cohesive production— it is in the costumes where simplicity should be ignored. The very ordinary dresses featured on the Bennet women is to be expected as they are quite poor. But having only one dress throughout the majority of the production is unfortunate. This sentiment is reflected in both Mr. Bingley and Mr. Darcy, whose garments are fitted to perfection to their handsome figures and in colors that suit their complexions, but never once alter their appearances to show that time has passed. Even Ms. Caroline Bingley, who is noted for her outstanding dresses, only showcases two throughout the course of the production. While less is often more, given the nature of the rest of the show's design elements, with such simplistic costumes up against such lavish sets, projections, and soundscapes, the costume department now looks out of synch and step with the rest of the show.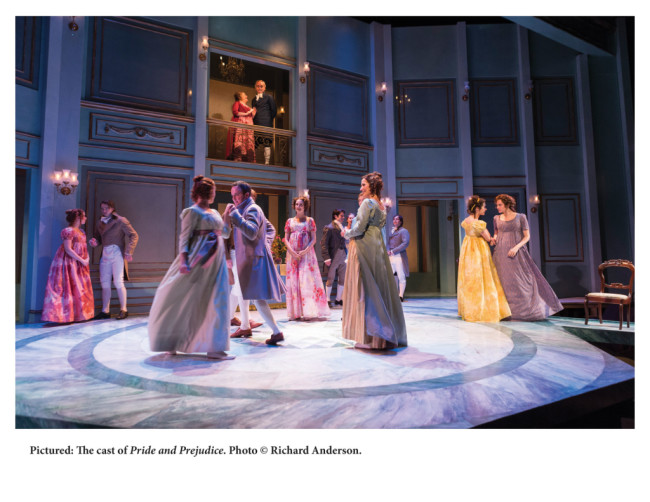 Despite all of the concepts layered onto the story and the ways in which they do not seamlessly come together to create a unified production, Director Hana S. Sharif manages to craft some truly breathtaking moments throughout the Austen novel with Christopher Baker's adaptation. The moment of striking pause, achieved just at the finale of the first act, is blocked and paced with precision so that the full emotional impact of the scene's end slams into the audience full force. Despite missed opportunities to tighten scene changes— in favor of showing more of Koch's projections— Sharif manages an express pace of interactions during the scenes, particularly in Act II where the dialogue exchanges clip along at the heels of one another splendidly.
Sharif infuses a great deal of animal-based physicalities into the character instances she creates with certain cameo roles. The prime example of this sort of movement structure is seen repeatedly throughout Patricia Hodges portrayal of Lady Catherine de Bourgh, wherein Hodges sweeps about the stage in surly but pointed movements, a bit like a great bird of prey, but then rears back and darts her head forward not unlike a cobra striking its victim. Peacock mannerisms are infused into Victoria Frings' portrayal of Miss Caroline Bingley, strutting through the halls at Netherfield and around the various balls. These proud birdlike qualities informs the biting, albeit sarcastically humorous, attitude that possesses Frings' voice every time she speaks.
Other noteworthy cameo performances are given by Maya Brettell as the impish yet cherubic Mary Bennet. Brettell's vocal affectation (as consulted upon by Dialect Coach Lynn Watson) defines the indignant innocence of the character's age and allows her petulant outbursts without becoming tediously annoying. Kelly McCrann, as the mostly dismissible Charlotte Lucas, does find a moment or two of giddy amusement once she finds herself in league with Mr. Collins (Chris Bolan.) The didactic punctuated cadence of Bolan's speech patterns is a potent irritant. In addition to this, Bolan delivers Collins as an unsavory little urchin with a weasel-like personality upon his first arrival to Longbourn, an encounter that will not soon be forgotten regardless of the changes he imports to his character as the show progresses.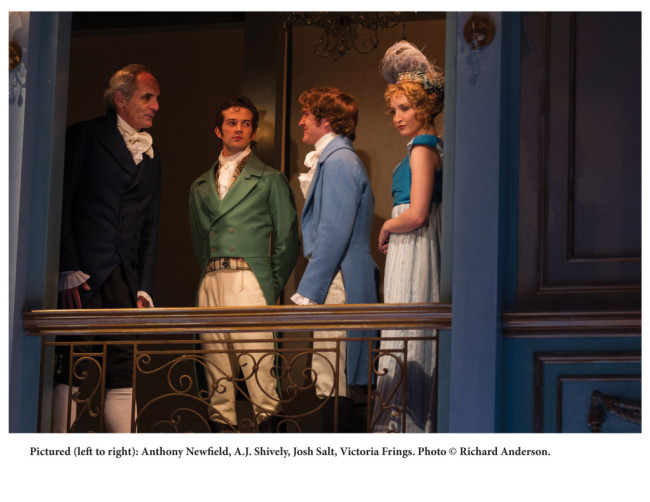 Mr. Bennet (Anthony Newfield) is blissfully encumbered by the nattering nagging of his wife, Mrs. Bennet (Mary Jo Mecca.) While Mecca's character is trapped in a medium range of mildly annoying and never truly fleshes out the fully humorous or obnoxious potential of the character, Newfield brings a sharp and diplomatic brush of reasoning to his portrayal of the somewhat aloof father of four penniless girls. His interactions, particularly with Elizabeth, are the ones worth watching, and whether he is resting comfortably in Longbourn or striding about through the balls and assemblies, Newfield presents his character with a proper posture well suited for a man of his time.
Written with the potential for comic relief, Lydia Bennet (Ali Rose Dachis) lives up to her epitaph of silly little Bennet girl. Dachis is quite smitten and easily swept up over men in uniform and her gaiety knows no bounds when the regiment alights upon the countryside. With bursts of giggling energy, Dachis brightens up the melancholy mood that often accompanies some of the scenes in which she is featured. Her interaction with Mr. Wickham (Asher Grodman) though brief, are curiously engaging.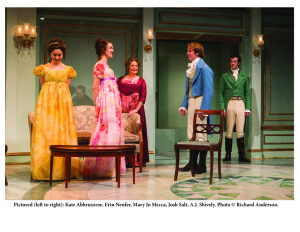 Jane Bennet (Erin Neufer) and Mr. Bingley (Josh Salt) find themselves to be agreeable enough company. Neufer has a sweet disposition and is bashful and polite on her feet. Salt is of a charming and agreeable countenance and fits delightfully into the scenes with Neufer. When they first take to the dance they are as lovely as a pair of simpering turtle doves who have been thoroughly washed in the showers of love at first sight. Their attentions toward one another are hard to ignore and this does build the tensions of the plot quite soundly as things begin to progress.
At first Mr. Darcy (A.J. Shively) does appear to live up to his descriptions, disagreeable, proud, and grim. But those brooding moments and edgy darkness never quite reach their full potential and Shively delivers somewhat of a milder Darcy than most have come to expect from the iconic character. This does not, however, keep him from fully blasting his temper at the stubborn Elizabeth Bennet (Kate Abbruzzese.) When the pair go at it, with all of the tools of cheek, sarcasm, and wit in their verbal arsenal, it creates jarring compelling moments of tension between them. Shively unearths an earnest vulnerability in his Darcy during a confession seen with Elizabeth late in the performance, the hallmark of which is his deliberate soft speech. This moment is gripping, and could have been that much more so in its softness had there been a harder exterior to break away from. On the whole, Shively does not disappoint as Darcy, particularly not once he starts dancing with Abbruzzese's Elizabeth, and certainly not once they cause each other a great deal of humorously awkward distresses.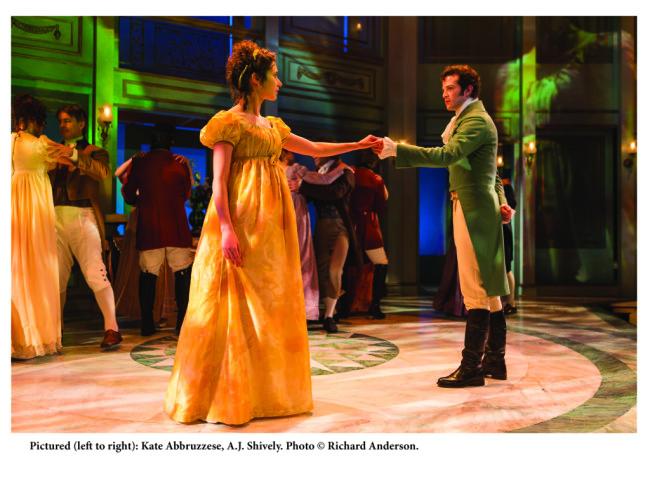 Abbruzzese is an exceptional talent among the cast that measures up to the caliber of expectation intended onto the performers by the extraordinary set. Her delivery of Elizabeth Bennet is both visceral and velvety, biting and yet gentle. Knowing exactly when to set Darcy's taciturn ways against him with her keen perception of timing in her verbal repartee, Abbruzzese delivers the epitome of heightened emotions in her engagements with Shively without breaching the borders of melodramatic. Carefully constructed, Abbruzzese's Elizabeth Bennet is opinionated and headstrong but not in a displeasing fashion. Her ability to maintain focus during any given moment of the performance is stellar.
There are a great many beautiful moments and production concepts happening in the performance well worth enjoying even if all of the elements do not tie together soundly as a whole for one fluid production with a soundly crafted message or intention. The World Premier is a limited engagement run to start the 2015/2016 season, advanced ticket purchase is recommended.
Running Time: Approximately 2 hours and 40 minutes with one intermission
Pride And Prejudice plays through October 11, 2015 in The Pearlstone Theatre at Centerstage— 700 N. Calvert Street in the Mount Vernon District of the City of Baltimore, MD. For tickets call the box office at (410) 332-0033 or purchase them online.