Desperation breeds desperation. The women of If I Hold My Tongue find themselves trapped, both from the outside and the inside, and struggle to break the patterns that hold them. Now playing in rotating repertory with Eleanor: Her Secret Journey at Compass Rose Theatre, this play written by Patricia Henley, is part of The Rose Play Festival in conjunction with the TheatreWashington's Women's Voice Festival.
The play is set in a halfway house in Baltimore, where former prostitutes attempt to create new lives for themselves. They are haunted by their pasts; abused by parents or by pimps, have children of their own, and sexually transmitted diseases. If I Hold My Tongue is at its greatest heights when these women pour out their heartfelt, heartbreaking stories as a Greek chorus, voices both discordant and blending.
Ali Evarts plays CC, who comes to the halfway house clearly in anguish. She has, for the moment, escaped a life of prostitution, and her busy, antsy fingers can't stay away from her hair. She is thin; seemingly small, like a wounded animal waiting to be hurt again. She soon bonds with Moodge, played by Theresa Cunningham in a standout performance. Moodge is the play's voice of reason: strong, confident, and wise, yet still in the process of coming to grips with years of horror. Cunningham is magnificent, her performance nuanced and bold; she is able to hold both its despair and its hope with both hands.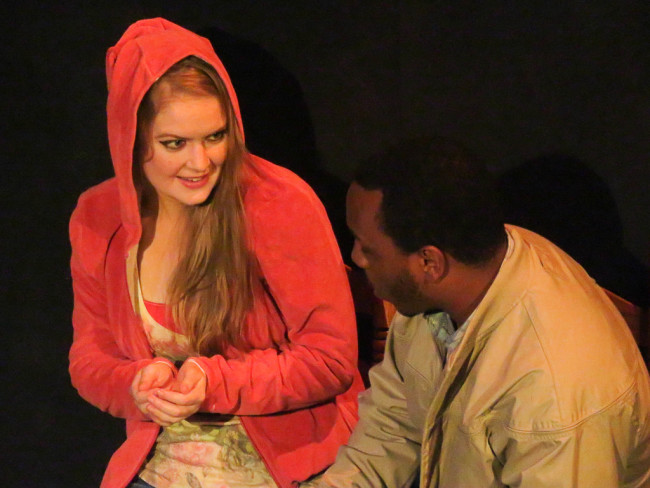 The chorus of this tragedy is filled by Lateesh, both pregnant and HIV-positive, but still able to sing (Ayune' Boone has a lovely singing voice), and Karen, whose backstory is perhaps the most horrifying of the lot. Elizabeth Darby grapples honestly with the difficult stories her character has to tell, as she moves to get her character past them into a real job. A real job at— sadly, minimum wage— not a living wage, for paychecks barely worth the trouble. When you have reached rock bottom, the slope you have to climb back out is slippery, and many factors conspire to help you fall right back down.
Even the halfway house itself can provide only so much. We meet Linda, their perky and bun-wearing "dream counselor". There is, alas, only so much that can be achieved by encouraging these women to dream of what they want to be. CC is rightly cynical, but the presence of the other women in the same program may be just the grounding she needs. That, and Clayton Pelham's Russell, who has done his time in prison, seems to have found his grounding. In Pelham's hands Russell seems solid, present, and real; this serves as another grounding point for CC. But CC's past is too fresh to be forgotten, and when matronly Sharon (Rebecca Dreyfuss) shows up looking for her daughter, CC knows more than she says. If I Hold My Tongue is not only the title of the play but also the overall representation of CC's dilemma. 
Director Lucinda Merry-Browne makes excellent use of the Compass Rose Theater (of which she is also the Founder and Artistic Director). The set is a spare, stark black box, with just a few chairs and a cabinet for a TV. A TV which happens to be tuned to WBAL, one of the plays many references to Baltimore landmarks. In places these references feel a bit dropped-in and arbitrary, but they do give the local audience a ping of recognition. Merry-Browne uses both tiers and the stairs between them to give the halfway house a firm geography, with group sessions held downstairs and two-person bedroom scenes upstairs. The blocking elegantly covers the space, and keeps the pace lively.
The play's subject matter is powerful and edgy. Performances are individually strong, especially Cunningham's, but often don't quite meet at the emotional level. The characters are often trapped in their own lives, but I'd have liked to see the performers connecting better with each other, or more particularly in opposition to one another. I have confidence that as the show goes on the voices will blend better. This is the debut of Patricia Henley's play, part of the Women's Voices Theater Festival taking place all over the DC area. It delivers on its promise of being gritty and uncompromising, but despite the tragic back stories, the characters often feel underdeveloped and indistinct in personality, as though ordered from stock. 
Despite its unfinished feel and unpolished nature, it has moments of inspiration. Evarts' CC shines in a speech that begins, "I'm a bad mommy. You know when you're a bad mommy." The pain and loss cut to the quick; Evarts has really connected with the real agony of the loss of CC's daughters. She has lost everything, what little she ever had, and is burdened with a secret she cannot tell. As Lateesh says, "Talking's all I got". That's very apt for the Women's Voices Theater Festival. These women, the most downtrodden and bereft, must find their voices.
Running Time: Approximately 70 minutes with no intermission
If I Hold My Tongue plays through September 27, 2015 in rotating repertory as a part of The Rose Play Festival in conjunction with the Women's Voices Festival at Compass Rose Theatre— 45 Spa Road in Annapolis, MD. For tickets call the box office at (410) 980-6662 or purchase them online.