Wolfpack Theatre Company once again takes on troubling social issues with their World Premiere production of the new play Forsaken Angels, written by the company's Founding Artistic Director, William Dean Leary. Now playing at the Greenbelt Arts Center for a limited engagement, this is a raw play about child sex-trafficking. There are no heroes. There refuse to be victims. There are only the survivors and the dead. But what does survival even mean if the spirit is dead?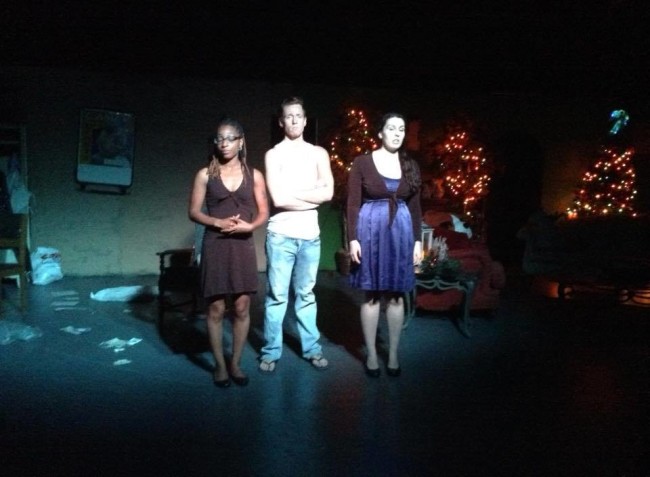 The play opens with the original song "Broken Angel Wings." Daniel Plante's composition and orchestration of the number, as well as Joanna Matthews' lyrics, and Brigid Lally's voice well set the stage for what you are about to witness. Now as adult survivors of childhood sex-trafficking, Kelly Richards as Audrey and Melanie Pino-Elliott as Samantha, are the link to the audience, narrating their past while observing it from the corners of the stage. With straight forward storytelling, they initially appear to have little to work with. But after witnessing the horror of their lives, you realize their being emotionally wrung out from the start rings true. Unfortunately, being backed up too far against GAC's eternally upstaging pillars make their beautifully subdued work sometimes difficult to see and hear.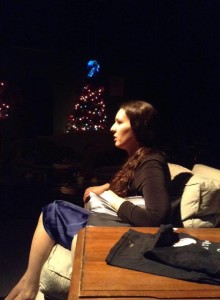 The times the narrators are allowed on stage to interact with their younger selves are dramatically clever, and well-staged. With no set changes between scenes, skillful use is instead made of the Lighting Design as a well-integrated part in moving the plot along between the extremely different childhood homes of Audrey and Samantha. This pivotal design element, which plays in lieu of physical scenery being shifted, illuminates the stage from the mind of Lighting Designer Stephen Beitzell.
Brawnlyn Blueitt as Young Audrey, along with Vanessa Berben playing friend Kayla, exude youthful exuberance and pre-teen squealing that is both well-written and believably played. Blueitt shows a truly amazing range with her later transformation to the drug addicted sex slave. In the other household, refusing to accept the inevitability of her family fate, Sara Castillo as Young Samantha also shows great range with the dynamism of her character, from that of merely surviving, to being a protagonist for change. A third ruined childhood is demonstrated with remarkable sensitivity by Dwayne Allen as the gay teen Alex, who has already been cast out of his home.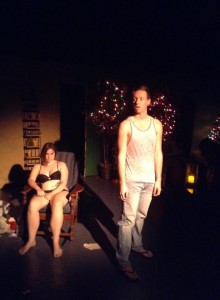 As Audrey's loving mother, Gloria's (Erika Harper Townes) domestic scenes find what brief levity there is to be found in the play. But Joanna Matthews, as Samantha's mother Jolene, is anything but loving or domestic. Emotionally abusive, alternately invoking fear and guilt in young Samantha, Matthews' portrayal as the hopeless prostitute mother is chillingly convincing. The juxtaposition of these two opposites further illustrates the creativity of playwright William Dean Leary and his uncanny ability to fully articulate his characters and their personalities.
David Insogna nuances his portrayal of John so that you are anguished at how you want his character to make the right decisions. Carol V. Calhoun is marvelously vicious throughout her physically demanding role as the cruel pimp Queenie. And Andre Pearson plays the "good" pimp Aiden in such a way that you can almost understand Samantha's misplaced affection. This gentle approach to the character makes you almost want to like Aiden. Almost.
When Playwright and Director William Leary asked if I enjoyed the play, I answered that I did not believe "enjoyment" was his intention, but rather "engagement". I felt like a voyeur – I should have no enjoyment watching this play. And it is only because of how well it is written, produced, and acted, that I didn't. Instead, I was engaged. Ultimately, Forsaken Angels is not enjoyable because it is all too frighteningly real. And that, I think, is the point.
Running Time: Approximately 2 hours with one intermission
Forsaken Angels runs through September 27, 2015 at Wolfpack Theatre Company playing at the Greenbelt Arts Center— 123 Centerway in historic Greenbelt, MD. For tickets call the box office at (301) 441-8770 or purchase them online.