Ambition seduces. Power corrupts. Milburn Stone Theater delivers. For a one weekend exclusive engagement, MST takes on the scandalously charged political thriller Farragut North at the Elkton Station found-space location. Written by Beau Willimon and Directed by Andrew John Mitchell, this edgy political chaser keeps you enthralled with the backroom politics as the race for the big house unfurls in backwoods Des Moines, the biggest political victory a candidate can hope to make in their campaign. Riveting, engaging, and brutal, this circus of dirty deeds and vicious motives will keep you entertained right through to the show's bitter conclusion.
The spacing in Elkton Station is more apropos for a musical recital hall, but that does not stop Director Andrew John Mitchell from bringing lively charged actors onto a bare-bones constructed set to keep the audience fascinated with the inner workings of underhanded dealings in politics. In a rather genius move in regards to scenery and setting, Mitchell designs a series of glorious photographs that are flawlessly realistic in their representation of locations. Every time a scene shifts, a quick exterior shot of the building or location which the play has moved to is shown, followed by a lasting image of the building's interior. Mitchell makes beautiful choices, particularly when it comes to the balcony overlook of the hotel rooms used throughout the show, as well as the seedy and smoky lounge interiors for suspicious late-night meetings.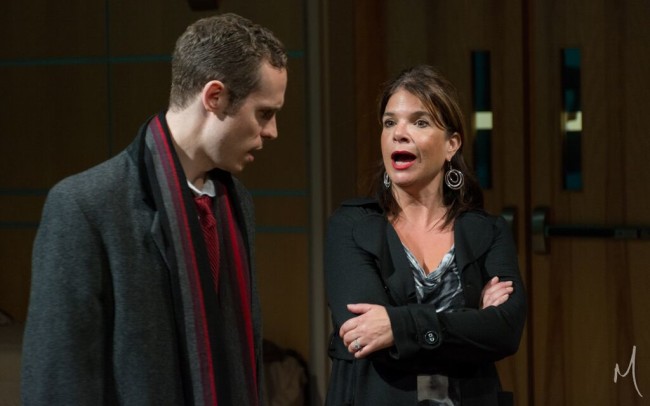 For as glorious as his projections are, the downfall to them comes with the scenic shifts themselves. As multiple pieces of furniture are used throughout— benches for airports and high schools, beds for hotel rooms, tables for bars— despite the curiously enigmatic musical underscoring and the lovely imagery on the screen, the sluggish hustle and bustle of the furniture detracts from the show's overall momentum. Because Mitchell has laid out the epitome of these locations with his very carefully crafted photographic projections, it would stand to reason that— given the enormity and depth of the playing space— that all of the various furnishings for each scene could be preset across the space and the stunning projections, in conjunction with simple focused lighting, could be used instead to shift from scene to scene. This would eliminate the clunky changes, more fully charge the show's pacing, and keep from waning interest while the momentum drags as the furniture is dragged about the stage.
As a Director, Mitchell finds realistic moments of conversation and interaction to use throughout the performance. These authentic moments wherein dialogue flows as it might in real life sharpens the visceral edge of the dramatic tension as it builds throughout the show. The characters feel real because Mitchell has guided them through these natural moments early on when the stakes of the show were lower. Despite the scene shifts, Mitchell drives the action of the scenes with vigor so that the play does move along quite soundly. Rounding out the sturdy approach to the show, Mitchell finds a delightful cast that bares the full brunt of the characters' political weight and crisis as they occur. A mostly well-matched cast of supporting performers against a stellar lead actor makes for an enjoyable evening of theatre.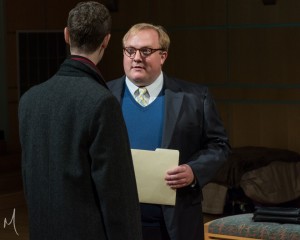 The prototypical Tweedledum of the show arrives in the character of Ben (Zachary Jackson.) Stuffed into an ill-fitting and appropriately nerdy sweater vest (compliments of Costume Designer Lindsay Ellis), Jackson fits the bill for sycophantic loyal intern stooge. Bringing that reedy sound of overenthusiasm to his voice, Jackson works his character into the scene like a minor irritant, an earnest fly in the ointment. What is impressive about Jackson's performance, beyond the commitment to the character work, is his striking albeit hastened transformation, the facts of which cannot be revealed for fear of plot spoilers.
Edging her way into another prototypical role is Melanie Bishop, taking on the pointed character of Ida, the epitome of a catty journalist. There is something about Bishop's vocal cadence and her subtle posture and manner of leaning in when she speaks that simply screams unscrupulous reporter. Though her interactions are brief, they are memorable. Bishop's foundation for the character's overall existence seems rooted in iconic stereotypes but is not without its unique individuality, particularly when it comes to her ability to apply underhanded pressure to the situation without resorting to her own sexuality to do so.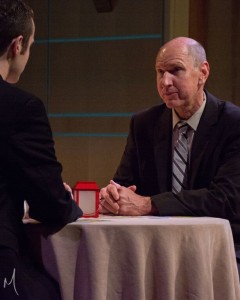 Tom Duffy (Phil Hansel) is a rather congenial character despite his placement in the plot. There is something sleazy and unsettling about his initial appearance on the scene that quickly burbles into something truly unbelievable. Hansel delivers the character with a very delicate touch, playing down and dirty in a fashion that can be easily misconstrued for compassion and thoughtful consideration. While there is no true villain, as modern audiences have come to expect, from this particularly political play, Hansel's portrayal of Duffy is quite devious and really rather refreshing in regards to how well he handles the changes in dramatic tensions.
Paul (Dan Tucker) is a man well suited for his placement in politics. Tucker conducts his physicality with time-trodden experience. His movements feel intentionally stifled and rehearsed, flawlessly emulating a man who has for too long been playing the political game of "watch exactly how I move and speak." Tucker delivers a mild-mannered performance but his bombastic outburst that come once plot points are exposed and begin to sour the situation are fascinating. His performance, much like that given by Jackson, is versatile in a way that simply cannot be seen coming down the line.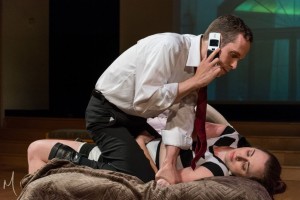 Carrying the show on his shoulders, Adam Wahlberg is stellar in the leading role of Stephen. Caressing the stage with turgid confidence, Wahlberg delivers a campaign PR man with verve and razor slick edges. Toeing the line of cocky arrogance and always staying just one step shy of crossing it, Wahlberg delivers a striking presence that commands the action of all his scenes. Watching Wahlberg's character unravel as the proverbial shit hits the fan is stunning. His emotional panics of fear and terror are quickly masked by harsh anger. Pivoting through his emotional rollercoaster and expressing dynamic layers in the character, his interactions with Molly (Melissa Redfield) are particularly intriguing. Unveiling a ruthless monster that stabs first and recovers later, Wahlberg serves the character of Stephen a great deal of justice in his final moments. Unshakeable to the core, Adam Wahlberg is the shining oil among the slick pit of vermin and vipers in backroom politics.
A show well worth enjoying, especially because of the topical relevance, Farragut North, will tingle your spine and give you pause when it comes to your voting sensibilities next election.
Running Time: 2 hours with one intermission
Farragut North plays through September 27, 2015 at The Milburn Stone Theater at their Elkton Station location— 107 Railroad Avenue, in Elkton, MD. For tickets call the box office at (410) 287-1037 or purchase them online.