Good evening, Baltimore. It's time to dim the lights, settle into your radio, and steel your nerves as Horatio Dark, the master of the macabre, the navigator of the netherworld, the antiquarian of the insane takes you on an aural adventure to the realm of the frightening and the bizarre. Brought to you through the hosting vessel of The Yellow Sign Theatre Company, Horatio Dark's Between the Lines live radio broadcast is here for your entertainment pleasure.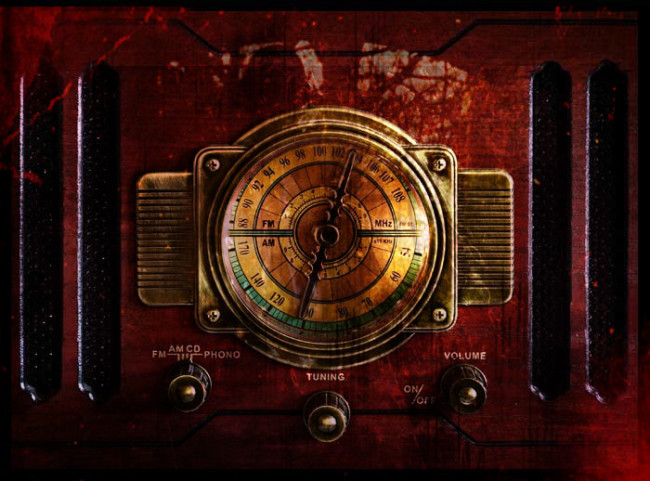 A truly unique experience to Baltimore Theatrical Audiences, and audiences in the greater metropolitan area, Aaron Travis, creator of the iconic Horatio Dark, brings a live-action Radio Play to the stage of YST at the end of every month. As a free event for all in the Baltimore Theatre Community, theatergoers are able to partake in an evening of extraordinarily bizarre and extremely entertaining theatre. Delivered in true radio-play style, with live actors on the stage and pages in their hands, the experience is wildly authentic and seriously intriguing. Featuring three or four different broadcasts every month, as written by Travis and other locals, the evening consists of gruesome tales from the beyond that are read out to eager audiences.
The true tricky trademaster is not Travis (though his work and creation are ingenious) but Foley man Dave Marcoot. Residing on the top tier of the stacked stage through the duration of the evening's performance, Marcoot masters the sounds of a live-action radio play with vigorous aplomb. Walking shoes, mortal combat, scientific laboratory sounds and a great deal more come from Marcoot's clever understanding of sound creation and design. And all of these deliciously inventive sounds occur live before the audience's eyes, there's nothing pre-recorded. Marcoot's performance is in essence a whole secondary show, without which the first show would simply fall flat. Truly authenticating the radio-play experience, Marcoot deserves a world of audible applause and praise for his work.
Featured in the September Salon were three newly fantastical scripts, written by Aaron Travis, Mike Jancz, and John Higgins. Travis and Higgins presented two new installments in on-going series: Rex Pylon & Dot: Planet Tripper Adventures, written by Travis, and The Bennington Marcus Mysteries, written by Higgins. Jancz debuted a new potential series, Solomon Bell: Time Detective. All three scripts were delivered by a team of sensational actors, being underscored by Marcoot's brilliant work on Foley.
Each of the broadcast shows are opened with a thunderous wave and a gurgle of laboratory fluids, immediately followed by Horatio Dark (voiced and read by Jon Freedlander) welcoming the audience to the tale they are about to hear. Freedlander's character voice is stellar and fits the bill for all of his epitaphs— navigator of the netherworld and so on. Fit between the segments of each broadcast are moments of 'commercial' which are accompanied by The Announcer (voiced and read by Anthony C. Hayes.) Hayes and Freedlander have an excellent working stage-reading rapport. Hayes gets his comic digs into the bit every time Truth Dollars arise— fight Communism in your own backyard!
The writing styles of Jancz, Higgins, and Travis vary significantly but they all fit well into the era of the broadcast, and all flesh out their characters with vivid imaginations and descriptions. A well rounded cast of performers— including Benji Loveless, Lori Travis, Kate Smith-Morse, Craig Coletta, Jeffrey Gangwisch, Maeve Yeager, Rex Anderson, V. Lee, Jess Rivera, and Lisa Chaney Hartsock— give life to these exceptionally well-penned characters with their plethora of voices and animated facial expressions as they read through the scripts.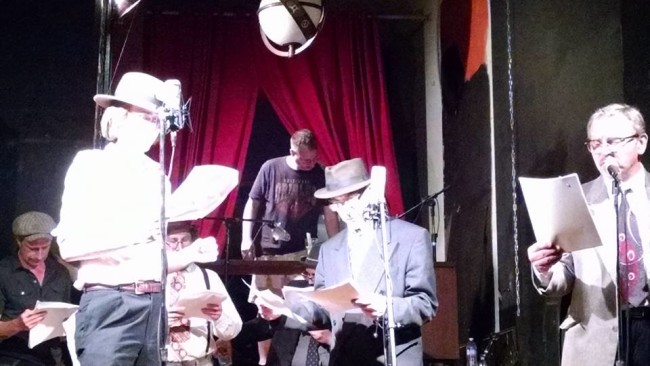 Several of the actors appear in multiple stories, including Freedlander and Hayes who are at the top, middle, and bottom of each show. It's impossible to pick just one standout performance among the talented bunch of people that make such a fantastical evening possible, as they each stand out in their own uniquely engaging way. It's an experience best experienced first-hand, as reading about it will do the dashing Rex Pylon (voiced and read by Rex Anderson) and the dippy Dot (voiced and read by V. Lee) very little justice. Everything from wild whirring blurs of time machines, to gangster gumshoes like Bennington Marcus (voiced and read by Craig Coletta) and his quirky 'Chrome' Theodore16 (voiced and read by Jeffrey Gangwisch) and a whole lot of entertaining bits falling in-between.
A great free theatrical experience for anyone who is interested, the Horatio Dark's Between the Lines, is truly a mesmerizing experience that is only happening at The Yellow Sign Theatre in Baltimore.  
Running Time: Varies between 90 minutes to 120 with or without an intermission, depending
Horatio Dark's Between the Lines is broadcast live on the last Monday of every month starting at 7:30pm at The Yellow Sign Theatre— 1726 N. Charles Street in the Station North Arts District of Baltimore, MD. Horatio Dark is a free event, and fills quickly so arrive early.
Missed a broadcast? No problem! You can hear Horatio Dark's Between the Lines online as an uploaded podcast. Just click here.