To have a dark task isn't the worst fate, even death does not hold that honor. The gods will not be plagued if you do not call after them, but they may lay a pox upon you if you don't call after Glass Mind Theatre and their current production of The Pretties. Inspired by The Oresteia and Adapted by Ann Turiano, The Pretties unfolds in a new performance space for GMT under the Direction of Lynn Morton. A collaborative effort between Turiano, Morton, and their Production Designer (and her incredible team) Jessica Ruth Baker, this strange journey of traditional Greek tragedy traverses an unfamiliar path trodden by few and understood fully by fewer. A remarkably provocative piece of theatre that requires intellectual digestion upon its completion, there is an edgy quality to the newly developed work that speaks strongly for the presence that GMT holds in the Baltimore Theatre Scene.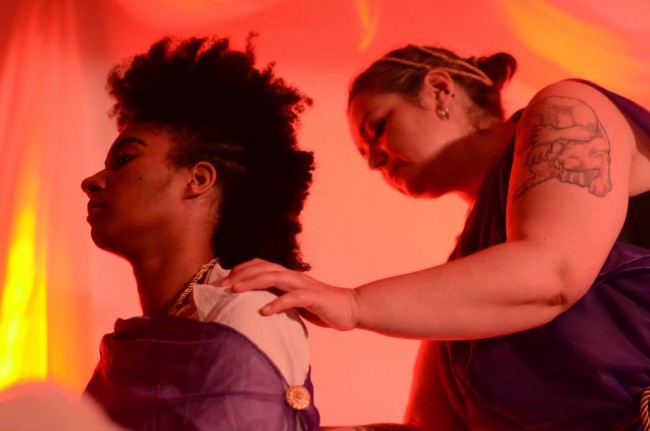 A strong recommendation of at the very least re-familiarizing oneself with the basic characters and events of The Oresteia is a great place to start before investigating the intricately woven work Playwright and Theatrical Conceptualist Ann Turiano has crafted.  That is not to say the performance cannot be enjoyed without such knowledge, but a deeper appreciation and more avenues of thought will be opened to theatergoers with just a bit of background knowledge, some of which is provided in the show's program. That said, the strong motifs of sexism, male-dominated society, Greek religion, and the wailing moans of tragedy are all iconic elements of the production that any theatergoer, historical scholar, or person who has encountered ancient Greece in any format will recognize during the performance.
Turiano's approaches the show with a displaced linearity. There is a timeline, though it doesn't always flow in a forward direction. This is an unsettling feature of the show, but uniquely distinctive as it captures memory and recollection the way humans experience it. Focusing thematically on the aftermath of what has occurred, the story's main action addresses consequences, and fallout in regards to murder, emotions, and devotions to the Gods. Closely examining vengeance and atonement, Turiano grants the audience access to the inner thoughts and feelings of characters often not addressed thoroughly in the original telling of these tales. Her deliberate exacerbation of the chauvinistic behavior of men borders on excessive but it also makes a point. Highlighting the gruesome details of what history and fables lead us to believe are heroes, Turiano addresses the reality of the situation where characters like Agamemnon are concerned.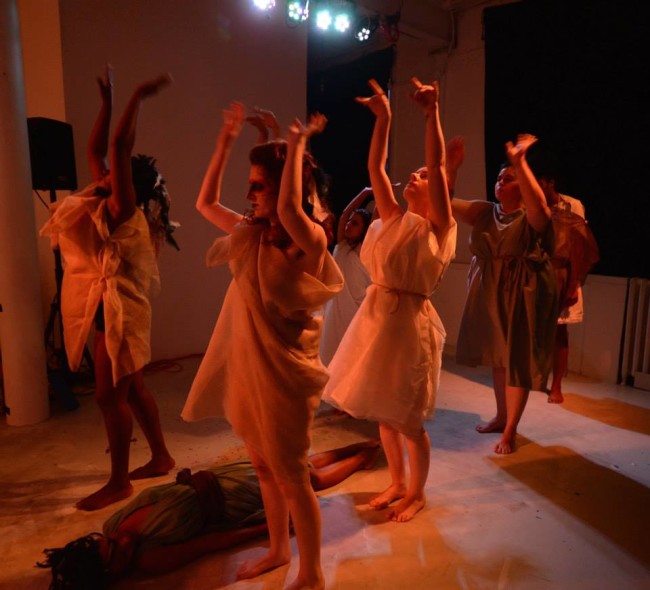 The dialogue of the play is less than fluid but in this case, fluidity is not the best vessel for the show's numerous messages. Turiano's consistency with Greek prose is wavering and there are moments where modern phraseology creeps into the character's speeches (many of which are delivered as monologues and soliloquys.) This feels natural for characters like Cassandra, who are written to be of a timeless era and exist, within the context of the show, through time itself, but feels awkward when delivered by Electra and Clytemnestra. Turiano also includes the chanting of a Greek Chorus, often working their way through steps or a list in a fashion that mimics or represents ritual. These moments are profoundly reflective of Greek choruses in their original form and envelope the show with a sense of the era in which it is grounded.
The nuance that is achieved in character development of Turiano's adaptation is thoroughly executed by Director Lynn Morton. Each performer, and especially those playing multiple characters, finds an identifying characteristic— be it vocally, physically, or emotionally— and uses that characteristic to distinguish each character from the others. But these characteristics dissolve when the actors become members of the Greek chorus. This draws remarkable attention to the notion that we are all our own Greek chorus— the voice of reason, the voice of ritual, the voice of right— while bearing the burdens of our own dramas. Morton's decision to run the performance as an uninterrupted piece (no intermission) is a bold choice, but not unappreciated. While the play borders nearly two hours in length, its intensity and momentum are well-kept and would be un-situated if there was a pause for intermission. By doing this, Morton preserves the piece's structural integrity and allows the audience to more fully experience this mind-bending approach to a Greek Tragedy.
The production team who seamlessly weaves their notions of Greek aesthetic into the performance is lead by Production Designer Jessica Ruth Baker. Baker, with a sharp eye for classic yet out-of-the-box visual and aural aids, encourages the design team to infiltrate the darkest recesses of their Greek-inspired imaginations and the result is dreamlike. Set Designer Michelle Datz transforms the studio play-space into something of a tennis-court theatre complete with flowing white stairs. Lighting Designer Chris Allen infuses blues and whites into the scenic work to keep the audience suspended in the timeless and simultaneously Grecian-present in which the play takes place. The combination of Datz and Allen's work creates the skeleton for the audience's imagination, allowing theatregoers to fill in the gaps of the glorious temples, lush forests, and towering columns of Greek architectural design and Olympian nature.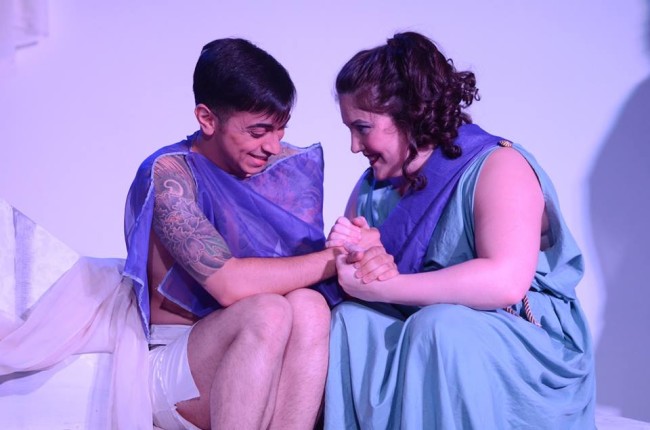 Costume Designer Anna Platis works with Make-up Designer Samantha Trionfo to craft exquisite visual couture that pays homage to the Greek era that even the gods would be proud of. Platis sticks to simple colors, the occasional blue and purple thrown in for character discernment. It's Platis' unique approach to The Furies— a gauzy burlap of sorts— that is complimented by Trionfo's intricate facial makeup, making the two actresses who play the aforementioned demons look truly unearthly. This, along with subtler designs, like that of Artemis' facial makeup, draw the audience's attention to detail and the intricacies by which these characters are defined.
The performances certainly make the audience think and ponder and question. This is the type of motivational, fringe-edgy theatre that revs up the mind for a solid debate upon night's end. Whether it's Andrea Bush, who serves as the Watchman, and her observational asides that catch your ear, or Dana Woodson as Agamemnon walking upright with an air of arrogance in her masculine stride, the actors are engaging and command the stage at all times, keeping theatergoers from checking their watches to see how much time has passed since the show has begun.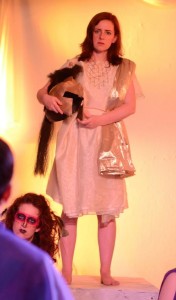 Katharine Vary takes on dual roles as Aegisthus and Athena but is more memorable as the goddess of justice and wisdom. Delivering the sassiest line in the play with a ferocious snap, Vary makes an unforgettable entrance near the show's end and really puts the evening's events into perspective of historical proportions. Erin Boots is another performer who doubles up, first as the wise and eager Artemis and later as the distraught and deranged Electra. Her performance in these dual parts are as opposite as the sun and moon. Boots' goddess portrayal is almost giddy; there is a fondness and a clever curiosity steeped in her textual delivery, particularly when addressing Iphigenia (Paris Brown.) As Electra, Boots is inconsolable and delivers textbook Greek-Tragedy monologue wailing, throwing emotions that don't' even have names into the mix as she groans out her sorrows, woes, angers, and frustrations.
Orestes (Sam Hayder) is somewhat of an under-featured character in this adaptation, and shown with a great deal of cowardice. Hayder approaches the character with caution, always availing the emotional vulnerabilities of Orestes, particularly early on. Though make no mistake, the character is far from yellow, as is displayed later, though even those moments are approached with a nervous trepidation that resonates thoroughly through Hayder's face and physicality.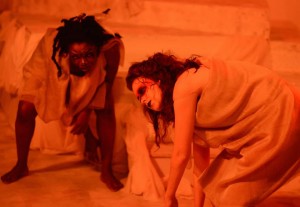 The eye-catchers in the production are Sarah Weissman and Trustina Fafa Sabah, playing The Furies. There is something deeply unsettling about the way they move across the stage. It is a disjointed and inhuman movement, giving them the appearance that they are truly not of this mortal world. A bend of the head on Weissman or a twist of limbs on Sabah is quite bone-chilling, and that's even before they start speaking. Mastering a strange vocal approach to these unruly and feared characters, both Weissman and Sabah find terrifyingly fascinating ways of speaking with one voice that is sometimes two. They are constantly snarling and seething, ready to vocally and physically tear flesh from bone at the given opportunity.
Clytemnestra (V Lee) is an interesting study in this adaptation. Lee delivers a much more subdued version of the widowed mother and her grief. The show's main arch follows the various characters and their coping mechanisms when it comes to trauma and tragedy, and Lee approaches this plot-element internally in a most peculiar and yet intriguing fashion. The bonded relationship Lee develops with The Furies is something worth noting, particularly as it drives portions of the show while feeling natural as if it developed inadvertently. Lee is a compelling force, particularly when addressing Boots as Electra, and forces the audience to hear her emotions, rather than just feel and see them.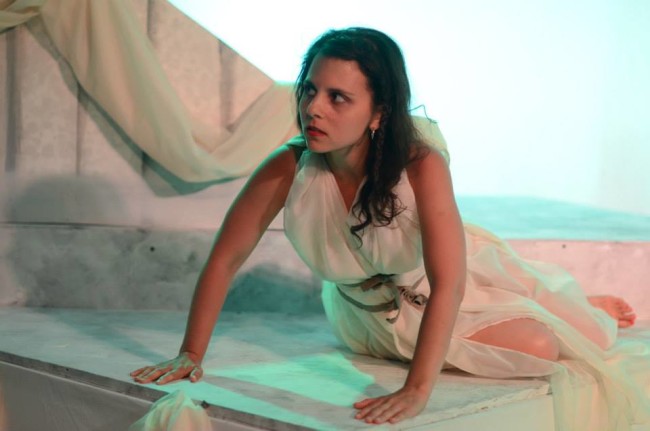 Ren Peptione takes on the task of playing three different characters, first and briefly a servant girl, and then later the forgotten fourth child of Agamemnon and Clytemnestra, and most frequently, Cassandra. While Peptione does well enough in the lesser of the two roles, her performance as Cassandra is maddening and captivating. Serving as the show's living prologue, spliced intricately into the middle of the performance, Peptione creates Cassandra outside of time, outside of context, and outside of the reality of ancient Greece. This is unsettling but truly unique as it invites the audience to examine the many versions of her that exist. Peptione pulls the "unseen us" of the audience into the story directly without every directly engaging. This is a truly commendable act and it feels a bit like watching a magician as she twists her words to enchant and inform.
Twisted, a bit convoluted, but terribly creative, and fully engaging, The Pretties is a show worth investigating if for nothing else to experience this fresh take on Greek Tragedy. Turiano's work as well as the performers in the show, will speak for itself, if you're open-minded enough to listen.
Running Time: 110 minutes no intermission
The Pretties plays through August 23, 2015 with Glass Mind Theatre currently performing in the Copy Cat Building of the Station North Arts District in #B303— 1511 Guilford Avenue in Baltimore, MD. Tickets can be purchased at the door or in advance online.