These are the games, the tools and the tricks, of making brilliant theatre with a musical called The Fix. Signature Theatre is revolutionizing political corruption; they're not accentuating the foul filth of America's crooked political climate, they're flaunting it and making it look devilishly delicious. With Book and Lyrics by John Dempsey, and Music by Dana P. Rowe, this rarely produced musical sensation is a riveting and electrifying political scandal that has all the razzle dazzle of Broadway and all the unctuous sleaze of Washington DC. Directed by Eric Schaeffer, with Musical Direction by Jon Kalbfleisch, this zesty zinger will thoroughly stun you with a political pulse that is gloriously unpredictable and gut-wrenching dramatic flair that will steal your breath.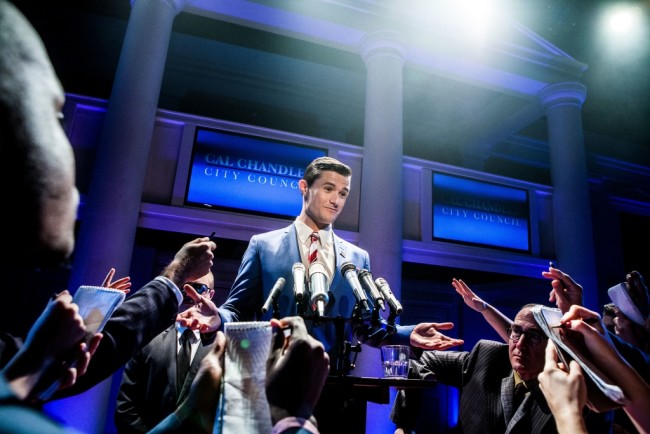 Stars and stripes forever deck out the two-tiered play space crafted by Scenic Designer Misha Kachman, creating an appropriately patriotic thematic for the show's overall aesthetic. The decadent austerity of the towering white columns of the set's main structure is regally reminiscent of The White House, and consequently its underlying values of power and prowess. Accenting this breathtaking scenic work is Lighting Designer Ryan O'Gara who sets the sensation of foul-play before the show even starts with the broad crooked red stripe that cuts across the main floor. O'Gara enhances the natural moods of the show inspired by the music and lyrics throughout with appropriate dramatic lighting, be it green highlights during "Army Chant" or the blue subdued lights for scenes that feature Tina and her hippy-trippy dreams.
Working in tandem with O'Gara and Kachman is Video Designer Hannah Marsh. Infusing seamless segments of media mania into the show with video clips of the ensemble actors as featured reporters, Marsh heightens the political tensions and overall impact of the show's continual scandal with this approach. The strategic placement of the video screens all along the mid-sightline of the set's two-story structure really drags the eye up and away from the action, the way such media broadcasts often draw the eye to their spin of the story.
The dynamic pulse of this musical performance is driven by the show's intensive dance work. Choreographer Matthew Gardiner fabricates intricately rhythmic routines into the larger ensemble numbers that really exemplify the energy and overall pulse of the performance. From the opening number, "Let the Games Begin" there is a sharp and classy feel to the dancing energy of the piece. Crisp movements in tight synchronization drive home a repetitive notion of severity and sincerity in that fashion. "Simple Words" showcases Gardiner's versatility as a choreographer, including his ability to created 'seated dance' moves and make them an effective part of the routine. Gardiner also finds the intricacies among the smaller numbers like the two-person swanky tap routines featured in "Control" and "Two Guys at Harvard." Running the gamut of styles and moves, Gardiner pulls out all the stops for the big Act I Finale, "Dangerous Games" and the ensemble-delivered routine here is astonishing.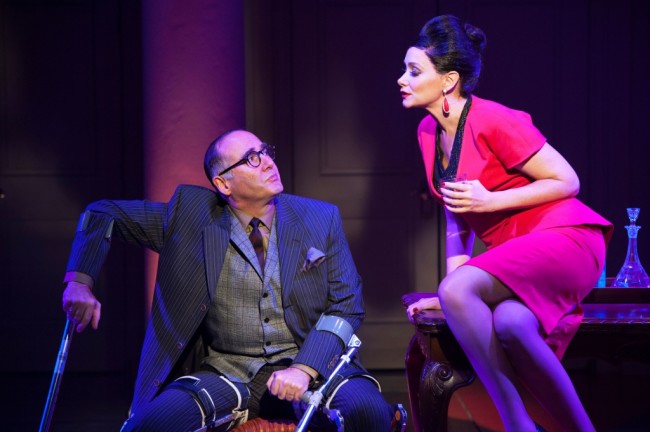 The rub of the situation is the time period. While most musicals require an absolute time and place to function well, particularly from a designer's aspect, The Fix, as conceptualized by Director Eric Schaeffer, seems to exist in history and modernity simultaneously without these timelines conflicting with one another. Set perhaps in the 60's or the modern day, both Schaeffer and Costume Designer Hunter Kaczorowski toe the delicate line of blending these time periods to keep the audience mentally unbalanced as to when this story takes place. With classic Jackie-O inspired outfits for Violet and crisp pressed suits among the males in every role, it is difficult to say whether the show has a definitive time-scape. This, however, is not a detracting factor, but a point of fascination, showing that the musical can speak to multiple generations and that the underlying tensions of political corruption from then are still prominent and realistic to the modern day politician and political scene. Schaeffer casts a perfect musical with vocal strengths and formidable performances in exactly the right roles. The balance of sincere moments against those of visual and presentational spectacle create a well-formulated production with all of the relative sparkle of a shiny new dime.
Glorious strong sounds arise from the ensemble for every group number. The energy witnessed among this talented cast is unstoppable and uncontrollable. Even in more subdued numbers with a slower pace there is an internal energy that radiates outward over the audience and keeps the attention of the theatergoer. Notable credits in the ensemble include Tracy Lynn Olivera as the gravelly political coach Leslie Pynchon, Nickolas Vaughan as the barking and commanding Army Sergeant, Jessica Lauren Ball as the vapid and Stepford-polished Deborah Pullman, and Nick Lehan as the hell-bent justice-driven Carl Moreland. These four performers find little moments to make their cameoed characters pop whether it's a flawless appearance of 'the perfect wife' or the stereotype of people in power, these actors dig their niche into this star-studded cast.
Featured only momentarily, Bobby "Cracker" Barrel (Will Gartshore) is a scene-stealing master. "The Ballad of Bobby "The Cracker" Barrel" becomes an epically entertaining number with Gartshore scoot-skipping his way through it. His perfectly covered tattoo sleeves— hidden by well-placed handcuffs— complete his brutish prisoner look. Gartshore electrifies the number with his robust voice and rogue redneck attitude. Gartshore and the male ensemble boot-n-barnstorm their way through this stomping and scuff-sliding dance routine while telling a wild tale full of yeehaw and hootenanny goodness. Capturing the essence of caricature in this scene, Gartshore runs away with this moment in a bright orange blaze that matches his jumpsuit.
Living up to the epitome of a salacious mobster, Anthony Gliardi (Dan Manning) evokes a hard-swallow of terror from the moment he steps onto the stage. Manning, who settles into the character's moxie and mass with an unsavory ease, delivers a terrifying rendition of every mobster of notoriety rolled into one. With a booming sound featured in "Dangerous Games" and its reprise, there is a foreboding cloud of impending doom that precedes his entrances into every scene. His stance and presence alone drive the tension of his character's function in the show.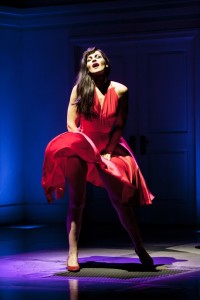 Seductive, serene, sensual, smoky, smooth; all words that come as a precursor to the mellow and trippy Tina (Rachel Zampelli.) Drifting into scenes with Cal like an easy wave glistening inside a lava lamp, Zampelli brings psychedelic personification to the character in a groovy fashion that toes the line of pure 1960's and hippy of the modern world. Her smooth voice eases into "Lonely is a Two Way Street" and entrances not only the audience but Cal's character with inescapable charm. "Alleluia" and its reprise are numbers featuring Zampelli's expressive range and emotional connection to the character. But it's "Mistress of Deception" that explores her versatility as a performer, leading the show into its shocking conclusion.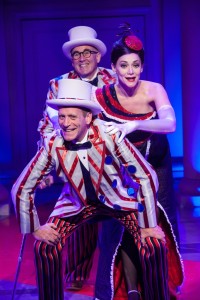 Senator Reed Chandler (Bobby Smith) is a slippery snake, an elusive eel, an unctuous urchin that slithers onto the stage for the opening number with all of the crass charm and punctuated panache of a real corrupted politician. "Let the Games Begin" is loaded with heated arrogance and simmers with sinister intentions, which sets the tone for the entire show. Smith is disarming as this silver-tongued apparition. Appearing at the top of the second act in "Two Guys at Harvard" a duet shared with Grahame (Lawrence Redmond) Smith steps in time with gleaming showmanship in this old-vaudeville style number. His fancy fleet-footed tap-esque and step work in this song punches up the routine with pizzazz.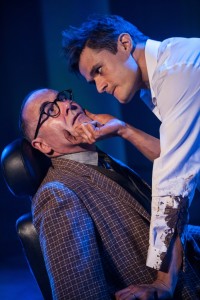 Redmond, as the polio-crippled, older brother of Reed, is stellar in the role. A force of his own to be reckoned with, his performance delivers hit after hit of detrimental determination, particularly when squaring off against Violet. "Mercy Me" is a showcase of Redmond's vocal abilities as well as his character's natural arc and development. The most compelling scene of the production occurs between Redmond's chair-ridden Grahame and a strung-out edgy Cal (Mark Evans) and is provocatively gripping; a true paramount moment that eclipses even the flashiest of numbers in the show.
Christine Sherrill as the unflappable Violet Chandler is mesmerizing. Her poised composure, her pristine vocals, all of which wrap into a perfectly intricate knot of sardonic deadpan wit and wry sophisticated humor, balancing the humorous moments of her dark circumstances. The ruthless nature that burbles beneath her calmly collected exterior drives the Chandler campaign as her voice drives numbers like "Cleaning House"— a duet shared with Security Head Peter Hale (Stephen Gregory Smith)— and "Embrace Tomorrow." The number that drops jaws and stops hearts is "Spin" Teetering on the edge of sanity, Sherrill portrays Violet in this number clinging to a single shredded thread of dignity. With an extensive vocal range showcased therein, Sherrill delivers raw compassionate soul through her horrifying breakdown in this gut-wrenching number.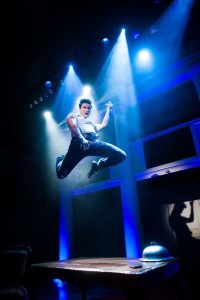 Versatile and captivating, enigmatic and enchanting, Mark Evans as Cal Chandler is nothing short of sensational. Delivering a luminary performance with incendiary spark, Evans blazes through the role with a tenacious spirit, a compelling energy, and an unimaginable depth that welcomes the audience into his personal circles of living hell. Emphatically engaged in "Simple Words" Evans brings that number up through a bursting ring of energetic fire turning it into a praise-worthy tent-revival of honesty. "One, Two Three," is throttled out in his voice with fierce spirit as Evans lives in the moment of the song. With glorious belted sustains at the end of this and other numbers, it is astonishing to watch him masterfully transform this character from show's open to show's close. A remarkable entity upon the stage, Mark Evans gives depth, meaning, and emotional veracity to the character of Cal Chandler.
Take a chance and break tradition, see a musical that isn't being done everywhere. Believe in whatever makes you happy, and in this case it will be Signature Theatre's production of The Fix.
Running Time: Approximately 2 hours and 35 minutes with one intermission
The Fix plays through September 20, 2015 in the Max Theatre at Signature Theatre— 4200 Campbell Avenue in Arlington, VA. For tickets call the box office at (703) 820-9771 or purchase them online.