Anything can happen if you let it! And often times all you need is just a spoonful of sugar, because it turns water into tea and cakes or in this case transforms ordinary people in a simple theatre into an extraordinary characters in a fantastical musical. Floating in for their annual summer musical, September Song welcomes 2015 with their production of Mary Poppins. Directed by Debbie Mobley, with Musical Direction by Rachel McCusker, the wondrously inspiring tale of The Banks Family and the enchanted nanny who saved them is teaching theatergoers to see the world more upside-down-ish in their charming and quaint fashion. A fun-filled evening for the whole family, the cast is energetic and enjoying themselves, which is of course the true magic of performing.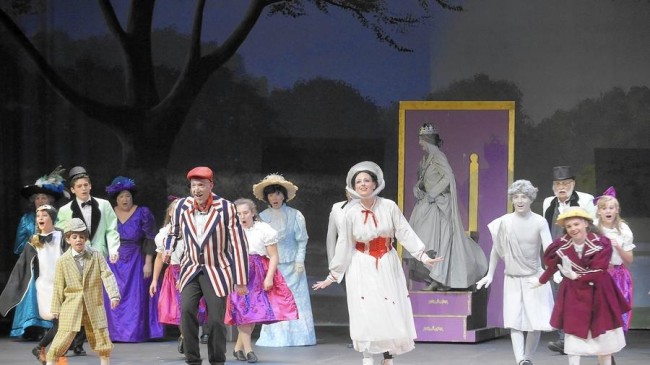 Vacillating violets may get left up on the shelf but the production team of Mary Poppins are definitely those who see beyond their blinkers. Set Coordinator Joe Staub, accompanied by his construction crew of Vivian Davis and Mark Scanga, bring charming enchantments to the stage for No. 17 Cherry Tree Lane. The house itself is modeled loosely after the notion of the one on Broadway, folding open to like a life-size dollhouse. Working closely with Prop Master Missy Grim and her team, Staub has shredded advertisements flying up the chimney floo, disgusting green bottles that glow, and shelves that reconcile themselves, once Mary Poppins has spun her whimsy through the kitchen. A remarkable bit of good theatrical trickery really peppers the set with these magical notions. In addition to all the scenic magic, the nursery is painted in cotton candy pastel stripes of pink and blue, practically perfect foils to the rotten brats who live there.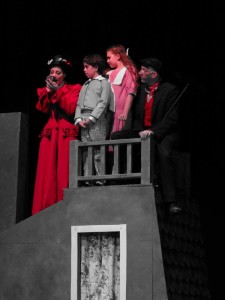 Costume Master Janine Polanowski leaves everyone looking spit-spot, especially the title character. With her plentiful costume changes, all modeled after the iconic looks featured throughout the history of Mary Poppins, Polanowski ensures that she lives up to her self-proclaimed epitaph of 'practically perfect.' Whether it's Poppins' pointy black boots, of the sensible kind, or her infamous red coat for the rooftops of London, Polanowski outdoes herself with the Mary Poppins couture. The rest of the cast looks simply smashing by having their costumes kept simple. No insane frills, except for Mrs. Corey of course, and the children look location-appropriate, with or without their stockings.
There is something to be said for expectations when audiences come to a show where magic is involved. But the true magic of theatre is in the eyes and the hearts of those performing it and watching it. Director Debbie Mobley creates an atmosphere that sparks like a live wire, filled to the brim with whimsical enchantments, so much so that you really feel Mary Poppins flying, even if her feet never actually leave the ground. Mobley finds wonderful ways to augment the fantastical nature of the performance, defying expectations even when budget limitations will not allow for full flight. The most brilliant moment in the production comes during "Step in Time" when Bert is meant to go "over the rooftops." Rather than be grounded by their production limits, Mobley creates a heartfelt and touching moment with the chimney sweeps as Bert calls to order "It's their first time, over the rooftops!" in reference to Jane and Michael. Wherein the children are swept up by several sweeps and "flown" about all across the rooftops. This stirring moment that encourages audiences to suspend their disbelief is the stuff that all theatre dreams are made of.
Mobley makes other brilliant decisions that serve the production in a new and spirited fashion. Changing Mrs. Corry (played with exuberance by Elaine Conover) from the traditional Island accent to a French woman of nobility presents the character with a heightened sense of exoticism and history. Choosing to make Queen Victoria (Bev Polites) one of the statues that comes to life during "Jolly Holiday" is another mark of Mobley's ability to think outside of the box, one that pays off for the show's overall aesthetic. Mobley inspires fun and entertainment among her cast and it radiates out from the stage to the audience, creating an agreeable and enjoyable conversation between performers and theatergoers.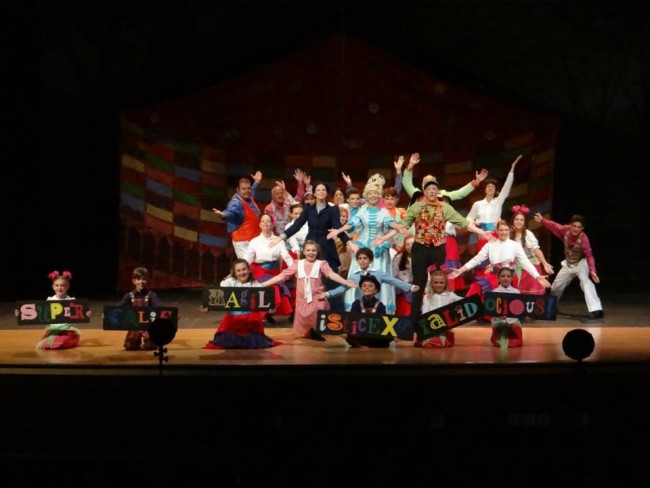 As a dance musical, Mary Poppins is expected to have a certain polish and flare. Choreographer Amy Appleby finds those elements of razzle-dazzle within the context of the musical numbers and sets her performers to task. Simple but sprightly movements populate large ensemble numbers like "Jolly Holiday" and "Supercalifragilisticexpialidocious." Lots of sweeping arms and box-stepping feet keep these numbers moving with energy. Appleby fixes a group of eight featured tappers, led by Mary Poppins herself, for "Step in Time" and they enthusiastically tap their heart's gaiety through "Step in Time." There are even penguins dancing about during one of those aforementioned numbers, a nod to the penguins from the original motion picture.
Standout performances among the ensemble include Neleus (Jack Patterson), Northbrook (Gary Pullen), Valentine (Angie Stein), and the Bank Chairman (Dennis Skinner.) Patterson leaps about once awakened by the magic of Mary Poppins, giving his stone-character a lively body while Pullen's voice is featured only for a moment during "Precision and Order." That moment, however, is delivered in earnest and bears the heartbeat of the working class man. Stein, as the woefully abused sock-monkey Valentine, is adorably cheeky and takes a moment during "Playing the Game" to showcase her dance skills and Skinner, who plays both the Bank Chairman and Admiral Boom, comments to comical character voices and postures for both characters.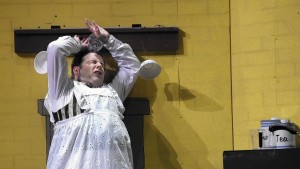 Robertson Ay (Dave Hill) and Mrs. Brill (Katherine Henderson) enforce the notion of being "caught in the mess" at Cherry Tree Lane. Henderson is snarky and delivers biting sarcasm, particularly when it comes to dealing with Hill's clumsy character. Though few sung lines, their voices are lovely and make delightful additions to the ensemble. Hill hams up his 15-seconds in the spotlight just before "Spoonful of Sugar." This outrageously over-the-top moment has Hill taking several spills all throughout the kitchen becoming a literal whirlwind of human destruction, earning him a roaring ovation from the audience.
Not everyone encountered in a magical and enchanting tale is lovely or practically perfect like the title character. Nasty Ms. Andrew (Liz Kanner) arrives on the scene with an aesthetic matching her moniker, the holy terror. Draped in black and purple, the iconic colors of all villains, her tincture's the tonic for villainy and her voice matches the character's horrid persona. That is not to say that she sounds horrid when singing, quite the opposite, actually, but when she takes to "Brimstone and Treacle" all the kiddies (and some adults) are sure to get a good shiver up the spine!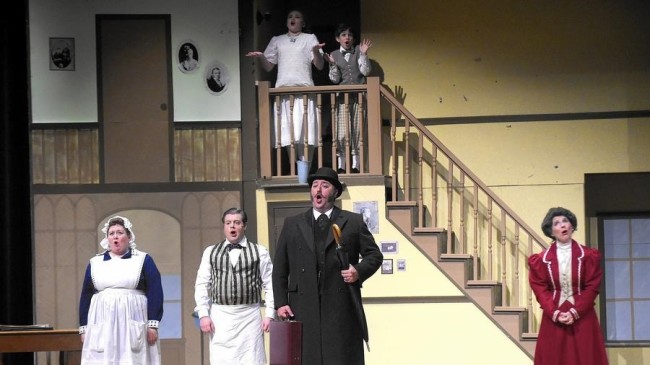 Being Mr. Banks (Jim Gross) or Mrs. Banks (Christy Stromberg) isn't the easiest task in the world, especially not when two adorable children, Jane (Compton Little) and Michael (Julianna Groves) are always chasing all of their nannies away! Gross brings out the stalwart sovereign of Cherry Tree Lane with his blustering and barking about the homestead. From the way he strides through the house to the way he reprimands the children, Gross fully embodies the character and does so with purpose. There is a softer side to his portrayal, particularly during the "Step in Time— A Man Has Dreams Reprise" late in Act II. Gross reveals a vulnerability to the character that is quite endearing, enabling a full transformation before the musical's end.
Stromberg is a dotty and flightly incarnation of Mrs. Banks. Terribly bereft of her good wit and senses, she takes the role of being Mrs. Banks to heart with a fluffy shallow interpretation that is charming in its own right. Forgetful and yet doting, her unique approach to the character adds new meaning to the song "Being Mrs. Banks," a confused yet genuine sincerity that sheds new light on the relationship between she and her husband. Stromberg presents a lovely voice, which is clear and fluid and carries several long sustains throughout the various numbers in which she performs.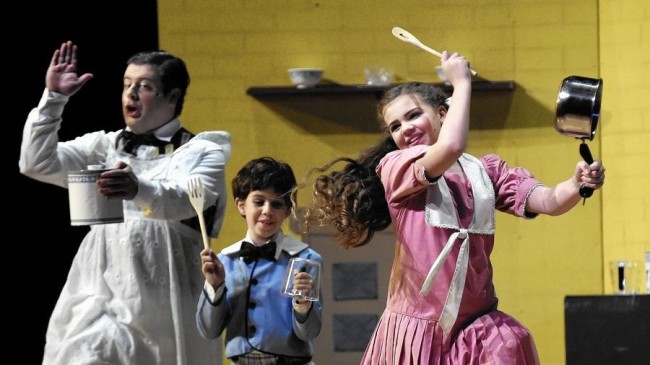 It is hard to say which of the two Banks children are more obnoxious and precocious. Living up to the spoiled rotten adjectives that are read straight from Mary Poppins' magical measuring tape, both Little and Groves do their best to steal the attention in their various scenes from everyone else on stage, including each other. With delicate songbird voices, their verse during "Jolly Holiday" and other musical numbers are simply delightful. Little throws moody tantrums that echo all across her face while Groves catches the audience's eye with her full flare of body language when it's Michael's turn to act out. Both children dance with grace and ease, especially Little, who is given the chance to show off her fancy tap-work during "Step in Time."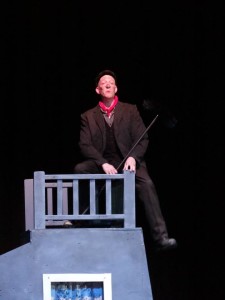 Bert (Eric Stein) has enough brass for all of us, filling in the gaps with his enthusiastic personality and spry persona. With a lovely voice that rasps along like the wind tickling the chimney tops, all of the narrative asides, which are far too many to name individually, dust the audience with a hint of ominous chill and yet friendly foreboding. Stein finds a unique approach to the character, having a gorgeously consistent accent that really grounds the story in England. He's chipper and brazen when it comes to Mary Poppins, and what he lacks in tap-skill he makes up for in energetic knee-high kicks, with knees that go fully up to his eyebrows. When he joins Mary for songs like "Jolly Holiday" and "Anything Can Happen" his voice is the perfect complement of grounded earth to the stratospheric sounds she brings to the numbers.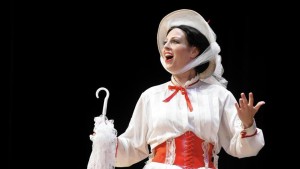 Delivering sassafras and chipper cheek, Mary Poppins (Katie Sheldon) is as the song describes, practically perfect. Sweeping onto the scene with a je ne sais quoi that simply radiates the enigmatic nanny, Sheldon owns the role making it all her own while channeling the energies and inspirations of the greats who have come before her. Each virtue of praise to her performance virtually knows no bounds; Sheldon is the stage incarnation of what Julie Andrews fabricated Mary Poppins to be. Songs like "Practically Perfect", "A Spoonful of Sugar", and "Playing the Game" all bear the hallmarks of a dulcet voice with a confident attitude resulting in a spectacular delivery. Sheldon knocks "Supercalifragilisticexpialidocious" out of the park with her fancy patter-work, inspiring a brilliant time for all involved in the number. A truly radiant justice given to the title character of a sensational show, Sheldon is Mary Poppins and brings magic with her wherever she goes.
Suspending your disbelief is a true part of enjoying theatre. The magic that is happening on this stage is exuberating from the hearts and souls of the performers, washing the audience in magic, hope, and love; the three things that all good theatrical experiences should have. Only a few chances remain to see this inspiring community theatre performance of a legendary nanny and all the enchantment she inspires in everyday life.
Running Time: 2 hours and 45 minutes with one intermission
Mary Poppins plays through August 8, 2015 with September Song at the South Carroll High School auditorium— 1300 W. Old Liberty Road in Sykesville, MD. Tickets may be purchased at the door or in advance online.