Well, Jeely kly! Baltimore's got trouble! Trouble? Right here in Charm City! They got a theatre troupe— that starts with 'T' which rhymes with 'P' and that stands for pool! Meredith Wilson's one hit wonder takes to the stage as the Charm City Players close out their second season at St. Timothy's school. The Music Man is their sixth show to date and the company is proving that they know the territory of musical theatre. Directed by Stephen Napp with Musical Direction by Kathryn Weaver, the iconic musical marches all through the house, all over the stage, and straight into the hearts of the audience. With talented principles, a sturdy ensemble, and dazzling costumes that set the cast for dressed to impress, the show is a surefire hit for this summer's stage opportunities.
Scenic Designer Annmarie Pallanck opts for simplicity when creating River City, Iowa circa the turn of the century for this production. Pallanck works the large proscenium and its old-fashioned draw-curtain in a way that eases scenic transitions. With minimal furnishings— though both the Madison gymnasium stage and the train car seats look very impressive— it affords the show's pacing a much needed boost to keep the audience interested. Pallanck's minimal approach also keeps the scene changes from being loud and distracting; a difficult that CCP has struggled with up until this point in time. Her design work is impressive in that it sets the tone and location of the show without bogging down the timing, transitions, or overall momentum of the performance.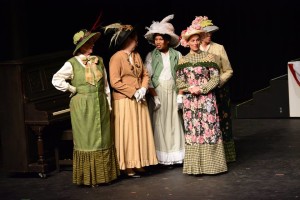 Costume Designer Lynn Kellner and Milliner Mary Gorman deserve the accolades heaped upon them for completing the aesthetic of the show's design team. Kellner outfits a cast well over forty with unique costumes where each individual has a personality woven into their outfit. All the females have different dresses; this is not just a carbon copy of styles in different colors, particularly for the younger cast members. Plaid and floral patterns are used frequently throughout— as is a hybrid of the two— to identify each River City Citizen as their own special being in a show where anonymity often dominates the ensemble look. What's more impressive are the specialty costumes that Kellner features throughout the performance— the iconic red band uniforms (which are featured only at the end and serve as a sharp contrast against the colorful and eclectic design work of her dresses), the various pageantry outfits for the lady's dance club routines, and so on. The most notable piece of impressive clothing in the show? Professor Harold Hill's reversible beige jacket that in an instant goes from an ordinary bland suit piece into a fabulous band jacket with pizzazz and flare. This is closely followed by the heinous red white and blue tablecloth dress wrapped around the mayor's wife during the festive Independence Day celebration.
Gorman, who really breaks the mold when it comes to creative style, catches the eye of everyone in the audience with her fantastical hats. Bordering on imaginative, the style of the hats are perfect for the time— elaborate and adorned with everything from feathers and ribbons to lace and frills. Again no two hats find themselves looking too similar to any other millinery creation on the stage as Gorman works along Kellner's line of thinking where everyone should appear to be an individual in the show even if they are playing "River Citizen #4."
Wilson's The Music Man is often remembered for its fond tunes, which are often accompanied by intense choreography. Choreographer Jason M. Kimmel takes a step back from the labor intensive dance routines that have come to be associated with the show, but his choreography does not disappoint! Though Kimmel focuses on simpler steps and more basic routines for numbers like "Shipoopi" and "Marian the Librarian" the execution of these numbers is crisp, clean, and most importantly synchronized. The fancy footwork featured in the duet "Sadder but Wiser Girl" is an example of Kimmel's versatility as he infuses the song with an old Vaudeville duet feeling. The simplicity of the foot kicks, which become a call and response game between Harold Hill and the girls of the library, during "Marian the Librarian" is doting and adorable as well.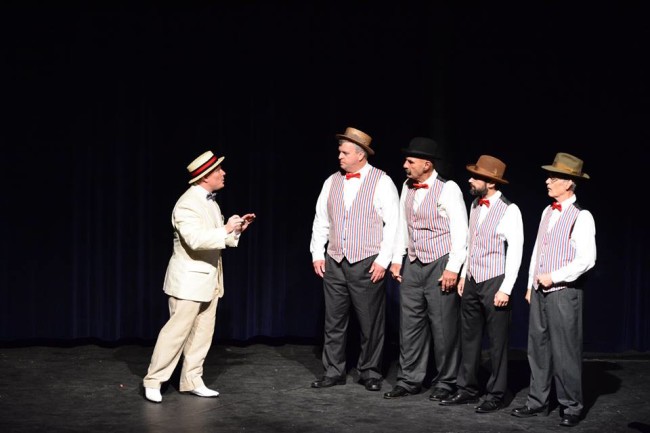 Musical Director Kathryn Weaver draws the sound of the show together, balancing out a great deal of the harmonies that ride through Wilson's tricky and yet oh-so iconic score. There's even a nice little nod to Weaver off-stage every time Harold Hill and Marcellus refer to the "piano teacher" as they plink their hands in the air over an imaginary keyboard and Weaver plays them a nifty little scale. It's her blending of the Harbor City Barbershop Quartet (Fred Frye, Sam Doolittle, Jonathan Brune, and Tim Prevatt) that earns her praise. Bringing in an actual musical barbershop quartet— who have been singing together as a barbershop quartet for a combined 56 years— is a clever way to get the balanced harmonies sounding pitch perfect in numbers like "Sincere" and "Lida Rose."
The cast is full of impressive performances. Whether it's the spunky Tommy Djilas (Dawson Hill) or his— egads!— sweetheart Zaneeta Shinn (at this performance Madeleine Tindall), cameo characters are popping up all over the place in this production. Ethel Toffelmier (Christina Napp) is also worth mentioning for her nifty dance routine shared with Marcellus during "Shipoopi" as well as her hyper animated features that rivals the mayor's wife's during "Pick-a-Little, Talk-a-Little."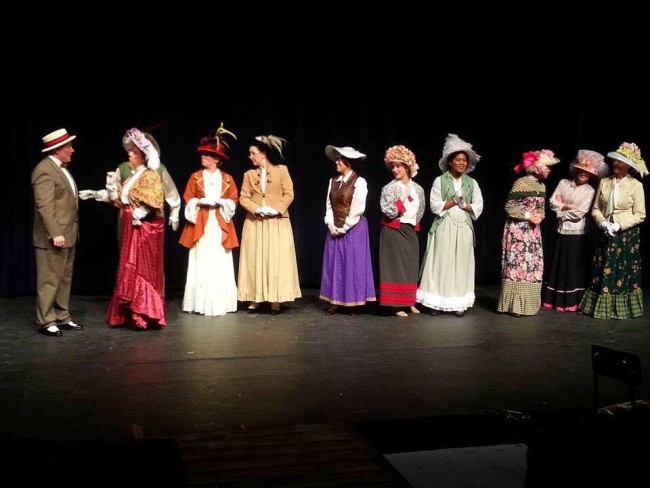 Eulalie MacKecknie Shinn (Debby Sutton) is the ham to watch in this production. Representing every spastically out-there characteristic that has ever been imbued upon this particular role's portrayal, Sutton owns the role with earnest hilarity. Between her ridiculous dancing and her absurd over-pronunciation, Sutton is on fire as a comic queen in the part. She plays second perhaps only to Marcellus (J. Hargrove) who is a spitfire with animated facial features and really snappy and sparky as he interacts with his sweetheart (played by Napp) and with good old professor Harold Hill. Hargrove gets his chance to shine vocally in the performance as well, leading the townsfolk through "Shipoopi" and doubling in a duet with the good professor earlier in the first act. Both performers are scene stealers as you simply can't take your eyes off them whenever they're on stage.
Talent comes in all shapes and sizes, including the very tiny. Logan Dubel plays Winthrop Paroo and in this production he has one of the clearest and purest voices heard throughout the show. With a stellar approach to the character's infamous lisp, Dubel blasts a heartwarming and lovely sounding rendition of "Gary Indiana." His solo feature during "Wells Fargo Wagon" is of exceptional caliber as well. Playing opposite Dubel (at this performance) is Susanna Hoffman as Amaryllis. Her delicate voice blends nicely at the tail end of the duet "Goodnight, My Someone," a song performed with Marian Paroo (Melissa Ann Martin.)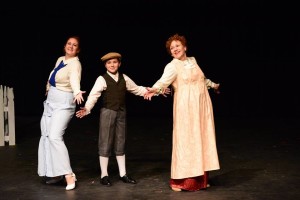 Mrs. Paroo (Christine Thomas) and her stubborn daughter Marian share a delightful duet, "If You Don't Mind Me Saying So." This is the first opportunity the audience has to connect with the brassy, albeit classy, widowed matron. Thomas' thick Irish accent is the perfect balance of heritage and clarity; well situated so that she is still intelligible and her words are never lost in the rough brogue. Her singing voice is solid and serves as an excellent complement to Martin's. Her cheeky humor is well received, particularly when directed at Marian.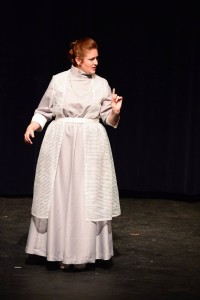 As for the good madam librarian, her vocal merits make her more than appropriate for the role. "Goodnight, My Someone," as well as "My White Knight" are dulcet dreamy lullabies that float away on Martin's succulent soprano sound. Martin even manages to ground the character in a present emotion for the latter of the two numbers, giving it that extremely important depth that other renditions oh so often lack. Martin's general approach to the character is impressive, her demeanor frosty and rigid when it comes to encountering Harold Hill (E. Lee Nicol.) Initially the cold shoulder she shows him could extinguish the pilot light on the sun, and it does not simply ease away with his razzle-dazzle charm approach that works swell on the other bumpkins of River City.
Nicol and Martin are a match made for these roles; finding the balance of the distaste and slow-growing fondness for one another. One of the most beautiful moments concocted in the performance is Director Stephen Napp's approach to the penultimate number "Goodnight & 76 Trombones (Double Reprise)." When Martin takes up Nicol's verse and he hers, it's a perfect flip of the song's sentiment; an earnest walk, if only for a moment, in the other's shoes. This completes both character journeys and brings the story around full circle, particularly in the relationship between them.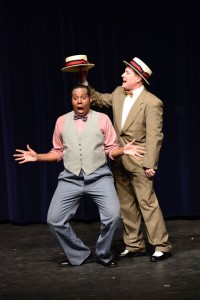 Spellbinder, charmer, serpentine tongue; all appropriate adjectives for Nicol's performance as Professor Harold Hill. While he doesn't quite find the balance of singing through his patter numbers, he does display an aptitude for singing in both "Marian the Librarian" and later in "Till There was You." What he lacks in musical harmony during "Trouble" and "Seventy-Six Trombones" he makes up for with eager enthusiasm that will charm you right out of your pants. By the end of the show half the audience was ready to join the River City Boy's Band. What sets Nicol's performance apart from the movie or any other rendition of Harold Hill previously experienced is his subtle smirks when things go his way. They flit across his face with just a hint of sincerity; a true traveling salesman if ever there was one.
The performance is energetic, and there are a million things to be said as far as praises go in regarding the production. But rather than continue to read them all, the simple solution is to go see the musical in all its glory and have a spectacular afternoon out at community theatre.
Running Time: Approximately 2 hours and 30 minutes with one intermission
The Music Man plays through August 2, 2015 at Charm City Players in the Hannah More Arts Center of the St. Timothy's School Campus— 8400 Greenspring Avenue in Stevenson, MD. For tickets please call the box office at (410) 472-4737 or purchase them online.