What you want! What you want! What you want— is right in front of you— at Montgomery College Summer Dinner Theatre with their production of Legally Blonde. A sizzling summer sensation, this peppy energetic movie-based musical is the perfect way to round out the 2015 summer season. With lively musical numbers, enthusiastic performances across the board, and a touching and humorous story that will leave your heart glowing pink, Legally Blonde is the show to see this season. Directed and Choreographed by Mark Minnick, with Musical Direction by Marc Bryan Lilley, this is the show you want and there's no doubt about it!
From the sorority house of Delta-Nu to Harvard law school, Scenic Designer Elizabeth Jenkins McFadden transforms the sets of the show with a magical flare. Driven by Director Mark Minnick's intensive pacing, McFadden conceptualizes multi-faced spinning set pieces that ease crossfade transitions into a fluid motion that fits the tempo of the music. Her pink heart-printed house is the iconic epitome of an estrogen-soaked sororal dwelling, which is sharply juxtaposed against the prestigious bricks and wrought iron gating of the ivy league east coast Harvard. Working in tandem with Lighting Designer Lynn Joslin, McFadden creates a decorative portal-covered frame for the stage that fills with mood-appropriate lights for various numbers. The draping twinkle lights that then recur on the lattice fence during the café scene showcases McFadden and Joslin's ability to infuse emotion into the show's aesthetic.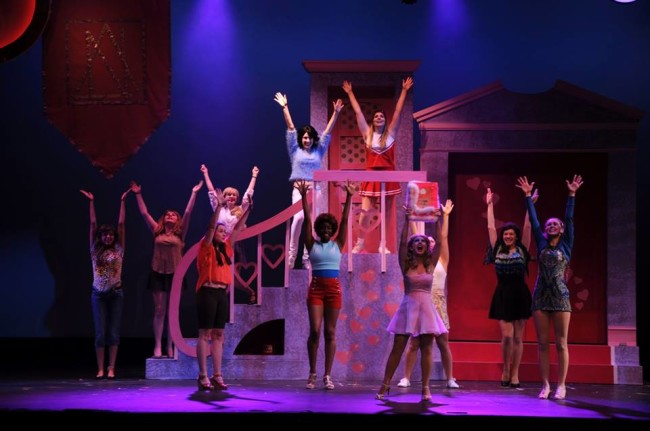 Joslin outdoes herself with clever lighting designs that are truly suited to the set McFadden has constructed. The portals glow in various shades of pink throughout the many Delta-Nu-focused numbers, and feature a plethora of blinking rainbows at the end of "There! Right There!" Joslin really works atmospheric ambience into her lighting design work and this is most keenly felt toward the end of "Ireland" and the lead-in of "Ireland (Reprise)." The tail end of the song features of cool bluish green wash of lights and mist to simulate the feel of the Irish coast, which glows into a solid green blast to highlight Paulette as she completes the song series with the Reprise. Joslin understands the use of colors in a way that augments and supports the emotional concepts of the performers without creating dramatic lighting for the sake of dramatic lighting. The spinning pink heart gobos that appear every time Elle or someone else sings "Love, I'm doing this for love" is the icing on a well-decorated cake.
Costumes across the board look stellar, compliments of Costume Designer Peter Zakutansky. Legally Blonde is known for its peppy and preppy couture and Zakutanksy delivers the sharp contrast of west coast life against east coast living in these outfits. Pink is a featured color, particularly on the show's star Elle Woods, but it's not overdone and handled in a variety of shades. Zakutansky finds costumes that speak to the characters personality, assimilating them into the cultural vibe that the story dictates in many cases while still allowing for bursts of individuality to define the characters outside of their social constructs.
Director Mark Minnick (assisted by MCSDT's hardworking and insightful directing intern Niko Stamos) inspires astounding performances in the company and actuates the potential that these young talented artists have to offer. Focusing on the individuality of each performer and incorporating their strengths into the performance, Minnick delivers a stellar show that does not disappoint. Playing the show for truth is the most notable element in Minnick's production; characters are earnest and honest rather than the heightened caricatures that are often associated with this particular show. His transformation of Elle Woods in particular is exceptional; the raw honesty achieved in her portrayal creates a convivial hero that audience cheers for right from the beginning. Hints of the blonde nature are still strongly present, but are reserved for deliberate moments, creating a rich inner depth to the character that is often overlooked.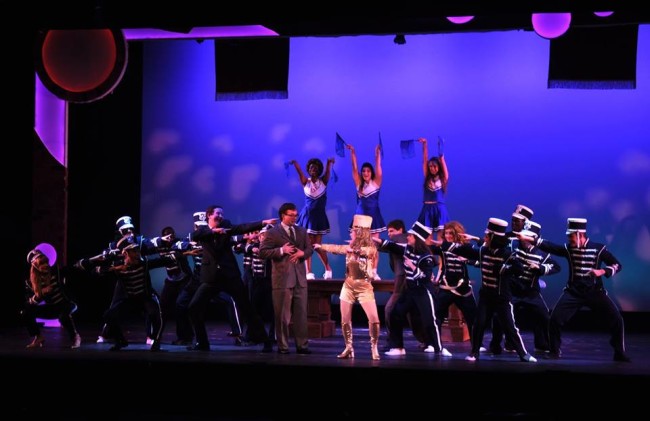 Minnick's approach to Elle, and all of the characters in this fashion, creates a meaningful show that is both fun and fantastic to watch. His choreographic approach to the show is one of simplicity but this is not to say that the dance routines are not filled with energy and enthusiasm. Focusing on cleanly executed routines that everyone can execute in a respectable fashion, Minnick achieves a sensational look in large group numbers like "Positive" and "What You Want" where the focus of the movement is the emotional sensations behind the lyrics. This was achieved with a strong assist from Choreographic intern Emma Cooley, who designed the dance break for "Positive." Much like one of the songs implies, Minnick and this cast of stunning talent are driven as hell and the resulting production is rewarding beyond compare.
Musical Director Marc Bryan Lilley finds the sound to support Minnick's vision in this stellar cast of young performers. With bold and fulfilling ensemble numbers like the title number, and "Bend and Snap" as well as "What You Want" the musical becomes an intense series of high-energy and well-performed numbers. Lilley encourages the soloist performers to really express their voices during sustains and belts, allowing for just the right balance of vocal rifts to the original writing of the score. This well-blended method allows the performers to showcase their abilities without showing off and still remain true to the music as it was intended.
There are voices and personalities for miles in this production; and the performance really speaks for itself in regards to talent, passion, dedication, and commitment to achieving something brilliant upon the stage. Even cameo parts like Elle's Mom (Kylie Smith) and Dad (Liam Marsigliano) are delivered with spirit and verve during their brief appearances. Chutney (Kit Flaherty) appears for only moments near the end of the show but her delivery is so ferocious and committed to the character's attitude that she is memorable those few moments. Emmanuel Kyei-Baffour should also be praised for his brief, but outstanding, sound during "What You Want" as he provides the riveting islander rhythm that drives the number along midway through.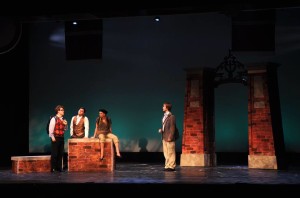 Drew Looney, Edwin J. Santiago, Jordan Moral, and Julie O'Hara are four more performers who add zesty zings of excitement to the performance in their own way. Looney is featured for a moment during "The Harvard Variations" as Aaron Scholtz but his voice replicates his self-description of 'pompous creep' to perfection. Santiago brings a wonderful sound to this number as well, playing Padamadan, but showcases his spirit later as Nikos during the very end of "There! Right There!" a duet shared with Moral, who plays Carlos. Both Moral and Santiago swing sassy flare into their bursts of vocal verve at the end of this number and are brilliantly engaged in amusing the audience with the fun that their characters are celebrating. O'Hara, as the surly and edgy Enid Hoops, brings an honesty to the character that plays to the stereotype without mocking it. O'Hara's voice is an equally delightful addition to "The Harvard Variations" and other numbers where her character is featured.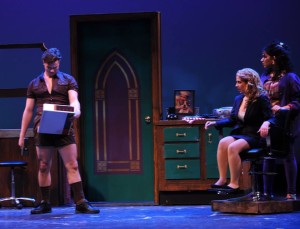 Stealing the show with his dual roles that couldn't be more opposite of one another is Jacob Meile. Also appearing briefly in a third role early in the show (as the Harvard Admittance Man) Meile understands character acting and struts his stuff accordingly. As the disgustingly vile Dewey, Meile makes it easy for the audience to despise him. But it's not until he takes to the stage as the studly Kyle confidence for miles and a package to deliver that the audience really loves him. An incredible hoot who knows how to find the comedy of a moment and earn it without milking it, Meile is a rocking rocket in these three roles.
MacKenzie Reedy becomes the forgotten sorority sister of sorts when first introduced during "Omigod You Guys" but quickly finds a personality and voice that is all her own for "What You Want." Guiding Elle through the difficult process of an LSAT score of 174 or higher, Reedy lets her voice be heard in this number with logical compassion behind her singing. Margot (Michelle Huey) Serena (Zoe Bulitt) and Pilar (Zhanè Bradford) round out the sorority trio with radiant exuberance that makes most cheerleaders look a little tired. Frenetically engaged in being Elle's personal cheerleading squad, they serve as the ring-leaders of the "Greek Chorus" and each find their moment to shine in the spotlight. Huey kicks off "Omigod You Guys" with a boisterous voice that sets the tone for the show. Bradford shakes things up with her saucy moves during "Positive" and Bulitt belts it out for "Bend and Snap" a number that earns all of her sassy attitude, which is contagious among the others on the stage in the number.
Finding the number of bold personalities needed for this production is no easy task, but Ellie Rabinovitz as Brooke Wyndham, and Geocel Batista as Paulette, set the standards for brassy brilliant woman in the show. Rabinovitz sells her character with severe soul and a ferocious tenacity that snaps up the audience's attention. Her ability to belt clear and consistent notes whilst jumping rope at hyper speed is more than impressive. Her full-throttle attitude carries through "Whipped Into Shape" and really slams her character into place for the entire second act. Batista is a different breed of fierce; delivering an equally sassy character with her portrayal of Paulette. With the perfect Jersey accent and mannerisms, Batista is pitching personality for miles. With crazy enthusiasm she delves into "Ireland" and delivers a powerful rendition of the number and its reprise, outdoing herself later in the show with her lines in "Bend and Snap."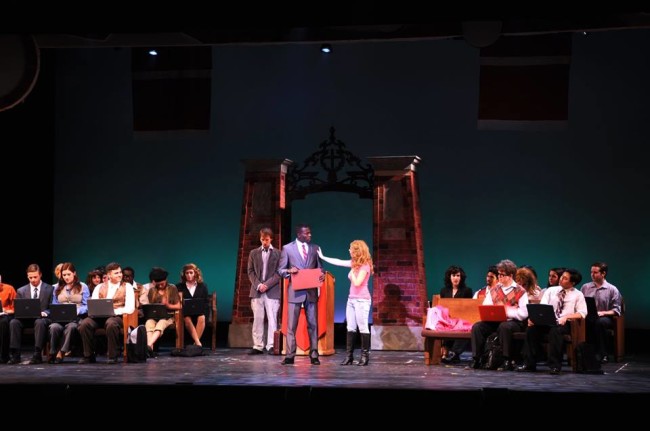 Where there are sassy women there's bound to be vicious men, and Callahan (Audrey Tchoukoua) fits the bill. Tchoukoua delivers a fascinating rendition of Professor Callahan's "Blood in the Water" slinking through the number with an unctuous yet powerful voice that just screams with an edge of murderous lawyer sliced into it. His speaking mannerisms and overall delivery of the character is professionally seedy; a deliciously devious approach to an otherwise misconstrued 'bad-guy' character archetype. Tchoukoua has precision in his textual delivery that really sharpens the fangs of his character's persona, making him easy to distrust.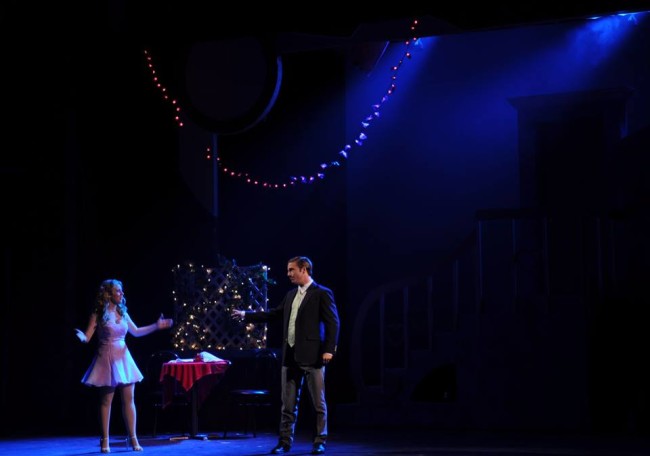 Not all the men in the production are vile, some of them are just misguided, like Warner (Marc Pavan.) With a voice smooth like slow-melting butter, Pavan is a natural in the lover-boy role. "Serious" is a great breakout number that showcases his vocal talent and his ability to bring personality traits of the character into his singing voice. Juxtaposed against the levelheaded Emmet (Zac Brightbill) Pavan's looks like quite the thickheaded playboy. Brightbill brings an earnest approach to Emmet, one that serves the character a greatly due justice. His main solo, "Chip on My Shoulder" really unloads the emotional baggage of his character without falling into the trappings of belting harsh emotions for volume's sake. Both men have exceptional stage presence and no when to fall back and keep the focus on their scene partners.
Vivienne (Elizabeth Andrews) may not have many chances to make her singing voice heard, but when she does, she proves to be the second strongest voice in the cast. Featured in a solo during "Legally Blonde Remix" Andrews voice blasts out the character change that Vivienne experiences toward the end of the show. This combination of emotional integrity blended with pure vocal talent is astonishing and really gives Andrews a chance to shine. Doing an impressive job with the biting edge of Vivienne's character, Andrews tempers her frigid responses and interactions with Elle so that they are deep and purposeful rather than just mean and nasty. Her overall character arc is clear and is a wonderful display of her acting abilities.

As for little Miss Woods comma Elle (Victoria Meyers) there aren't enough words in the English language to shower her with the praises she deserves for creating an honest and original portrayal of the leading character. With a powerhouse voice and emotional investment, each solo number is delivered to amazing effect. Whether it's the dawning realization of her character's first major internal shift during "So Much Better" or the fragile broken moment exchanged during "Legally Blonde", Meyers has the heart and soul required of such a character and finds exciting new ways to explore Elle Woods. "Take it Like a Man", a duet shared with Brightbill, is one of the most endearing numbers where her pure-hearted personality resonates through the longer sustained segments of the song. Owning the role with confidence, clarity, and creative emotional interpretation, Meyers takes Elle Woods to an exhilarating new high that proves pink is powerful.
A show that must be experienced to be thoroughly enjoyed with all of the enthusiasm and hard work that everyone involved in the production has to offer, Legally Blonde is an experience like no other and should not be missed during its brief summer run.
Running Time: Approximately 3 hours with one intermission
Legally Blonde plays through August 2, 2015 at Montgomery College Summer Dinner Theatre in the Theatre Arts Building of the Rockville Campus of Montgomery College— 51 Mannakee Street in Rockville, MD. For tickets call the box office at (240) 567-7676 or purchase them online.