Peace be with you, Baltimore! Are you ready to raise the praise with this funky fresh new sound? It's Mary Magdalicious and it's dropping down faster than Sunday morning parishioners on their knees in the pews over at Spotlighters Theatre this summer! That's right, fathers, sons, and holy ladies— appearing for an extremely limited engagement in the halls of the St. Paul sanctuary— Altar Boyz are live for your praying pleasure! Directed by Jillian Bauersfeld with Musical Direction by Michael Tan, this 90's Christian revival group will have you bouncing in your seat until the sin slips right out of you and you're singing the praises of the almighty boy band!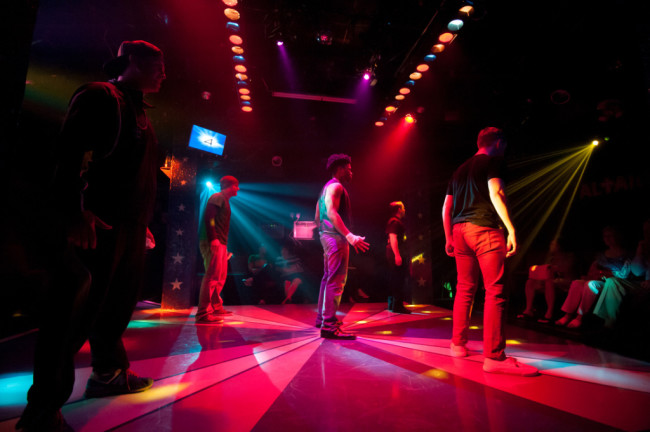 It's time to get on your knees and sing the praises of Resident Set Designer Alan Zemla and Resident Lighting Designer Fuzz Roark! These two apostles of their craft, disciples of creative delivery, these two talents of holy measure set out to impress with their setting and light work and they deliver with the best of them. Blessed be to Zemla and his fine approach to the uniquely intimate space in the hall of St. Spots as he creates the perfect atmosphere for these fine five Boy Band Members to get their goodness grove on. The same can be said for Roark, who not only knows how to light the space with dramatically theatrical effects— super useful for those wicked sick slow jamz-style numbers— but who also knows how to use the lighting in the space to cover some of the more venial sins of our Boy Band's choreographic skills. Clever strobe and party-scene effects keeps the Choreography during the super dance intensive numbers masked so that the praise-seekers can focus on the overall effect of the Altar Boyz.
Inducing the vapors of a tent revival, Choreographer José Teneza fuses Boy Band realness with worship-worthy spirit into his routines. Teneza puts the rhythm of every 90's boy band to come before them into these five boys and really encourages them to live it larger than life. Admittedly the only place that the Altar Boyz experience really S-T-RUGGLES is with the dancing, but what Teneza lacks in form and structure he makes up for with attitude and enthusiasm. Huge dance breaks featured during numbers like "Rhythm in Me" and "Number 918" are strikingly reminiscent of Boy Band concerts throughout history. A throwback to the Old Testament before all these new wimp-toast boy bands that only know one direction, Teneza finds a flurry of moves that are basically divine, even when they're masquerading as a hot hellacious mess.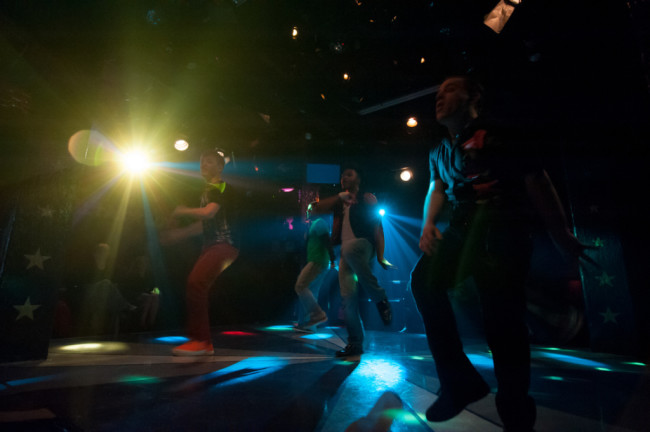 It's a bittersweet parting of the red sea of emotions when it comes to Resident Costume Designer Laura Nicholson. While her threads are immaculately conceived, this production of Altar Boyz marks her last show with the almighty Spotlighters Theatre. Finer threadwork can't even be found in Joseph's technicolor coat as Nicholson outfits the boys with bling and panache giving each one a distinctive characteristic while simultaneously allowing them to showcase their unique individuality. A testament of biblical proportions to her talent, the costumes seen on the Altar Boyz in this show are heavenly, and its with hearty prayers and tears of joy that the entire Baltimore community theatre scene sends Laura Nicholson on to the great beyond (California) with a heartfelt, 'Godspeed!'
Musically speaking Musical Director Michael Tan is the new savior in town as he blends harmonies, drops beats, picks up rhythms, and takes the show on a spiritual journey whilst leading the pit— live on stage— through this 90-minute knockout performance. Tan delivers holy reality realness with strong five-part group harmonies throughout the performance. Utilizing advanced techniques to single out soloists Andrew Worthington and Darnell Davis during "Soul Senor" (and its numerous recurrences) and "The Calling" respectively, Tan reinforces talent with faith and the results are miracles that happen throughout the performance, not just in the aforementioned references.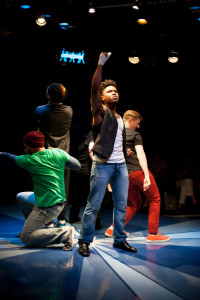 Director Jillian Bauersfeld brings the enthusiasm that a live Boy Band concert needs. There is a vibe that pulses beneath every song and scene, driven by Bauersfeld, that keeps the motion of the religious-rock-musical ocean flowing. By focusing on the sincerity and seriousness of the situation, Bauersfeld allows the performers to discover pious hilarity among their situation without ever twisting the arm of contrivance to do so. In addition to being an uproarious religious romp, there is a true message of friendship and devotion burbling beneath the surface of glamour, glitz, and latent homosexual tendencies— all of which are themes that Bauersfeld highlights with amazing grace.
As a five-point Boy Band unit, the Altar Boyz are unstoppable. Grooving, moving, dancing, singing, praying, and saving souls— these boys have it all, do it all, and can be it all. If they can just get over their exhaustion. And their egos. Did we mention one of them was Jewish? But seriously, Baltimore! No S-T-RUGGLING with their performances because they really know how to eat up a stage and 90 minutes of performance space with high quality entertainment! Matthew, Mark, Luke, and Juan. And Abraham. With their powers combined— they are the Altar Boyz!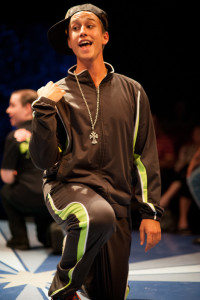 Luke (Garrett Zink) has a little trouble with exhaustion. Sometimes he's so straight up exhausted he straight up loses his mind, yo! Throwing down a sick gangster's beat for "The Miracle Song" it's no wonder he's got all the fan girls on their knees— praying for salvation, that is! Zink is invested in the hardcore edgy character with robust gusto that really makes him pop— like a dozen pieces of bubble gum blowing one giant bubble all at once. Gliding down and dirty and almost sinfully so, Zink owns his bit of "Body, Mind and Soul."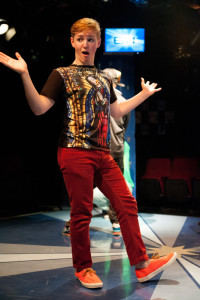 In a heaven-n-hell sort of polar opposite Mark (Griffin DeLisle) is the delicate flower of the Promised Land by comparison to Luke. An innocent and shy eager young lad who has a huge closeted confession to accept, DeLisle tackles the character with a straight forward approach. DeLisle works his upper register well into the ascendable rafters with angelic wails during "Rhythm in Me." But it's "Epiphany" where his sweet guardian angel voice draws heavenly lyrical power from all his insecurities to bring this number to complete and utter rapture. So seriously present in the moment of this song, he brings the audience to the pearly gates of hysterical absolution in this solo.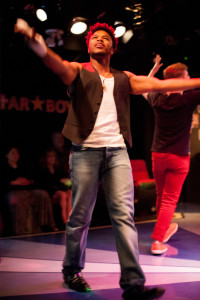 Matthew (Darnell Davis) is a born leader. Every Boy Band has one and the Altar Boyz have Davis. With his Boyz2Men approach to "Something About You", Davis unleashes the full weight of his soul into that solo, serving up cloud-side realness to a hand-picked 'saved' member of the audience. Exhibiting this spiritual realness throughout the performance, particularly during "Finale: I Believe" it's easy to see how Davis could make a convert out of anyone and everyone in the audience. His pious spirit soars through his solo segment of "The Calling" assuaging any doubts that he is the radiant star guiding the shepherds of his musical flock into one ecstatic miracle after another.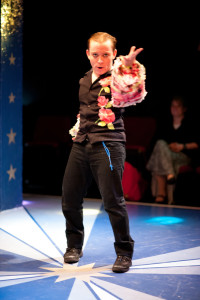 Juan (Matt Wetzel) is easily identifiable because not only is he the shortest of the Altar Boyz but he's also blessed with an identifiable accent. Wetzel owns his role as comic cut up in this production and truly knows how to work over a crowd. Relying heavily on animated facial features, intense bodily expressions, and his overall superior physical comedy routines, Wetzel finds his place among the Altar Boyz with a flair for the dramatically hysterical. Leading "La Vida Eternal", Wetzel goes spastic and falls victim to a meltdown of satanic proportions. All in all his voice is as mellow as the other four Altar Boyz, but it's his comic charm that keeps them coming back for more.
Odd man out Abraham (Andrew Worthington) rebels his way into the group like Jesus rebelled his way into the hearts of his disciples. With a saintly voice and a level-headed attitude to match, Worthington is perfect for the role of the outsider-looking-in member of Altar Boyz. His heartfelt confession toward the show's end is touching and really brings the message of the performance around full circle. Pouring his heart and soul into "Finale: I Believe" Worthington captivates the audience in that final moment and lets his celestial goodness radiate through him like the light of the holy trinity. Providing sensational backup high-scale wails for Davis at the end of "Something About You" and bringing riveting emotional realness to his start of "Everybody Fits", Worthington is the faith that keeps it real, the presence that binds the group to their core beliefs.
Seein' is believin' and you better believe that this miraculous miracle won't be in town long! Better catch these Altar Boyz before they make like an angel and fly back to heaven!
Running Time: Approximately 95 minutes no intermission
Altar Boyz plays through August 2, 2015 at The Audrey Herman Spotlighters Theatre— 817 N. Saint Paul Street, in Baltimore, MD. For tickets call the box office at (410) 752-1225, or purchase them online.