Look around, it's in the air, life is changing everywhere! And it's certainly changing down at Infinity Theatre Company as the second musical offering of their summer season pops expectantly onto the stage. A vastly different sort of musical from the man-in-black show, Co-Producing Artistic Directors Anna Roberts Ostroff and Alan Ostroff proudly present Baby: The Musical for the back-half of their 2015 season. With Book by Bille Pearson, Music by David Shire, and Lyrics by Richard Maltby Jr., this unusually endearing 80's musical is a surprisingly impressive tale told in earnest about the struggles of that magical word that can change a couple's life forever. Directed by Igor Goldin with Musical Direction by Jeffrey Lodin, this sentimental story sets itself with surprisingly relevance to the modern audience and is a delight to behold on the stage.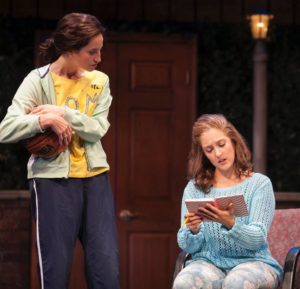 Despite the potential for the show to read as dated, Director Igor Goldin balances the production at the precipice of memory, allowing the show to exist circa 1980's without feeling trapped in that decade. While there are no blatant modernities that would jar the audience from the show's confabulated reality, there is a subtle undercurrent of modern day that flits somewhere between the emotionally charged cathartic releases and the powerful surges of emotional integrity delivered by the six principal performers which allows the piece to remain "period" without feeling hokey, dated, or contrived. Goldin excels in creating an 80's aesthetic without forcing the show to live there and the result of this keen artistic ability is an innovative and refreshing look at an otherwise outmoded musical; in other words, Goldin takes the show out of the 80's without ever actually taking it out of the 80's.
Musical Director Jeffrey Lodin assists Goldin's vision tremendously by reinforcing that balance of 80's sound against a present-day reality so that the show's musical numbers are still able to gain purchase with the modern ear. Conducting the band and taking lead on the keyboard, Lodin assists with the show's overall impressive existence by guiding the four-person orchestra smoothly through the performance without over or underplaying any of the numbers. His ability to coax strong harmonies from the principals, particularly in songs like "Baby, Baby, Baby" where the couples pair off and sing is as impressive as his ability to fabricate a hybrid sound of 80's inspired modernity.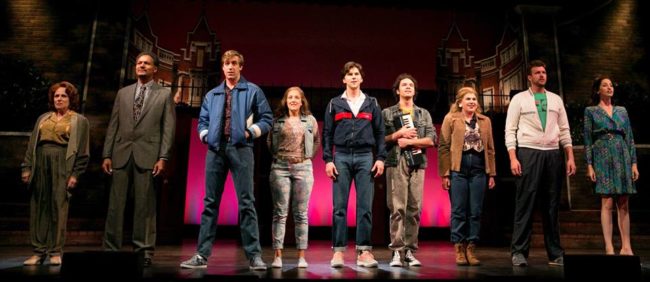 A great deal of the aforementioned period aesthetic can be sourced from Costume Designer Tristan Raines. Choosing to shy away from the more stereotypical pigeonholes of 80's fashion, Raines takes the path less traveled and chooses couture that feels like it could be from that time period but without all of the tasteless fashion choices that came along with the decade. A nod of praise is also well deserved of Lighting Designer Jimmy Lawlor for his myriad of colors used throughout the performance, but particularly in the opening scene, which bares striking relation to the show's poster art, the silhouetted couples each featured in the three main colors. Scenic Designer Paul Tate dePoo III polishes the visual appeal of the production with a marvelous and versatile set design, nuanced to perfection in detail right down to the creeping ivy along the exterior bricking.
Goldin does much more than inspire a brilliant sense of temporal displacement in the production. Following the hallmark guidelines of invigorating lost and obscure musicals with a healthy dose of modern relevance and earnest emotional integrity, as laid down and pushed forth by Co-Producing Artistic Directors Alan Ostroff and Anna Roberts Ostroff, Goldin gives the audience reason to be excited and inspired by Baby. Focusing on the three winding storylines as if they were threads on a loom being woven together to create one glorious picture, Goldin manages to captivate the audience with a trio of tales, winding them into one another fluidly and flawlessly while simultaneously keeping them sturdy in their individuality. Goldin's remarkable sense of spatial relations allows for precision in blocking and creates picturesque moments on the stage throughout the performance.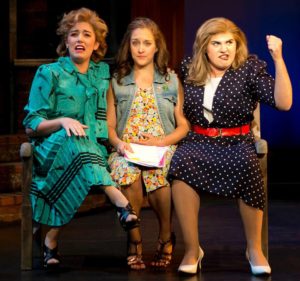 With a vocally empowered supporting ensemble (including Sam Hood Adrian, Emily Freeman, Ana Marcu, Jacob Shipley, and Alex Smith) a series of impressive character tracks serve as the show's structural comic relief in addition to adding harmonies to full company numbers like "What Could be Better?" and "Two People in Love." Emily Freeman and Ana Marcu should be praised for their crazy character work at the top of the second act during "The Ladies Singing Their Song" as they assail Lizzie with their utter insanity in this brief featured segment.
With the focus of the show being divided across three couples, there's no objective way to declare whose story it really is, particularly in this exceptionally well-balanced production where each couple's story holds sturdy as a stand-alone adventure while being intricately connected to the other two. Nick (Jon Reinhold) starts off on his journey with a spunky enthusiasm as the energetic sports coach and husband of Pam (Erin Wegner Brooks.) Delivering a strong intonation of sincerity during "At Night She Comes Home to Me", a duet shared with Danny, Reinhold showcases his deep vocal range in this song. His shining moment comes in the penultimate number of the show; this duet— "With You"— shared with Brooks, is balanced by Reinhold's voice, adding acceptance and grace to their situation.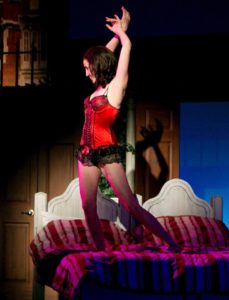 Brooks, as the overly athletic character (and the middle of the three ages of featured female couples) is quite the talent and well suited to the role. Owning the fun and sexual choreography of "Romance (Part I)" with a vixen-infused attitude, Brooks showcases the versatility of her performance scope in this routine, a stark contrast to her otherwise mild-mannered portrayal of Pam. Perpetuating her dynamic nature, Brooks blasts through "Romance (Part III)" with hurt and anguish seizing her voice for this number and extending throughout her entire physicality. Bursting with energetic inspiration, Brooks holds up her third of the all-female trio "I Want it All" with vigorous and power-driven intentions.
Alan (Erick Pinnick) and Arlene (Joy Hermalyn) represent the "middle-aged" couple whose pregnancy comes as quite the unexpected surprise (even more so than to the unwed pair of college coeds.) Pinnick provides a robust sound with his singing voice— featured most fully in "The Plaza Song"— lending a classical quality to the show's melodic soundscape. Well humored and convincing in the old-school flirtatious chemistry shared between his character and Hermalyn's, Pinnick conceives a believable character in Alan, who is not without his moments of extreme emotional upset and displacement. His solo number, "Easier to Love" presents Alan's internal monologue and earnest feelings through liberal doses of convivial humor, which are quite smartly handled by Pinnick in this song.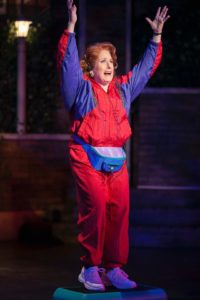 Hermalyn is the epitome of dynamic as Arlene. Starting off as a spastic and hilariously high-strung middle-aged woman attempting to stay fit, Hermalyn tracks the character's growth in exacting detail across her story arc. There is a startling fear and panic that grips Hermalyn's voice for her solo feature, "Patterns", making the song striking and exquisite in its expressive nature. "And What if We Had Loved Like That?", a duet shared with Pinnick near the show's conclusion, is a sensational display of wholehearted emotional vulnerability wherein Hermalyn is frightfully alive with an overwhelming amount of feelings.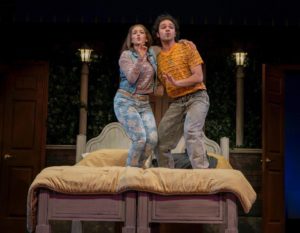 Danny (Nick DeVito) and Lizzie (Lauren Wright) run the emotional gamut throughout the performance, delivering high-intensity moments of raw emotional exposures that highlight the twisted roller coaster ride of their destined journeys. DeVito delivers a stunning rendition of "I Chose Right," a solo feature just before the end of the first act which unravels his inner emotional core in a powerful series of deep honesties. "Two People in Love", a duet shared with Wright near the end of the show, is a ferocious show-stopping song that features Wright's vocal prowess and DeVito's emotional vigor. His edgy characterization of Danny makes the conflicts that the couple undergoes that much more intriguing.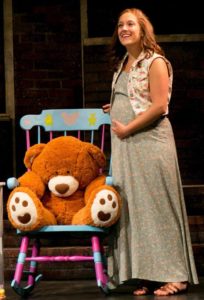 Wright guides the character of Lizzie as one might a ship lost at sea through a treacherous storm with nothing but the stars in the sky by which to navigate. Her enthusiasm and bright voice are a rewarding entity all their own to the production, in addition to the congenial chemistry that she brings to the relationship between Lizzie and Danny. Her reactions— both physically and facially— to the utter shenanigans occurring at the top of the second act during "The Ladies Singing Their Song" are truly priceless. Wright owns "The Story Goes On" with a burst of jubilant realization when the song hits its mid-point. Her powerhouse vocals erupt through the song carrying with them a collective soul of motherhood's rich history and she fully embraces the weight of what her words are carrying in that number.  
What a journey! What a ride! Start today because you don't get nine months to see this incredibly heart-warming production of Baby at Infinity Theatre Company, you only get a few short weeks, so come and enjoy it while you can!
Running Time: Approximately 2 hours and 15 minutes with one intermission
Baby plays through August 2, 2015 at Infinity Theatre Company at The Children's Theatre of Annapolis Complex— 1661 Bay Head Road in Annapolis, MD. For tickets call the box office at (877) 501-8499 or purchase them online.