"Franklin did this and Franklin did that and Franklin did some other damn thing. Franklin smote the ground and out sprang George Washington, fully grown and on his horse. Franklin then electrified him with his miraculous lightning rod and the three of them— Franklin, Washington, and the horse— conducted the entire revolution by themselves." John Adams, 1776. While Ben Franklin may stand around quoting himself and John Adams complains about it, TheatreBloom continues on in the Vote Yes: Inside Independence Hall series with an exceptionally talented actor who has returned after retiring from the stage 29 years ago. Sitting down with actor John Stevenson, we get the exclusive insider story on what it's like to play Benjamin Franklin in Toby's production of 1776.
Thank you kindly for your time. If you could give us a little introduction and backstory on what you did before you retired, we'll get this show on the road.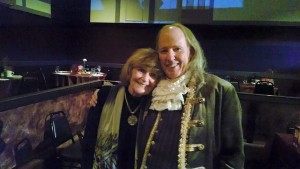 John Stevenson: I'm John Stevenson and I'm currently playing Ben Franklin in 1776 at Toby's. The last show I did was a theatre that's no longer in business— and I don't think I had anything to do with it going out of business— but I did Baby at a theatre in Rockville called Stars. And that was either in 1985 or 1986. That was the last show I had done on stage. Before that I did Sweeney Todd at Toby's, I played Sweeney. Years and years ago I was very active in theatre. I was 19 or 20 when I started doing shows. I did shows with Burn Brae Dinner Theatre. I really worked with them full time for about three or four years. I directed all of their out of town shows, well many of them. I've done many shows over the years; Guys & Dolls, Camelot, Oklahoma. One time I played Judd, one time I played Curly. I believe I counted it up one time and I've been in or directed or both— I've done 62 different musicals.
Picking my favorite musical is hard, I have many favorites. I love South Pacific. But I also have many favorite parts that I've done over the years. One of my favorites is Sweeney Todd, which of course is a terrible bad guy, but getting to do it with Toby directing me— Toby had gotten more out of me than I'd ever given in a performance and it was wonderful. I'm thrilled to be at Toby's once more. But I think my favorite role is probably King Arthur in Camelot. I've done it years and years ago. It's just such a fantastic role; there's just such heart, feeling, and emotion to it.
Now in that extensive repertoire, have you ever done 1776 before?
John: Oh, yes. I had done it first in North Carolina in summer stock at East Carolina Playhouse. I played Edward Rutledge. I also did Once Upon a Mattress during that same season. That was 1972, I believe. Then I did Burn Brae's production in 1975— that show ran for 18 months. I opened the show as Rutledge, and then I left and directed The Sound of Music in Philadelphia, then I came back as Rutledge. Then I left again and directed My Fair Lady, and then I came back and at the end of the run I did John Adams. Here at Toby's is the first time I've done Franklin. It's the first time I've been old enough.
What was it that made you decide to come out of retirement? Were you looking to play Franklin?
John: I have a wife and two kids. And at the time I wasn't really satisfied with the living that I was making in theatre and it certainly wasn't adding to the time that I could spend with my family. I retired from the stage to spend time with my family, to raise my kids and be with my wife. I had a daytime job that I've been at for 24 years, I actually retired two years ago. I've known Vickie Johnson for years and of course she works very closely with Toby. They put out an email for the show.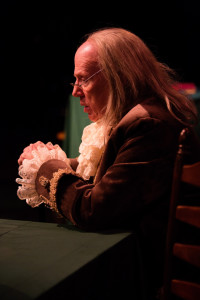 Now, you can do Benjamin Franklin with someone who is 30 years old if you do a lot of makeup for that person. But if you can get someone who is older and looks a bit more appropriate for the part, there's going to be more credibility there. So I got the email, I went out and auditioned for the part at Toby's and I was fortunate enough to get it. The reason I did it really was just to get back into theatre. I did enjoy it when I did it and I loved it for years and years. I thought it was something I could. I felt comfortable with it, I knew the show, I love working with Toby, and it's a great show. It's a wonderful show. Jeff (Jeffrey Shankle playing John Adams) is absolutely fantastic. I love working with him. And Darren (Darren McDonnell, playing John Dickenson) he's wonderful. I don't want to mention a lot of names because I'll have to mention the entire cast because they're all just wonderful and I love working with them. Many of the cast are repeat performers are Toby's and they've just been so accepting. I mean the last time I was at Toby's many of them weren't alive!
You said you've done about 62 different musicals. 1776 is technically a musical, but it's really more of a straight play with music. And the Ben Franklin is noted or remembered more for his quips and quotes than the two songs in which he has solo verses. How is this different from previous shows in which you're performed?
John: I'm featured in "But, Mr. Adams", "The Egg", and "He Plays the Violin." And it's funny because I don't dance well at all, I fake it I guess, in that number. But you're right when you say that the show is more of a play with music. The third scene is all plot and it's all talking and there isn't any music until the very end of that scene. But you know every musical has dialogue. It's all acting. If you can't act in a musical then the musical is not going to be very effective. So I don't know that it's all that different. Acting is an integral part of musical theatre. I mean, you can put a song in a play and that doesn't make it a musical, but that song still has to be good. The same goes for putting straight moments in a musical. I'm devoted, really, to good theatre. I've been fortunate to be in some really great productions in some really fine theatres.
What is it like playing a well-recognized historical figure? And what are you doing to make the character your own?
John: I think all of the characters in 1776 are historically based, of course. We actually discussed this going into rehearsals, and I think the most well-known character is actually Ben Franklin. Maybe John Adams, but only because of the recent mini-series on TV and a few really great books that have also recently been published. Jeremey (Director Jeremy Scott Blaustein) did a wonderful job in launching our research. He was into the characterization of these historic figures. He asked us all to put ourselves into their roles. He put out some incredible notes about each one of the characters and we spent a good bit of time incorporating those characteristics into what we were playing on stage without mimicking who they were. I think that was an integral part of the success of this show and Jeremy gave us that through discussion, for sure, but also through historical documentation. It really worked quite well.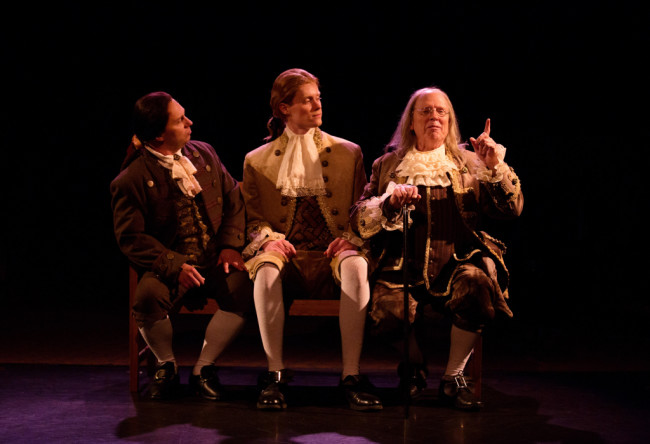 What would you say was the biggest challenge for you in taking on Ben Franklin in 1776?
John: There's a serious answer to that and there's a rather flippant answer too. After so many years away? Remembering the lines! That was the biggest challenge. It's really not easy. I mean I have to remember scores for conducting and things like that all the time, but this is very different. That's the flippant answer. I think the challenge with Franklin is to be funny when he needs to be funny, serious when he needs to be serious, and incorporate the two. Getting the right balance the character of Franklin was quite a challenge. I have to say all three— and I'm putting Toby (Artistic Director Toby Orenstein) in this because I know she was a part of it— Jeremy, Shawn (Co-Director Shawn Kettering) and Toby really helped me find the characterization for Franklin.
Doing 1776 in and of itself presents certain challenges. And at Toby's you're doing it in the round. How does performing 1776 in the intimate space that Toby's offers change the show for the audience?
John: Well I think your question has the answer in it. It's more intimate in the round than it is in a proscenium theatre. The challenge, of course, is in the set design, which is excellent. The tally board? The calendar pages that change? They have to be seen on three different sides. For the audience— they are right there next to those pages turning. The audience is in congress with us. There are times when I walk around to talk to Judge Wilson and audience members have to move their legs in order for me to get to him. It's a much more intimate involvement than you would ever have in a proscenium.
Is there a moment in the show that defines the show for you personally?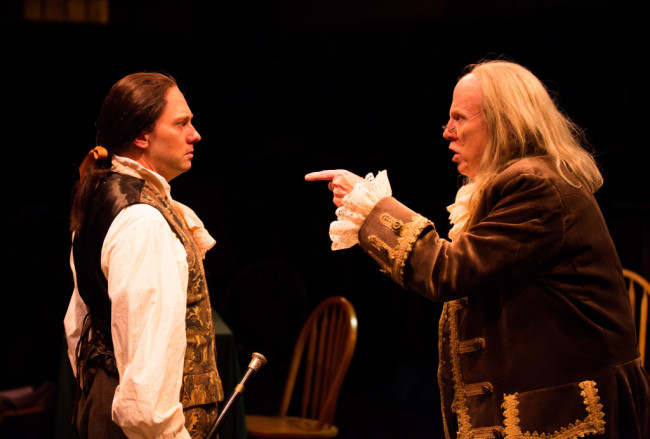 John: That defines the show for me personally. Hmm. I wouldn't say that there is a single moment. One of the defining moments is the thing that Dan Felton (playing Edward Rutledge) does. The song that Rutledge sings, and Dan does an incredible job— a fine job with it. It's the part that I played so many years ago. It's interesting to see him take it and make it his own. He does it differently than I did it, but that's to be expected, he's a different actor. But he does a fine job with it. But that I think is definitely a defining moment for the show. One of my favorite scenes is with Jeff. It's a short scene but it's when Franklin says "the slavery clause has to go." And Adams says "what are you saying, Franklin?" And Franklin tells him it's a luxury that we can't afford. There is this incredibly emotional moment that follows and I have to remind him that the issue here is independence. If we don't get independence then none of the rest of it matters. For me, I don't know that you call it a defining moment, but it's certainly an important one. It's such a wonderful scene to act with Jeff. He looks back at me, and I know he's listening. It's really good.
Do you have a Ben Franklin quote that is or isn't in the show that you could label as a favorite or maybe you're fond of?
John: Haha. You know, my wife gave me a book on opening, well two of them actually, and they have Ben Franklin quotes in them. And I've looked through them. I read a lot about Ben Franklin when I started this role. I honestly don't have a favorite quote. There are so many. How could you choose just one? I think he's such a remarkable character. If you just think about the fact that he didn't have any formal schooling after he was ten years old— all his doctorates are honorary— but look at all of his inventions.  Of course his professional life was wonderful but his personal life was sort of a disaster. There was no question that he was successful, but if you examine his personal life— he was a real philanderer. He had eight children by three different women, only one of which was his wife. So I don't know— what do you say about a man who did so many amazing things and accomplished so much, but had a disastrous personal life? You look at all his accolades, and I don't think you should look at his personal blunders. I'm old— obviously not old enough to know how it was handled at the time— but if you look at all the wonderful things he did do, he's amazing. He invented the lightning rod, which in fact is still the basis for the lightning rod that is used today; it hasn't changed.
There are people who have said that staging 1776 is a bit like putting the history channel live on stage. Do you believe there is a more relatable reason for staging this to modern audiences?
John: Sure. Absolutely. I don't mean to say that this isn't history, because it is, but it's romanticized history. Martha Jefferson never came to Philadelphia. But it's easier to kiss in person, so Peter Stone brought her to Philadelphia. The message here is that, although it happened in 1776, we still rely on this Declaration of Independence that was signed those many years ago. It's still there. It's still in writing. These people— to portray their significance of history in a play— what could be better for theatre? It's fantastic.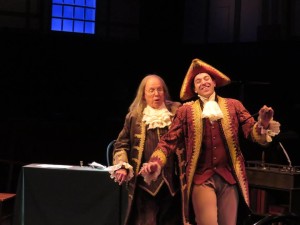 If you had to be a founding father, who would you be?
John: If I could be any one of the founding fathers…hmm. You know, in retrospect, I loved playing Rutledge years ago, not because of what he did or said— because I totally disagree with what he was saying— but I was playing Rutledge and my wife and I went down to visit some friends in South Carolina and on the drive back up we stopped at his home. I learned a great deal more about him. He was a remarkable man. In some ways, as I am now reading all these years later, he didn't believe in slavery as much as he is portrayed to in the musical. He was governor of South Carolina. His brother lived across the street, who was also governor, and they were a major part that state. But if you're asking which character founding father I'd rather be, and not real life, now that I've done John Adams, Rutledge, and seen all the others and now I'm doing Franklin, I think I'll stick with Franklin as my choice.
If you could bring the founding fathers to Toby's to see the show, what do you think they'd have to say?
John: I would hope they would say that it is an honest portrayal. I have read biographies of both Adams and Franklin. I think I can definitely say that the characters that are portrayed in 1776 at least as true as they can be in a play. If we were to portray them just as characters I think it would be from time to time a bit boring. It has to be romanticized a bit for the stage. I hope they would say we were true to the values that they were striving for in those days. I would hope that they would say that we portrayed their figures in a closely historic accurate way. I hope that they would enjoy it. I think they would love the fact that well over 200 years later we're still talking about it. As Franklin says, "Don't worry about it. The history books will clean it up."
What is the message you are hoping people will take away from seeing this show?
John: The importance of our history. A lot of people, especially people born in the United States, they gloss over history. It's not their favorite subject. So I would think that even though it is romanticized, that people would get some historical relevance out of this show.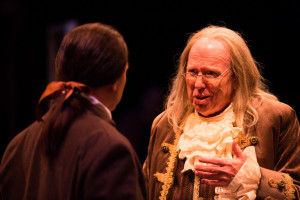 Why see 1776 at Toby's?
John: I don't want to offend any of the other theatres that exist in and around Washington, but it's because it's the best experience you can have and you can't have it anywhere else. I had a group of 85 people from my church come to see the show. One of the people in the group said after the show was over. "I haven't been to dinner theatre in a long time. This is really great. The food is great. The facility is good. The production was fantastic." And I said "Well, Toby's is still in business and it's doing great work, so why not?" The other thing is that it is so important for people to go see live theatre and when the production is good and you can have a night out for a reasonable amount of money and essentially stay in your own neighborhood, why not do it?
1776 plays through July 5, 2015 at Toby's the Dinner Theatre of Columbia— 5900 Symphony Woods Road in Columbia, MD. For tickets please call (301) 596-6161 or purchase them online.
To read the review of 1776 click here.
To read Part 1 of Inside Independence Hall: An Interview with Co-Director Jeremy Scott Blaustein, click here.
To read Part 2 of Inside Independence Hall: An Interview with David James and Matthew Hirsh, click here.
To read Part 3 of Inside Independence Hall: An Interview with Russell Silber, click here.
To read Part 4 of Inside Independence Hall: An Interview with Dan Felton, click here.
To read Part 5 of Inside Independence Hall: An Interview with Scott Harrison and Andrew Horn, click here.
To read Part 6 of Inside Independence Hall: An Interview with MaryKate Brouillet and Santina Maiolatesi, click here.
To read Part 7 of Inside Independence Hall: An Interview with Brendan McMahon, click here.