Shakespeare's Two Gentlemen of Verona is, by turns, hilarious and horrifying, and it's hard to know which of these is more daunting to a director approaching the play. Annapolis Shakespeare Company's Sally Boyett conquers both with flying colors. Her 1920's-inspired Two Gents is sharp, incisive, fearless, and polished.
Proteus and Valentine (Patrick Truler and Joel Ottenheimer) are young friends on the verge of manhood. Proteus loves Julia (Amy Pastoor), while Valentine disdains love entirely, and goes off to seek his fortune. He finds, instead, Sylvia (Laura Rocklyn), and falls in love with her. Ottenheimer's magnificent voice is warm and engaging as the likeable Valentine. His face is expressive, and his long, lanky form moves with grace. It's not hard to believe that Sylvia would fall for him.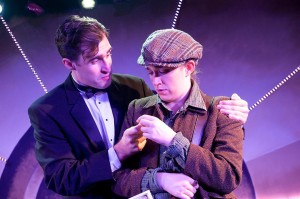 Truler grapples with the distinctly less likeable Proteus, who throws over Julia to pursue Valentine's Sylvia… and, by the play's climax, even worse. He is by turns charmingly unctuous and despicable. Truler and Ottenheimer never quite managed to capture the amiable friendship in the opening scene, but work together brilliantly in the play's passionate, tempestuous climax.  Ottenheimer is magnificently conflicted, stuck between loyalty and revulsion. 
Boyett, as the show's Director, has found some novel insights in the play's intense emotional peak, and her setting in the 1920's comes out most satisfyingly in the character of Sylvia. Shakespeare's Sylvia is remarkably progressive for the late 16th century, demanding to be taken seriously in her own right and not merely as an object of desire, but also largely under the thumb of the men in her life. Flapper-era Sylvia finds herself faced with the same social pressures, liberated from the corset but still strongly pressured to marry for social position and not for love.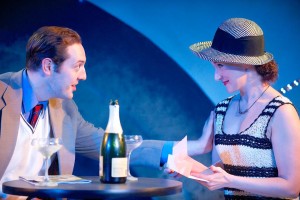 Rocklyn elegantly and expertly captures this dilemma. She's heart-rending as she fights for herself against Ottenheimer. That fight was well choreographed by Amy Pastoor, wearing a second hat in the production as Fight Choreographer. Her choreography also served Ottenheimer well in the tussle with Truhler, capturing the spirit of Valentine and Proteus, both of whom seemed to be lovers rather than fighters. The fight is beautifully awkward.
Pastoor wears two hats literally as well as figuratively. Julia goes to find Proteus, and to save her honor, dresses as a boy. (Even by the 1920's a woman alone wasn't quite the done thing.) She's horrified to learn how quickly Proteus has thrown her over for Sylvia. Pastoor and Rocklyn are utterly heartbreaking as the two women sympathize over the inconstancy of men.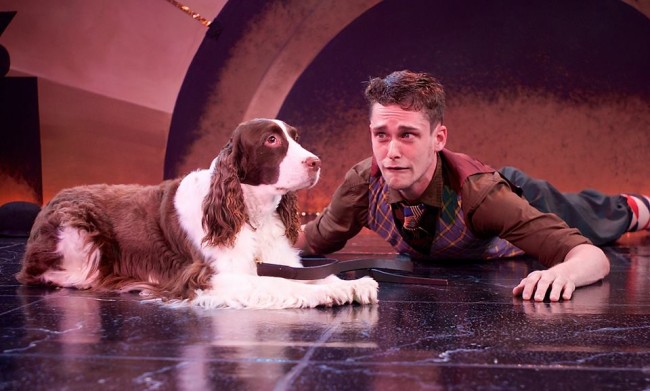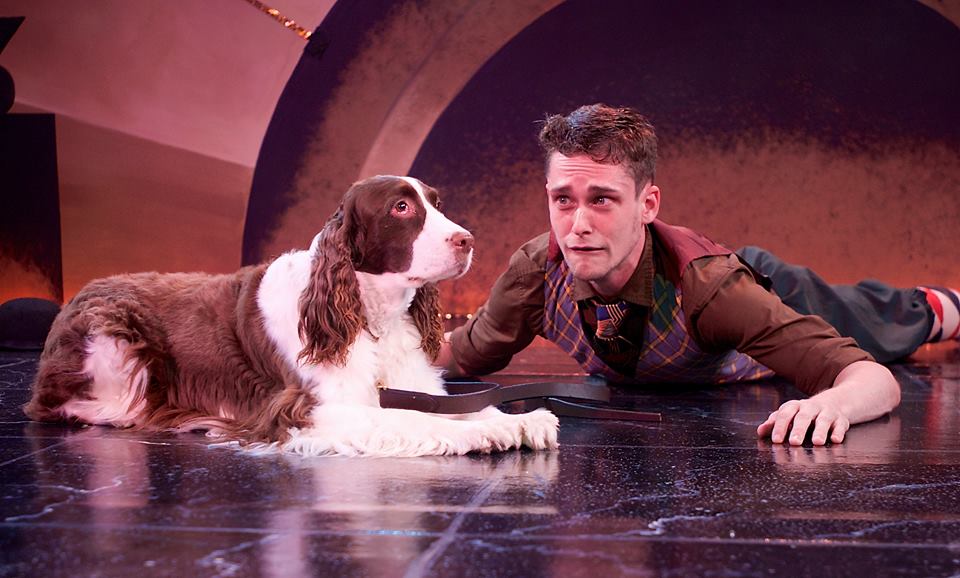 Two Gents was described in Shakespeare in Love as having "Love, and a bit with a dog". It balances its serious, tumultuous love affairs with a hilarious low-comedy plot line among the lower classes. The dog is Crabbe, played by Julie Ricketts, a sad-eyed spaniel who serves as perfect comic foil to Matthew Alan Ward's Launce. Launce's monologues about his dog are the comic highlight of the show, and Ward finds maximum hilarious effect. He also opens the second act with a silent skit inspired by Charlie Chaplin with Vaudevillian influences. He is a gifted physical comic with pitch-perfect timing. (And credit for that also belongs with Gregory Thomas Martin, Music Arranger, an integral part of that scene.) Judging from the play's program, which features two pictures of Julie, they know who everybody is coming to see. Good dog!
Straddling the two plot lines is the tremendously talented Renata Plecha, who plays Julia's servant Lucetta, and one of dangerously incompetent outlaws (who are, of course, really rich men who have fallen from grace and need only to be redeemed.) As with Proteus and Valentine, the two women don't establish the connection that makes the subsequent pitfalls more heartbreaking, but Plecha's Lucetta charms, as sweetly raunchy and delicately earthy. 
She's also a standout in the first act's big musical number, an intricate jazz dance for the entire cast. It's a lot of bodies moving in ASC's intimate theater space, and they weave expertly in and out. Brendan Edward Kennedy is another musical standout as Thurio, another of Sylvia's lovers. Thurio may be a coward, but boy can he sing. He has the approval of the Duke, her father, played by Brian Davis. Davis and Kennedy also work well together as Antonio, father of Proteus, and Pantino, his assistant, and both actors find distinctive places to take each role.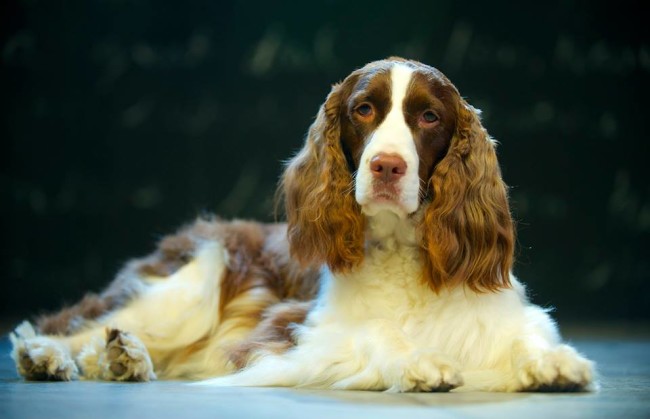 The comic sub-plot is rounded out by Brian Keith MacDonald as Speed, Valentine's much put-upon servant. MacDonald is also starring in ASC's Servant of Two Masters, being performed in rep with Two Gent., It also stars James Carpenter, who plays several roles in Two Gents. They must all have run themselves ragged over the last few months putting on not one but two tremendous comedies.
This one is in their Studio 111 space, which has been magnificently decorated by Mariana Fernandez and gorgeously lit by Adam Mendelson. The set is dominated by an enormous art deco sun, which Mendelson's lighting shifts from purple to gold to a whole rainbow of colors, following tone and mood. Martin's musical choices (mostly Gershwin) match the art-deco style and set the time period. The glossy black marble floor is also testament to Fernandez' skill, and the actors themselves stride with precision across it for impeccably timed set changes. Boyett uses her space well: the sets are simple but evocative, and the actors move all around it to give the play a constant sense of life.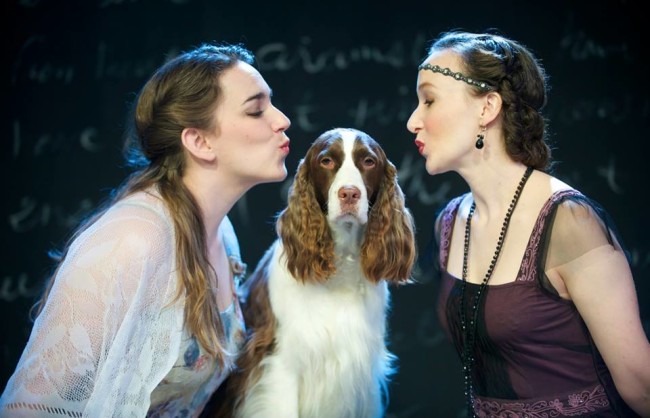 Annapolis Shakespeare Company takes their mission of "entertaining and accessible" Shakespeare seriously. Several actors play more than one part, and are kept clear by Jackie Colestock's elegant costuming, firmly grounding each character in the period and their position. And much credit goes to Nancy Krebs, the voice and dialect coach. Voices ring clearly through the space, each word enunciated while remaining true and heartfelt. Shakespeare has rarely sounded so good, and modern audiences will find their way easily into the dialogue and the story.
This is a tremendous production of a challenging play. It's hilarious and touching, exciting and unnerving, modern and true to its roots.
Running Time: 2 hours and 40 minutes with one intermission
The Two Gentlemen of Verona plays through June 28, 2015 at Annapolis Shakespeare Company at ASC's Studio— 111 Chinquapin Round Road, Suite 114 in Annapolis, MD. For tickets call the box office at (410) 415-3513 or purchase them online.