Everyone should be needed by someone and need someone; be loved by someone and love someone. We all need someone to touch our bones when we are dead. The elusively fantastical play, The Pillow Book, which has only been produced once before in New York, makes its regional premier as a co-production with Cohesion Theatre Company and Strand Theatre Company here in Baltimore. Written by Anna Moench and Directed by Jonas David Grey, this thought-provoking play of memory and transient intertwined relationships is an enlightening and mind nurturing theatrical experience.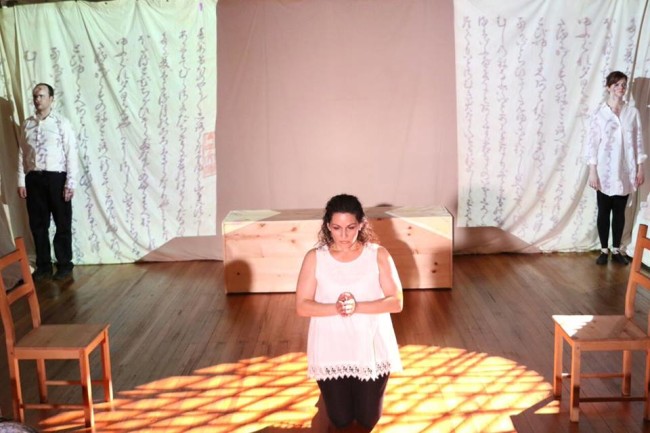 Existing without a linear narrative, though with strong connective points between the stories and the relationships crafted within the context of the play, it should be no surprise that Set Designer Alicia Stanley works outside the perimeters of traditional placement when it comes to designing the show's scenery. The play space itself is ensconced with canvas sheeting; the blank pages that become scenes from the show's title— visualizations of memory as they occur. But the actual setting in regards to decoration and furniture exist on the exterior of the canvas enclosure. A brief walk around the space before the show starts will entreat audiences to glimpses of settings, the way minutia matriculates into recollected moments from our own experiences.
Director Jonas David Grey, who has also designed the show's projections and sound, uses his vast knowledge and understanding of non-linear work to create an evocative masterpiece; both distorted and lucid in its simultaneous corporeal and ethereal existence. The sound design is an after thought that seeps into the action of the show, but is not arbitrary simply because it exists in the background of the audiences' aesthetic periphery. A single warming tone of zen windchimes sets tranquility at the beginning of the show, and more jarring sounds glimpsed and gleaned burst at crucial moments throughout; akin to the way sound can randomly yet so poignantly puncture one's dreams and memories.
Grey's projections serve a two-fold purpose; guiding the audience through the various locations— the Serengeti, an airport, a hospital, an office. But on a deeper and more symbolic level these images— many quite beautiful and striking in their own right— are emotional reflections that are tuned to the sentiment of the show. These intentional designs slide easily from one fleeting memory or moment to the next; some hyper-realistic the snowy mountain slope, and others more distorted like the black and white leaves and ancient written scrolls that appear frequently throughout.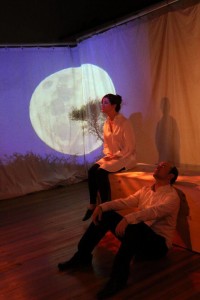 Playwright Anna Moench has penned 32 scenes of extraordinary emotion, none of which have a linear connectivity to them, all of which are interconnected in some form or another. More of a collage of fluid moments than a play, the scenes are laced with brilliant poetry, evocative imagery, and intense emotions that carries the stories between the characters. There is a great deal to digest in Moench's work and although it is confusing at times, it is a deliberate entanglement of thoughts, feelings, and sensations all designed to appease the human mind's desire for curiosity and empathy.
Grey's direction of the piece is stellar. The way the show reads to the audience speaks volumes of his ability to have a clear and concise vision of the script and parlay that into theatre on the stage. His casting choices are phenomenal; casting after all is more than half the battle when it comes to a conceptual piece that relies on the constructs outside of linearity and narrative to carry a piece to fruition. Grey keeps the mind on its toes, forever churning in a perpetual ocean of possibilities. His deliberate blocking choices of having Deb and Deborah off to a corner and present while the other plays a scene with John is the epitome of memory itself; one can live in the present moment while something of the past— be it a person or a place or event— lingers in the corner of the mind, always there just out of focus.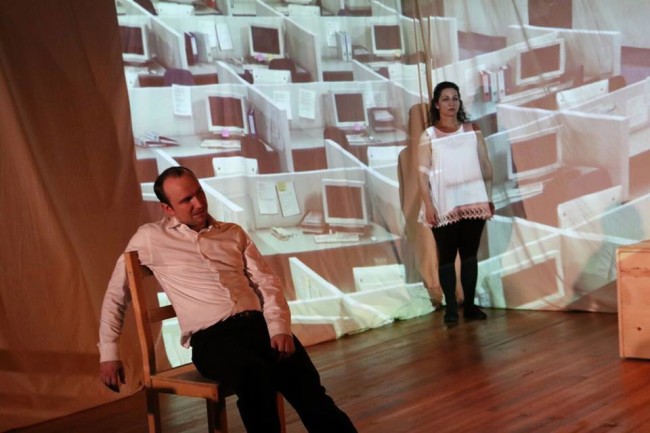 Grey's approach to the heightened emotions of the piece are sharply focued; never once do the actors tumble over the line of caricature, yet they remain expressing these deeply moving moments of joy, nostalgia, sorrow, rage, and several other feelings, with great enthusiasm that is present in the moment and yet somehow detached; much like most of the play in its shards and fragments. There is a heartbeat to the show; a pulse that rides each moment with varying tempo that Grey guides along with his expertise. There is a fluidity among the fragments; a consistency among the splinters; all of which are drawn together through Grey's succinct vision.
The performers are given a most daunting task; playing characters who exist only in the reflective memories of each other and themselves in addition to existing outside of any specific time and place other than the specific time and space in which they presently exist. There is a great deal of conjecture to be had regarding exactly how their stories fit together, who is in present time, who is in the past, who is real, who isn't real, or if there is a reality or a present and past time. Overlooking the perpetual conundrum that will indeed incite debate among theatergoers as no two people will have the same experience, the performers deliver sensational portrayals of these stories, relationships, moments, and emotions.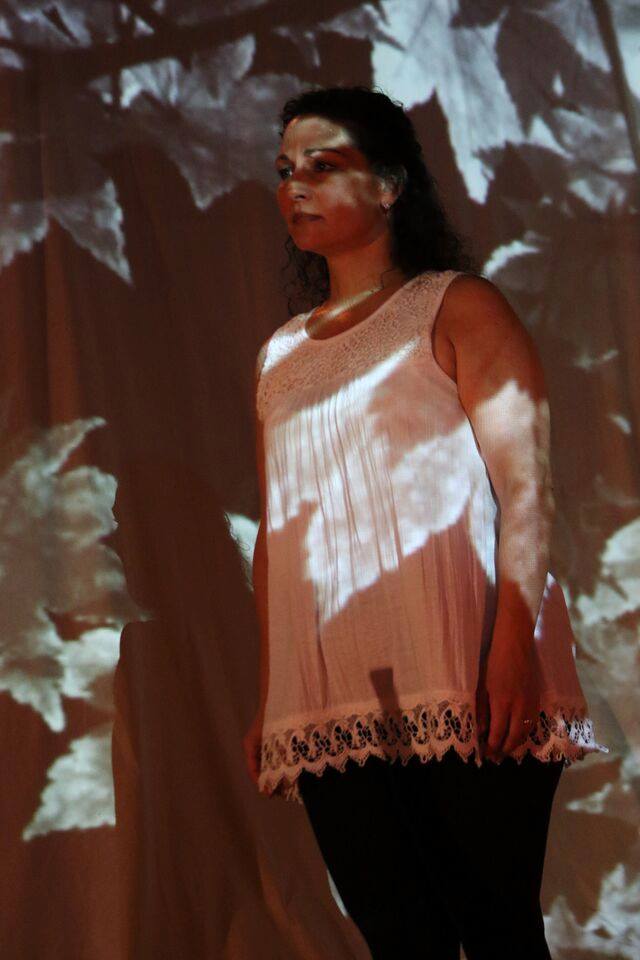 Michele Massa, credited as Deb, has a great deal of the fond canoodling scenes with John. Their saccharine intimacy and sensuality early on conceptualizes the love that is possible between two human beings. These cloyingly sweet tendencies are juxtaposed sharply against Massa's more bitter approach to things like babies and puppies. Her portrayal at times is assertive, but grounded in the moment of reality in which her Deb exists. There is a truly stirring moment wherein hysteria strikes her; hating hospitals becomes a moment of gut-wrenching fear that paralyzes her psyche as we watch her unwind in that scene.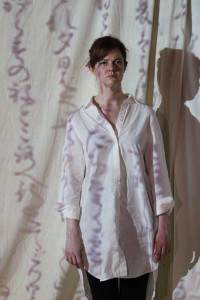 Rebecca Ellis, credited as Deborah, handles a great deal of the poetic imagery in the play, ingesting each set of nostalgic longing with a slow savoring of the pictures the words paint. There are moments of jarring and disarming emotional rawness in Ellis' recital of certain memories— the TSA explanation being the first of several that come to mind. There is a constant undercurrent of bittersweet wistfulness that sweeps along in each of her more poignantly delivered emotional expressions.
Both women do an exceptional job of making connections with John (Joseph Coracle.) Running the emotional gamut, much like the women, Coracle has expressive moments of everything imaginable. With an earnest approach to his emotional exposure, the moments of recollection— particularly when heavy moments of sorrow and grief are involved— become present somehow as if he is actively reliving them rather than just recalling them. This is a pivotal component that sets his character apart from that of Deb or Deborah; insinuating that the story is his and that the women are the influencing characters of memory and existence in his tale.
The show is filled with opportunities to question a great deal of subjects; memory, emotional, time and space, relationships. It is a thinking show, but in an extremely good sense and the cast as well as the show's director has a firm handle on how to navigate the audience into corralling their thoughts for an enjoyable experience.
Running Time: Approximately 75 minutes no intermission
The Pillow Book plays through July 12, 2015 at Cohesion Theatre Company in conjunction with Strand Theatre currently playing at Church on the Square in Canton— 1025 S.Potomac Street in Baltimore, MD. Tickets can be purchased at the door or in advance online.