Brush up your Shakespeare! You might need it to thoroughly enjoy each and every hysterical joke featured in 2nd Star Productions current performance of Kiss Me, Kate, the musical whose focus revolves around the Bard's Taming of the Shrew. Directed by Roy Hammond with Musical Direction Joe Biddle, the show is a smash-hit sensation with an extraordinarily talented cast that makes an afternoon at the theatre thoroughly enjoyable. A divine hilarity of a musical, this production is one of the best seen on the Bowie Playhouse stage this season.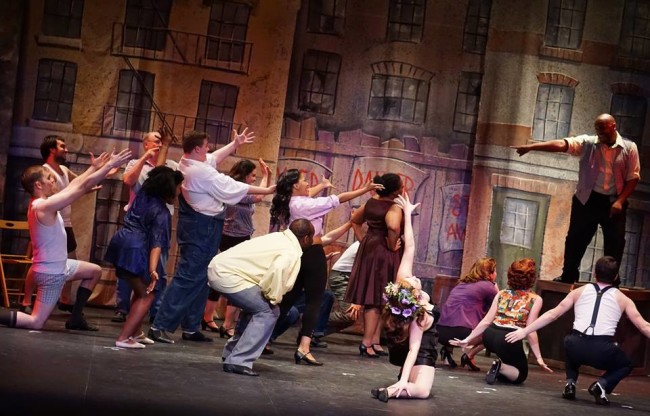 Juxtaposing two time periods like the late 1940's and the 16th century is no easy task, adding to that feat the differing styles of a backstage theatre in Baltimore and outdoor Renaissance Italy makes for a herculean effort in the scenic design department. Set Designer Jane B. Wingard rises to the challenge and succeeds with aplomb in creating the two vastly different sets that flow seamlessly in and out of one another. Elaborately painted backdrops and multi-doored set constructs soar in and out of the spacious fly tower making the scene changes not only efficient but of a Broadway quality aesthetic. Wingard adds her signature flare of colors, though most are muted albeit warm pastels, in the scenes of Padua (the meta instances in the musical.)
There is something to be said for a Costume Designer that understands the musical that they are outfitting. Linda Swann imbues the personality of each of the characters thoroughly into her design work. The dapper Bill Calhoun receives a polished suit and his Broadway doll Lois Lane has clothing that reflects her sassy yet demure attitude. Even the show's diva, Lilli Vanessi, has star-studded threads that accent her obnoxious larger-than-life demeanor. The "play-within-a-play" costumes are as impressive as those that are featured in the musical themselves, really honing in on the spangly nuances of a theatre troupes approach to Shakespeare.
Choreographer Rikki Howie Lacewell deserves the ultimate praise for her astonishing dance routines featured consistently throughout the production. "Too Darn Hot" is the show's razzle-dazzle number but Lacewell elevates the routine to new heights featuring over a dozen dance styles, all intricately timed to the fast-paced rhythm of the music. The dance-off style competition featured within the number gives the talented dancers a chance to showcase their abilities. Lacewell's work is energetic, driving the pacing of most of the larger company dance numbers. The smaller numbers, like "Tom Dick or Harry" also features a smattering of ballet spins and fancy moves that keeps the audience thoroughly entertained.
Musical Director Joe Biddle coaxes a solid sound out of the ensemble, making numbers like "Another Op'nin', Another Show," and the show's title number really resonate. Biddle has a knack for nailing down the blended harmonies in duets and quartets like "Wunderbar" and "We Open in Venice." Conducting the orchestra, and becoming a part of the meta-play, Biddle throws his hat into the ring as an earnest musician and creates a glorious balance among the orchestra so as not to overpower the non-existent microphoned singers.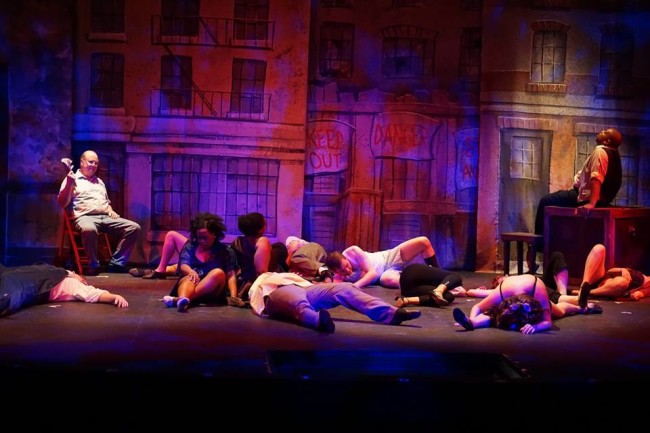 Director Roy Hammond crafts brilliance on the stage with this Shakespearean musical. His blocking for "Brush Up Your Shakespeare," working with Lacewell to keep it jaunty, accelerates that number to the highlight of the hysterical show. Hammond's understanding of comic subtlety as well as the balance of overtness when necessary, makes the show an uproarious riot that leaves the audience rolling in the aisles. Furthermore, he and Lacewell work together to bring authentic-looking chaos to the stage. Fully rehearsed and perfectly choreographed, the pell-mell pandemonium that frequently breaks out on the stage inspires a great deal of the comedy that flows through the show. Hammond's overall pacing of the show keeps the long musical feeling brisk and there is never a scene or moment that drags. A true gift to the directorial scene, Hammond brings a much needed air of experience and guidance to the cast, ensuring an exceptional performance from everyone.
Paul (James Shamberger) is a minor role that could easily be dismissed if Shamberger wasn't such a talented performer. Even when just delivering things his personality gleams through everything else that's happening on the stage. But it's "Too Darn Hot" that really gets Shamberger the notice he deserves as he leads the number— arguably the most impressive in the show— into a swinging hot good time.
Tyler Everett Adams and Stevie Mangum play Gremio/Flynt and Hortensio/Riley respectively and are featured in "Tom Dick or Harry." Their dancing is impressive as is the blended harmonies they create singing against the Lucientio/Bill Calhoun character. Other performers of note among the ensemble include Gene Valendo, who plays Pops and the Padua Priest, and Philip Gallagher who plays Harry/Baptista. Both Valendo and Gallagher take to the roles with vigor, bringing lively and quirky personalities to the characters that make various moments of their performances most memorable.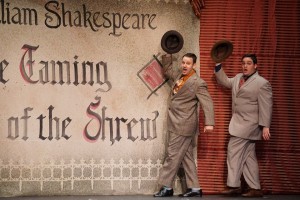 The two scene-stealing hams, Josh Hampton and Michael Iacone, who play the thug-gangsters labeled only as First and Second Man, are truly the comic crack-ups of the show. Their brutish nature is a hilarious addition to the continual chaos of the on-stage and off-stage drama, but their dense verbal asides are a nice compliment to the high-brow intellectual humor that burbles throughout. Hampton and Iacone play well against one another, giving and taking in their shared scenes and really livening up their featured number, "Brush Up Your Shakespeare." The number is arguably the funniest in the show and receives no fewer than two encore calls from the house.
General Howell (Keith Brown) is a bursting blast of military airs and upright southern principles. Despite his late arrival, Brown makes his presence felt as he thunders onto the stage in full uniformed regalia. He has a tender nurturing side that is juxtaposed delicately against his outward bristly nature. He dotes on Lilli Vanessi and fusses with Fred Graham with equal fervor and makes his regimented character pop against the other clownish classics in the show.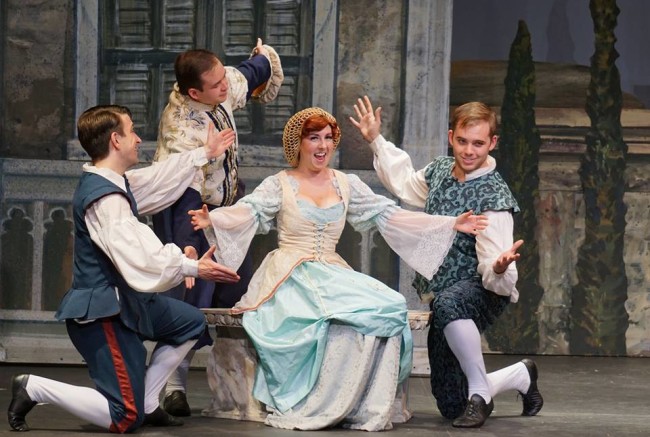 Amy Greco is a sprightly infusion of youthful exuberance as the ingenue Lois Lane, who then plays Bianca in Taming of the Shrew. Greco's voice is superb for delicate numbers like "Why Can't You Behave?" but don't be fooled by her airy portrayal, the girl has Broadway grit glistening deep inside of her and this serves her well for the big eleven o'clock number "Always True to You in my Fashion." Her duets and dance routines with Bill Calhoun (Nathan Bowen) are delightful to watch.
Bowen has a rich robust sound for all of his numbers, especially "Bianca." But it's Bowen's dancing that really wows the audience. His perfect upright spins showcase his athletic form and years of dancer's training. The cheeky personality that Bowen infuses into his portrayal of Bill Calhoun is reminiscent of any big-time gambling fool in love of the 1940's and speaks well to his understanding of a love of the game and a love of the dame.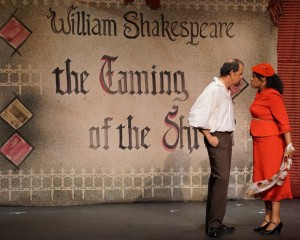 The principle characters upon which the show is constructed falls to the responsible shoulders of Brenda D. Parker and Brian Binney. Playing the diva Lilli Vanessi and the lead actor sort Fred Graham respectively (and in meta Petruchio and Kate), the pair bickers with a caustic chemistry that makes Amanda and Elyot of Coward's Private Lives look like saints. Responding to each other with whip-quick timing and explosive reactions, both Binney and Vanessi are at war for control of their shared scenes, making the action erupt with exciting energy.
Binney is bombastic and cantankerous and calamitous. Winding all of those elements in his portrayal in addition to a robust singing voice, he delivers a sound rendition of both Fred Graham and Petruchio. "I've Come to Wive it Wealthily in Padua" engages Binney in a full cardio exercise as he leaps up and down on the tables, belting at the top of his lungs and rousing the men into chorus with him. A vibrant firecracker, particularly up against Parker in their diabolically violent 'Kate and Pretruchio' scenes, Binney lives up to the role exceptionally.
Parker is an equally charged pistol in this production. Holding her own against Binney and the rest of the cast, she is dynamite, particularly when it comes to bursting into one of her diva fits. Her voice is lovely but also strong, carrying sweet numbers like "So in Love" with grace and feeling as well as more tempestuously guided ones like "I Hate Men" with blazing fury. Balancing diva with diligence, Parker radiates in the role delivering a stellar performance as the leading lady.
Running Time: 2 hours and 50 minutes with one intermission
Kiss Me, Kate plays through June 27, 2015 at 2nd Star Productions at The Bowie Playhouse in White Marsh Park— 16500 White Marsh Park Drive in Bowie, MD. For tickets call the box office at (410) 757-5700 or purchase them online.