Laugh and the world laughs with you. Cry and the world laughs harder. A tough but true learning lesson of life that all too often gets brushed by the wayside in favor of a more optimistic approach to finding the bright side of existence. The Audrey Herman Spotlighters Theatre is tackling its most evocative and poignantly moving drama to date with their current production of Burt V. Royal's Dog Sees God. A play with familiar characters in an unfamiliar setting, the loveable gang of friends is all grown up and facing the realities of adolescence late in high school. The brutal truths of bullying, homophobia, suicide, eating disorders, teen violence, drug use, underage drinking, sexual identity, and a great many other hot topics of relevant discussion come to light in this gripping and heart-wrenching performance. Under the exceptional Direction of Artistic Director Fuzz Roark, this moving piece of theatre is more than just a night's information at hand, it could change a life. Reach out and become aware.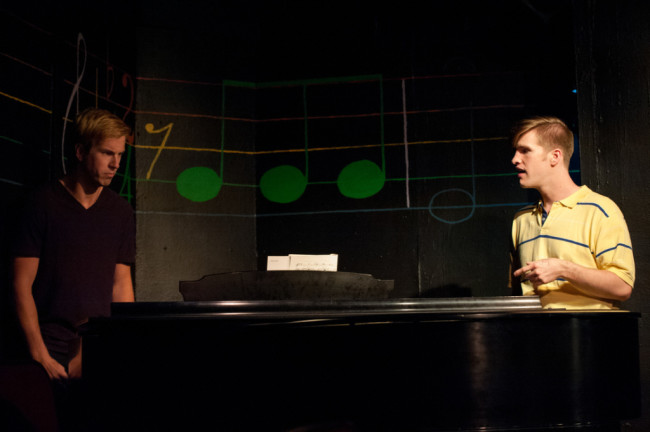 Resident Scenic Designer Alan Zemla has let the work speak for itself this go round, but that is not to say that the set is not without Zemla's decorative flare scattered liberally to the four corners of the theatre. Iconic representations that remind us fondly of Charles M. Schulz' The Peanuts are painted in vibrant primary colors here and there; a tree tangled in a kite, a familiar red dog house with a little yellow bird. But Zemla goes a step further and populates the simple scenic artistry with Easter eggs galore for those sharp enough to pick up on them. The orange lockers with the little green leaf twirling off the end of it just might be a nod to a particularly well-known holiday special featuring those great young children. And the notes of the music room are painted in the colors of the pride flag. There's even a nod to Beethoven in those notes if you're keen enough to know which symphony Zemla has painted on the wall. These little extra nods show the dedication and intricacy of Zemla's involvement to the show.
Resident Costumer Laura Nicholson has also done her best work to carry forth the iconic color schemes and patterns of the copyrighted characters so that they are visually recognizable before their spoken descriptors give them away. CB always dons a yellow top, and Tricia is suitably outfitted in green bottoms with black and white tops. Beethoven wears purple and Van's sister, the good doctor? She even gets her classic blue frilly top despite her current locale in the show. These little nods of tribute pay homage to the inspiration for the show while helping to craft the character's identities.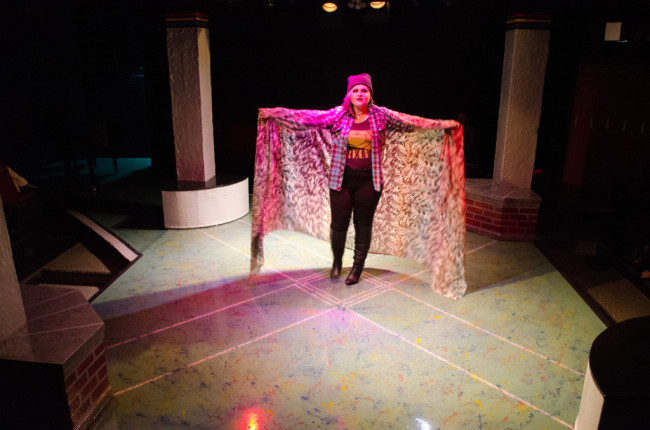 Lighting Designer Allison Ramer should also be commended for her work in the intimate Spotlighters' space. There is a particular moment when CB's Sister is expressing herself through poetic monologue and when the purple lighting strikes her at exactly the right moment it really sums up the intention behind that scene. Ramer crafts this moment and many others like it with exceptional skill; focusing dramatic spotlights on CB when he sits or stands alone addressing letters to his pen pal.
Director Fuzz Roark crafts the tension of these beautiful dramatic and touching vignettes with a well seasoned hand. The scene changes are virtually non-existent as a hidden running crew shift the minimalist scenery around like figure-skating ninjas in the brief blackouts. Roark exacts emotional fullness out of every scene by leading into it or following out of it with very specific sound cues— often riffs on The Peanuts theme— and there is even a scene where silence is the lead-in really creating a deafening echo of what has happened and what is about to happen. In addition to his vast knowledge of setting the scene, the blocking and spatial relationships between characters is flawless and augments the portrayal of these personas tenfold.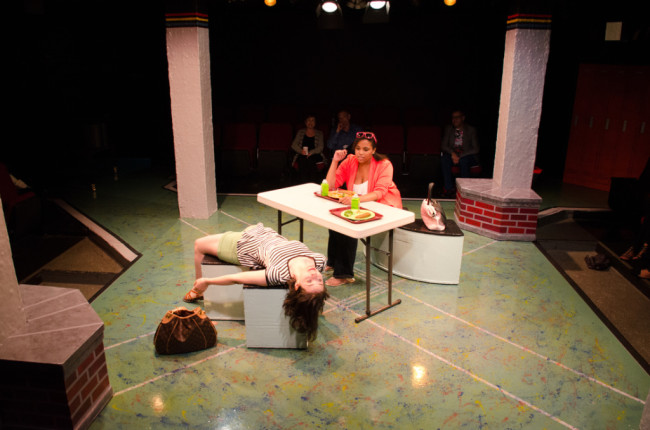 Melanie Glickman, who also plays in the show as Tricia in her peppermint patty-style green and black gear, is credited as the show's Fight Choreographer and deserves a great deal of praise for her impressive work. The revolting moments of violence in this show are aggressive— though this should not be confused with gruesome or gory— and really drive home the reality of what people who are bullied are subjected to. Without going into further detail, for fear of spoilers, the scenes in the music room really showcase Glickman's precision when it comes to this type of choreography.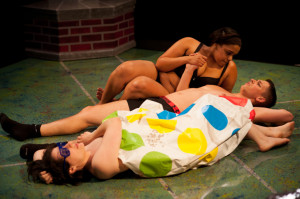 Glickman's performance as Tricia is— as the kids say— "on fleek" with Regina George or some other Queen-Bee bullying nightmare in a typical high school. Glickman epitomizes the bitchy, obnoxious, pretentious and overall grotesque "popular girl" that is portrayed all too often in films and all too readily overlooked for the damage they do in real life. Her shrill and shrieking "BFF" interactions with Marcy (April Airriona Jones) are quite realistic and do both characters a great justice. Jones, who plays the simpering and sinfully stupid version of a high school poptart, is equally engaging, particularly during the scenes in the cafeteria. Both actresses portray cruel and vicious catty girls in regards to the subjects of homophobia, eating disorders, and sexual identity confusion.
The show moves in a relatively linear fashion despite the vignette formatting; nothing out of time or place and with a clear beginning, middle, and end. Playwright Burt V. Royal tackles unimaginable issues with structural parallels crafted carefully and beautifully into the text. It is a truly harrowing and haunting piece of theatre; particularly when the violence escalates, but the reality is that this happens every day in schools across America and during the duration of the performance, an adolescent will have committed suicide— another topic discussed and dealt with in the play. Royal's format of presentation is truly ingenious and the performance that is occurring at Spotlighters does it exceptional justice.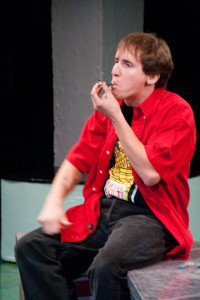 Van (Adam Michael Abruzzo) may no longer have his blanket, but that slightly timid, albeit philosophical, character is still quite recognizable in Abruzzo's portrayal. While his scenes are not as prominent as that of Matt (Dennis Binseel) or even his sister (Autumn Rocha) Abruzzo makes his presence known in the way he deflects his troubles and carefully lays into the mellow nature of being a stoner. Rocha, listed only as Van's Sister, only appears in one scene approximately midway through the performance. This, however, is one of the most engaging and compelling scenes featured in the performance.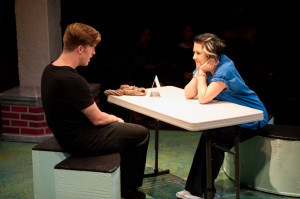 Rocha portrays the bossy and sassy psychiatrist who now finds herself in a predicament where the irony of her solicitation of mental advice is overbearingly humorous. Her physical commitment to the character's anxiety is an impressive note of the depth of development to which she's brought to the table. The roller coaster of flippant reasons she rattles off when CB asks her why she is where she is really adds a much needed element of levity to the show, but is quickly followed by a truly harrowing confession that comes from a place deep within the character's soul. The string of her honest reasoning is mentally tortured anguish, fed by desperation and fueled by confusion; another perfectly poignant outcry for the many things overlooked in today's youth culture. A truly stellar moment crafted by Rocha with CB, this scene is among the most memorable.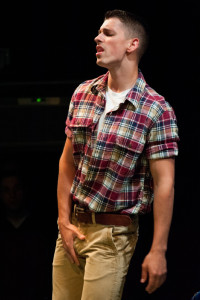 Binseel is given the distinctive honor of taking on the distorted role of supreme antagonist, borderline bully, in this show. Playing Matt, a reformed germophobe who literally used to have a cloud of filth following him around, Binseel digs into the gritty and unruly anger of this character's nature. The issue of homophobia is addressed prominently throughout the production but particularly with Binseel's character and the portrayal is horrifying. It is a masterful representation of the true ugliness that exists in misguided hatred, unnatural fear, and nasty bullying. Binseel carries his character with a sharp edge, like a firecracker perpetually waiting to erupt in someone's face, that frenetic need to start a fight always just behind the tip of his tongue. And when he does let loose later in the performance, it is so intense that it turns the stomach to watch.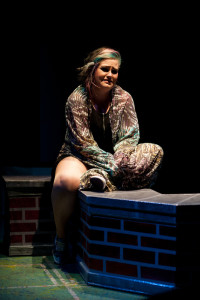 CB's Sister (Parker Bailey Steven) is an enigmatic entity all her own. While she's outwardly labeled as the character with the identity crisis, Steven brings layers and levels of other internal injustices to fruition in her portrayal. The gothic stereotype plays well on her character in the opening scene, but it's the emotionally invested monologues— both initially when discussing the transformation of a butterfly to a platypus and at the end with the conclusion of this speech parallel's against CB's grief— that make her performance truly praiseworthy. There is a raw and unforgiving nature to Steven's emotional outbursts, generally on the deep and moving side of things that really grounds her character in the pathos of quicksand; an all-consuming experience that really tears the heart apart.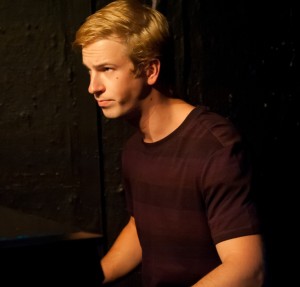 Beethoven (Reed DeLisle) is shy. Beethoven is bullied. Is Beethoven gay? DeLisle approaches the character from such a clear emotional standpoint that manifests itself both physically and emotionally plain as day all throughout his body and face. The internalized uncertainty with which he carries himself across the stage, emotionally stunted almost, withholding and terrified, reads as a tortured soul trapped in the emotional mire of his own confusion. The initial confession scene between DeLisle and CB is riddled with painstaking moments that don't tug at the heartstrings but rather rip at them with rusted claws. The skittish nature with which he continues to carry the character, perpetually manifested in an easily recognizable physical gesture and posture, does the internal monologue of Beethoven a great service.
The moments that DeLisle and Sean Dynan, playing CB, share are both mesmerizing and haunting as they undertake a true whirlwind of change. Hatred and love and confusion and bullying and sexual uncertainty all comes exploding out of their existence together and it is the scenes between them, or with one in reference to the other that really hit home hard in this performance. The scenes where they are together— particularly the first encounter in the music room— are blocked so precisely with the distance and proximity exacerbating the tension tenfold that they make the heart race.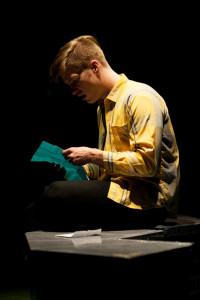 Dynan gives a phenomenal performance as the confused and questioning Blockhead we all know and love. From his very dreary opening monologue, as a letter addressed to his pen pal, right through to the conclusion of the play, he captivates the audience with every word he speaks and every gesture he makes. Careful to keep a lid on his own emotional convictions, Dynan peaks into a volcano of rage at precisely the right moment of the show really displaying the emotional arc of the character without compromising the pacing or natural flow of the story. He is harrowing in his delivery of certain monologues that really bring tears to the eyes. Watch his facial features closely, particularly in this intimate venue, as they are a rewarding tell-all to the words left unspoken by his character.
Truly a remarkable masterpiece with an intense message to be understood, this show is a must-see. It has so much to offer and so many resources to accompany it; the main message being that it does get better and that there is a way for it to do so. The show also includes a post-show discussion with the cast on the topics addressed and it completes the experience full-circle, so it is highly encouraged that you stay and experience it.
Running Time: Approximately 105 minutes with no intermission
Dog Sees God plays through June 28, 2015 at The Audrey Herman Spotlighters Theatre— 817 N. Saint Paul Street, in Baltimore, MD. For tickets call the box office at (410) 752-1225, or purchase them online.