Comedy, at last! Having lost their opening night to a power failure, the students of Montgomery College Summer Dinner Theatre came roaring back with energy, style, and verve. A Funny Thingis a very, very funny thing. Directed by Walter Ware III with Musical Direction by John Henderson, this modern reimagining of Roman farces features songs by Steven Sondheim. The opening number, "Comedy Tonight" gets off to a roaring and hilarious start, led by Gregory Atkin as Pseudolus. This parade shows off the show's very large (and glamorously, garishly costumed) cast. Atkin is larger-than-life, a fabulous stage presence, wrapped in a purple and blue robe, which he doffs to reveal a flaming yellow tunic. This is not a show for subtlety: there will be comedy tonight, every minute of it.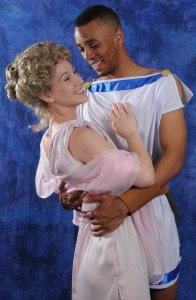 The plot revolves around two lovers, Hero and Philia, played by the splendidly talented Hasani Allen and Molly Janiga respectively. Allen has it all going on: a rich, expressive tenor plus an athletic body that he uses for high leaps and physical comedy. His appearance wearing just a towel, and carrying a stick of Old Spice, makes it clear that everyone is aware of how pretty he his. His rendition of "Love, I hear" is heartfelt and lovely.
Janiga matches him with a sweet soprano sound and a talent for the comic pose. They both sing wonderfully, even if their duets don't match up perfectly, a compliment to Sondheim's intricate insanity in even this one of his earliest works. Allen and Janiga have wonderful chemistry and the audience really wants them to be together. Together on stage their interactions are laced with charisma to make you cheer for them.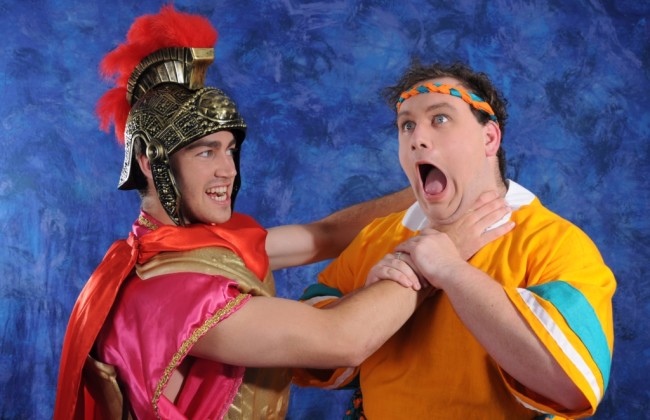 To be together, they must overcome her previous contract to Miles Gloriosus. And a glorious thing he is too, played by Thomas Brady, whose imposing bass captures the pompous, vainglorious Gloriosus. His Roman armor is spangly (the splendid work of costumer Peter Zakutansky, who truly outdoes himself all throughout the show with unimaginably creative and gorgoues costumes) and his sword is as oversized as his ego. Brady is gloriously bombastic.
The lovers' sidekicks are naturally the show's comedic servants, Pseudolus (Atkin serving as the narrative force and a character within the show's tale) and Hysterium (Harrison Smith). Smith is a gifted physical comic; he's funny with his entire body. In his oversized Harry Potter glasses he is, in a word, hysterical. The convoluted plot involves name-switches, potions, and other hare-brained schemes, as Pseudolus pretends to be Marcus Lycus (Wira Dwijati), the brothel owner who sold Philia to Gloriosus.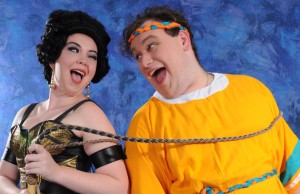 The brothel is the highlight of a spectacular set, with its light-up caryatids. (I'll leave it to you to figure out what part of a caryatid would light up. Let's just say it's slightly risque.) The entire set is magnificent. Designed by Elizabeth Jenkins McFadden and lit by Lynn Joslin, Ancient Rome is beautifully and lavishly rendered, with many nooks and crannies for hiding in, peering around, and escaping to, at multiple levels. The immense backdrop of an aqueduct grounds the Roman setting, while the light-up columns and other decorations firmly imbue it with modern theatrical sensibility. Naturally, the brother carries its share of courtesans, played by Candace Foreman, Michelle Salah, Alexandra Grimm, Valeri Hubert, and Julia Link. The latter two are especial standouts for their Geminae dance and mirror images in gossamer wings (another of Zakutansky's resplendant costume designs.) 
Young students also play the oldsters of the comedy: Senex and Domina (Jason Guerrero and Dani Ebbin), Hero's parents. Ebbin's Domina is a formidable operatic diva. Erronius (Declan Jeffries) is the wacky old neighbor who has been searching for his lost children for decades… a crucial plot point. It is important to remember that while the performers are students, they bend their vocies, physicalities, and overall portrayals to meet the ravishes of age ascribed to these characters by Sondheim.
Amidst all the confusion there are multiple brides, much running in and out of doors (props to McFadden and her crew: this stunning set can really take a beating), and a chase scene that is quite literally bananas. Director Walter Ware III has scripted in a fair number of sight gags, such as oversized props in the hands of its large and intricate ensemble. The ensemble is led by the Proteans: Francisco Borja, Solomon Parker III, and David Singleton. They are also tremendously gifted comedians, dancing hip-hop and macarena, and equally un-selfconscious and committed as Roman soldiers and cupids. The trio of Proteans all but steal the show taking over multiple roles throughout and all with completely infinite bounds of energy and exuberence.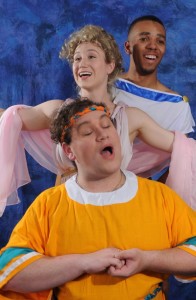 The script is very funny and the cast handles it well. Above all this is a Sondheim musical. Musical Director John Henderson conducts an orchestra of nearly 20 pieces with precision, and sound designer Christopher Baine keeps it all right in synch. Voices are always well balanced with the backstage orchestra; this is a great way to see a great musical.
A Funny Thing Happened on the Way to the Forum is part of Montgomery College's Summer Dinner Theater. The performers are all students, many of whom hope to make a career in the theater. This is a tremendous step in that career path. The technical qualities of the show are first rate, the equal of anything you'll see until they hit Broadway. The performances are all good, and there are quite a few standouts, especially Atkin, Smith, Allen, and Janiga, and I can't help but look out for the Proteans every time they're on stage (which is a lot; they had more costume changes than there were musical numbers). I look forward to a lot more great theater from all of them.
Running Time: Approximately 2 hours with one intermission
A Funny Thing Happened on the Way to the Forum plays through June 28, 2015 at the Montgomery College Summer Dinner Theatre in the Theatre Arts Building of the Rockville Campus of Montgomery College— 51 Mannakee Street in Rockville, MD. For tickets call the box office at (240) 567-7676 or purchase them online.