When it comes to underground theatre in Baltimore City, Yellow Sign Theatre Company corners the market on the notion of the undiscovered, unheard of, and unseen. Nestled into a store-front found space attached to Club Charles up on Charles Street near Station North, the company has been in existence for four years now, producing theatre and film that pays tribute to the "low-brow arts" and teaches lessons about the existence of pop-culture before Madonna. Their current production, The Business End, is written by company member Mike Jancz, and directed by company contributor Jeffrey L. Gangwisch. Sitting down for an interview with TheatreBloom, Jeffrey tells us what the project's all about and what it's like to work as a mixed-media artist inside an underground theatre company.
Thank you for taking the time to sit down with us, Jeffrey. If you could give us a brief introduction to who you are and what work you've done in the area that readers might recognize as yours, we'll get started.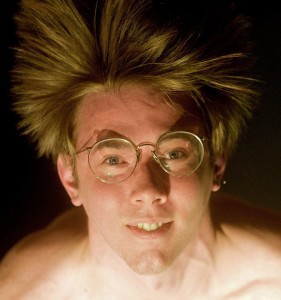 Jeffrey: Howdy. I'm Jeffrey L. Gangwisch. I'm a resident artist at the Creative Alliance at The Patterson in the Highlandtown Arts District in Baltimore. I am also a resident contributor at The Yellow Sign Theatre Company. I started working with Yellow Sign when I first came to Baltimore three years ago. I started acting there. My first role was Vinny the Vermin in The Horror Hosts of Horror, quickly followed by Professor Goudron in The System of Doctor Goudron and Professor Plume. I guess I was actually Doctor Goudron. I directed two films with them in the last two years for the 48-hour film festival and I have also worked on all of their media projects.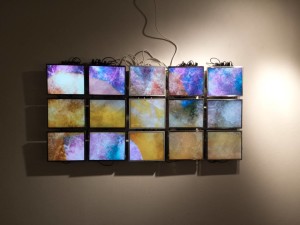 I'm a mixed media artist. At the Creative Alliance I create digital video installations. You kind of have to see them to believe them. It's exactly like it sounds. I incorporate digital video in a three-dimensional environment in a number of different ways. My most recent show was Vernal and it opened on March 20, 2015 on the Vernal Equinox. There are still bits of it up in the resident corridor at Creative Alliance if any of the readers ever made it down that way. My work will be on display in the resident corridor until I move out on July 31, 2015 at the conclusion of my residency. Vernal included four pieces. One was three large CRT televisions, and the other three pieces were four flat screens, four flat screens, and fifteen flat screens all with exposed cabling and frames. Each screen played an isolated video feed and you can synch them all entirely into the larger 3×5 units or the 2×2 units.
Now you're currently directing The Business End over at Yellow Sign, is this your directorial debut?
Jeffrey: No, in February I had my directorial debut. I adapted, produced, and directed The Symposium by Plato in Terrault Contemporary with a company that I sort of rushed together, which is basically just me, that I'm calling Sudden Satyrs. I will probably produce under that name again in the next couple of years. I hope to do Symposium every year as a Valentine's Day show.
How did you end up involved with The Business End over at Yellow Sign?
Jeffrey: So a year ago Mike Jancz wrote The Business End and knowing that I was a video artist he asked me to do the video segments for the production. There are several dream sequences and video montages that happen within the show. And he approached me originally just to do the video sequences for what was supposed to be its first run last fall. That run got canceled due to scheduling conflicts and now Mike has his own scheduling conflicts so after the success of The Symposium in February, he and Craig (Artistic Director Craig Coletta) approached me to direct this project. So that's how I got involved.
How has directing this project, in addition to doing all the video work for it, been different than directing Symposium or other things that you are used to working on?
Jeffrey: I don't collaborate well. That's my biggest stumbling block. I'm very used to working as a solo artist. Like with The Symposium, though many people went to great lengths to help me, creatively it was all me and my credit card, so we got to do whatever we wanted to do, which was whatever I wanted to do. That was much more of a performance art piece as opposed to a more traditional piece like The Business End. This project was also somebody else's baby so I had to be respectful of their wishes. And more than that, it had all been pre-cast before I showed up. There had been so much work already poured into the process because they thought they were going to produce this show last fall and they wanted to keep going with the work they'd already established. I was very restricted in what I was allowed to mess with. So that was personally a very difficult challenge but I do think the project is better for it.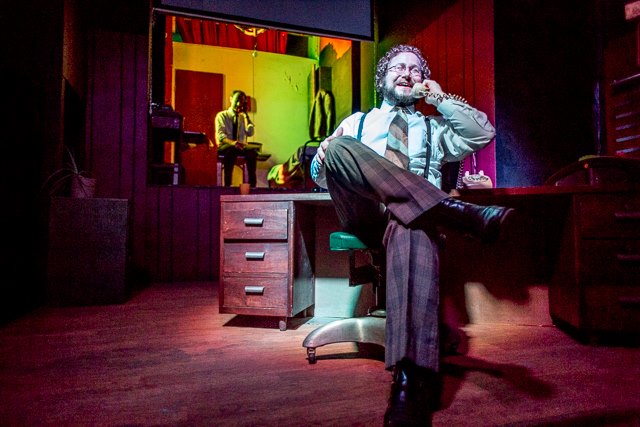 It is a big challenge stepping into someone else's work and taking it over, but I'd say that's a constant challenge for me as a solo artist coming in to work with anyone else. Respecting their desires while trying to enact my own; it's a challenge. But this project is definitely better for it. The work that Mike Jancz has put into it is wonderful, his critiques were wonderful. Together we got to a very different place than either one of us were originally imagining, but I do believe it is a much better place for the project to be as a whole.
Tell us a little bit about the show itself.
Jeffrey: It's about a young playwright in 1960's New York City who, after his successful premier, gets offered a job in Hollywood by a B-grade movie producer. And the producer gives him a poster and says "write me a screenplay based on this poster." The show is about his emotional turmoil of creating schlock instead of art.
Is that something that as an artist you can relate to? Having to create schlock instead of art?
Jeffrey: Charlie (the main character of The Business End) is in a much better position, even at his worst, than I am in my day to day when it comes to that. I think the way that I and most people in my situation deal with that "sellout" aspect of the business, is that even though the skills required for our paycheck and the skills required to make our art are the same, there is very little art in what we do for work. Personally, there is very little art in what I do for work and I need it to be that way so that I can be creative in my home life which does make professional life suffer a little bit. If were more creative and productive in my professional life I think I'd be doing a lot better in it, but I need that creativity for my art.
What is it that you hope audiences will take away from seeing The Business End? Or what do you want them to take away from seeing it?
Jeffrey: I think that Mike and I would give very different answers to that and now I'm very curious to know what Mike's answer would be. I would want people to leave entertained, really. I hope that I've provided our audiences with a good time. It's a bit of an extravaganza the way I've put this show up. There's lots of whizbangs and treats throughout that are really— titillating is the wrong word— but it's a multi-sensory experience, I think. In our program Craig wrote a really nice bit about how the dynamics betweens Charlie, the writer, and Harvey, the producer, within the play were reflected in the dynamics between Mike Jancz, the playwright, and myself, the director. I agree with that. I've definitely done a "Harvey" to this play. To some extent I'm sure Mike must feel like Charlie.
Yellow Sign Theatre Company has this hidden mission statement— because it seems to be nowhere in print— about supporting "low-brow arts." How do you think The Business End fits into that mission statement?
Jeffrey: I would say that another part of the mission of Yellow Sign is to educate people about forms of art that were pop culture before what we know pop culture as today. Something Craig Coletta is often fond of saying is "pop culture existed before you were around." So I think that this is kind of a portrait of an art form that we haven't been paying a lot of attention to as of late. We're focusing on a particular era that was caught between two much more notable eras and we tried to incorporate a lot of styles of the time that have their own identity and are very much at a changing point in American pop culture. You know it's right after the golden 50's and right before the intense hippy 60's.  So we're trying to shed light on that lost in-between era and bring about an appreciation for it.
How do you feel like you've achieved that notion of the "in-between" era that you just mentioned?
Jeffrey: Well we have an excellent costume and makeup person. Lori Travis is very well studied in the era and she has provided us with a lot of great knowledge, design work, and costumes to fit that era. The Yellow Sign Theatre has artifacts— an entire hotel filled with antiques— so we were able to furnish the space beautifully and realistically. Mike Jancz has captured the essence of the era in his dialogue. And if you don't mind me saying, we have a very excellent video artist for doing the multimedia.
Can you talk a little bit where you're drawing your inspiration from for the video work in this production?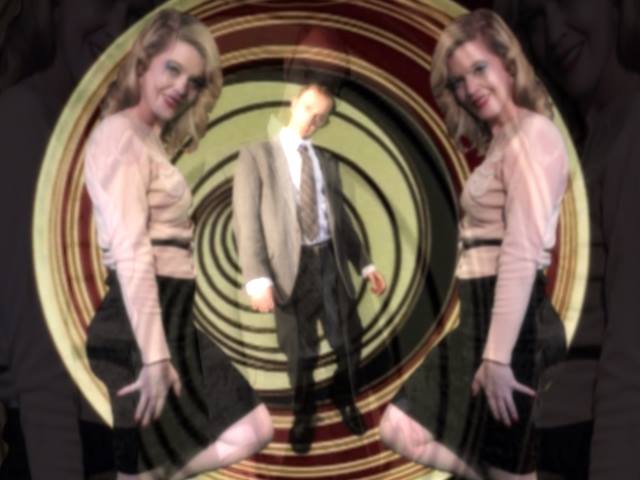 Jeffrey: I studied a lot of the film from the time. And I incorporated a lot of the film from the time in my videos. I tried to create something very original and modern that still fits the era. I watched a lot of videos from 1962.
The artwork posters that we see in the show, were they created for the performance or were they found?
Jeffrey: Two of them were designed by Patrick Storck, the actor playing Harvey. He's a graphic designer. We had two others that needed to match specific references to the script. We couldn't find ones that matched specifically the references in the script in artifacts from the era, but we did end up with two "pulp-illustrations" that we were really pleased with.
What has working on this project taught you about yourself?
Jeffrey: It taught me the power of publicity. Because all of our attention was focused on things inside the immediate production of the play, this production has no particular promotions person. I think the show's market audience has really suffered because of that. We have this great play that the audience really seems to love but we need butts in seats in a big way and I wish that we had started a promotional process a lot more intensively and a lot sooner.
Why should people come and see The Business End? Here's your chance to make-up some lost ground in the publicity and promotions department.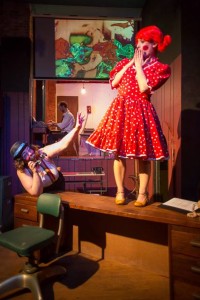 Jeffrey: It's a quick show. It's a very entertaining show. I hope that you'll leave in a good mood, happy and celebratory. On its surface it appears to be a quiet melodrama. It is not that. It is much more than that. It's fantastic. And on a side note, I'd like to mention my extreme gratitude to the Baltimore Arts and Baltimore Theatre scene, which are a little bit more separate than I'd like them to be, but they're close enough I guess. In general, this city's arts scene is unlike anywhere else I've ever lived and I've lived all over the Western Hemisphere. Never have I found such a network of dedicated and incredibly talented amateurs who all seem to do this kind of work while supporting themselves. There are so many little niches like Yellow Sign that you would just not find in any other city. I'm so grateful to be a part of Yellow Sign, I'm so grateful to be a part of Creative Alliance. I'm so grateful for Terrault Contemporary which bridged those two worlds for me by letting me do a performance theatre-art piece in an installation-style art gallery. I'm grateful to Baltimore who supports this scene and lets places like Yellow Sign do shows like The Business End.
The Business End plays through May 31, 2015 at the Yellow Sign Theatre— 1726 N. Charles Street in Baltimore, MD. Tickets are available at the door and for a discount in advance online. Advance purchases are strongly suggested as seating is limited.