When the set has five separate doors— and a pun for a title— a farce is surely in the offing. A cast of nine and five doors means many opportunities for getting away, for being clueless, and… well, a few other things you can do with doors. These five doors belong to a luxurious suite at the Palm Beach Royale Hotel, where not one but two top-grade Hollywood divas have come to raise money for the USO. Two divas who, naturally, cannot stand each other, and have to be kept as far away from each other as possible. So of course the first error in this comedy of errors puts them both in the same suite. All this and more awaits theatergoers as Prince George's Little Theatre presents Suite Surrender.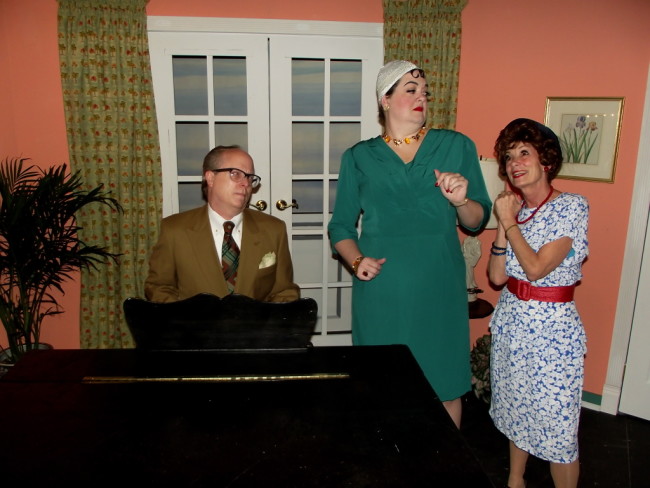 Pamela Northrop is Claudia McFadden: bold, brash, and entitled. Northrop brings a big personality and a big presence to McFadden, as well as charm and wit. She's a diva in the worst sense of the word, abusing everybody in her path, not least her assistant Pippet (Paul Berry). Pippet is her Dogsbody, handling her affairs, her flowers, her mood swings… and her actual dog Mr. Boodles (played by a hand puppet cleverly passed from hand to hand). Berry's Pippet still has a few emotional tricks up his sleeve, and they'll come out when you least expect it, to great comic effect.
Her mortal enemy is Athena Sinclair, played with verve and spirit by Karen Kellner. Sinclair comes with her own secretary,  Murphy who is played by the lovely Lea Scherini. Where McFadden is simply awful to Pippet, Sinclair is more sweet and affectionate for her aide, and is happy to help her make her match. (This is, after all, the 1940s, and what more could a girl want?) Sinclair is lusty and vivacious, and enjoys keeping her hand in the games that young lovers play.
The feud between Sinclair and McFadden creates a whirlwind of trouble for everybody around them, who struggles to keep them from realizing that they have staked out the same suite at the hotel. Hotel Manager Bernard S. Dunlap (James McDaniel) continually whisks things onto and off of the set to maintain the illusion that only one force of nature is actually in there. McDaniel is a model of poise and posture in an immaculate pinstripe suit, with its paisley tie and pink carnation, while the whole life of his hotel goes to pot around him. He's got quite the comic gift for posture and expression.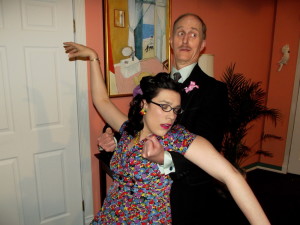 Dunlap is aided by his two bellhops, Francis and Otis (Alex Hyder and Nick Sticinski), the Rosencrantz and Guildenstern of South Florida, overwhelmed by forces far beyond their control and continually scurrying to appease them. The many doors of the set belong to them as they shuffle items in, out, around, and through, under the direction of the frazzled Dunlap.


However, the divas aren't his only problem. Offstage, there is yet more havoc from the young Navy men, who have arrived for the USO benefit. They've been brought by Mrs. Everett P. Osgood (Bernadette Arvidson), who's hosting the benefit, cheerfully and charmingly oblivious to the chaos around her and delighting in the youthful antics of the exuberant sailors. 
What could possibly be worse than having to keep two divas apart? Why, a nosy gossip columnist, supplied by Jenn Robinson's Dora Del Rio, resplendent in her bright floral-print sundress. Robinson's taut physical comedy and energetic timing round out the cast.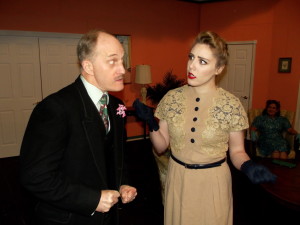 The suite is a character unto itself in the play. Not just its many doors (and their many opportunities for comic confusion) but the luxurious environment of the most desirable room in the most desirable hotel. It's well-appointed with acres of arresting salmon wall. Keith Brown's set is a thing worth fighting over (and his doors can take the pounding!). A well-constructed set is crucial in a play requiring split-second timing. Kudos to Stage Manager Kristi Gardner for keeping it all coordinated. Further acclaim should be pinned on Costumer Ashley Adams Amidon for all the aforementioned fabulous outfits that fit the time period and the personalities of the characters on which they rest. 
Suite Surrender is, for the most part, a family-friendly and tame comedy. There are a couple of jokes of a more adult nature, which are actually among the comic highlights of the piece. Director John Degnan keeps the pace sprightly. The comic energies of the actors never quite gel into a single focus, but overall it's an enjoyable night of theater.
Running Time: 90 minutes no intermission
Suite Surrender plays through May 16, 2015 at Prince George's Little Theatre at the Bowie Playhouse— 16500 White Marsh Park Drive in Bowie, MD. For tickets call the box office at 301-937-7458 or purchase them online.