A genuine princess is exceedingly rare. A genuine fairytale is exceptionally brilliant. Having both together on one stage for a musical is nothing short of a miracle. The Saint Gabriel Miracle Players have found such a miracle with the tremendously talented cast and design team of their current production of Once Upon a Mattress. A rare treat to have such a silly story told with such stellar vocal quality; the music and lyrics of Mary Rodgers and Marshall Barer come to whimsical fruition against Jay Thompson and Dean Fuller's book— there's a happily ever after waiting for theatergoers who enjoy sparkling singers and gorgeous costumes. Directed by Kevin James Logan with Musical Direction by TJ Lukacsina, an enchanted evening of high comedic excitement is bursting right off the castle parapets and into the moat!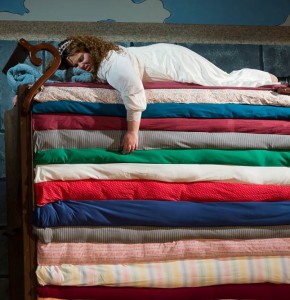 Scenically there is no finer way to start a fairytale than inside a castle. Set Designer Elizabeth Tane Kanner gets the brick walls and vibrant stained glass windows set to look like they've popped up from the pages of an old storybook. The simplistic hand painted brick design gives the scene a timeless look of classic fairytale ambience and really creates the perfect backdrop on which this fractured fairytale can play. The 20 mattresses are especially pleasing— first in being that there are actually 20 separate, countable different mattresses— and that they are each a unique and quirky pattern of different colored fabric. This clever design choice is a subtle nod to the eclectic nature of the show's storyline.
Costume Designer Sharon Byrd wears the crown of design in this production. The costumes are amazing, breathtaking in their beauty, bold in the their vibrancy, and utterly suitable for all of the chimerical characters within the pages of this zany tale. Each character is crafted with a specific look, whether it is Dauntless' way too shiny purple and gold poofy-panted suit, or Larkin's lovely flowing gowns. Byrd takes it a step further and epitomizes evil in Queen Aggravain's couture; purple purples and glittering blacks hint at a terrifying Maleficent-esque notion early on in the performance and when the second act rises, the horns are popping straight off her head.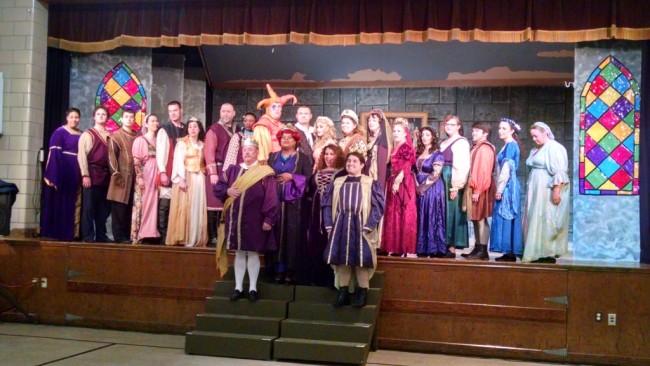 A solid core of talented principal performers really grounds the show and makes the performance well worth attending. Actors make focused and deliberate choices throughout the production that hones in on the nuances of the show's many funnier moments. Dance Captains Tommy Malek and Kristy Wiggins lead the ensemble through some labor intensive routines that lack polish and refinement, but are still highly entertaining do to their enthusiastic nature and overall effort to keep numbers like the "Spanish Panic" spinning like a whirling dervish upright on its feet. Noteworthy soloist Tracy Davidson gives the audience a taste of her extreme soprano sound late in the show as she attempts to swoon a slumbering princess to sleep; both unearthly and powerful of sound, Davidson deserves praise for sustaining those high notes in tune.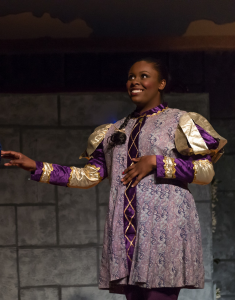 Listed only a simple Minstrel, Renata Hammond is the perfect voice to open the production. As delicately dainty as the princess she's singing about in "Prologue- Many Moons", Hammond could easily pass for any Disney-dove princess as she drifts down to dreamland on this melody. Don't mistake such a florid description of her initial performance, however, Hammond has earnest power behind such mellifluous melodies. Hammond has a sassy tongue-in-cheek wit about her portrayal of the strum-happy minstrel character and quips zippy zingers with impeccable timing throughout the performance. Her vocal prowess guides trio numbers like "The Minstrel, Jester, and I" a three-part shenanigan-loaded song that also features the Jester (Joey Rolandelli) and King Sextiums (Wayne Ivusich.)
Though completely silent, due to an ancient curse cast upon him, Ivusich's character is completely memorable and thoroughly enjoyable. Relying heavily on physical humor, Ivusich pulls largely animated faces and gestures into his routines the results of which are utterly hilarious. His gestures and charade routines featured during "Man to Man Talk" are an uproarious smattering of mime work that deserves a royal seal of approval. Watch closely for his pseudo Zen 'stork' pose during this number, it's sure to have you off-balance with laughter.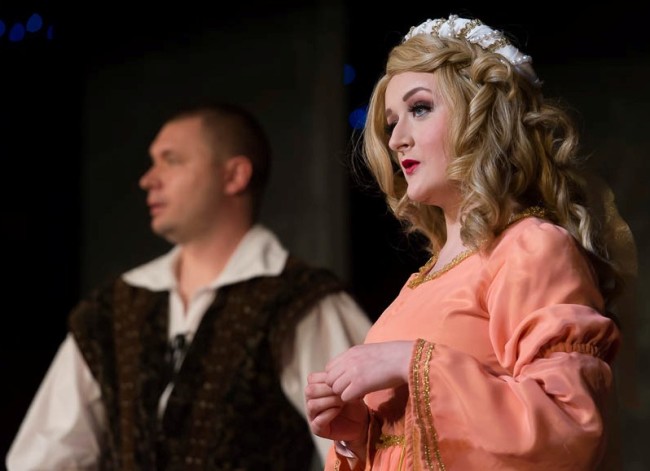 Where there's a fairytale there's a gooey glistening pair of love struck ingénues pining away for one another, and naturally this production is no exception. Lady Larken (Patricia Hengen) and Sir Harry (Greg Quinn) meet such a description and defy it with their moody, broody blow-up that sets a side-plot in motion. Hengen's voice is sublime; smooth as glass and resplendent, filled to the brim with the classical trained sound of an opera soprano. Quinn's voice is robust; a rich timbre that intones chivalry into his songs when singing, literally creating the image of a knight in his voice. Their initial duet "In a Little While" and it's brief reprise are glorious, with voices carrying their ardent love from smiling face to soulful heart. Hengen should also be commended for her comic timing and melodramatic wit. Particularly later in the performance when things have begun to sour between her character and Quinn's character. The pair of performers is perfect for the lovely duo of lovestruck lovebirds.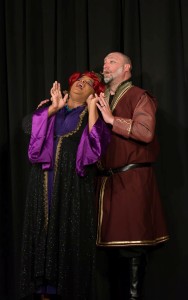 Evil never looked so delicious as it does on the exceptional Kay-Megan Washington in the role of Queen Aggravain. With velvety oil for a speaking voice and a temperament that exudes a cunning mind, Washington is the perfect fit for this nefarious, albeit comic, villainess. The air of haughty import with which she carries the character is divine, and her moments of outrage are nothing short of every iconic Disney Villain bursting at their wits end when their bumbling idiot sidekicks bunk up a job for the umpteenth time. Washington's Queen is no exception when it comes to having a bungling sidekick, though he comes with his own set of quirks worth praising. Jim Gross, as the underling Wizard pulls animated facial expressions in response to her and sycophantically dotes on her every chance he gets. It's Washington's solo "Sensitivity" that shows her coffin to the nail as far as villainous musical numbers go. Like an exquisite eel slithering through the song her voice adapts an oily lilt and drips over every phrase until the song's completion. Truly maniacal and hilariously hyper-animated, Washington is over the top and will be loved for every minute of her performance.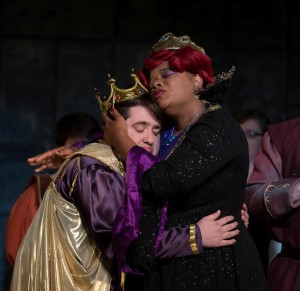 It seems impossible to think that a silent king and a conniving queen could conceive such a simpering simpleton for a son, and yet Prince Dauntless (Tommy Malek) lays in waiting for a princess to come to his rescue. "Opening For a Princess" gives the audience a taste of Malek's character commitment as well as his vocal abilities. With a strong sustain in this number juxtaposed against his comic moodiness, it is easy to say early on that Malek's performance will delight throughout. Completely gob smacked in love with the wondrously strange Princess Winnifred (Amy E. Haynes) during "Song of Love" Malek is seized by a wave of giddy zany desperation to bellow his feelings to everyone that's listening. With a strong hand on the patter and rhythm of the number, he jaunty flounces with way through this huge show-stopping act one finale number.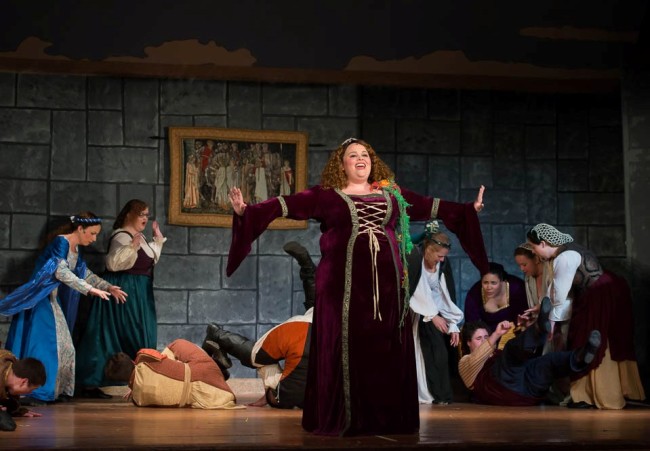 Malek and Haynes have a fantastically awkward chemistry perfect for the characters as they are written. His simplicity and her eccentricity pair together like two peas mashed into potatoes and covered in gravy; delicious if a little funny to behold. Haynes lives up to the character's notion of marching to her own drum…through the swamp. And into the moat. With a powerful set of pipes that blast home her big comic number "I'm Shy" there is definitely no doubting that Haynes is the perfect casting choice for the role. A hefty dose of confidence with a bold belt to boot, the number becomes more than just the iconic song that Carol Burnett popularized with Haynes at the helm. Carrying the surging spirit of the swamp in her voice for "The Swamps of Home", Haynes is a surefire blast of impressive acting and acting all throughout the performance.
Well worth supporting the talent featured within, as well as the glorious costumes and set, this adorable fluffy fun musical is a night of mindlessly enjoyable entertainment that will restore fairytale logic and happily ever afters to anyone that may currently be in doubt that such miracles do exist.   
Running Time: Approximately 2 hours and 45 minutes with one intermission
Once Upon a Mattress plays through May 17, 2015 at The Saint Gabriel Miracle Players— 6946 Dogwood Road in Baltimore, MD. Tickets can be purchased at the door or with an advanced reservation request online.