2 Across, by Jerry Mayer of such writing fame as M*A*S*H and All in the Family, is an enjoyable evening of theatre at the Theater Project Beltsville, considering the subject you are watching is two commuters doing a crossword puzzle. Nestled in the corner of a strip mall among five storefront churches, Abiding Presence Lutheran Church offers no pretensions of being a theater. There are no sets, no light cues, and you nearly sit in the actors' laps. This intimacy instead forces a focus on the acted word. But for that the actors deliver.
Rachel Zirkin Duda plays the character of order in Janet, a psychologist and finisher of crossword puzzles. Her comic timing is sharp and her emotional transitions as her rough corners become exposed are wonderfully natural.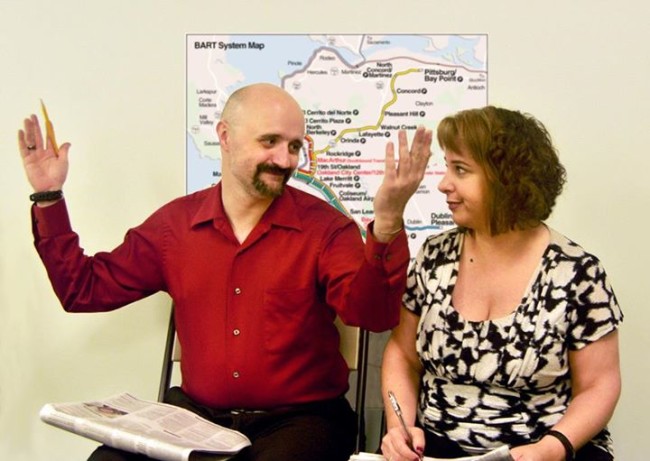 Mike Larson, as Josh, is the more free flowing character and starter of crossword puzzles. Both actor and character appear comfortable in their skin, and he too is comically gifted. His line about having been an actor playing in a storefront theater to a miniscule audience nearly brought down the small house.
Together they exhibit good chemistry, covering for each other by turning their long scripts into the realistic patter and pauses of strangers holding conversation. All together they demonstrate that with just good acting and good writing, you won't have a spectacle, but you can still have decent theater. 3.5 stars.
Running time: 85 minutes with no intermission.
 2 Across runs May 8, 9, 15, and 16 at 8pm and May 10 at 2pm, 2015 at Theater Project Beltsville at the Abiding Presence Lutheran Church— 10774 Rhode Island Avenue in Beltsville, MD. Tickets are available for purchase at the door.