Baltimore is a city full of charm and surprises. And one of the ever-present surprises is that just around the corner there is another theatre company popping up and doing something fascinating. Just Off Broadway Baltimore should be no exception to that intriguing surprise as they are a community theatre that falls under the heading of "for theatre people by theatre people." Founded in 2011 and producing since 2012, the company is now opening their 7th production, Daddy's Dyin' Who's Got the Will? In an interview exclusive, TheatreBloom sits down with one of the five founders of the company, Jason Crawford Samios-Uy, to talk about their presence in the community as well as their upcoming production.
Welcome, Jason, and thanks for taking the time to sit with TheatreBloom for this interview. If you could give us a little introduction as to who you are and what you've done in the Baltimore theatre community in the last year or so we'll get started.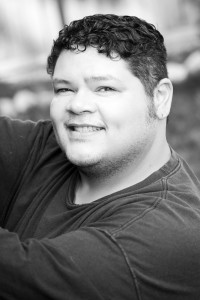 Jason Crawford Samios-Uy: My name is Jason Crawford Samios-Uy and I am a Co-Founder and somewhat Artistic Director of Just Off Broadway, which is a Baltimore-based community theatre. It's a very small theatre based out of a church. Actually, we have two locations; two sister churches that we work out of during the year, both on the east side of Baltimore. I've been working in and around Baltimore for the last 15 years or so, Cockpit in Court, Fells Point Corner Theatre, I've done some stuff down at Vagabonds, and other small church theatres here and there, you know, at places similar to St. Demetrios Suburban Players.
Tell us a little bit more about the company itself.
Jason: So Just Off Broadway was started, now again I'm a Co-Founder, but it was started by five of us, myself, Patrick Jay Golden, Theresa Bonvegna, Micheal Mathis, and Chris Thomas. At the time we were all involved in Baltimore area community theatres. We decided to branch out because, unfortunate or fortunate as it is, there is a certain amount of "cliqueiness" that happens in theatre. The same people come year after year after year, sometimes it's good and sometimes it's not so good. That's not just community theatre, that's professional theatre, all theatre really, that's just the nature of the business.
So we kind of wanted to open up a theatre, or start a theatre, where everybody had a chance to do everything that they wanted, or at least had the opportunity to try what they wanted to try. If an actor wanted to director or wanted to stage manage or even just wanted to be on crew, they would have the opportunity to do that and vice versa. If a crew member said "I think I would like to try and act or sing and dance one day" they would have the opportunity to do it, within reason of course. So we open it up to anybody. There is never a set director until we figure out what show we're doing. We want to give everyone the opportunity to say "Hey, I think I'd like to try and do this." Everybody can dip their fingers into every aspect of what it is to do a production.
We have a lot of great people who really come out to help us do all this stuff. We have a lot of veterans and we have a lot of newbies. That's what we want: newbies. The Baltimore theatre scene is really picking up. It always has been, but I mean now with TheatreBloom and The Bad Oracle, everyone is really starting to get noticed, we're really picking up all around the area. And there are all these new people coming in that have never done theatre before but they have this hidden talent that's just so amazing to see, and it's so excited— I'm sorry if I'm getting excited about this—but it's just really exciting! I mean I had a friend whose very first show was with us. She'd never been on stage before. She knocked it out of the ball park. She didn't even know she could do it. She was in Agatha Christie's And Then There Were None, and it was just so incredible we were all just in awe saying "where did that come from?"
Those are the kind of acting and performance discoveries that you live for. I'm sure it's been said before, but we're a theatre that's for actors by actors. I think our nickname is actually "The Hobo Theatre Company." We have an invisible shoe-string budget. We repurpose the hell out of things. We have amazing talented people that can take the same set and make it work in a different way for different shows, it's really great.
Does Just Off Broadway run a regular season or what's your production schedule like?
Jason: We do two shows a year. We do a straight play in the spring and we do a musical in the fall. That's why we have two different venues. The Jerusalem Evangelical Lutheran Church is a smaller space. The hall is actually pretty big but the stage is smaller, so it's perfect for smaller plays, like the Agatha Christie murder mysteries or the show we're getting ready to open. Our musicals are done at a sister church, Epiphany Lutheran Church (The God is Love Church.) Epiphany has a huge stage and we do the musicals there in the fall/winter.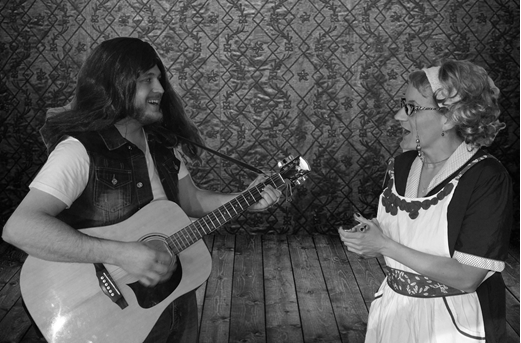 Daddy's Dyin' Who's Got the Will is our seventh show. We've done three plays and four musicals because when we started in the spring of 2012 we opened with a musical revue called Give My Regards…A Historical Broadway Musical Revue. Then we did Little Shop of Horrors. 2013 saw us produce Agatha Christie's And Then There Were None in the spring and our fall musical was Godspell. Last year we did Love, Sex, and the I.R.S. and for our musical we did something a little different. We produced an original holiday musical revue which we called All I Want For Christmas. Now we're starting 2015 with Daddy's Dyin' and we're still working on figuring out what our fall musical will be.
Now how did you settle on Daddy's Dyin' Who's Got the Will?
Jason: We like to think more technically when we're picking a show. There are shows we would love to do, like we'd love to do Sunset Boulevard. But there's no way technically that we could pull that off with the budget and spacing we currently have. So we want to prevent doing impossible things that just won't do the piece justice. So we take a look at what we have, we look at our stage, and we sort of base it on previous productions. What has worked in that space, what have our people enjoyed doing, what have our audiences enjoyed seeing. And we always surprise ourselves with what comes out. We ask questions— what kind of people pool are we going to get? Will we get repeat people will we get new people? And we surprise ourselves when we get large groups of newbies every time.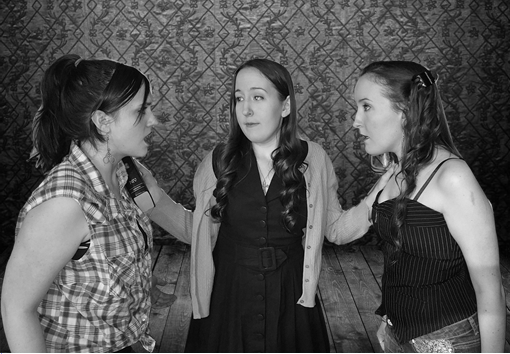 So we look at the technical side of things first. We consider the size of the cast too. Even though we have a bigger space for musicals, we're obviously not going to mount Les Miserables. With Daddy's Dyin' we looked at the cast size for sure. It's got eight characters. Well, it has seven characters, but Daddy is sort of in and out, so it's technically eight characters, and that was perfect for the space at Jerusalem Evangelical. We like to pick ensemble pieces for our plays. We love ensembles because there are no particular leads; you're not just a supporting character, or a character who comes on for a couple lines and then leaves. We like everyone to be on stage having a good time.
We've toyed around with the idea in an upcoming season of doing a production of Steel Magnolias. But we'd have to do one weekend of Steel Magnolias followed by another weekend of 12 Angry Men, to offset having only women in one show. So we have plans and thoughts that always focus on keeping our people in an ensemble setting.
If you had to sum up an official mission statement for Just Off Broadway, what would you say it would be?
Jason: There is a place for everybody at our theatre. There is a place for everybody to try all aspects of theatre. We've been pretty successful with that. People have stepped out of their comfort zones, tried new things, and found their hidden talents.
It's really wonderful that you guys have this opportunity for people who want to try their hand at theatre and various aspects of theatre as Baltimore is currently populated with a lot of "advanced/established" companies. You guys are a little like the "theatre for beginners company."
Jason: Exactly. You've got to start somewhere. You might as well start with us. Just Off Broadway: You've got to start somewhere, you might as well start at Just Off Broadway. I think I like that. Give us a try. Com see our show!
Daddy's Dyin' Who's Got the Will plays through May 31, 2015 at Just Off Broadway Baltimore at the Jerusalem Evangelical Lutheran Church— 4605 Belair Road in Baltimore, MD. Tickets can be reserved in advance by sending an email with the subject line "TICKETS" to justoffbroadwaymd@gmail.com or purchased at the door. At this time Just Off Broadway accepts cash payments only.