"Live to inspire and to be inspired." A powerful quote that surfaced in one of five incredible plays performed at the secondary night of the Young Playwrights' Theater's New Play Festival on Tuesday night April 21, 2015. The second of three nights for this festival featured five different plays from the middle school category of plays. YPT, as they're known around the district, is celebrating its 20th year of supporting young writers in and around Washington DC with this incredible opportunity. With around 2,000 students— 1,000 of which submit plays to the festival each year— the YPT board goes through each one until they have narrowed it down to 32 finalists. These 32 young playwrights have their plays published in an anthology for the year and become officially published playwrights. Of those 32, 15 are selected for production with professional area actors, directors, stage managers, and dramaturgs and receive a full production with setting, props, and costumes during the festival.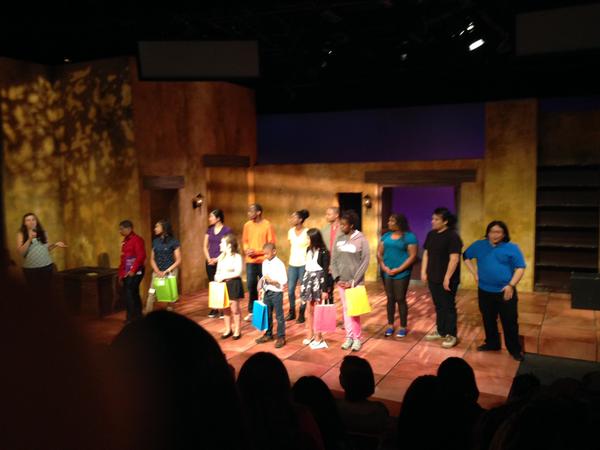 Tuesday night featured the middle school group of playwrights, which covered time-traveling comedies, to touching stories of following your dreams with a little bit of everything in-between. The caliber of work that is coming forth from the YPT program is astounding; many of the plays having great messages that they send to their audiences. The plays are one-acts; but don't let their length fool you. Each play is complete and has fluid story movement that is beyond impressive, especially when you learn just how young some of the playwrights are.
The first play featured 8th Grader Nanichi Vargas of Lincoln Multicultural Middle School. Her play, entitled Mrs. Chang, was an inspirational and humorous tale that featured time travel. When Vargas presented her play, her word of advice to other students wanting to write plays was to "Write for a purpose, or just be creative." The play featured clearly defined characters with familial disputes as the main character, Mrs. Chang (played by KyoSin Kang) was much older and lived alone and did not wish to be placed in an old folks home, despite her daughter, Ling (Kashayna Johnson) wishing to do so for her mother's safety. Vargas had a fascinating approach to the main character, giving her two distinct voices— one she used to address characters in the play, and one that she used to address the audience with, both which her very fiery and really hilarious.
The second play was written by 8th Grader Rose Duane of Swanson Middle School. Entitled All the World's a Stage, the play had absolutely nothing to do with Shakespeare, but was one of the funniest examples of meta-theatre (play-within-a-play) to surface on any stage in the DC area in quite some time. Duane spoke before presenting her play stating that she was uninspired so she wrote a play about the struggle of finding inspiration. The result was a hysterically accurate portrayal of the real-life struggle that every professional writer— or really any human being trying to be creative— goes through at some point in the life. Duane personified the notion of Procrastination (played by Kenya D. Morris) and really hit the head on the nail in regards to mastering sarcasm and sarcastic timing. Duane also included a series of pop cultural references, to Cheers, Twilight, and Gilligan's Island, that were very impressive and funny as well.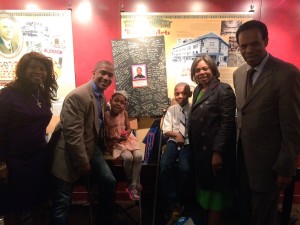 The third play, written by 3rd Grader Evan Alston (the play was deemed to be just a little too scary for the elementary school round of performances) of the Elsie Whitlow Stokes Public Charter School, is a classic fairytale style story with a modern pop twist. Alston said that it might surprise the audience that he was writing a play about characters much older than him, as his primary character appeared to be an older teenager. He also stated that he hoped in the future YPT is even more amazing for kids because he had such a great opportunity with them. The play, entitled Losxy Docxy, has an old wives tale style beginning where a boy cannot go outside after dark because there is a monster— the title of the play— that snatches people with locks. The boy's father was snatched and the mother now cautions against her son falling into the same peril. Alston's writing is deceptively clever as the underlying issue is that Losxy Docxy was bullied, thus turning evil— and really works as a strong social message that bullying regardless the reason, is never okay.
The fourth play featured in the evening was penned by 6th Grader Vanessa Iglesias from The Lab School of Washington. A wildly satirical political battle for the ruler of all worlds, as the title— The Ruler of All Worlds— might suggest, Iglesias' play took fantasy characters of Joe the Snowman (played by Chema Pineda-Fernandez) and Emily the Fairy (KyoSin Kang) and put them into an electorial race to rule all worlds. Iglesias hoped that the audience would think her play was funny and laugh, and her words of wisdom to future young playwrights were to "never give up and to use your imagination." Having a vivid imagination for such a fantasy-based piece of work, Iglesias got exactly what she was hoping for as the audience laughed at her very funny play, enjoying thoroughly the election process, and the results for the winner. A crucial reminder was slipped into the end that being the president or ruler of anything comes with a lot of work and responsibility and isn't all just fun and games.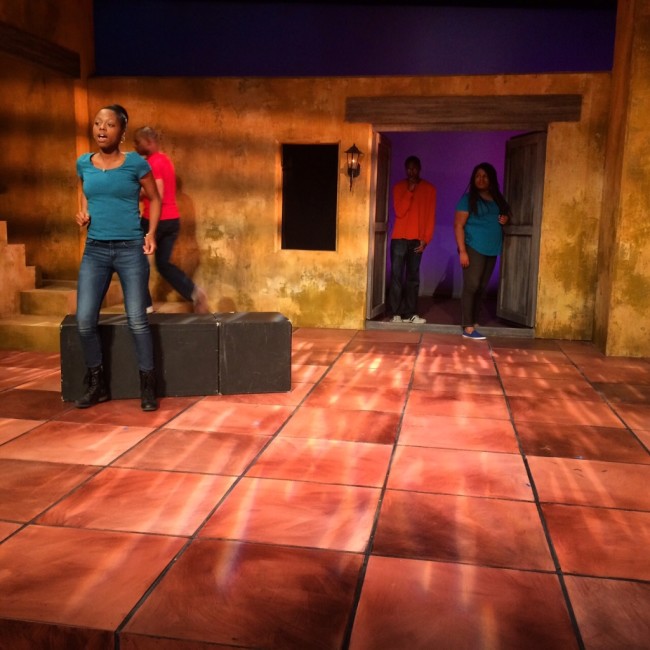 The final show featured in the middle school evening of the festival was written by 8th Grader Kaitlyn Murphy of the Cardozo Education Campus. Entitled Ayo's Audience, the play was the most-inspiration driven of the five. Featuring a shy girl named Ayo, who wanted to pursue spoken word as her form of creative expression, the audience was treated to the delight of realistic characters— mainly Ayo (Kashayna Johnson) and Ayo's Father James (Bryan Norrington)— who dealt with the real life struggles of not always seeing eye to eye. A truly touching tale of learning to be supportive, Murphy captured the epitome of the father's character in his dialogue, which was quite the feat as Murphy told the audience that was the most challenging part of the play writing process for her because the character of the father was based on her own father. Her advice to young aspiring playwrights was "…write something you yourself will like and don't worry about anybody else." Living up to that piece of advice, Murphy penned a brilliant play that had a powerful message, convincing characters, and a beautiful tag-line featured within "Live to inspire and to be inspired."
All five of the performances were received to great acclaim and the final five of the festival are to be presented on Wednesday April 21, 2015.
The New Play Festival plays April 20, 21, and 22, 2015 through the Young Playwrights' Theater at the Gala Hispanic Theatre Company— 3333 14th Street NW in Washington, DC. Reservations strongly required and tickets are available in advance online.